This post may contain affiliate links. Read the full disclosure here.
This Nutella Cheesecake tastes like it came from a gourmet bakery. It's decadent, creamy, and full of Nutella flavor.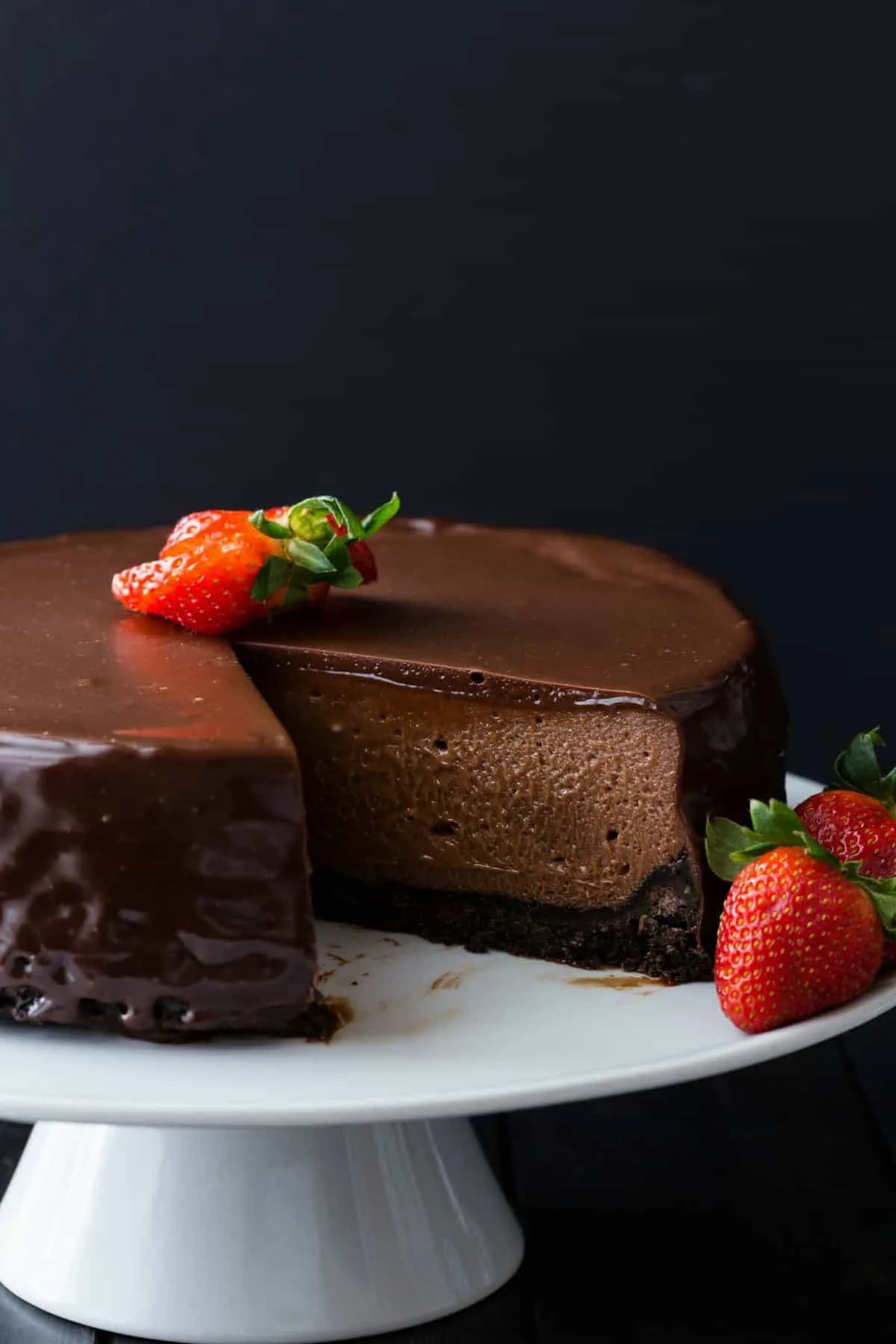 Nutella Cheesecake with Oreo Crust
Nutella and cream cheese blend perfectly together yielding an indulgent cheesecake that isn't overly sweet.
This recipe is baked at a lower temperature so it remains silky and smooth. It practically glides across the tongue leaving you wanting more.
I also have a nutella mousse cake and no-bake Nutella cheesecake that will wow you! I highly recommend trying of those if you love this one!
I have a thing for cheesecake. It's one of my favorite indulgences. It's actually one of the first things I learned to bake.
Over the years I've played around with different recipes, methods, and techniques until I found what I truly enjoy in a cheesecake – the ultimate creamy texture.
While I do love my decadent smores cheesecake, there's flour in the filling which takes away from the silky texture. Many recipes call for the use of flour and I now try to avoid those recipes.
Today's recipe has zero flour and tons of Nutella. It's the ultimate creamy cheesecake and you are going to love it.
It's the same recipe I used for my chocolate peanut butter cheesecake. It's unbelievably decadent.
Tips for a creamy baked Nutella Cheesecake
First, read my how to bake the best cheesecake post. Here I explain the basics for a baking a creamy cheesecake without cracks.
Follow the recipe exactly! There's a specific order for adding the ingredients in order to get the best results.
Today's recipe is baked at 300°F instead of 350°F. This lower temperature prevents the chocolate in the Nutella from drying out. A water bath is also a must.
If you prefer not to do a water bath, at least place a pan full of water on the lower rack of the oven so the heat is humid. The dry oven heat will do nothing good for your cheesecake.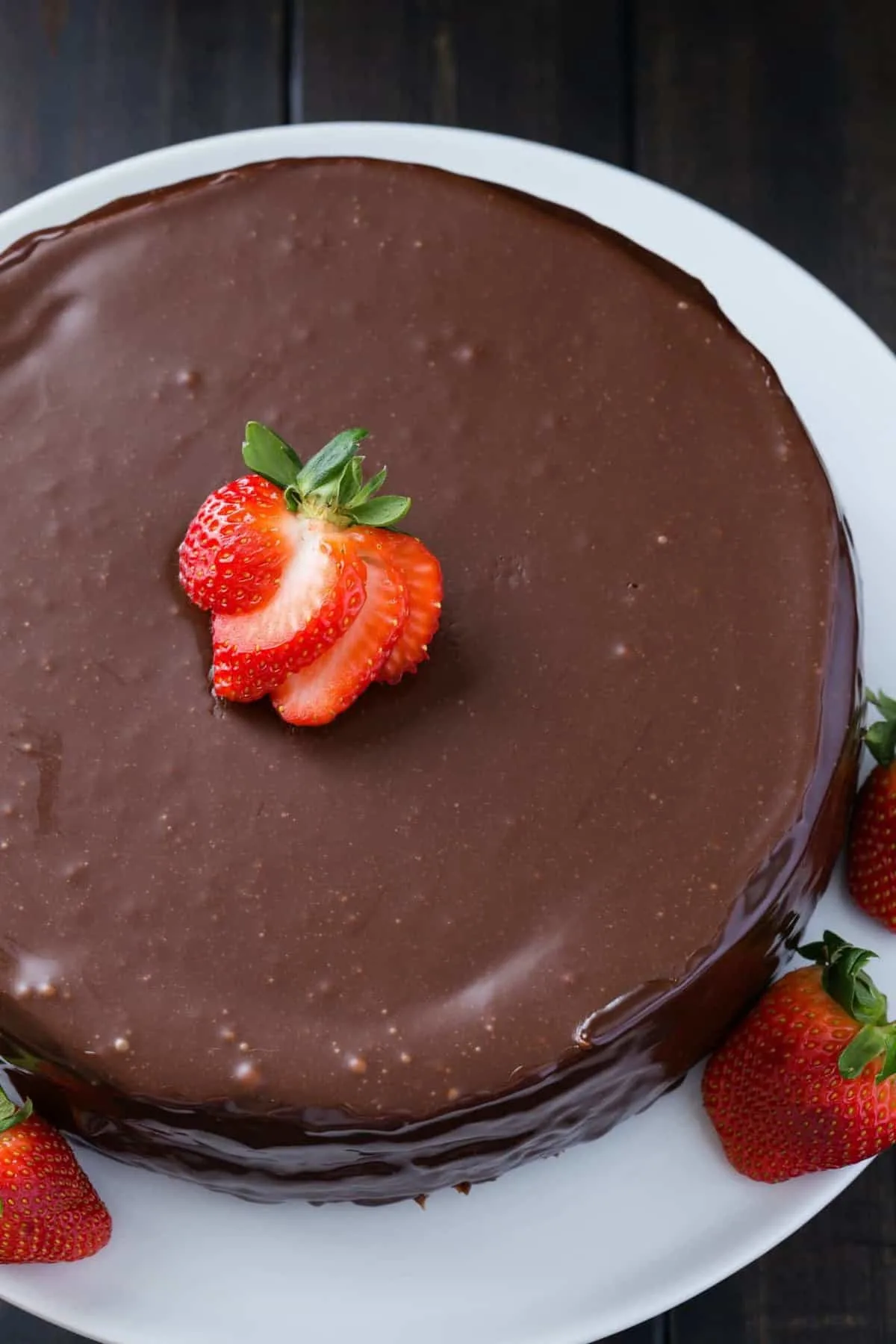 There's a lot of Nutella in this cheesecake! Because of this, the amount of cream cheese is reduced. I tested it with my usual four blocks of cream cheese and the texture wasn't where I wanted it to be.
I tried again with three blocks of cream cheese combined with two whole cups of Nutella. This is the perfect ratio.
Because the recipe calls for so much Nutella, I reduced the amount of sugar to ¾ cup. You can probably cut it down to ½ cup and still have a great tasting cheesecake.
The Nutella glaze is optional but highly recommended. It's a simple mixture of Nutella and heavy cream that goes over the cheesecake once it has been refrigerated overnight.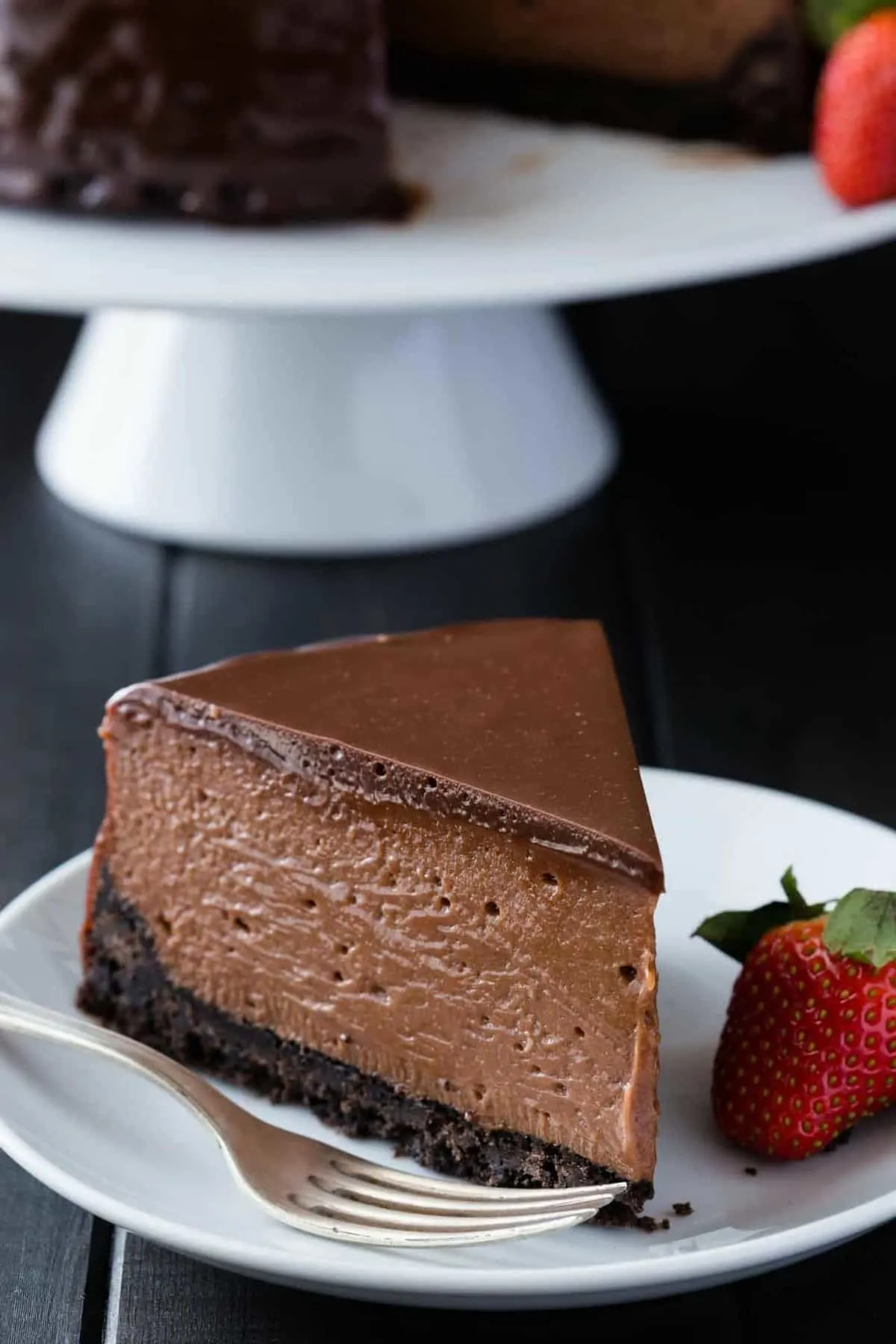 The glazed cheesecake needs to be refrigerated for at least 1 hour. I recommend cutting this creamy Nutella cheesecake while it's cold but let the slices sit a room temperature for 20 to 30 minutes before you serve them.
The cheesecake is even easier to slice if it has been frozen for a couple hours. I actually stored mine in the freezer and cut the slices 15 minutes before serving them. It was perfection.
Nutella cheesecake is good cold but amazing at just under room temperature. Trust me!
---
Common questions about Nutella cheesecake
Can I use milk in place of heavy cream?
I don't recommend doing this. Milk is thinner than heavy cream and will affect the overall texture and baking time of the cheesecake.
Can I bake this in a store-bought, premade chocolate oreo crust in the pan already?
You can certainly give it a try but please know there's a lot of cheesecake batter. You will need two crust to hold all the batter.
Also, the bake times will vary since the pies will not be as tall and thick. Keep a close eye on it so you don't accidentally overbake it.
Can I bake this in a 10-inch springform pan?
Sure! The cheesecake just won't be as tall and thick.
Can I use whipped cream instead of heavy cream?
Store-bought whipped cream will not work. It contains extra ingredients that may interfere with how the cheesecake sets.
I'm in a hurry, must I refrigerate the cheesecake overnight?
In short yes. This cheesecake is a lot softer in texture than your typical cheesecake. At least 8 hours in the refrigerator are needed to ensure it sets properly.
For the crust, are the cookies mashed with the fudge filling or just the cookies?
There's no need to remove the filling from the cookie. Put the entire cookie in a food processor and pulse until it's broken down into fine crumbs.
Can I make this in the form of mini cheesecakes?
Yep. Just divide the crust and the batter between 24 muffin cups lined with paper. Bake for 20-25 minutes then turn the oven off and leave them in for another hour.
---
More cheesecake recipes you'll love
More Nutella recipes
Did you try this recipe? I would love for you to leave me a 5-star rating or comment. This way, I have a better understanding of which recipes you like and can create more of them.
Please take a moment to follow me on Instagram, Pinterest, Facebook, Youtube or sign up for my free newsletter to never miss the newest recipes and blog updates.
You can also shop my favorite baking tools. Thank you so much for your support!