No-Bake Nutella Cheesecake
This post may contain affiliate links. Read the full disclosure here.
No-Bake Nutella Cheesecake is a perfectly easy dessert recipe for any occasion. The filling doesn't rely on gelatin or whipped cream and contains just three ingredients!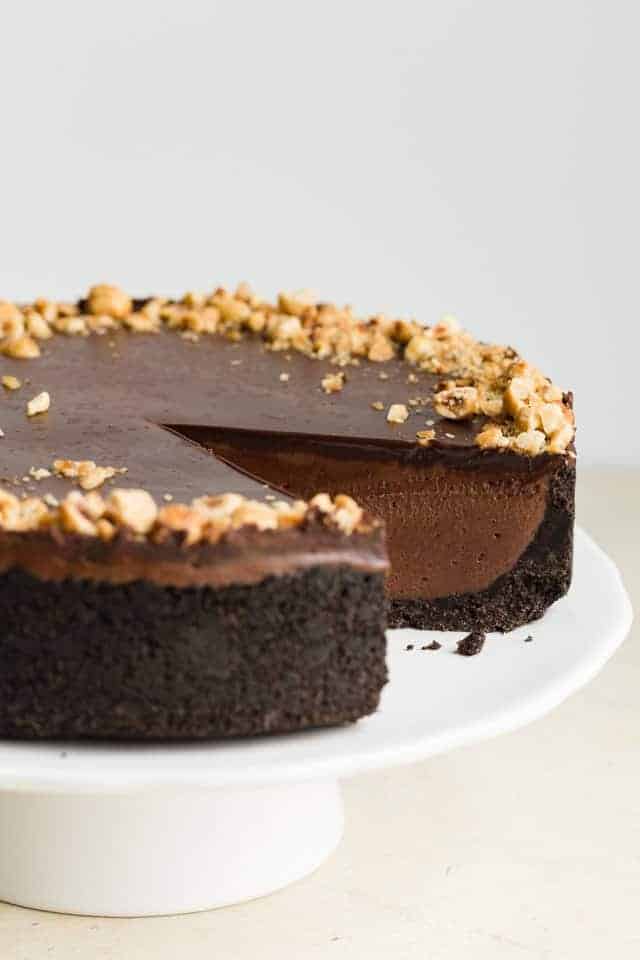 I am so excited about today's recipe. It's been requested by so many of you over the last year and I finally got around to making it.
As I write this I'm watching snow flurries fall from the sky. It is mid-April and it's snowing!! Can we get warm weather that wants to stick around?!
Typically on a cold day like today, I'd crank up the oven and churn out all the baked goods. But instead, I'm sitting in front of the fire with a slice of No Bake Nutella Cheesecake.
It's totally the cure for these dreary day blues!
You may remember the baked version of Nutella cheesecake that I shared over a year ago. It went wild on social media and has remained one of my top posts ever since.
Thanks to every one of you who make my recipes and share your experience!
My no-bake Nutella cheesecake recipe has all the creaminess of the baked version but requires less time and very few ingredients. It's ultra-rich, silky, and will definitely make you swoon.
I worked on this recipe for so long. I didn't want to bring you a cheesecake that required gelatin or the use of whipped cream in order to keep its shape. Plus I wanted the texture to be just right.
If you've been around long enough you know I'm the queen of dense, lush, creamy cheesecakes. I'm actually pondering the idea of a cookbook filled with cheesecake recipes. How does that sound to you?
Through my recipe testing, I learned that no-bake Nutella cheesecake filling can actually be made with just THREE ingredients. Can you believe it?
All you need for the filling is cream cheese, Nutella, and confectioners' sugar. MIND BLOWN!
How to Make No-Bake Nutella Cheesecake
Make the crust with crushed Oreos and melted butter
Make the filling with cream cheese, Nutella, and confectioners' sugar
Make the ganache with heavy cream and semisweet chocolate
Spread the ganache over the filling
Sprinkle chopped hazelnuts over the ganache
Refrigerate the cheesecake overnight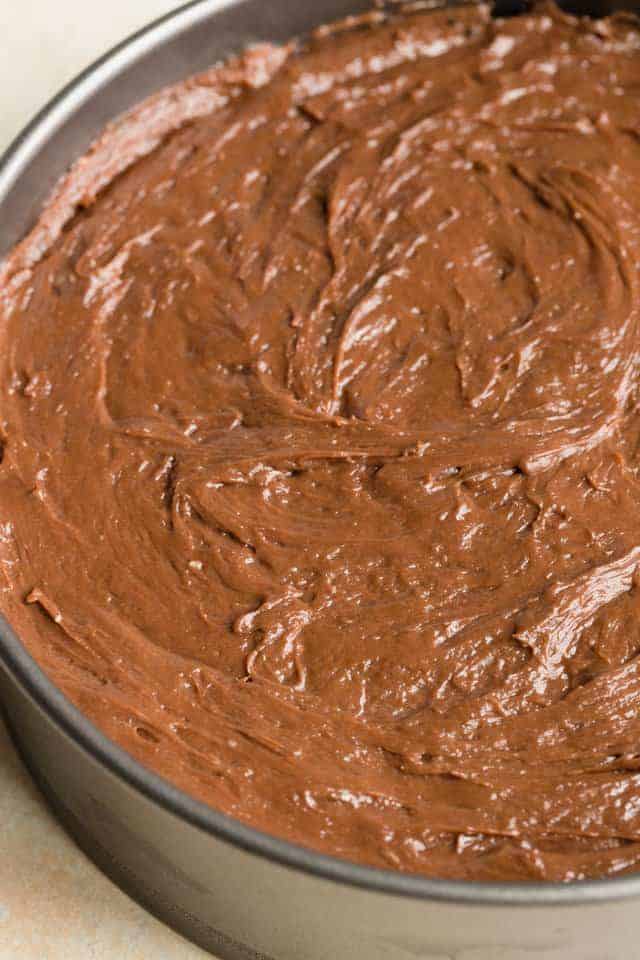 Now that you understand the process, let's discuss why this no-bake Nutella cheesecake works.
---
No-Bake Nutella Cheesecake Without Gelatin
There is only one hurdle when making no-bake cheesecakes: getting the filling thick enough to keep its shape when slicing the cheesecake. But, to do this without the use of additives like sweetened condensed milk, gelatin, or whipped cream/cool whip.
I tried to make the no-bake filling every which way possible and came close to sharing a version that used whipped cream. While it was great at giving the cheesecake body and making it easy to slice through, I felt that it diluted the flavor of the Nutella.
I wanted the no-bake version to taste just like the baked version and whipped cream took that away.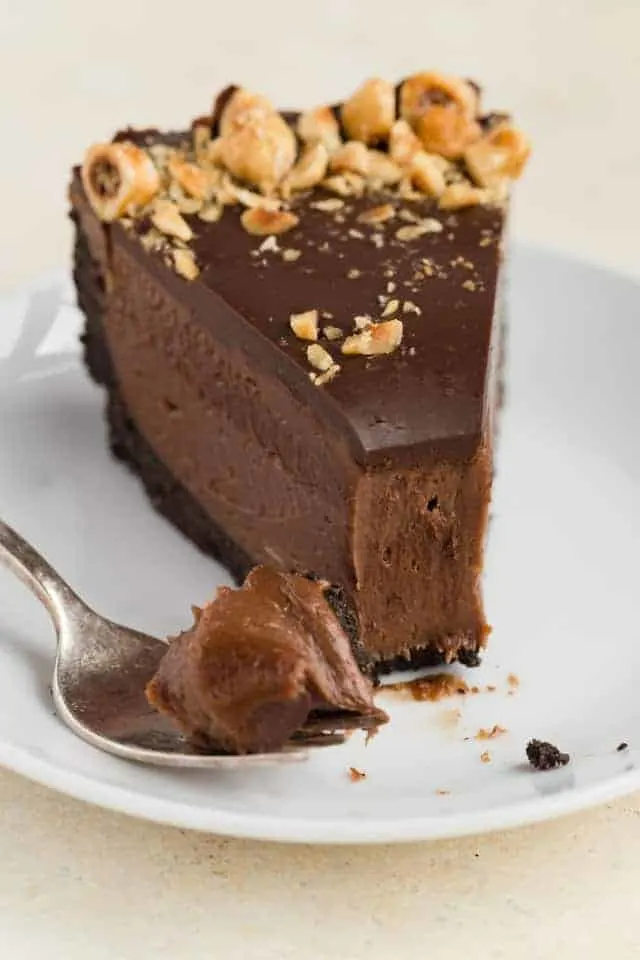 Sweetened condensed milk made the cheesecake too runny and overly rich. Like, too rich for me even. And gelatin just gave the cheesecake a not so lush texture. It was firm but not melt in your mouth creamy.
All of this led me to try just cream cheese and Nutella. I liked the flavor but it still felt like the texture was too loose. It would have been perfect for little cheesecake jars but that wasn't my goal for the recipe.
Then I got the idea to add confectioners' sugar. This works with frosting right? It thickens the frosting so you can pipe it and it will hold its shape. So why wouldn't it work for cheesecake?
It did! It worked beautifully and I couldn't be more pleased with the taste, texture, and presentation.
No-Bake Nutella Cheesecake Topped with Chocolate Ganache
This is where I did things a bit different from the original Nutella cheesecake. That recipe calls for a Nutella ganache to be poured all over the finished cheesecake. But, I opted to do something simpler for the no-bake version.
Instead, I made a spreadable chocolate ganache and topped it with chopped hazelnuts. If you want more Nutella flavor, you can certainly use the Nutella ganache from the baked version. I know it will be just as delicious!
Did you try this recipe? I would love for you to leave me a 5-star rating or comment. This way, I have a better understanding of which recipes you like and can create more of them.
Please take a moment to follow me on Instagram, Pinterest, Facebook, Youtube or sign up for my free newsletter to never miss the newest recipes and blog updates.
You can also shop my favorite baking tools. Thank you so much for your support!