This post may contain affiliate links. Read the full disclosure here.
These Banana Oatmeal Cookies are absolute perfection. This recipe yields a perfectly soft, cake-like banana cookie loaded with oats.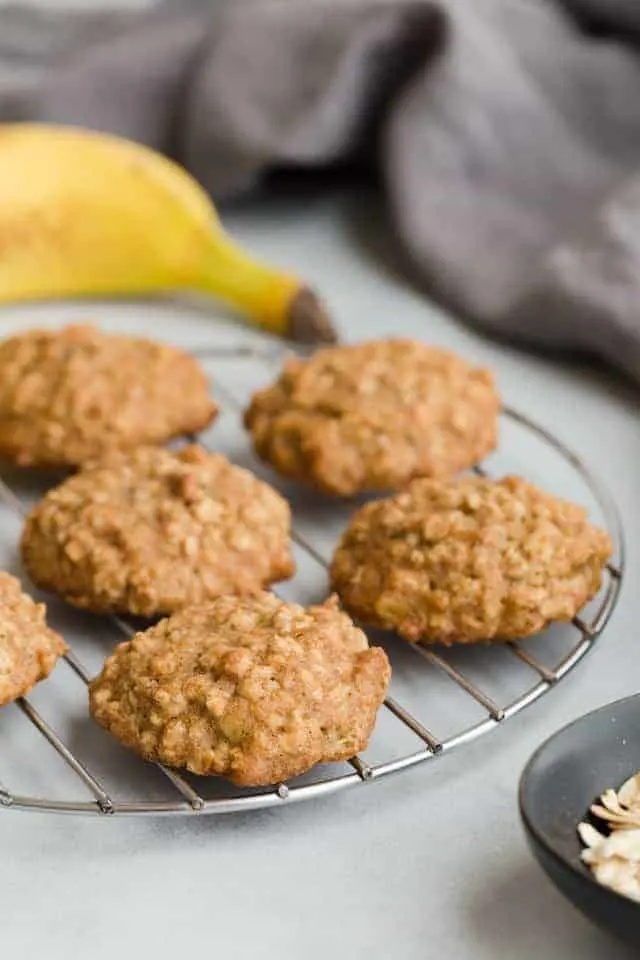 This is the banana oatmeal cookie that's acceptable to eat for breakfast! It's a foolproof recipe that yields a pillowy soft banana cookie every single time.
The great thing about this recipe is the cookies are drop cookies, just like my banana cookies and banana nut bread cookies.
This means there is no need to chill the dough. You just scoop and drop mounds of dough right onto a baking sheet.
Pop the cookies straight into the oven until they are baked through. This only takes about 10 minutes.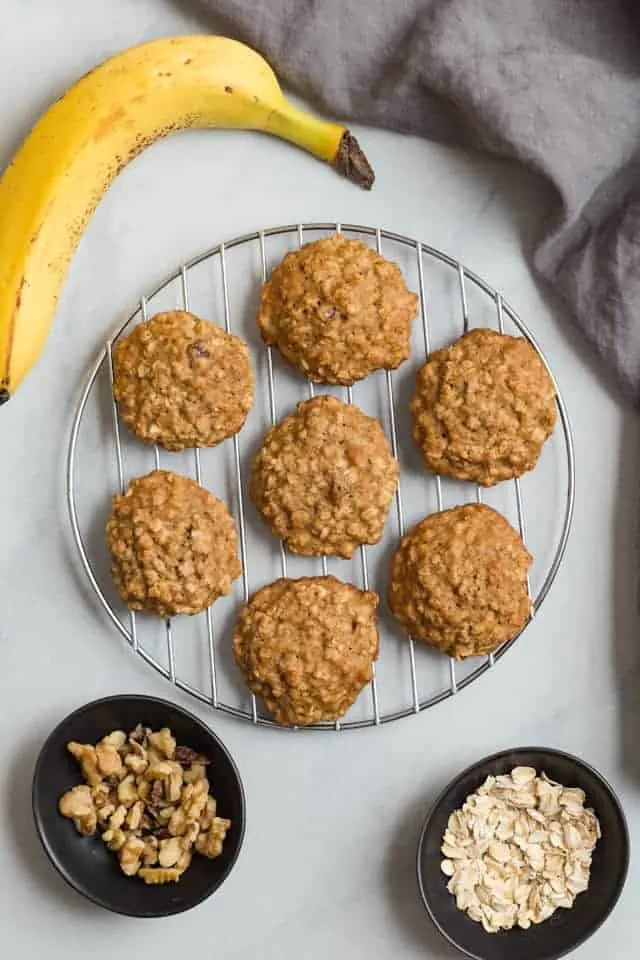 I'm pretty sure if you love my banana cream pie, best ever banana bread, and banana pudding cupcakes, you'll love these cookies!
---
How to Make Banana Oatmeal Cookies
Making banana cookies with oats from scratch is very easy. You can use a stand mixer or a hand mixer to make the dough.
First, cream butter, shortening, white sugar, and brown sugar together. Then add an egg, mashed banana, and vanilla extract.
Whisk flour, baking soda, salt, and cinnamon together in a separate bowl then add it to the butter mixer. Mix everything together until just combined.
Gently fold in quick-cooking oats and chopped walnuts.
Drop tablespoon-sized mounds of dough on a parchment-lined cookie sheet and bake.
---
How to Keep Banana Oatmeal Cookies From Spreading
Banana cookies that don't spread require vegetable shortening. Shortening will the cookies a soft, cake-like texture that doesn't spread into a flat crisp cookie.
Using quick-cooking oats also helps hold the cookie together resulting in less spread.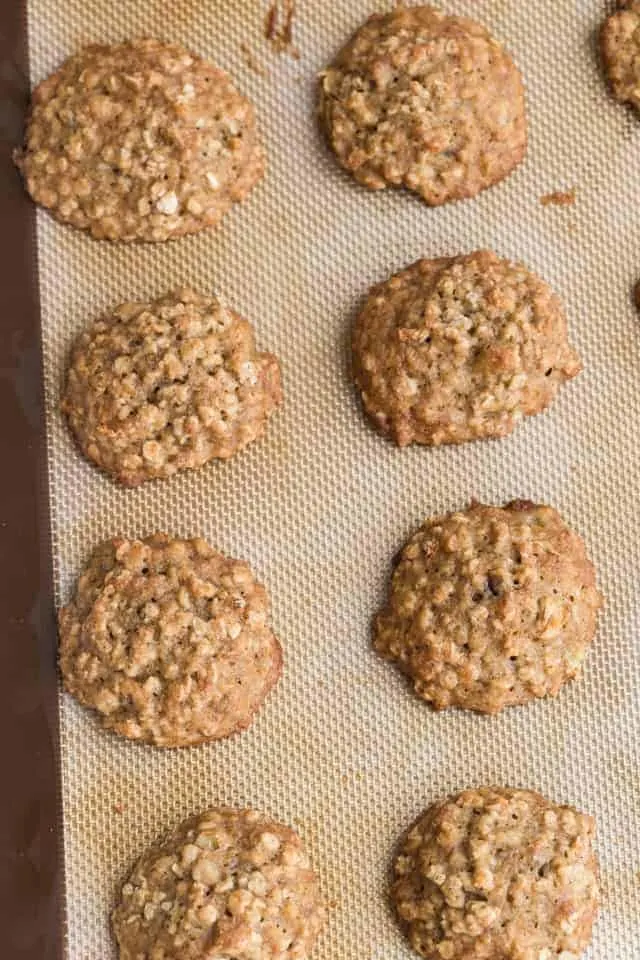 How to Make Soft Oatmeal Banana Cookies
The key to soft banana cookies is to use both butter and shortening. The two work together to keep the cookies tender.
Using a combination of white and brown sugar will also yield a softer cookie. Brown sugar contains molasses which add more moisture to the cookie.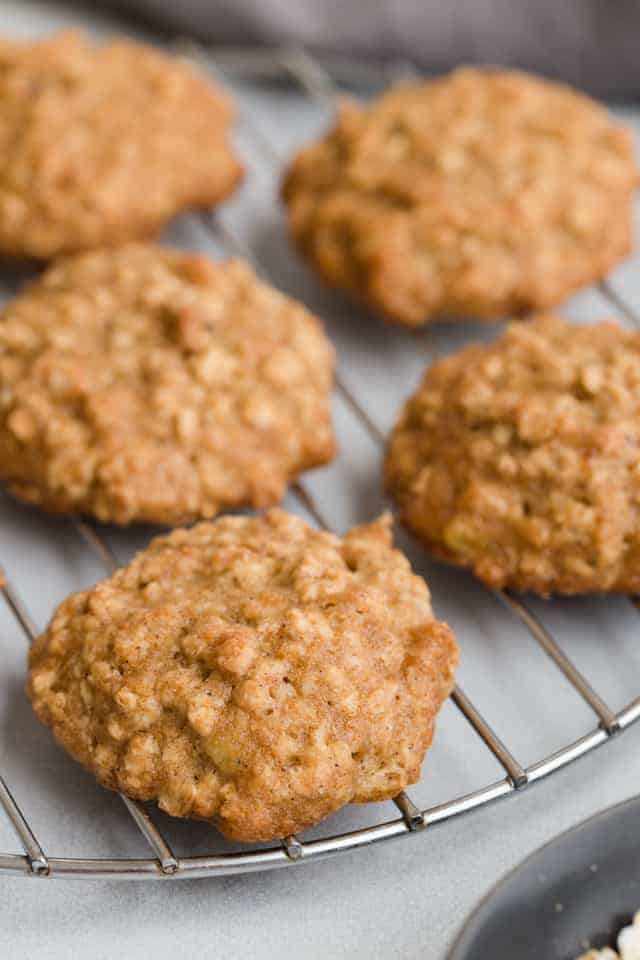 Banana Oatmeal Cookies for Breakfast or Dessert
The thing I love most about these oatmeal banana cookies is they can be eaten for breakfast or dessert. Enjoy them as they are for breakfast. Or mix in chocolate chips, caramel bits, toffee bits, etc. to make an exquisite dessert cookie.
PRO TIP: Take these cookies to the next level by roasting the banana before adding them to the batter. Simply line a baking sheet with aluminum foil and place the whole banana, in its skin, on the baking sheet. Bake them for 15 minutes at 350°F. Let them cool completely before using.
Did you try this recipe? I would love for you to leave me a 5-star rating or comment. This way, I have a better understanding of which recipes you like and can create more of them.
Please take a moment to follow me on Instagram, Pinterest, Facebook, Youtube or sign up for my free newsletter to never miss the newest recipes and blog updates.
You can also shop my favorite baking tools. Thank you so much for your support!