This post may contain affiliate links. Read the full disclosure here.
Strawberry macarons with real strawberry flavor in every layer. They're soft and chewy on the inside with crisp exteriors, just the way a good macaron is supposed to be.
This post is brought to you by Bob's Red Mill.
My strawberry macarons are loaded with strawberry flavor. It's in the shell and filling so you get a punch of strawberry in each bite.
The shells are made with my classic macaron recipe and I infused the strawberry flavor by adding ground freeze-dried strawberries. I also added the ground berries to the filling. The result is a sweet, tart, intense strawberry flavor in every bite.
It can be challenging to flavor the shells. They are so finicky and anything you add to them can cause them to bake improperly.
I've used ground freeze-dried fruit to make raspberry frosting and pineapple frosting. I like this method because a little of the fruit powder goes a long way.
This is perfect for flavoring the macaron shells. You don't need to add a lot in order to get big flavor.
And the luscious strawberry buttercream filling paired with the chewy, crisp cookie is phenomenal!
After you make these, try my easter macarons for a fun spring treat.
Why this recipe works:
The base of the shells is made with my tried and true macaron recipe. It works beautifully!
The shells use Bob's Red Mill almond flour and it always gives me great results.
Freeze-dried strawberries ground into a fine powder yields intense flavor without having to use a lot. Less is more when it comes to macarons.
The filling is a Swiss meringue buttercream that's so silky and flavorful, you'll want to eat it with a spoon.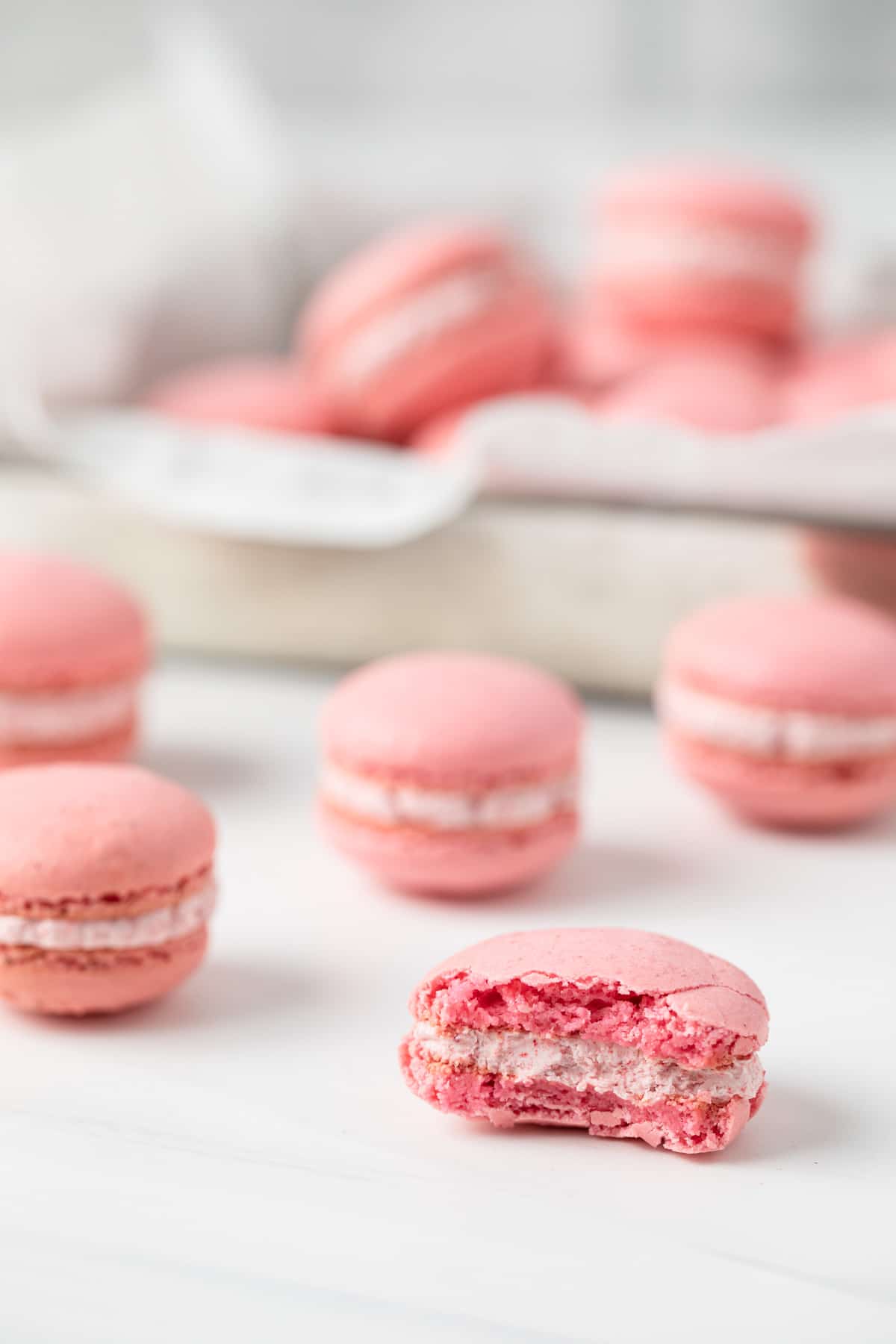 The best way to flavor macarons
There are so many ways to flavor French macarons. Some recipes use purees, emulsions, or essences. These are great for flavoring the filling but not the shells.
You can't add liquid flavorings to macaron shells without throwing off the chemistry. This results in gummy shells that lack feet. Or they simply won't puff up.
I really wanted to have the strawberry flavor for these macarons in the shell as well as the filling. I found that strawberry powder was the best way to achieve that.
You can buy strawberry powder or you can make it. Simply pulse freeze-dried strawberries in a food processor until they're finely ground. Either option works but making it yourself isn't as heavy on your wallet.
---
Ingredients
Homemade strawberry macarons require few ingredients. some of the ingredients are repeated in the shells and filling.
Almond flour: Use Bob's Red Mill almond flour. It's finely ground from the best California-grown almonds.
Sugar: A little granulated sugar goes in both the shells and filling.
Powdered sugar: Make sure the powdered sugar has cornstarch in it. Other anticaking agents don't work as well with macarons.
Strawberry powder: You can buy strawberry powder but it's easy to make by grinding freeze-dried strawberries in a food processor.
Egg whites: Egg whites make up the base for the shells and filling. Make sure they are at room temperature when making the shells.
Cream of tartar: This helps stabilize the egg whites when whipping the meringue for the macron shells.
Butter: I prefer to use unsalted sweet cream butter in all of my frostings. Regular unsalted butter will work also.
Optional –> I also like to add a drop of red gel food coloring to enhance the color of the macarons. This is completely optional. If you decide to use it, remember the color fades during baking. So go a little darker than you'd like the macarons to be.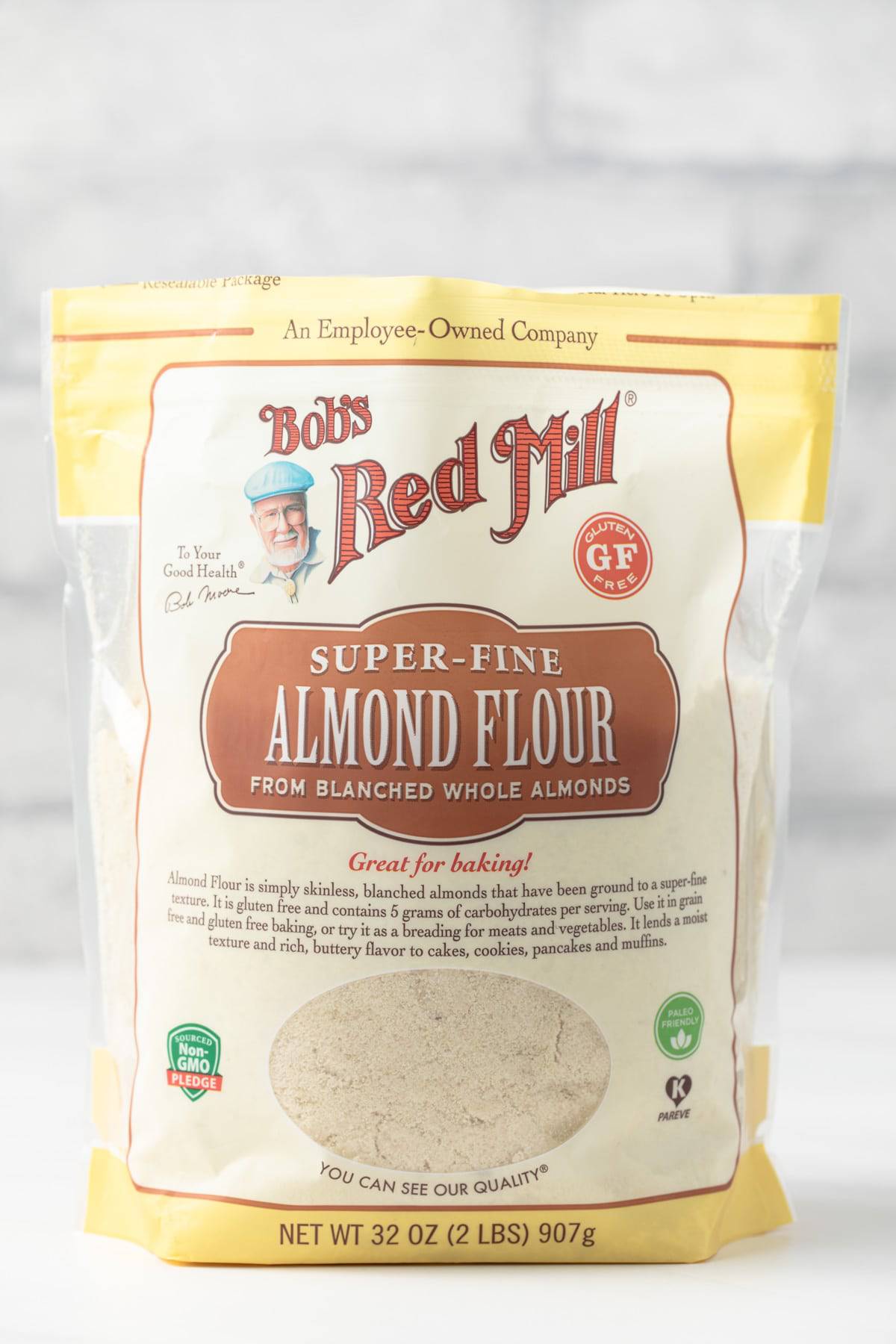 Can I use regular flour for macarons?
The short answer is no. Using wheat flour in a macaron recipe will not work.
However, you can use other nut flours. Just be sure the nut flour is finely ground. And sift it with the powdered sugar to remove larger pieces that can mar the surface of the cookie.
Can I make a flavor other than strawberry?
Yes! You absolutely can choose a different flavor for these macarons. Simply grind your preferred freeze-dried fruit into a powder and make the recipe as instructed.
Tools needed
Stand mixer: I prefer to use a stand mixer with whisk attachment for macarons. You can use a handheld mixer but I find they're powerful enough to make the Swiss buttercream filling.
Baking sheet: You'll need 2 large baking sheets.
Silicone mat: I love to use a silicone mat made specifically for macarons. This saves time since you won't need to draw your own template on parchment paper.
Piping bag: A large pastry bag is needed to pipe the shells and filling.
Piping tip: A Wilton 2A piping tip is perfect for piping the shell batter. It also works well for filling the macarons.
---
How to make strawberry macarons
Step 1. Before you do anything, make sure the egg whites are at room temperature. And your pans are lined with silicone mats or parchment paper.
Step 2. Sift the almond flour, powdered sugar, and strawberry powder together 2-4 times. Discard the large pieces. You can use a fine-mesh sieve or a flour sifter.
Step 3. Use a stand mixer with the whisk attachment to whip the egg whites and cream of tartar until foamy. Gradually add the sugar and continue to whip to soft peaks. Add 1-2 drops of food coloring if using then continue to whip until a thick, glossy meringue forms.
Step 4. Use a silicone spatula to fold half the almond mixture into the meringue until fully combined. Add the remaining almond mixture and fold until the batter flows like lava. You'll be able to draw a figure 8 without the batter breaking.
Step 5. Transfer the batter to a piping bag fitted with a Wilton 2A piping tip. Pipe 1-2 inch mounds on the prepared baking sheet.
Tap the baking sheet on the counter a few times to bring air bubbles to the surface. Let the macarons sit until they no longer feel sticky. This can take up to 1 hour.
Step 6. Bake for 15-18 minutes on the lower third rack at 300°F. I like to double up the baking sheets so the bottoms to not brown too much. Let the macarons cool completely before removing them from the baking sheet.
Step 7. Sandwich two cookies together with strawberry buttercream. Refrigerate the macarons for at least 1-3 days then bring them to room temperature just before serving.
---
How to make strawberry filling for macarons
Step 1. Combine the sugar, salt, and egg whites in the bowl of a stand mixer.
Step 2. Set the bowl over a pot of barely simmering water. Whisk continuously until the mixture reaches 150°F and the sugar is fully dissolved.
Step 3. Whip the heated mixture until it becomes the consistency of shaving cream. The outside bottom of the bowl should feel cool to the touch.
Step 4. With the mixer on medium speed, gradually add the butter. Add one tablespoon at a time and let if fully mix in before adding the next. Once all the butter is added, beat on medium-high speed until light and fluffy.
Step 5. Add the strawberry powder and mix until fully incorporated.
How to successfully make macarons?
Macarons are finicky and many people struggle to get them right. The main reason people fail is they don't follow the recipe instructions.
You must make the recipe exactly as it is written. Take the time to read the recipe before you begin. Then take your time with each step as you make the recipe.
There's also a video that shows you exactly how each step of the recipe should look. I highly encourage you to watch it.
I also encourage you to practice making my basic macaron recipe. This will help you get comfortable with the process and learn how the batter should look and feel.
Make strawberry macarons in advance
Shells: The shells can be made up to 3 days in advance. Store in an airtight container and separate the shells with layers of parchment paper. Keep refrigerated until ready to use.
Filled macarons: Once filled, store the macarons in an airtight container in the refrigerator for up to 3 days.
Filling: The filling can be made 1 day in advance. Keep refrigerated in an airtight container. Bring to room temperature and re-whip before using it.
The filling can also be frozen for up to 2 months. Thaw it in the refrigerator overnight. Let it come to room temperature and re-whip before using.
Did you try this recipe? I would love for you to leave me a 5-star rating or comment. This way, I have a better understanding of which recipes you like and can create more of them.
Please take a moment to follow me on Instagram, Pinterest, Facebook, Youtube or sign up for my free newsletter to never miss the newest recipes and blog updates.
You can also shop my favorite baking tools. Thank you so much for your support!