This creamy Raspberry Frosting recipe uses freeze-dried raspberries for intense raspberry flavor. It makes enough frosting to frost a 2-layer cake or 24 cupcakes.
Raspberry Frosting
I've played around with different ways of making flavorful fruit frosting and so far the best has been with freeze-dried fruit. I tried this first with my pineapple frosting and it turned out amazing.
I decided to give it a go once more but with raspberries this time. I can't sing enough good praises about. I paired it with a lemon raspberry cake and it was phenomenal.
You need one and a half cups of freeze-dried raspberries. Grind the raspberries down into a fine powder using a food processor. This should give you about one-third cup of raspberry powder.
Mix the powder into a basic buttercream base and you've got yourself one amazing raspberry buttercream!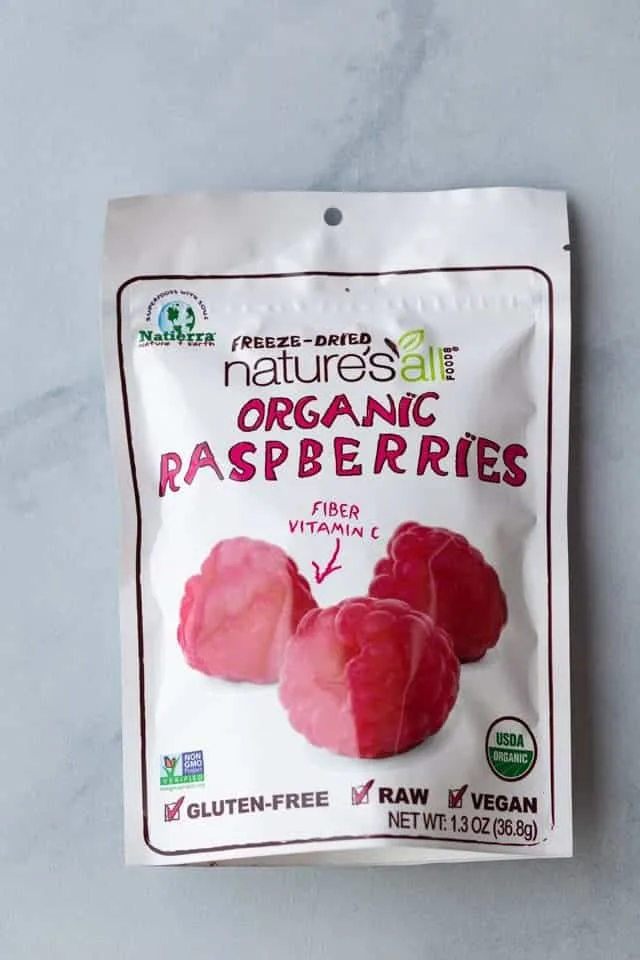 Where do I find freeze-dried raspberries?
I've seen them in the dried fruit sections of Target and Publix. Trader Joe's also carries them. If you can't locate them in a store near you, they are available on Amazon.
Can you use this raspberry frosting for cupcakes?
This frosting is perfect for cupcakes or cakes. It makes enough to frost 24 regular size cupcakes.
Is this raspberry frosting for chocolate cake?
Raspberry frosting and chocolate cake are practically made for each other. Try my chocolate raspberry cupcakes with this frosting instead of the jam frosting called for in the recipe!
---
How to make raspberry buttercream frosting?
Step 1: Grind the freeze-dried raspberries into powder
Use a small food processor and pulse the raspberries until they are ground into a fine powder. This should yield you about ⅓ cup of raspberry powder.
Step 2: Cream the butter
Start with room temperature butter and beat it on medium-high speed for about 5 minutes. It should be smooth and creamy.
Step 3: Add confectioners' sugar and raspberry powder
Add one cup of the confectioners' and the raspberry powder. Mix on low speed until the dry ingredients are moistened. Repeat with remaining confectioners' sugar, adding only one cup at a time and mixing after each addition until it's fully incorporated.
Step 4: Add heavy cream, vanilla, and salt
With the mixer on low speed, add vanilla, salt, and 3-5 tablespoons of heavy cream. Continue to beat the frosting until it's super light and creamy.
Tips for making buttercream with freeze-dried raspberries
Raspberries have unpleasant seeds that won't break down all the way during processing. If you want a super smooth buttercream, sift the ground raspberry powder through a small fine-mesh sieve to separate the seeds.
Make sure you are working with room temperature butter so the frosting comes together easily. It's always best to set the butter on the counter to soften about and 30 minutes to an hour prior to use.
NEED MORE BAKING IDEAS? Subscribe to our newsletter and Youtube channel. Also, follow along on Facebook, Instagram, and Pinterest for all the latest updates!