This post may contain affiliate links. Read the full disclosure here.
This creamy Raspberry Buttercream Frosting recipe has a delicious, robust, sweet raspberry taste. It uses a surprise ingredient – freeze-dried raspberries – for intense raspberry flavor. It will absolutely transform your chocolate or vanilla cupcakes or cakes.
Recipe Details
Taste – Sweet cream with raspberries.
Texture – Smooth and creamy.
Ease – Super easy!
Time – About half an hour.
Where do I find freeze-dried raspberries?
I've seen them in the dried fruit sections of Target and Publix. Trader Joe's also carries them. If you can't locate them in a store near you, they are available on Amazon.
Can you use this raspberry frosting for cupcakes?
This frosting is perfect for cupcakes or cakes. It makes enough to frost 24 regular-size cupcakes.
Is this raspberry frosting for chocolate cake?
Raspberry frosting and chocolate cake are practically made for each other. Try my chocolate raspberry cupcakes with this frosting instead of the jam frosting called for in the recipe!
About Raspberry Frosting
I've played around with different ways of making flavorful fruit frosting and so far the best has been with freeze-dried fruit. I tried this first with my pineapple frosting and it turned out amazing.
It was so delicious and easy – I thought, why stop there? So I decided to give it a go once more but with raspberries this time. I can't sing enough praises about it.
The crushed raspberries work so much better than when you add the raspberries to the buttercream – there is no extra liquid you have to adjust the recipe for. Just a smooth buttercream that tastes like fresh raspberries.
An additional benefit – the crushed berry powder gives the frosting a beautiful deep raspberry color – no need for food coloring.
I paired it with a lemon raspberry cake and it was phenomenal. I also recommend using this frosting to dress up a chocolate layer cake. Chocolate and raspberries are truly a match made in heaven.
You need one and a half cups of freeze-dried raspberries for this recipe. You can grind the raspberries down into a fine powder using a food processor. This should give you about one-third cup of raspberry powder. You can also purchase raspberry powder on Amazon if you don't want to grind the raspberries yourself.
Mix the powder into a basic buttercream base and you've got yourself one amazing raspberry buttercream! This frosting recipe makes enough to frost 24 cupcakes or two round cakes.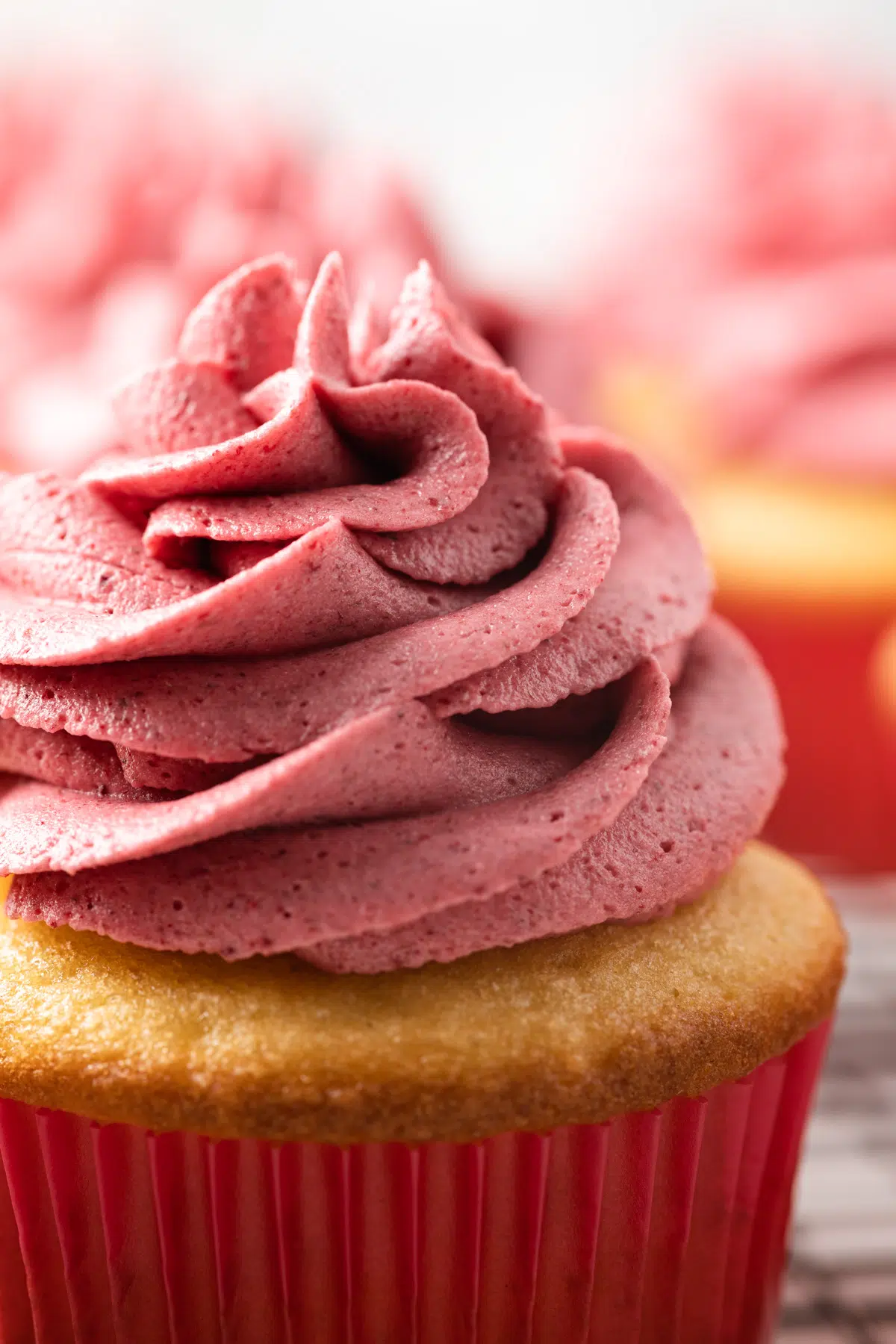 What you need
Ingredients
Freeze-dried raspberries – You can find these at most grocery stores
Butter – I always use sweet cream unsalted butter when baking.
Confectioners' sugar – For sweetness without crunchy texture.
Heavy cream – This will give the frosting smooth spreadability.
Vanilla extract – Use the highest quality vanilla extract you can find.
Salt – To balance the sweetness.
---
How to Make Raspberry Frosting?
Grind the freeze-dried raspberries into powder. Use a small food processor and pulse the raspberries until they are ground into a fine powder. This should yield you about ⅓ cup of raspberry powder.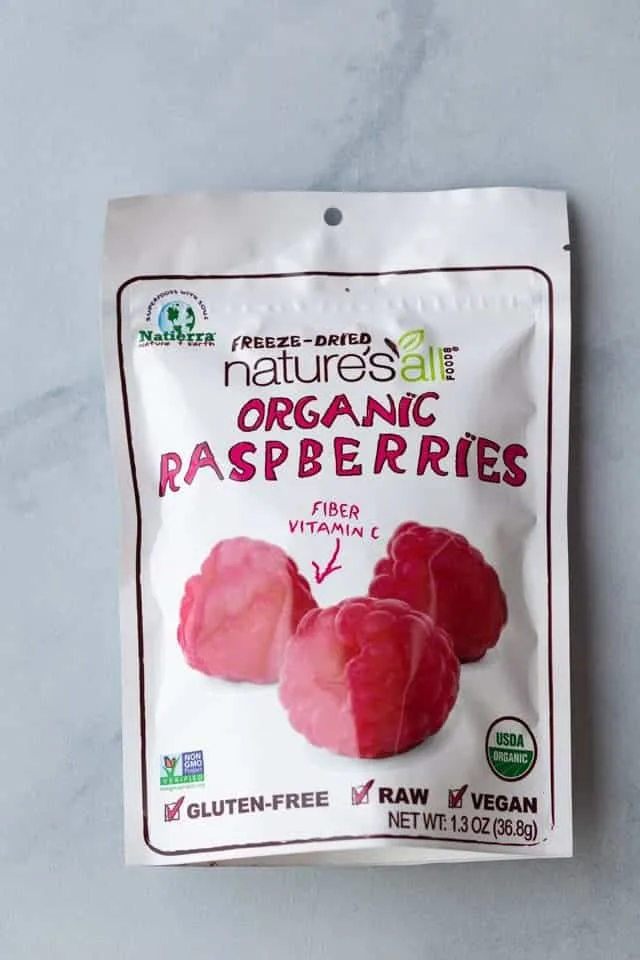 Cream the butter. Start with room temperature unsalted butter and beat it on medium-high speed for about 5 minutes. It should be smooth and creamy. To get the butter to the right temperature, place it on the counter for about a half-hour before you intend to use it.
Add confectioners' sugar and raspberry powder. Add one cup of the powdered sugar and the crushed raspberries. Mix on low speed until the dry ingredients are moistened. Repeat with remaining confectioners' sugar, adding only one cup at a time and mixing after each addition until it's fully incorporated.
Add heavy cream, vanilla, and salt. With the mixer on low speed, add vanilla, salt, and 3-5 tablespoons of heavy cream. Continue to beat the frosting until it's super light and fluffy.
Tips for Success
Raspberries have unpleasant seeds that won't break down all the way during processing. If you want a super smooth buttercream, sift the ground raspberry powder through a small fine-mesh sieve to separate the seeds.
If you don't want to grind the raspberries yourself, you can purchase raspberry powder.
Make sure you are working with room temperature butter so the frosting comes together easily. It's always best to set the butter on the counter to soften about and 30 minutes to an hour prior to use.
---
Storage & Freezing
The frosting will keep for up to 4 days stored in the refrigerator in an airtight container. Let stand at room temperature to soften before use.
It can be frozen for up to 3 months. When ready to use, place in the refrigerator overnight to thaw. Let stand at room temperature to soften before use.
Did you try this recipe? I would love for you to leave me a 5-star rating or comment. This way, I have a better understanding of which recipes you like and can create more of them.
Please take a moment to follow me on Instagram, Pinterest, Facebook, Youtube or sign up for my free newsletter to never miss the newest recipes and blog updates.
You can also shop my favorite baking tools. Thank you so much for your support!