Butterscotch Toffee Cookies
This post may contain affiliate links. Read the full disclosure here.
This easy Butterscotch Toffee Cookies recipe may be the best flavor of cookies you've ever tasted. They are simple enough to whip up anytime you're in the mood for a wonderful treat.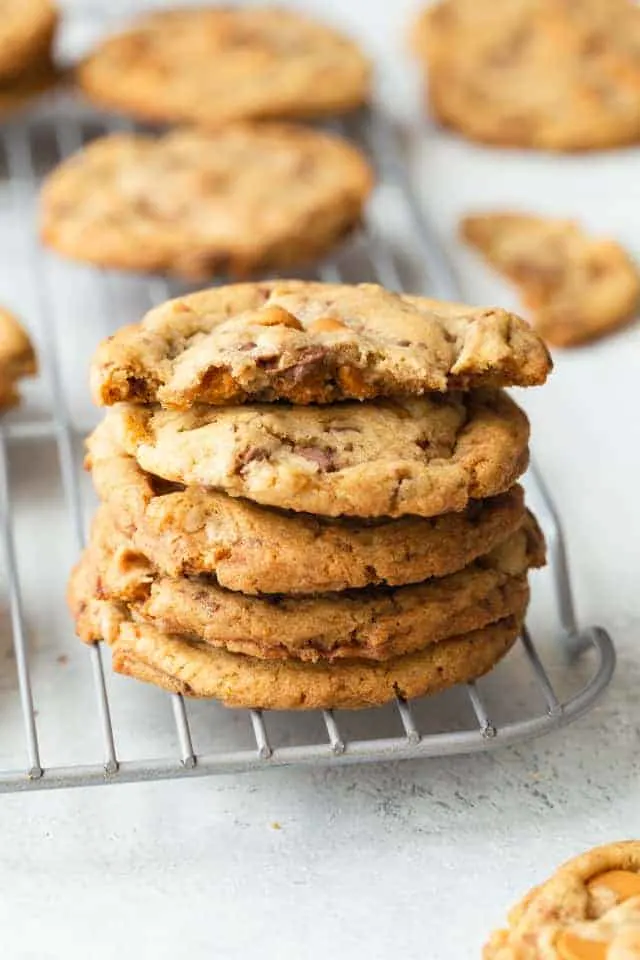 Butterscotch toffee cookies
I know how much you love my chocolate chip cookie recipe. Well, I took that same recipe and made a few adjustments. And I added butterscotch chips and chocolate toffee bits.
This resulted in the chewiest butterscotch toffee cookie. It's pure cookie satisfaction! They are almost like my regular butterscotch cookies.
I started with my chocolate chip cookie base. I'm using all of the same ingredients, just different amounts and the addition of cornstarch. The cornstarch made these cookies extra soft while the added egg yolk added chewiness. The perfect combination.
There are so many ways to jazz up this cookie base! I've made granola cookies and chocolate apricot chunk cookies using this same recipe as a base.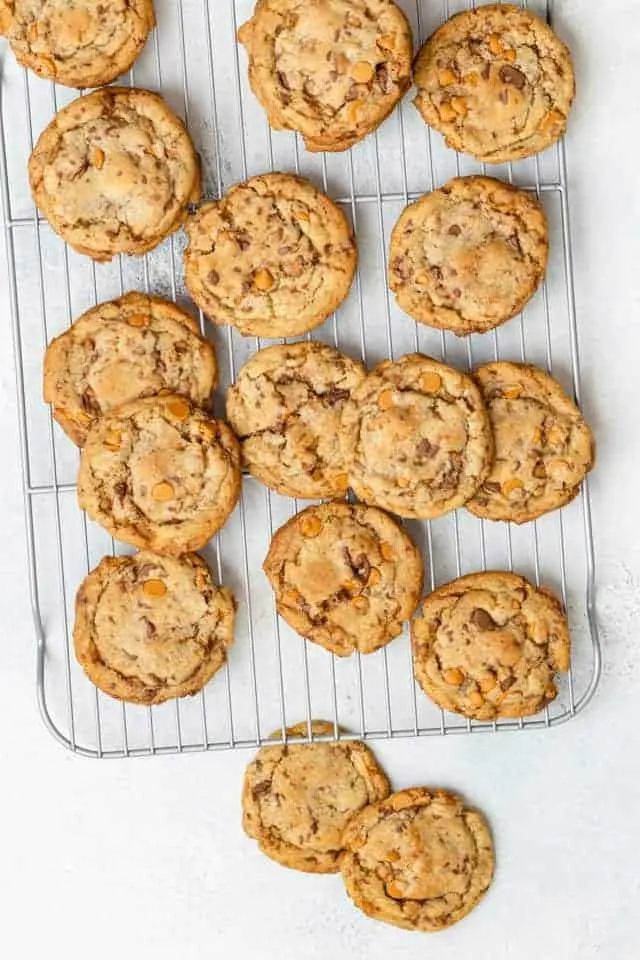 This recipe doesn't require you to chill the dough
Since this recipe calls for melted butter, you would think it is important to chill the dough. But you absolutely don't need to.
You can, however, make the dough ahead of time and keep refrigerated for up to 24 hours. Allow the dough to come to room temperature before rolling or it may be too crumbly to work with.
Slightly underbake the cookies
It is always best to slightly underbake cookies. The edges should be set while the centers will still be soft. As the cookies cool, they will continue to set resulting in a fabulously chewy center.
The cookies will stay soft for several days. My husband took them to work and they literally disappeared. They were that good!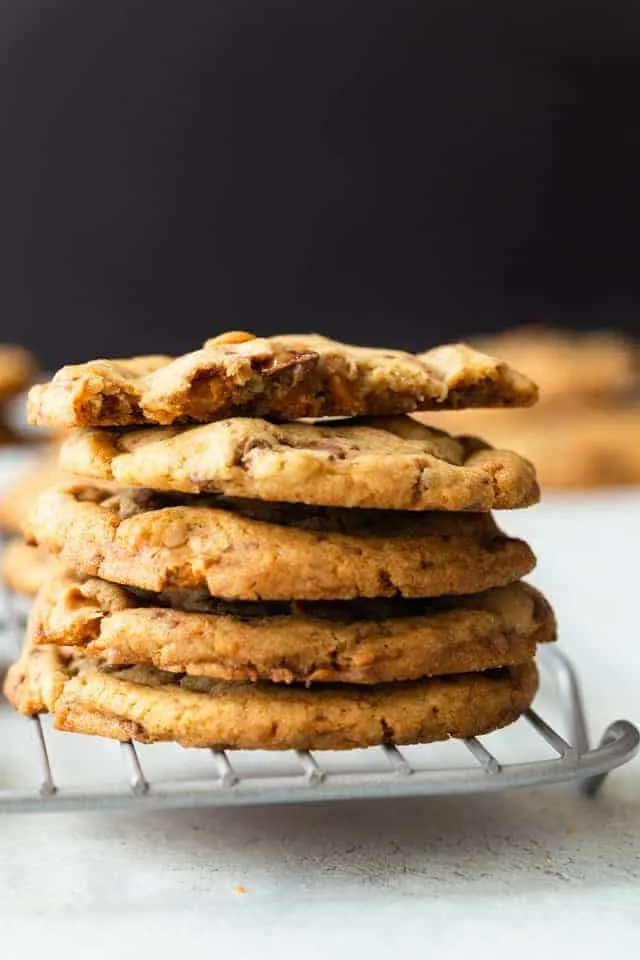 How to make butterscotch toffee cookies
Step 1: Combine the dry ingredients
Make sure to measure the flour correctly. You can lightly spoon it into a measuring cup then level it with the back of a knife or weigh it.
Whisk the flour with the other dry ingredients together in a bowl.
Step 2: Combine the wet ingredients
Whisk all the wet ingredients together in a bowl until it's well combined.
Step 3: Combine the wet and dry ingredients
Add the dry ingredients to the wet ingredients and fold them together with a silicone spatula until it's well combined.
Step 4: Add the butterscotch and toffee pieces
Fold the toffee pieces and butterscotch into the dough. There is a lot of toffee so keep folding the dough with a silicone spatula until it's all mixed in.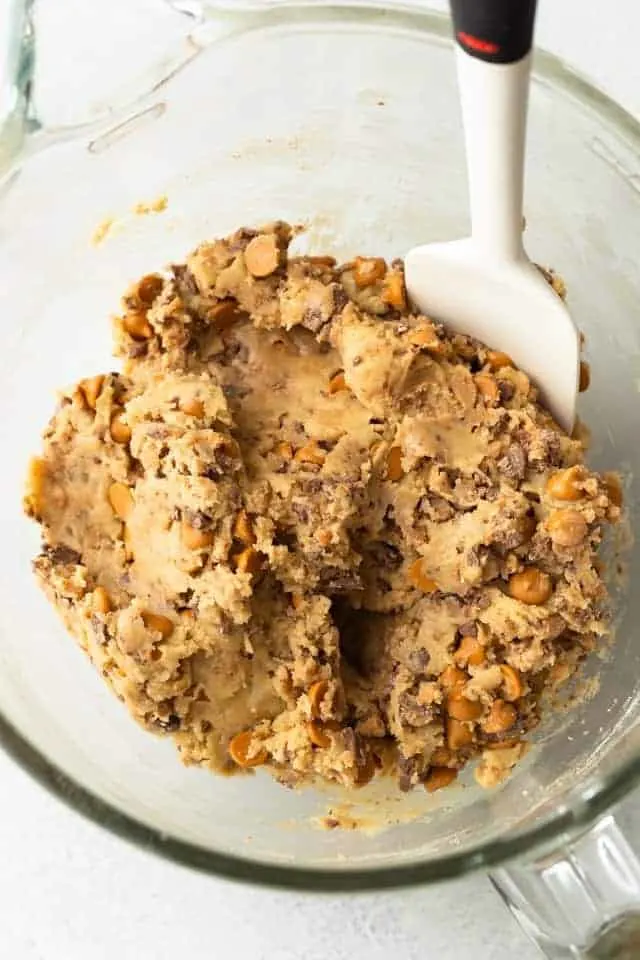 Step 5: Bake the cookies
Roll the dough into 1 and ½ tablespoon-sized balls then bake for 10-12 minutes in a 350°F oven.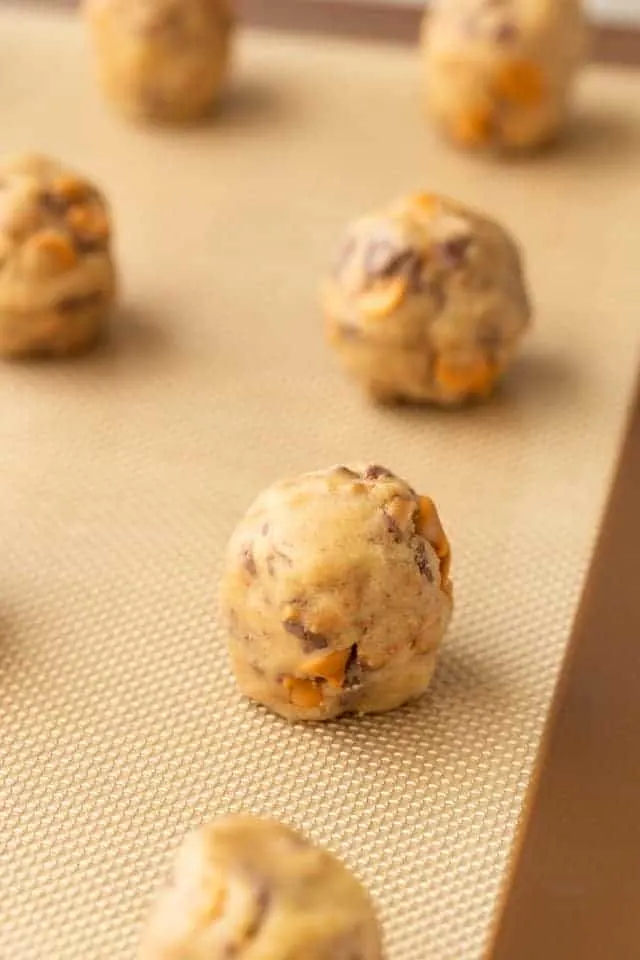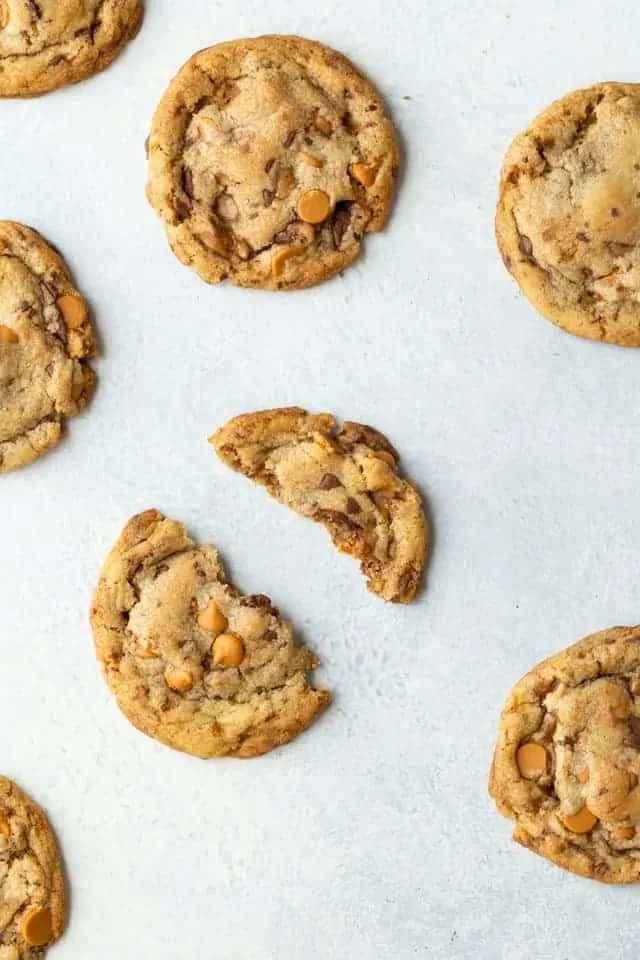 Tips for this butterscotch toffee cookie recipe
I used chocolate toffee pieces but you can go with plain toffee piece if you'd like.
Avoid scooping the flour out with the measuring cup. Either lightly spoon the flour into a measuring cup or weigh it to be sure you are using the correct amount.
Did you try this recipe? I would love for you to leave me a 5-star rating or comment. This way, I have a better understanding of which recipes you like and can create more of them.
Please take a moment to follow me on Instagram, Pinterest, Facebook, Youtube or sign up for my free newsletter to never miss the newest recipes and blog updates.
You can also shop my favorite baking tools. Thank you so much for your support!