Butterscotch Toffee Cookies
This post may contain affiliate links. For more information, read my disclosure policy.
This easy Butterscotch Toffee Cookies recipe may be the best flavor of cookies you've ever tasted. They are simple enough to whip up anytime you're in the mood for a wonderful treat. 
This post has been updated with new content and photos. The original post was first published September 17, 2014.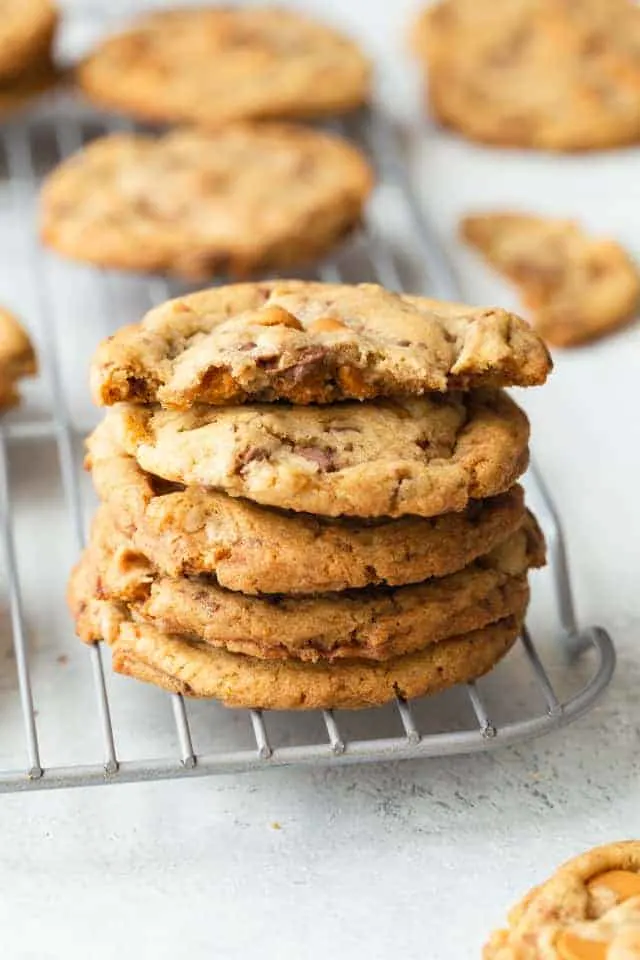 Butterscotch toffee cookies
I know how much you love my chocolate chip cookie recipe. Well, I took that same recipe and made a few adjustments. And I added butterscotch chips and chocolate toffee bits.
This resulted in the chewiest butterscotch toffee cookie. It's pure cookie satisfaction!
I started with my chocolate chip cookie base. I'm using all of the same ingredients, just different amounts and the addition of cornstarch. The cornstarch made these cookies extra soft while the added egg yolk added chewiness. The perfect combination.
There are so many ways to jazz up this cookie base! I've made granola cookies and chocolate apricot chunk cookies using this same recipe as a base.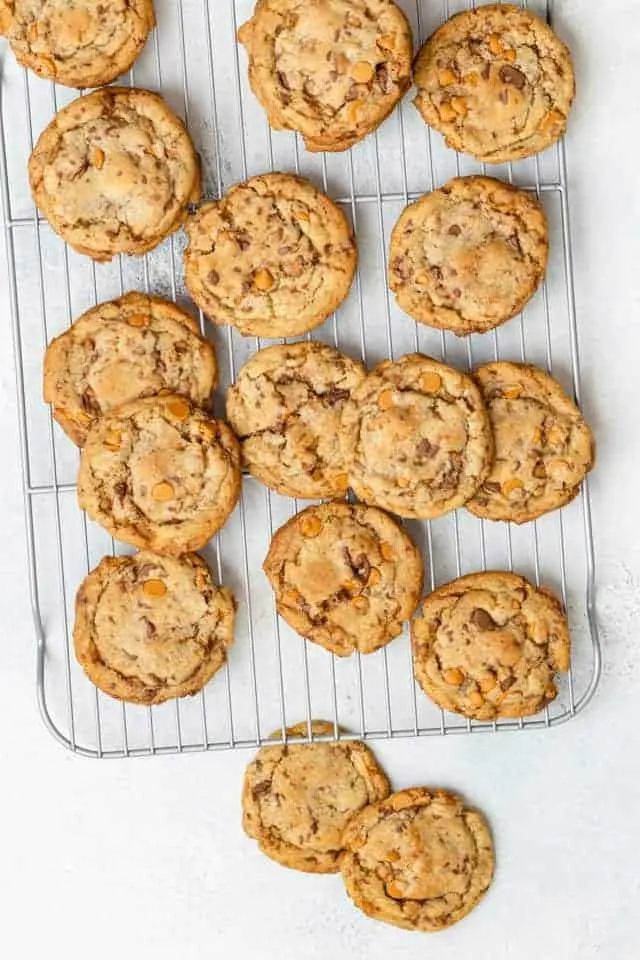 Don't forget to chill the cookie dough
Since this recipe calls for melted butter, it is important to chill the dough.
Chilling the dough will keep the cookies from spreading too much. The cookie dough should be refrigerated for no less than 2 hours. If you don't have the time to wait for the dough to chill then prepare the dough the night before.
You can even go ahead and roll the cookies out. Place the cookie balls on your baking sheet, cover them with plastic wrap, and then pop them in the refrigerator. All you will have to do the next day is transfer the cookies to the oven and wait 12 minutes for them to bake.
It is always best to slightly underbake cookies. The edges should be set while the centers will still be soft. As the cookies cool, they will continue to set resulting in a fabulously chewy center.
The cookies will stay soft for several days. My husband took them to work and they literally disappeared. They were that good!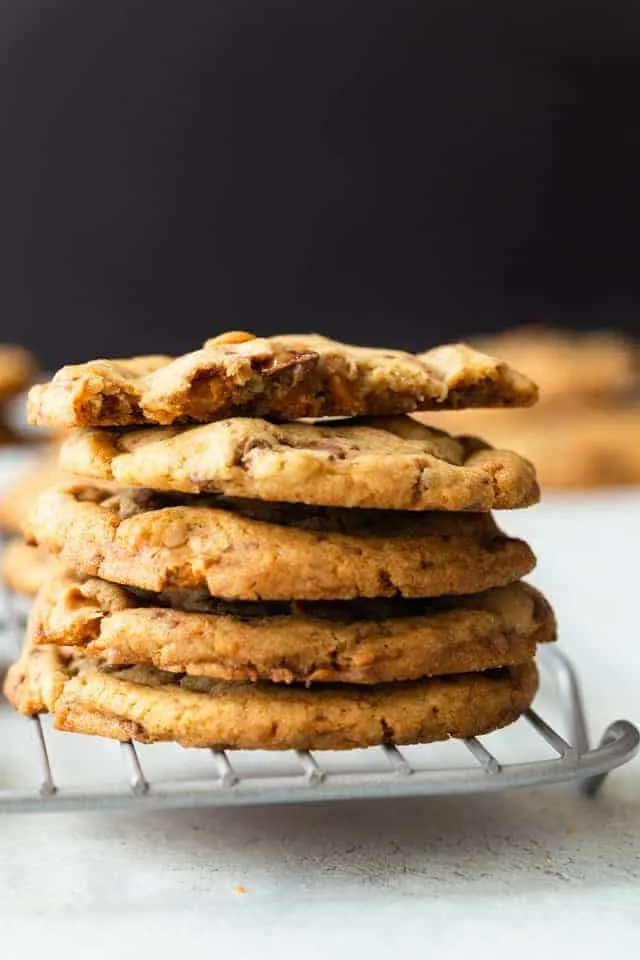 How to make butterscotch toffee cookies
Step 1: Combine the dry ingredients
Make sure to measure the flour correctly. You can lightly spoon it into a measuring cup then level it with the back of a knife or weigh it.
Whisk the flour with the other dry ingredients together in a bowl.
Step 2: Combine the wet ingredients
Whisk all the wet ingredients together in a bowl until it's well combined.
Step 3: Combine the wet and dry ingredients
Add the dry ingredients to the wet ingredients and fold it together with a silicone spatula until it's well combined.
Step 4: Add the butterscotch and toffee pieces
Fold the toffee pieces and butterscotch into the dough. There is a lot of toffee so keep folding the dough with a silicone spatula until it's all mixed in.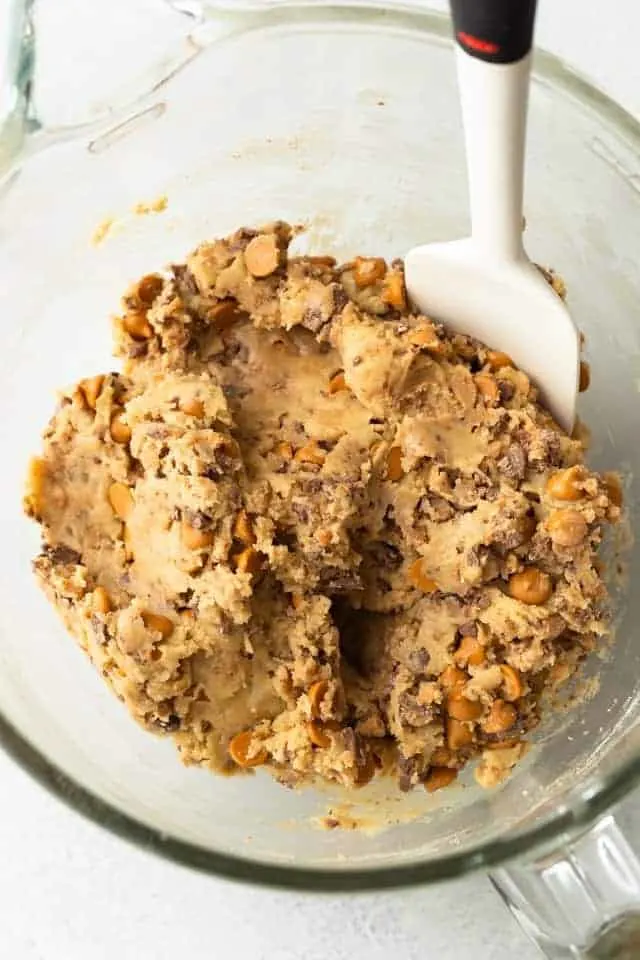 Step 5: Chill the dough then bake the cookies
The dough is made with melted butter so it needs to be refrigerated for at least 2 hours or the cookies will spread too much.
Roll the chilled dough into 1 and 1/2 tablespoon sized balls then bake for 10-12 minutes in a 350°F oven.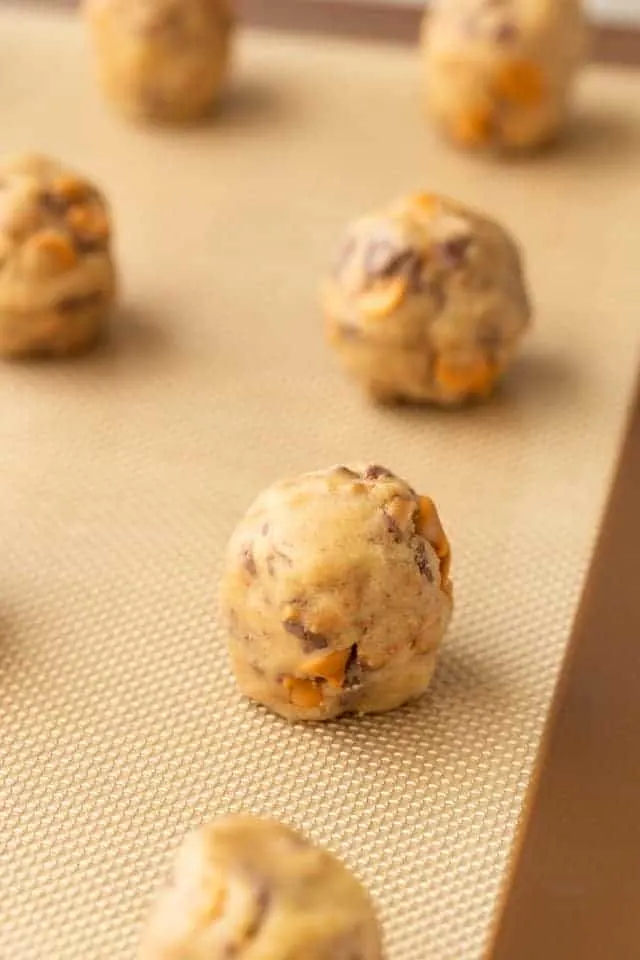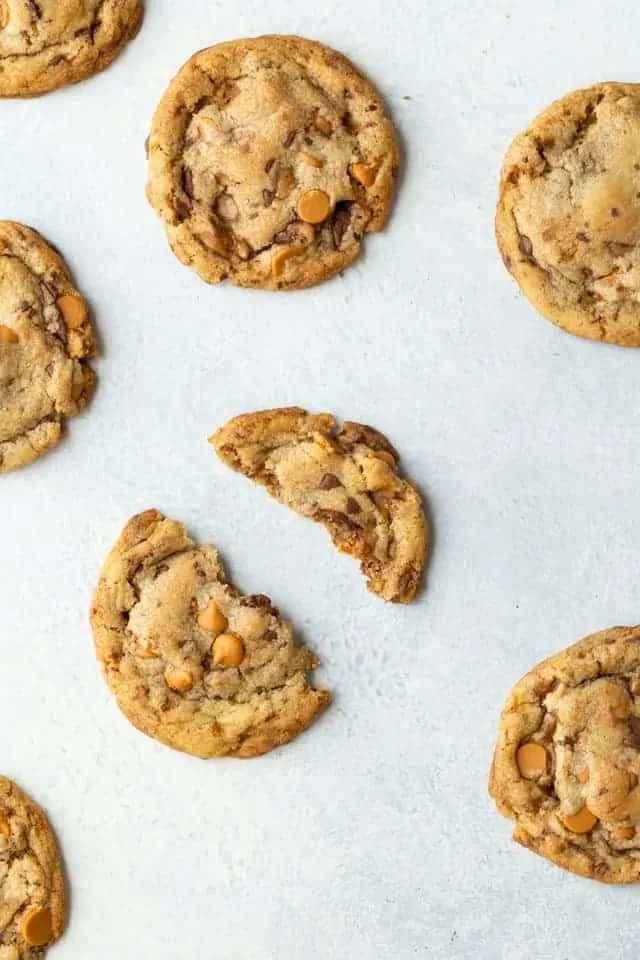 Tips for this butterscotch toffee cookie recipe
I used chocolate toffee pieces but you can go with plain toffee piece if you'd like.
Chill the dough for at least to two hours or overnight. If you refrigerate the dough overnight, bring it to room temperature before you shape it. Otherwise, it will be too hard to scoop out.
Avoid scooping the flour out with the measuring cup. Either lightly spoon the flour into a measuring cup or weigh it to be sure you are using the correct amount.
Butterscotch Toffee Cookies
This easy Butterscotch Toffee Cookies recipe may be the best cookies you've ever tasted. They are simple enough to whip up anytime.
Print
Rate
Total Time:
2
hours
27
minutes
Instructions
Combine the flour, baking soda, cornstarch, and salt; stir with a whisk. Set aside.

Combine melted butter and sugars in a large mixing bowl. Stir with a whisk until the mixture is smooth and free of clumps. Whisk in the egg, egg yolk, and vanilla.

Add the flour mixture and stir just until well blended. Fold in the chocolate toffee pieces and butterscotch chips.

Cover and refrigerate dough for 2 hours or overnight.

Preheat the oven to 350ºF degrees. Roll cookie dough into 1.5 tablespoons sized balls and place them 2 inches apart on a baking sheet lined with a silicone mat.

Bake cookies for 12 minutes or until lightly brown and just underdone. Cool the cookies on the pan for 10 minutes. Remove from the pan and cool completely on a wire rack.
Make ahead tip
The cookies will keep for up to one week stored at room temperature in an airtight container.

The dough can be made ahead and stored in the refrigerator for up to 3 days. Bring the dough to room temperature and continue with step 6.

Freeze baked cookies for up to 3 months. Thaw in the refrigerator overnight.

Freeze unbaked cookie dough balls for up to 3 months. Bring to room temperature and bake as directed
Nutrition
Serving:
1
cookie
|
Calories:
114
kcal
|
Carbohydrates:
18
g
|
Protein:
1
g
|
Fat:
3
g
|
Saturated Fat:
2
g
|
Cholesterol:
21
mg
|
Sodium:
102
mg
|
Potassium:
15
mg
|
Sugar:
11
g
|
Vitamin A:
2.5
%
|
Calcium:
0.7
%
|
Iron:
2.5
%
Nutritional values here on my recipes should be used as a general guide only. Since different brands of ingredients have different nutritional information, the values shown are just an estimate.