This post may contain affiliate links. Read the full disclosure here.
Sugar-coated candied oranges slices are perfect for decorating all sorts of desserts and they make wonderful holiday gifts. The process is simple and you can have sweet, chewy candied oranges in no time!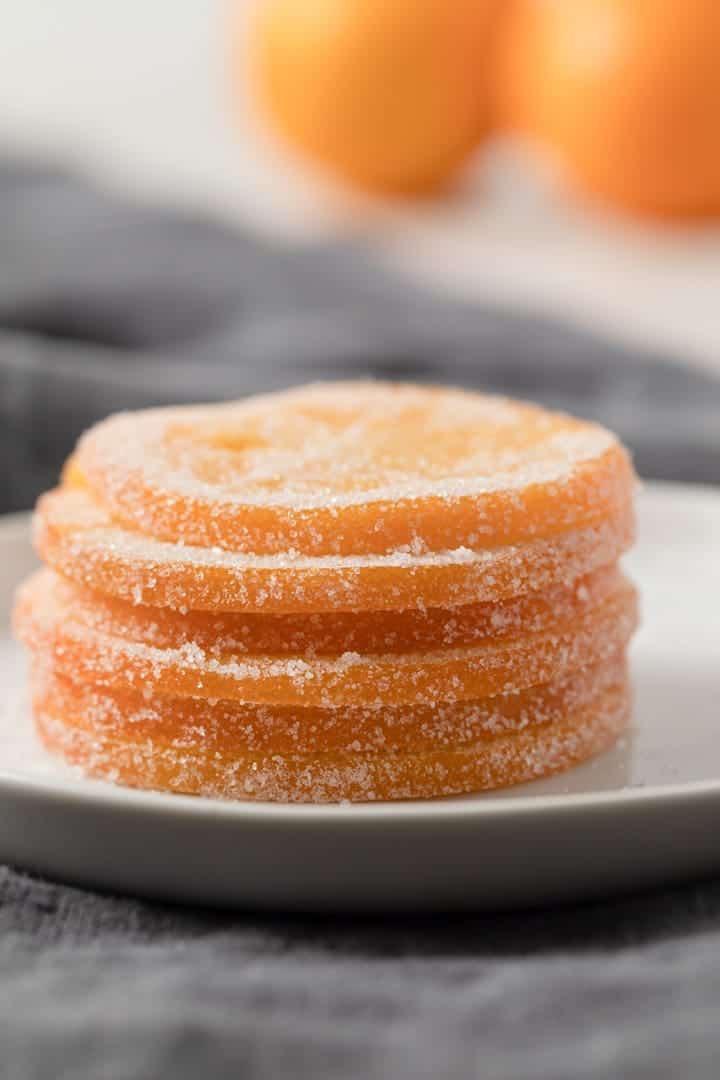 Candied Orange Slices
I've made candied lemon peel before and used them to top my vanilla cupcakes with lemon cream cheese frosting.
I enjoyed them so much that I thought I do the same but with orange instead. I used them to garnish an orange pound cake and these chocolate orange brownies and it was a smashing hit.
The process is simple but it does take a while. First, you boil the slices. Then, you simmer them in sugar water that will turn to syrup. It takes close to one hour for the water to reduce and become syrupy.
The longest part is waiting for the slices to dry. It took close to 24 hours for my slices to dry completely.
Once the slices dry, the sticky slices are dipped in sugar and ready for use. You can enjoy the candied orange slices dipped in chocolate or use them to decorate your favorite dessert.
Why this recipe works
This recipe calls for boiling the oranges for 2 minutes before you candy them. This helps eliminate the bitterness found in the white part of the peel.
A dip in an ice bath stops the orange slices from cooking and becoming too soft.
After the slices simmer in a sugar syrup, they need to dry for about 24 hours. This will leave you with perfectly chewy candied orange slices.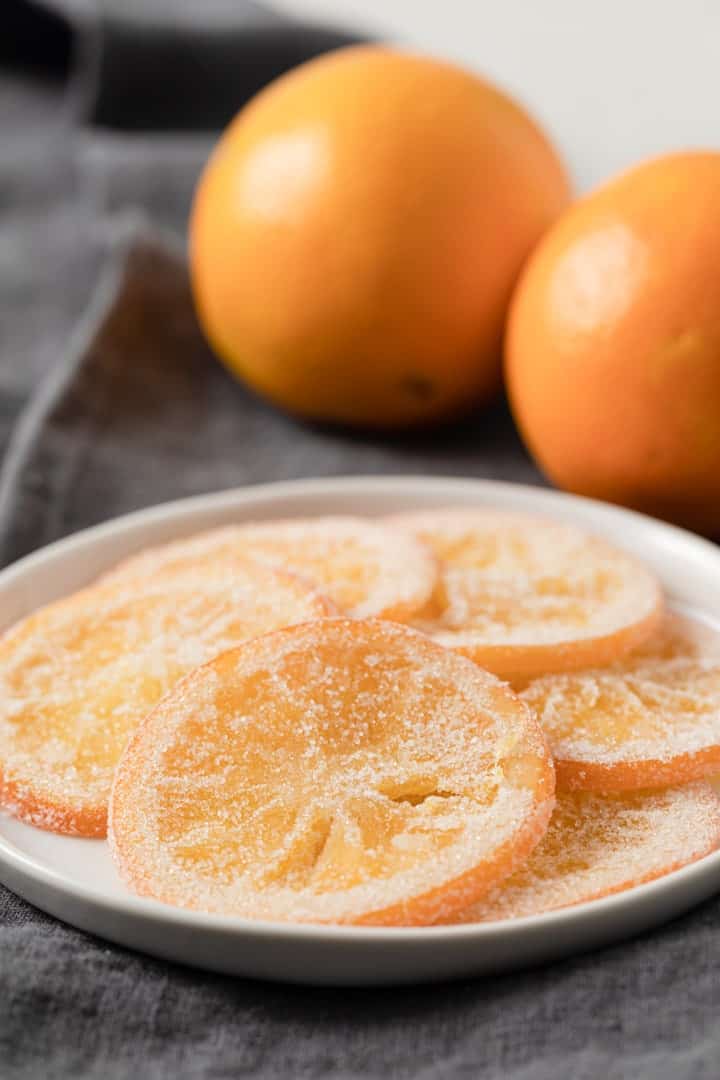 Getting the perfect Orange Slice
It's important not to slice the oranges too thick or too thin. The thicker they are the longer it will take for them to dry.
But on the other hand, the thinner they are the less likely they are to hold their shape.
I sliced a few that were on the thin side and most of the orange flesh completely disappeared during the candying process. Aim for about 3mm thick. And use a mandolin to make it easier.
Use any type of orange for this recipe! I used tangelos but there are numerous varieties to choose from. My only recommendation is to choose a variety that is small in size.
Ingredients for orange slice candy
Candied oranges require only three ingredients! Oranges, water, and sugar.
You can use any variety of orange that's in season. Different varieties will be in season during different times of the year. See the list below…
Navel Oranges: November – May
Tangerines: November – May
Mandarin Oranges: December – January
Honeybells: January – February
Temples: February – March
Cara Cara Oranges: March – March
Tangelos: April – April
Valencia Oranges: June – June
No matter the time of year, there are oranges in season.
How to make candied orange slices
Making orange slices candy is extremely easy but a bit time-consuming. However, the end product is completely worth the time it takes.
Boil the slices
Start by boiling the orange slices for 2 minutes. This helps eliminate any bitterness found in the white part of the peel.
Immediately transfer the boiled slices to an ice bath to stop them from cooking any further and discard the water.
Candy the orange slices
Bring equal parts sugar and water to a boil. I used four cups of each in a large pot. This gave me enough liquid to candy 4 small oranges.
Once the sugar water is boiling, reduce the heat to medium-low. Add the chilled orange slices and let them simmer for one hour. Gently stir the slices every 15 minutes to make sure they are all getting coated evenly in the syrup.
After an hour, the slices should start to appear translucent around the rinds. They won't be completely translucent, but you'll notice they are lighter.
At this point, remove the orange slices from the sugar water and place them in an even layer on a wire cooling rack. Make sure the rack is set over a baking pan to catch any drippings.
Let the slices sit for up to 24 hours until they are completely dry. You can coat them in sugar, dip them in chocolate, or use them as they are.
If you enjoy orange treats, you'll also love these recipes:
Did you try this recipe? I would love for you to leave me a 5-star rating or comment. This way, I have a better understanding of which recipes you like and can create more of them.
Please take a moment to follow me on Instagram, Pinterest, Facebook, Youtube or sign up for my free newsletter to never miss the newest recipes and blog updates.
You can also shop my favorite baking tools. Thank you so much for your support!