Vanilla Cupcakes with Lemon Cream Cheese Frosting
This post may contain affiliate links. Read the full disclosure here.
Homemade Vanilla Cupcakes with Lemon Cream Cheese Frosting are so full of bright sunny flavors! Whip up this easy recipe to add a little sunshine to your day. Deliciously tender vanilla cupcakes pair perfectly with the lemon cream cheese frosting.
Vanilla Cupcakes
One thing is for sure, I love fruity desserts. I will always choose the fruit-laden treat over the double chocolate one. Don't get me wrong, I do love all sweets but I can never pass up sweet ripened fruit-filled desserts.
One of my most adored is the lemon. It's already made an appearance on the blog this winter in this pull-apart bread. I am making sunshine filled treats to entice spring to hurry up!
These cupcakes were an offering to the weather gods. The cupcake itself is soft and full of vanilla flavor. I topped them with a sweet lemon cream cheese frosting. The vanilla and lemon complement each other perfectly.
The vanilla cupcake recipe is incredibly easy. It contains simple ingredients that you should already have on hand. Butter, sugar, eggs, vanilla, buttermilk, flour, baking powder, and salt.
I always use butter in my cupcake recipes because I love the buttery flavor. I think all cake should be buttery!
How to make vanilla cupcake with lemon cream cheese frosting
The process is simple. Mix the wet ingredients, then mix the dry ingredients, and combine the two. You really can't mess this up. Bake them for about 20 minutes and that's it. Easy-peasy.
The frosting is just as simple. And it tastes amazing! Cream cheese, butter, lemon curd, and powdered sugar are all blended together to make a light, lemony, and creamy frosting. It's good enough to eat with a spoon. Or as a dip for fruit. Trust me, it's amazing.
Frost the cupcakes after they have cooled completely. You can choose your own method for frosting. I used a piping bag fitted with a large round tip. This allowed me to pipe large swirls of frosting onto the cupcakes.
The cupcakes and frosting take around an hour to make and I'm certain it will take you less than that to eat them all. They are wonderful.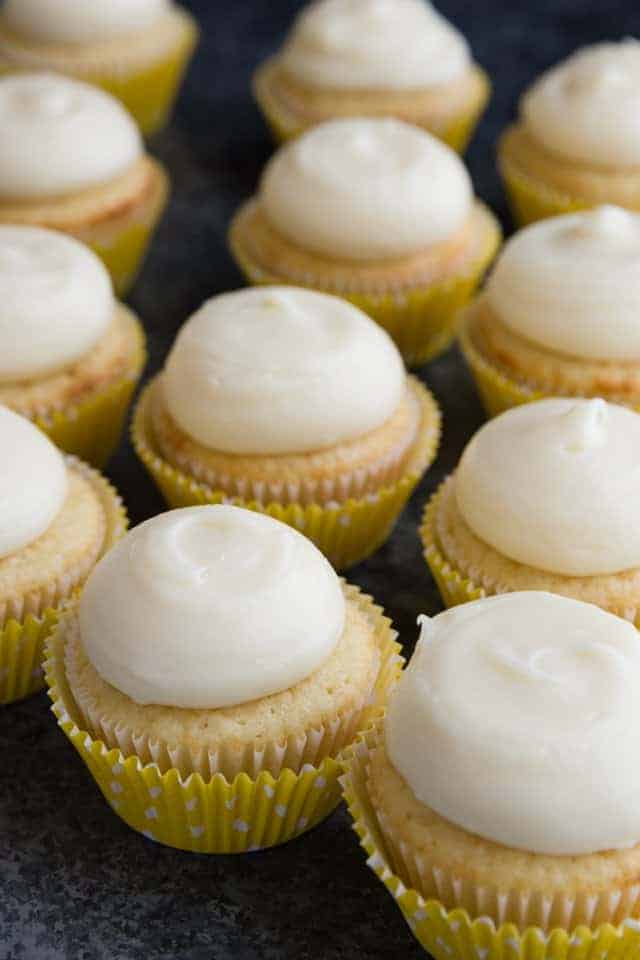 Did you try this recipe? I would love for you to leave me a 5-star rating or comment. This way, I have a better understanding of which recipes you like and can create more of them.
Please take a moment to follow me on Instagram, Pinterest, Facebook, Youtube or sign up for my free newsletter to never miss the newest recipes and blog updates.
You can also shop my favorite baking tools. Thank you so much for your support!