This post may contain affiliate links. Read the full disclosure here.
This strawberry cheesecake recipe is amazing! My creamy and light classic cheesecake recipe is finished off with a delightful strawberry topping. The cheesecake is nestled in a simple graham cracker base that adds a touch of texture to each bite. Who needs the Cheesecake Factory?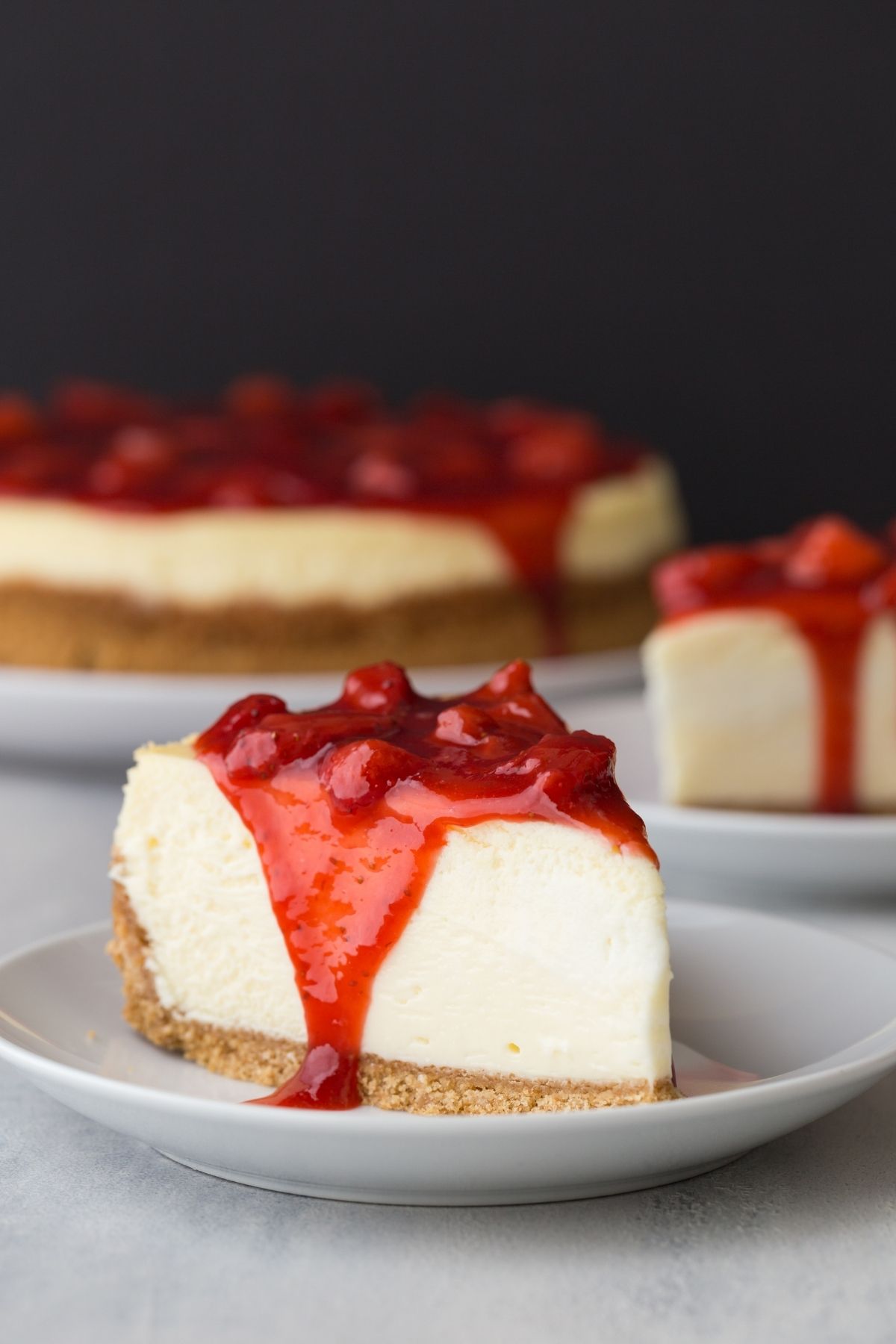 Recipe Details
Taste – Rich, vanilla flavored cheesecake with the sweetness of strawberries.
Texture – Silky smooth and creamy with a crunch from the graham cracker crust.
Ease – Cheesecakes are quick to assemble but can be temperamental when baking.
Time – From start to finish, including chilling time, it is about 4 hours 15 minutes.
My Favorite Strawberry Cheesecake
It's no secret that I love a silky smooth cheesecake. I've made several of them over the last few years. One of my secrets is the hot water bath. It keeps the cheesecake top from cracking.
My most popular cheesecake recipe on this site is a luscious Nutella cheesecake and followed by that is my favorite triple chocolate cheesecake. You guys seem to love cheesecakes as much as I do.
Cheesecake is a decadent, delicious and well-loved desserts. It's impressive and delicious. Don't be nervous about trying to make this! It's really not difficult and it is well worth any effort.
Today, with summer around the corner, we're celebrating my supremely creamy cheesecake which I've topped it off with a homemade fresh strawberry topping. This has been my go-to cheesecake recipe for many years now. It's absolutely delicious.
There's really nothing fancy with today's recipe. It's simple, light, and fresh. Not that I'm suggesting you do this, but you might even be able to enjoy more than one slice without feeling bogged down and heavy.
Depending on where you live, strawberries are coming into season in a matter of days or weeks. Truly, there is no better way to highlight this bright red, juicy summer fruit than to make a strawberry topping for cheesecake.
If it's too hot to make a baked cheesecake, give this no bake strawberry cheesecake a try! It's just as delightful.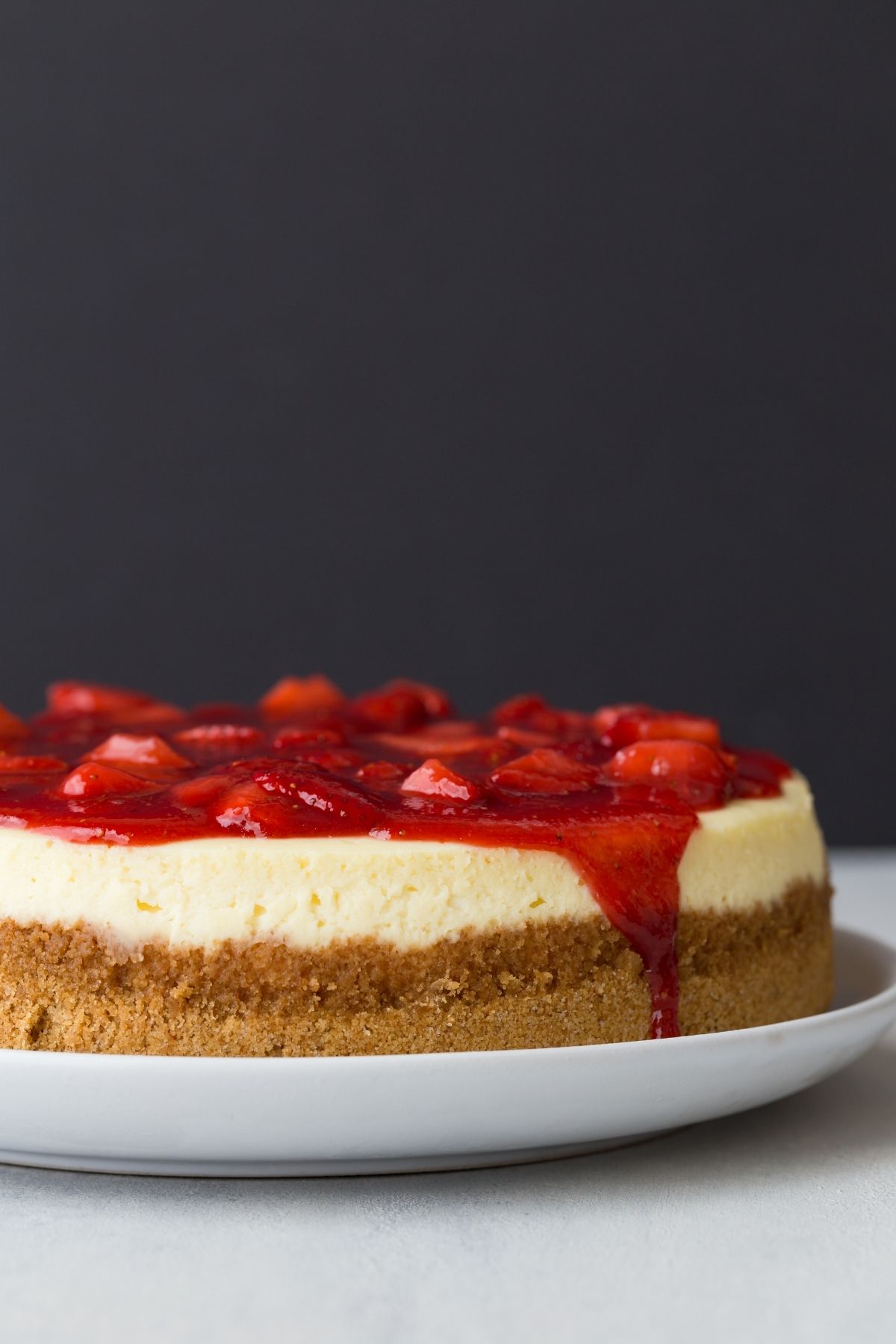 How do you make a cheesecake base?
The crust for this strawberry cheesecake is made with graham cracker crumbs, sugar, and melted butter. Mix all this together in a large bowl until the mixture resembles wet sand.

Press the crumb mixture into the bottom and halfway up the sides of a springform cake pan. Bake it in a 350°F oven for 10 minutes then let it cool completely.
---
Main ingredients for strawberry cheesecake
Cream cheese – Choose a high-quality, full-fat cream cheese for the best results.
Sugar – Regular granulated sugar works best for baked cheesecakes.
Sour Cream – The secret ingredient to light and creamy cheesecakes.
Strawberries – Pick ripe strawberries to use for the sauce. They'll taste much better if they are in season!
---
How to Make Strawberry Cheesecake
Step 1: Make the Graham Cracker Crust Base
Combine cream cracker crumbs, sugar, and melted butter. Press the crumb mixture in the bottom and up the sides of a 9-inch springform pan. Preheat the oven to 350°F and bake for 10 minutes. Set aside to cool.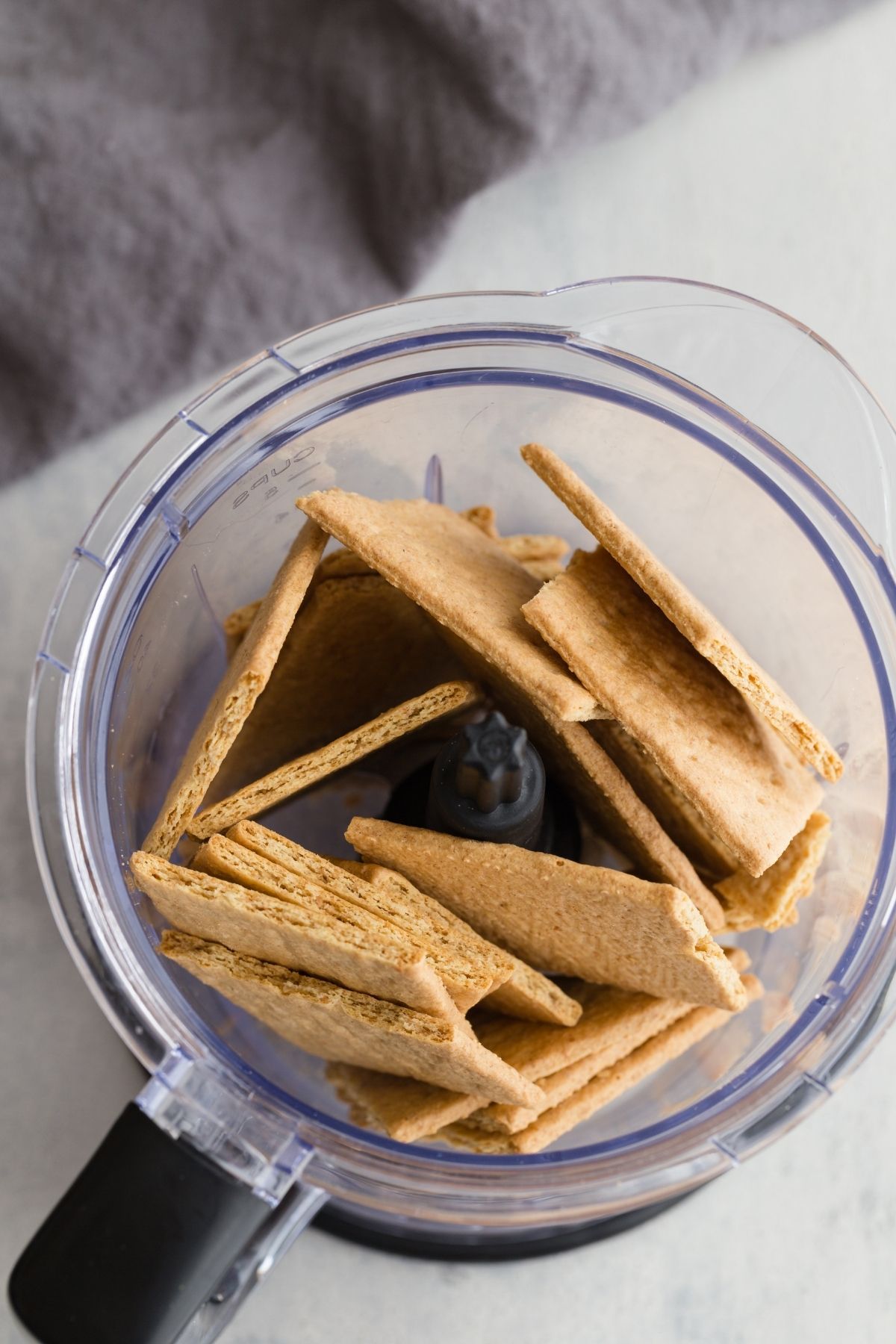 Step 2: Make the Creamy Cheesecake Filling
Beat the cream cheese with an electric mixer until smooth and creamy. Beat in the sugar, sour cream, salt, and vanilla extract until well combined. Gently stir in lightly beaten eggs.
Pour the filling over the prepared crust and set it inside a water bath. A water bath is just a pan of water placed in the oven in which you put the cake pan during baking. It ensures the cheesecake bakes at an even temperature and keeps the top of the cheesecake from cracking.
Bake in a 300°F oven for 1 hour then turn the oven off and let the cheesecake sit in the oven for another hour with the door closed.
Remove the cheesecake from the oven and set it on a wire rack to cool completely then refrigerate for 4 at least 4 hours or overnight.
Step 3: Make the Strawberry Topping
Puree fresh strawberries with cornstarch using a blender or a food processor. Add the puree and sugar to a medium saucepan and cook over medium heat until thickened. This may take anywhere between 10 to 20 minutes.
Once thickened, stir in the chopped strawberries and set aside to cool. Top the cheesecake with the strawberry sauce just before serving. You can cover the entire cheesecake with the strawberry topping or you can drizzle it over each piece if you are serving pieces individually.
Tips for The Best Strawberry Cheesecake
Read my post on how to make the best cheesecake recipe for full details on how to achieve a creamy texture and zero cracks.
Plan ahead. Cheesecakes take time to prepare and must refrigerate for several hours once finished.
Don't overbeat the filling. It can cause cracking.
---
More Strawberry Recipes
Did you try this recipe? I would love for you to leave me a 5-star rating or comment. This way, I have a better understanding of which recipes you like and can create more of them.
Please take a moment to follow me on Instagram, Pinterest, Facebook, Youtube or sign up for my free newsletter to never miss the newest recipes and blog updates.
You can also shop my favorite baking tools. Thank you so much for your support!
Watch the strawberry cheesecake web story!