The Best Cheesecake Recipe
This post may contain affiliate links. Read the full disclosure here.
Learn how to make the best cheesecake with this melt in your mouth recipe! Follow these simple tips to ensure your cheesecake turns out light, creamy, and free of cracks every single time.
It's no secret, I love cheesecake. Who doesn't? I love the process of making it.
But, even more than that, I love eating it. I can't resist a thick, creamy homemade cheesecake full tangy vanilla flavor on a buttery graham cracker crust. It's phenomenal with raspberry sauce.
Nutella cheesecake is by far my most favorite. It's wildly popular! If you end up making it then, I suggest also giving this cappuccino cheesecake and butterfinger cheesecake a try!
I often get asked what my secret is when it comes to making cheesecake. So today I'm sharing my favorite tips and tricks for cheesecake perfection.
I'll discuss each little step, every ingredient, and how to avoid those pesky cracks.
Why this cheesecake recipe works
Quality ingredients make all the difference! Choose a full-fat brick cream cheese from a top brand. Philadelphia cream cheese is what I use most.
My technique for folding the eggs in at the very end eliminated excess air in the batter. This helps prevent the cheesecake from cracking.
A low baking temperature and water bath are used to create the creamiest texture you've ever had.
Ingredients
Graham crackers: The crust is made from graham cracker crumbs but you could use vanilla Oreos or vanilla wafers also.
Sugar: Granulated white sugar is in the crust and the filling.
Butter: Melted butter is the "glue" the holds the crust together.
Cream cheese: Full-fat brick-style cream cheese is best! Don't try to use the whipped stuff in plastic containers.
Sour cream: Heavy cream or plain Greek yogurt work for this recipe also.
Vanilla extract: Choose a high-quality pure vanilla extract.
Eggs: Give a smoother texture.
---
How do you make a cheesecake from scratch?
The most important ingredient is, of course, cream cheese. I have found that a high-quality cream cheese yields the best texture.
Personally, I like to use Philadelphia, but any good quality cream cheese will do. And make sure it's full-fat. Cheesecakes are not meant to be "light".
If you want to reduce calories, try making mini cheesecakes instead. This way you can easily control the portion size.
Step 1: Make the crust
Combine melted butter with sugar and graham cracker crumbs. The crumbs should resemble wet sand.
Press the mixture into the bottom of the pan and about an inch up the sides. Make sure press it firmly to build a tight, firm crust.
Bake the crust for about 10 minutes then let it cool completely before adding the filling.
Step 2: Make the filling
This recipe contains 4 8-ounce packages of cream cheese, but that's not the only thing it needs.
Most of my cheesecake recipes call for heavy cream, but today I'm using sour cream. Sour cream offers a tang that cuts through the richness of the filling and yields velvety texture.
I also add 4 eggs to hold everything together. It's important not to whip too much air into the batter once the eggs are added.
Excess air in the eggs will cause the filling to rise during baking. As the cheesecake cools, it will deflate. This is what causes those ugly cracks in the top.
Use stand mixer fitted with the paddle attachment or a handheld electric mixer and large bowl to beat the cream cheese on medium speed until it's smooth and creamy.
Scrape down the sides and bottom of the bowl. Beat in the sugar, sour cream, and vanilla until well combined.
Then, lightly beat the eggs with a fork and gently fold them into the batter using a silicone spatula.
Pour the batter into the cooled crust.
Step 3: Prepare a water bath
A water bath creates steam inside the oven which helps cook the cheesecake without drying it out. It's a method I swear by but it can be tricky.
I get so many emails from people who ruined their cake because water seeped into the pan.
The trick to keeping the water out is to wrap the pan in aluminum foil that is extra wide. Look for 18-inch wide heavy-duty foil.
For an extra layer of protection, you can also set the pan inside an oven bag and roll the sides down to meet the top of the pan.
Fill a roasting pan with a few inches of boiling water, set the cheesecake in the center, and put the whole thing in the oven.
Use this free download to get a printout of how to properly use a water bath and prevent leaks.
Step 4: Cook and cool
Always cook on the lower third rack of the oven. This helps keep the top from getting too brown before the cheesecake has cooked through.
And cook just until the outer edge has set, but the center is still jiggly and looks wet. This takes about 1 hour but it could take a little longer depending on your oven.
Another way to ensure your cheesecake remains free of cracks is to allow it to cool gradually. Turn the oven off and leave it in the oven with the door closed for 1 hour.
Remove it from the water bath, run a knife around the outside edge to loosen it from the pan, and let the it cool to room temperature.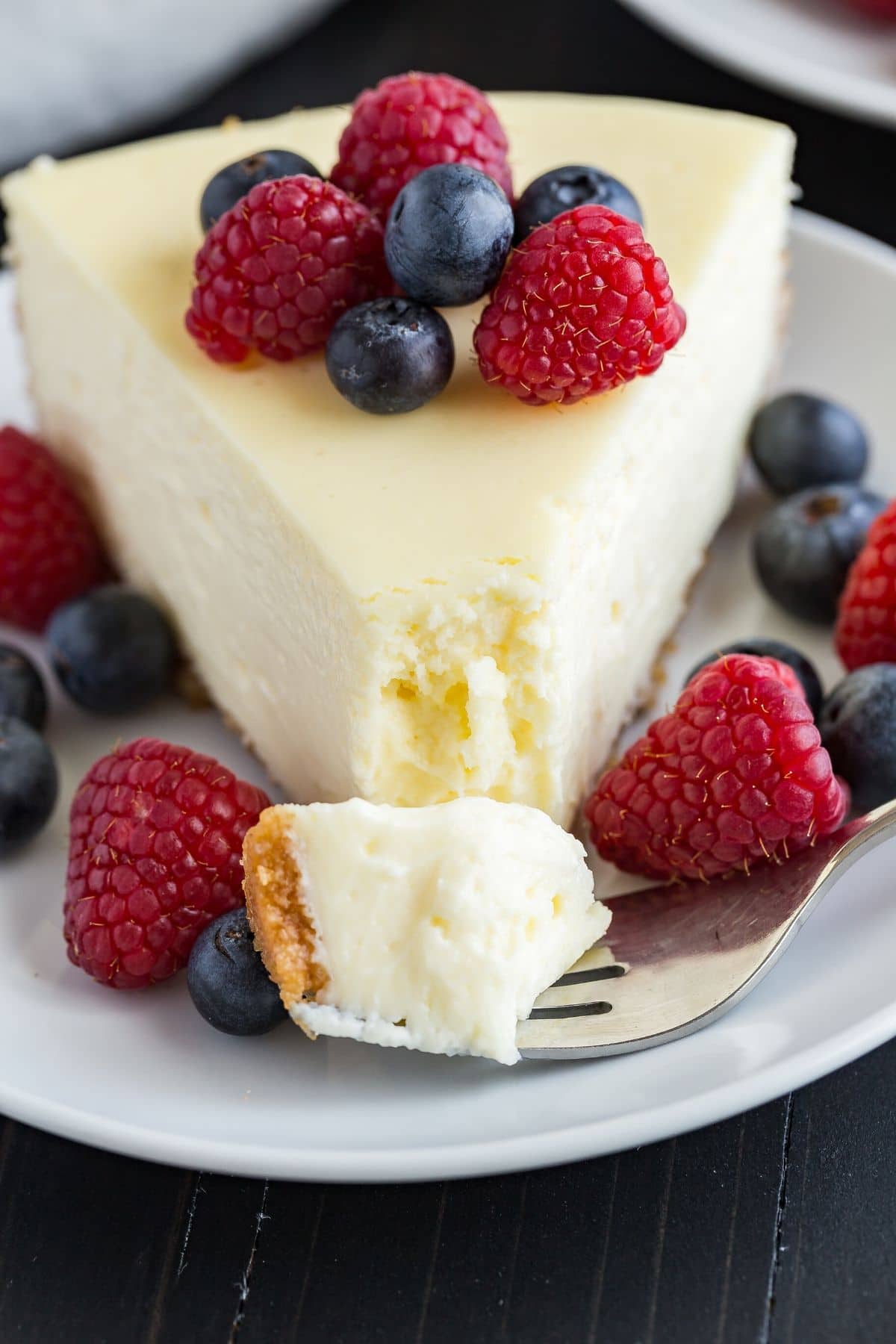 Always plan ahead
Cheesecake needs to be refrigerated for at least 4 hours for it to finish setting up. I prefer to let my cheesecake chill overnight. The texture seems to turn out best this way.
So be sure to allow ample time to make and chill before serving it. You will be disappointed if you cut into the cheesecake too soon.
If you take these steps into consideration, I promise you will have the best homemade cheesecake you've ever had!
---
Tips for making the best cheesecake recipe
Begin with room temperature ingredients. Set the cream cheese, sour cream, and eggs out on the counter 30 minutes prior to making the recipe.
Don't incorporate air into the eggs by beating them in with a mixer. Instead, gently fold the eggs in at the very end by using a silicone spatula.
For the creamiest texture, be sure to use a water bath.
After the cheesecake bakes for an hour, turn off the oven and let it sit inside for another hour.
More homemade cheesecake recipes you'll love
Did you try this recipe? I would love for you to leave me a 5-star rating or comment. This way, I have a better understanding of which recipes you like and can create more of them.
Please take a moment to follow me on Instagram, Pinterest, Facebook, Youtube or sign up for my free newsletter to never miss the newest recipes and blog updates.
You can also shop my favorite baking tools. Thank you so much for your support!