Triple Chocolate Cheesecake
This post may contain affiliate links. Read the full disclosure here.
Triple Chocolate Cheesecake with an Oreo crust and a rich chocolate glaze is a decadent dessert that is ultra creamy and smooth. If you are a chocolate lover, this cheesecake with THREE different chocolate layers is for you!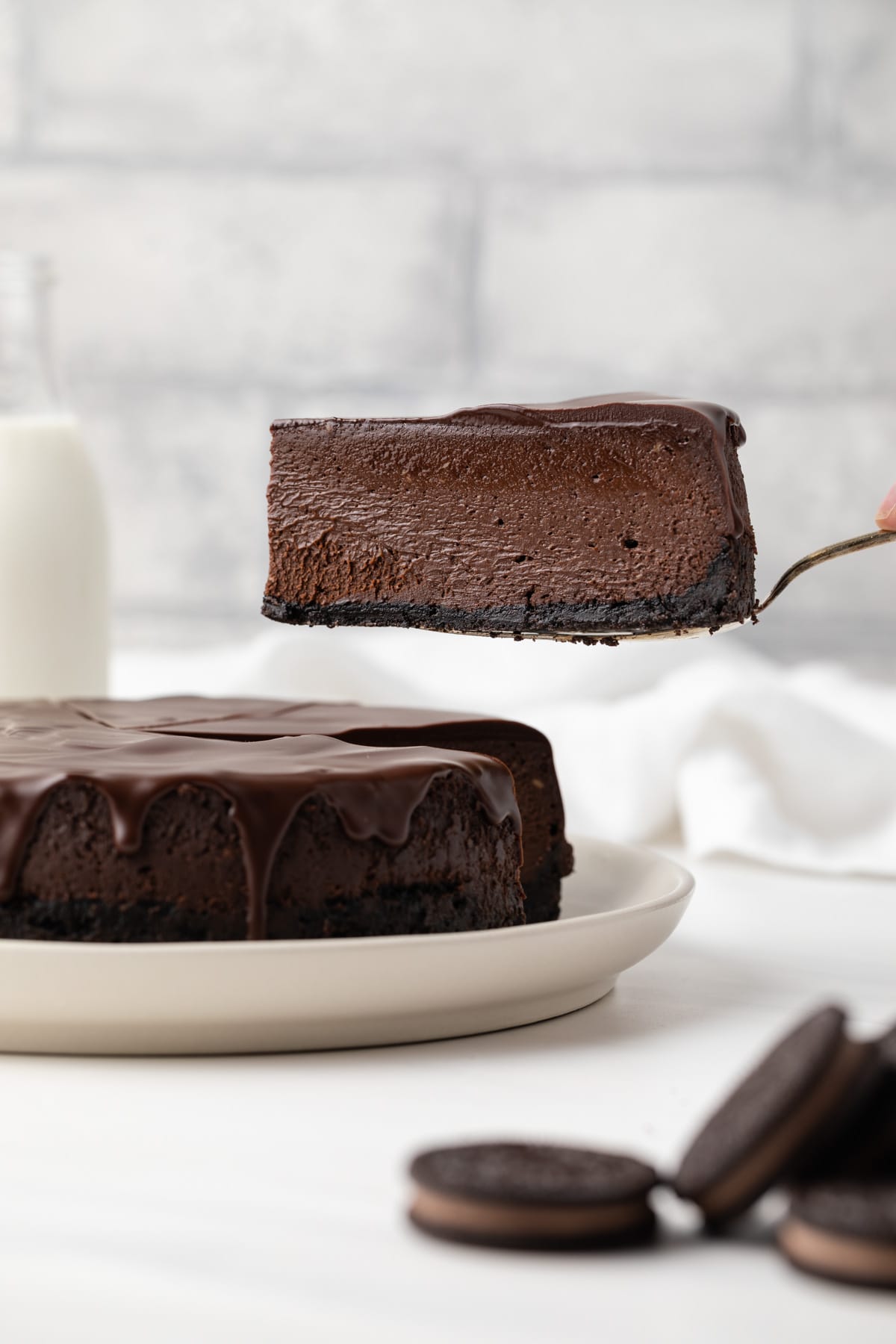 Triple Chocolate Cheesecake
It's no secret, I LOVE cheesecake.
There is an ever-growing archive of cheesecakes on my blog and I don't plan to stop. You may remember my super popular Nutella cheesecake and this recipe for the best cheesecake. But personal favorites are Butterfinger cheesecake and cappuccino cheesecake.
Today we're visiting the decadent chocolate variety again. I'm trading Nutella for a triple chocolate cheesecake that's LOADED with chocolate flavor.
You are welcome.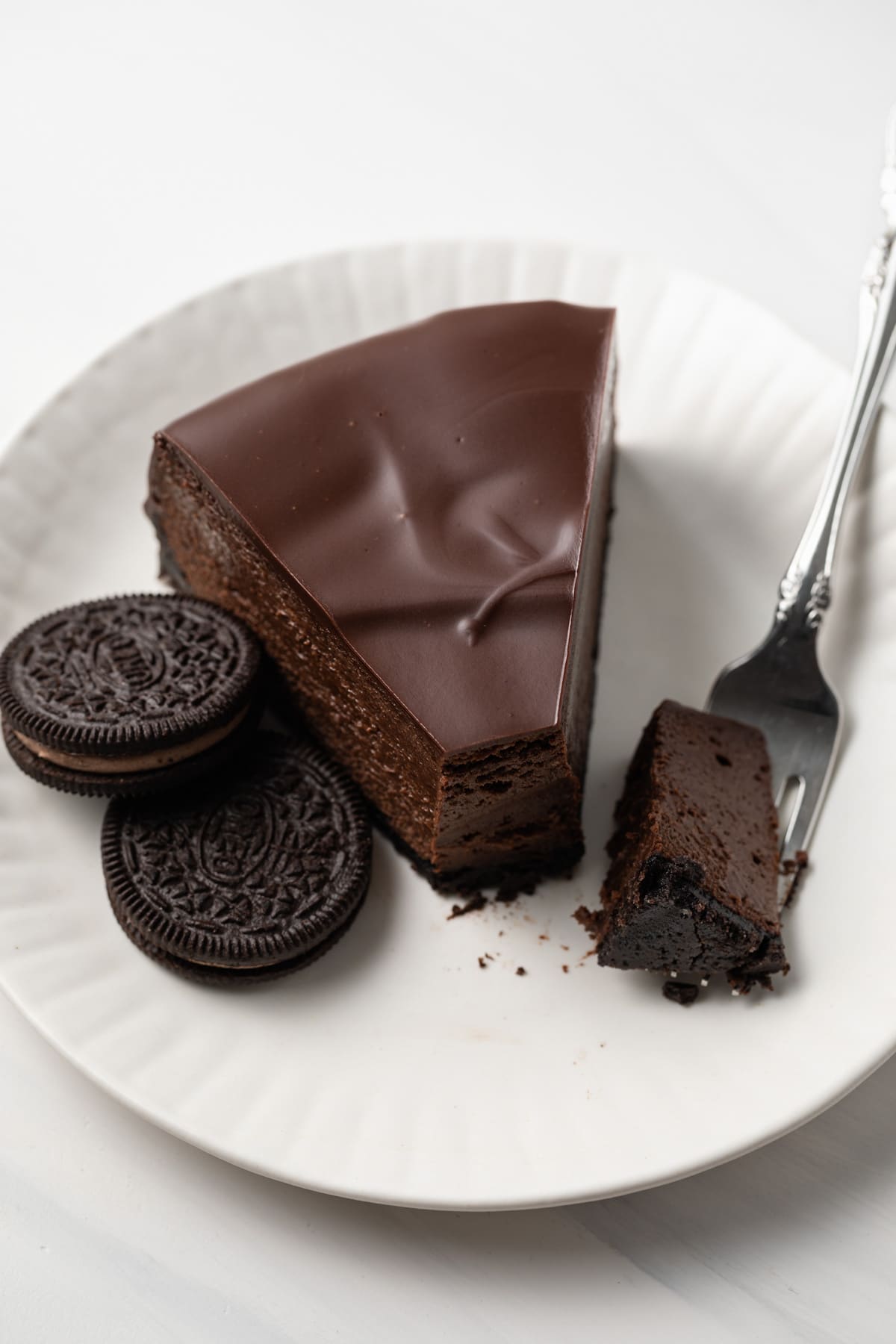 Triple Chocolate Cheesecake Details
Let's talk about the triple layers of chocolate in this cheesecake.
Layer one – chocolate-filled Oreos ground into crumbs then mixed with butter or the crust.
Layer two – chocolate cheesecake.
Layer three – chocolate glaze.
So basically this is a mountain of chocolate and an even larger mountain of calories. But hey, it's dessert and it's meant to be eaten in moderation so we're okay here.
What You'll Need
The ingredient list seems long but a few of the ingredients are used in multiple parts of the recipe.
Chocolate filled Oreos
Unsalted butter
Semisweet chocolate
Cream cheese
Granulated sugar
Unsweetened Dutch-processed cocoa powder
Vanilla extract
Salt
heavy cream

You may use sour cream in place of heavy cream. Increase the amount to 1 cup.

Eggs
For The Glaze
Light corn syrup

This is an optional ingredient. It adds shine to the chocolate ganache but won't ruin the recipe if you omit it.
---
How to Make Triple Chocolate Cheesecake
Oreo cookie crust. I used chocolate-filled Oreos but if you can't get them in your area, regular Oreos are perfectly fine. Any other chocolate cookie with a chocolate filling will also work.
Pulse the Oreos in a food processor, filling and all, until the cookies turn to crumbs. Mix the crumbs with melted butter and press them into the bottom of a 9-inch springform pan or cheesecake pan. Bake the crust for 10 minutes so it sets.
Chocolate cheesecake. The chocolate cheesecake filling is my go-to cheesecake base. It's so luscious and creamy. I used this batter in every single cheesecake on the blog.
It starts with full-fat block cream cheese, sugar, eggs, and heavy cream. I typically add vanilla also. Today, I'm also including melted chocolate and cocoa powder. So much CHOCOLATE.
We're using 3 blocks of cream cheese which in total is 24 ounces. Most of the time I use 4 blocks but this batter needed room for an entire 12 ounces of melted chocolate.
I find it easiest to beat the cream cheese first until it's smooth then beat in the sugar, cocoa powder, salt, and vanilla until it's all mixed in well. Next, beat in the heavy cream followed by the melted.
The batter gets a little thick here but I add the eggs at the very end to loosen it up.
Folding the eggs in at the end also prevents whipping excess air into them. This is the main cause of cracks in cheesecakes.
Spread the batter evenly over the baked Oreo crust then bake the cheesecake. I bake for one hour and then turn the oven off and let the cheesecake sit with the door closed for another hour. This also helps to prevent cracks.
Always plan ahead because cheesecakes are time-consuming.
After the two-hour bake and cool down, the cheesecake still needs to cool completely then chill in the refrigerator for at least four hours. I prefer to chill cheesecakes overnight though.
After the cheesecake has chilled, it's time to add the glaze. I made a simple glaze with chocolate, butter, and corn syrup all melted together. You can skip the corn syrup if you like. All it does is add shine to the glaze.
Slicing this triple chocolate cheesecake can be tricky. If the glaze is refrigerated, it will firm up and be difficult to slice through. But on the other hand, if it hasn't had time to set, it will go everywhere when you slice through.
My suggestion is to glaze the cheesecake just before you plan to serve it then chill it for about 10 minutes so the glaze sets but doesn't become too firm.
Also, run a knife under hot water, wipe it dry with a clean towel, then cut through the cheesecake. Repeat these steps after each cut and you'll get neat and clean slices.
To lighten the cheesecake, serve with whipped cream. Chocolate shavings will also make a lovely presentation when serving a crowd.
Tips for Success
Make sure all the ingredients are room temperature before you start making the cheesecake. I like to set the cold ingredients out on the counter about 30 minutes prior to baking.
Use a water bath for the best texture! Use this free download to get a pdf printout of how to properly use a water bath and prevent leaks.
Add the ingredients in order of the recipe. It's super important that each ingredient is added at the right time. Eggs should always come last and they should be folded in, not mixed in with the mixer.
Allow the cheesecake to sit in the oven for an extra hour after baking. This will help prevent cracks. I also recommend letting the cheesecake refrigerate overnight after it has completely cooled.
Did you try this recipe? I would love for you to leave me a 5-star rating or comment. This way, I have a better understanding of which recipes you like and can create more of them.
Please take a moment to follow me on Instagram, Pinterest, Facebook, Youtube or sign up for my free newsletter to never miss the newest recipes and blog updates.
You can also shop my favorite baking tools. Thank you so much for your support!