This post may contain affiliate links. Read the full disclosure here.
These hand held mini apple pies wrap crisp, cinnamon doused apples in a flaky pie crust. They're perfect for a dessert buffet or to grab on the go.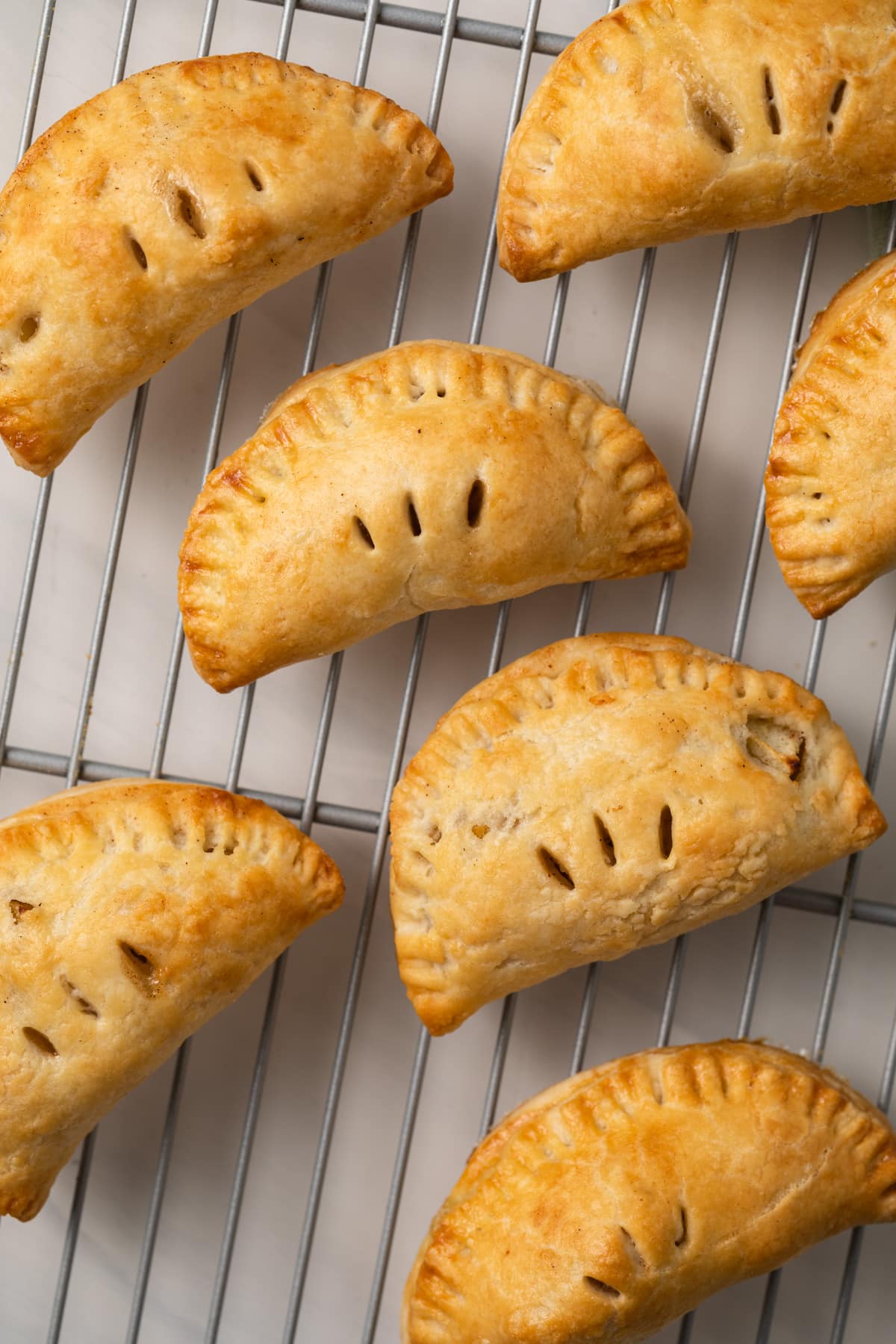 Those of you who read along with this site know how much I adore a good "mini" dessert. Not because I want less – but because I want more! Rather than pick just one dessert flavor, an assortment of minis lets me try them all.
A platter with mini cupcakes (you can use my chocolate cupcake or vanilla cupcake recipe and make them using a mini cupcake pan), mini cheese cakes, mini pumpkin pies and these mini apple pies would be the perfect fall dinner party dessert offering.
These mini apple pies are the perfect little taste of fall. Warm and comforting with a sweet, cozy apple filling. They're just delicious and a perfect and quick and easy way to use up extra apples you might have from your apple picking bounty.
I don't know what is more of a quintessential fall dessert – pumpkin pie or apple pie. I love them both and can't imagine a Thanksgiving dinner without a slice of each. Topped with a scoop of vanilla ice cream or a dollop of fresh whipped cream… really, what could be better?
You know how much I adore minis – and since I already had a mini pumpkin pie recipe, I thought it was high time I made a mini apple pie. I thought about putting the crust in a cupcake pan and filling it with apples, And those would be cute and would probably work fine.
But I couldn't shake the idea of recreating the packaged handheld pies that I'd sometimes buy as a kid in the grocery store. They were admittedly not that great, and the filling was sickly sweet, but I didn't realize it at the time. I thought they were delicious. And they are cute, and handheld. With a heavy dose of nostalgia.
So I set out to recreate them, and honestly, I can't believe how quickly I got it right. I used my basic pastry dough recipe, and realizing these mini pies couldn't handle too much juicy filling – I made the filling a little simpler than my apple pie filling, so I started with just basic sweetened and spiced apples.
I'll admit, this doesn't often happen this way – but wow- first try and these little guys were delicious. If you love the desserts of fall and are looking for a fun after school treat, or for something to put on a dessert buffet, give this recipe a try!
---
Recipe Snapshot
TASTE: Apples and cinnamon – a taste of fall.
TEXTURE: Flaky crust and soft filling.
EASE: easy!
TIME: Just under 2 hours (including chilling time)
---
What You'll Need
Ingredients
These mini apple pies use all the same ingredients as a classic apple pie recipe.
Flour – All-purpose flour is the base of the crust.
Butter – Cold unsalted butter is required to make the crust light and flaky.
Salt – Kosher salt is preferred.
Water– The crust recipe requires cold water, and the pie filling requires just a tablespoon of water, and the temperature doesn't matter.
Apples – 2 baking apples – meaning crisp and juicy apples that hold up in baking.
Spices – cinnamon and allspice give a warm flavor to the filling.
Sugar – Granulated sugar is fine, for sweetness.
Egg – The eggwash is what gives the crust its shine.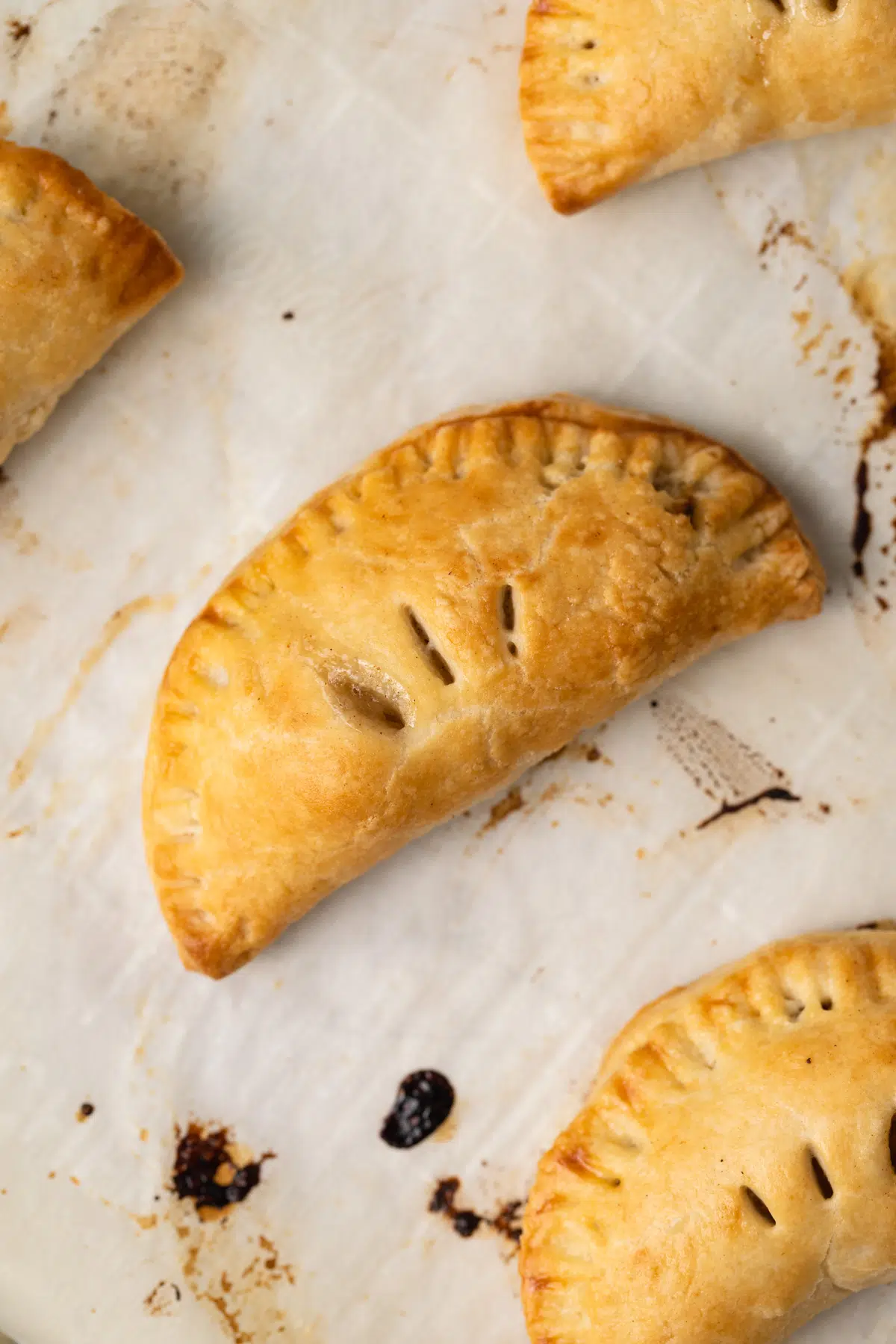 How to Make Mini Apple Pies
This mini apple pies are easy to make, absolutely adorable, and delicious to boot. What could be better? When ready to bake, preheat the oven to 425 and line a baking sheet with parchment paper.
Make the crust
Combine the flour and salt in a medium mixing bowl. Stir with a whisk until well-mixed.
Using a pastry cutter or two knives cut the butter into the flour until lentil-sized crumbs form. Drizzle the ice water over the flour to moisten it. Toss the mixture together with a fork to combine. Turn the dough out onto a work surface and gently knead until the dough comes together.
Flatten the dough into a disk, wrap tightly in plastic wrap, and refrigerate for at least 30 minutes.
On a lightly floured work surface roll the dough into ⅙-inch thickness. Cut out 12, 4-inch circles using a biscuit cutter, a cookie cutter or an inverted glass. You will probably need to roll the dough out twice.
Make the filling
In a small bowl, combine the apples, sugar, cinnamon, and allspice. Place a tablespoonful of filling on one side of each dough circle.
Whisk the egg and water together in a small bowl. Brush eggwash around the edges of the pastries. Fold each one over and seal the edges with a fork.
Place 2-inches apart on the prepared baking sheet. Brush the tops with the remaining eggwash. Cut three small slits in the tops of each pastry.
Bake for 18-20 minutes, until golden brown. Cool on the pan for 5 minutes then transfer to a wire rack to cool completely.
Handy tip: Prepare Ahead!
The dough must rest in the fridge for 30 minutes, but it can rest for longer if you want to make the dough ahead of time. You can also prepare the apples ahead of time but if you do, sprinkle a little lemon juice over them to keep them from browning and cover tightly with plastic wrap.
Tips For Success
Use crisp baking apples like Macintosh, Granny Smith, or Honeycrisp for the best flavor.
Storage & Freezing
Storage: Store leftover mini apple pies in the refrigerator for up to 4 days. Reheat in the microwave before serving.
Pies, pies, and more pies. As fall approaches and holiday dinner menus are being planned, be sure to take some time to look through some of my favorite pie recipes.
Did you try this recipe? I would love for you to leave me a 5-star rating or comment. This way, I have a better understanding of which recipes you like and can create more of them.
Please take a moment to follow me on Instagram, Pinterest, Facebook, Youtube or sign up for my free newsletter to never miss the newest recipes and blog updates.
You can also shop my favorite baking tools. Thank you so much for your support!
Printable Recipe