This post may contain affiliate links. Read the full disclosure here.
Oreos balls are made with Oreo cookies, cream cheese, and chocolate. They're an easy no-bake treat for the holidays!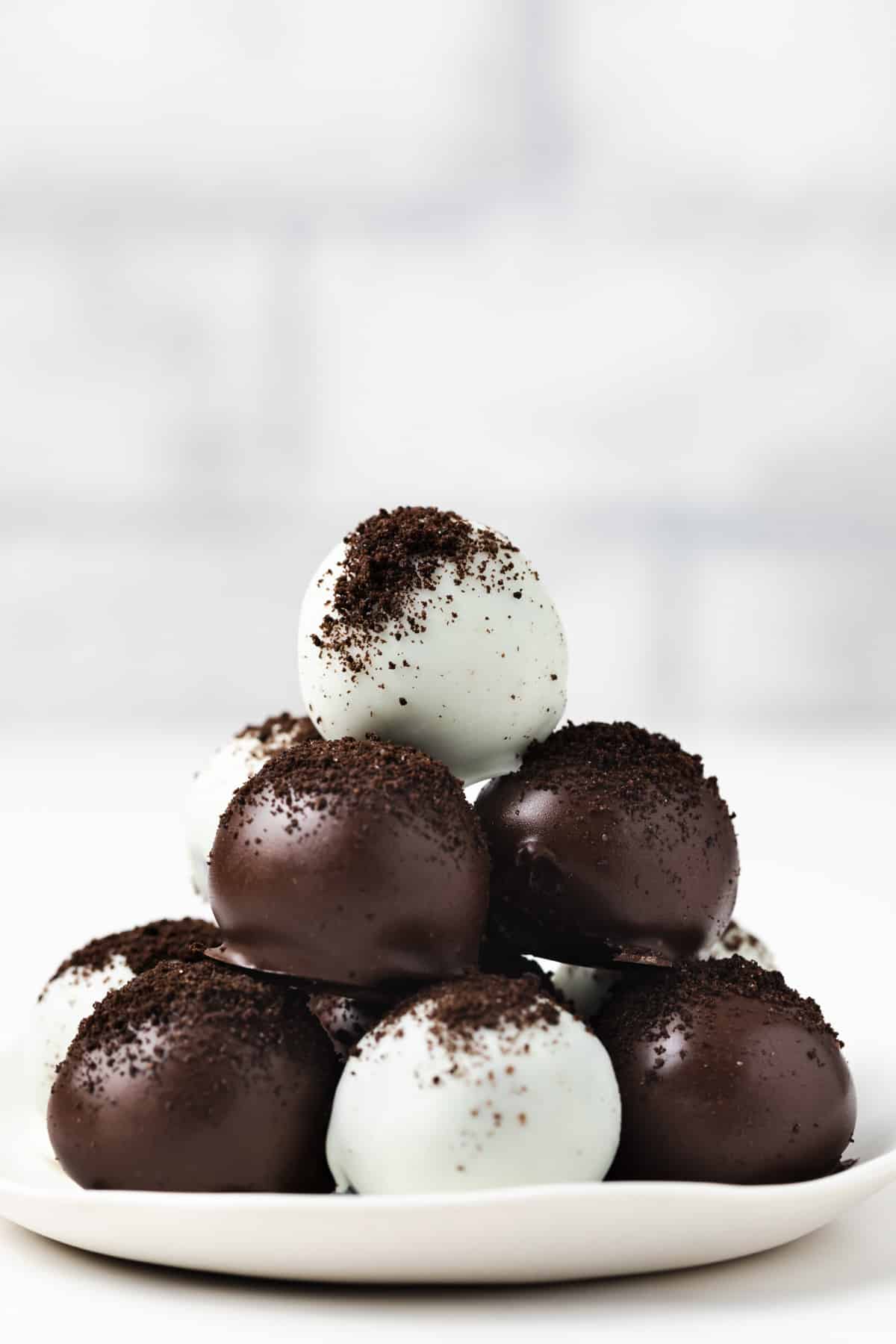 I have really been on a bit of an Oreo kick recently. With good reason. I prefer homemade, from scratch 99.9% of the time. But even I have to admit, Oreos are pretty darn delicious.
These Oreo candy balls are somewhere between a truffle (try my chocolate chip cookie dough truffle) and a cake pop. The crushed cookies, the sweet cream cheese and the chocolate coating make for one super delicious treat.
The best thing about these candies, other than the delicious flavor, is that they are an easy and fun treat to make with the little ones in your life. No bake candies like my peanut butter buckeye candies or my Irish potato candies are other fun kid-friendly candies.
When you make these Oreo ball candies, the little ones love to help roll the balls and dip them in the chocolate (this can get a tad messy so you might want to supervise this part of the recipe pretty closely).
Top the candies with cookie crumbs or sprinkles, or any other topping you would like – chopped heath bars, chocolate chips, crushed almond bark, crushed peanuts, chopped oreos – experiment and find what you like the most. Kids love doing this.
These are great candies to have in your repertoire for the holidays. They make a great teacher gift, or are great to bring to a cookie swap. And they freeze well so you can make them ahead of time and pull them out when you need them.
---
Recipe Snapshot
TASTE: Sweet and chocolatey
TEXTURE: Almost like a cake pop.
EASE: Easy!
TIME: Over an hour, but mostly chilling time.
Recipe Ingredients
This no-bake recipe is super easy with just a few ingredients – Oreos, cream cheese, and candy melts.
Oreos – One package of Oreos. There is no reason you can't use any flavor you want (the Golden Oreos or Mint Oreos are pretty good), but I strongly suggest sticking with the original. And, use the regular Oreos – not the thin ones or the double stuffed ones.
Cream cheese – Full fat, regular plain cream cheese.
Chocolate melting wafers– Vanilla and chocolate. You can find these in the baking aisle of a craft store, or in the candy section of some grocery stores.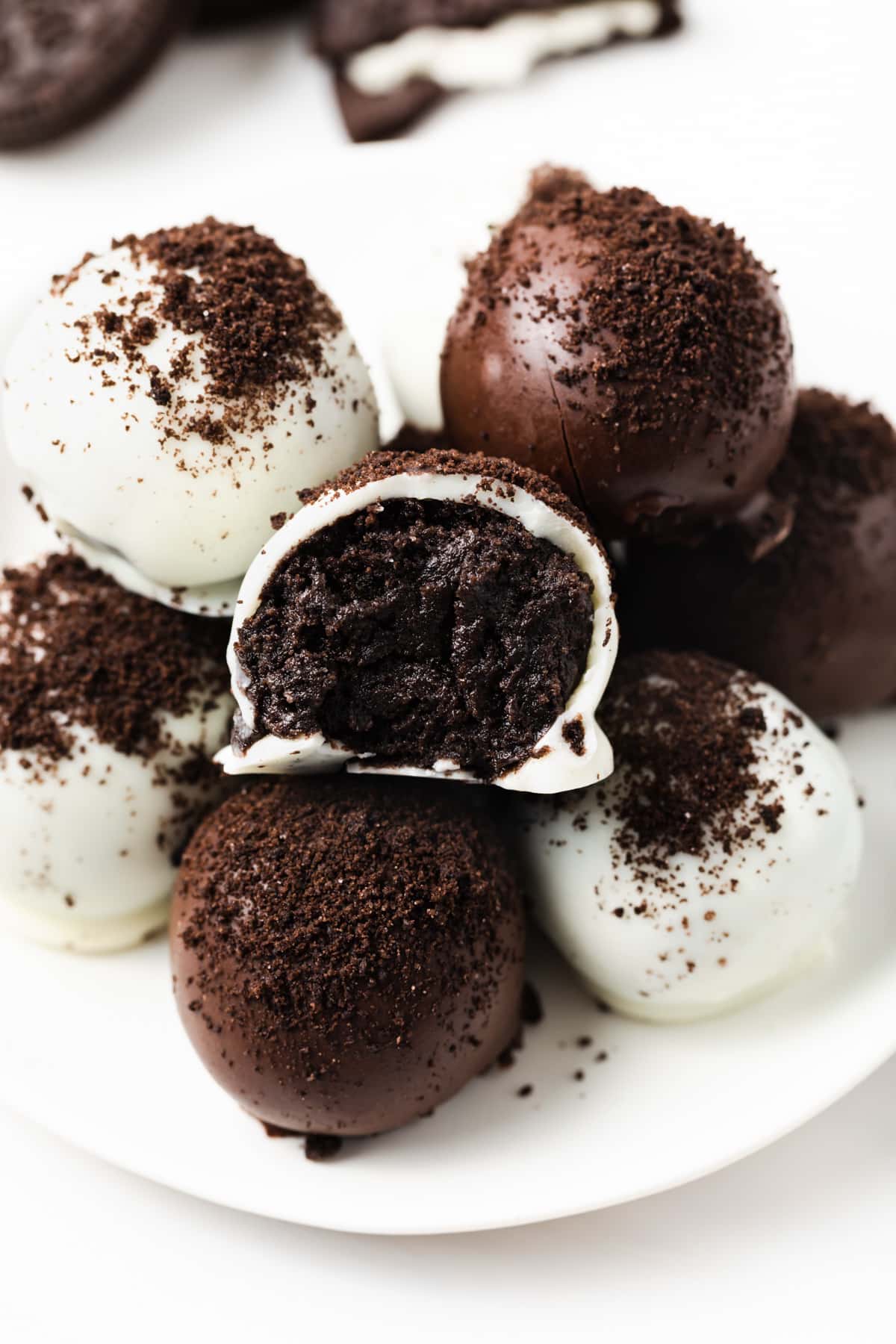 How to Make Oreo Balls
The beauty of no-bake desserts is that they come together quickly – this one is no exception – they just need a little time to chill. These candies are delicious – they taste just like Oreo truffles.
Line a baking sheet or tray with parchment paper or wax paper; set aside.
Pulse cookies with filling in a food processor until they resemble fine crumbs.
Beat the cream cheese in a large bowl with an electric mixer until smooth and creamy. Add crushed Oreos and stir until very well combined.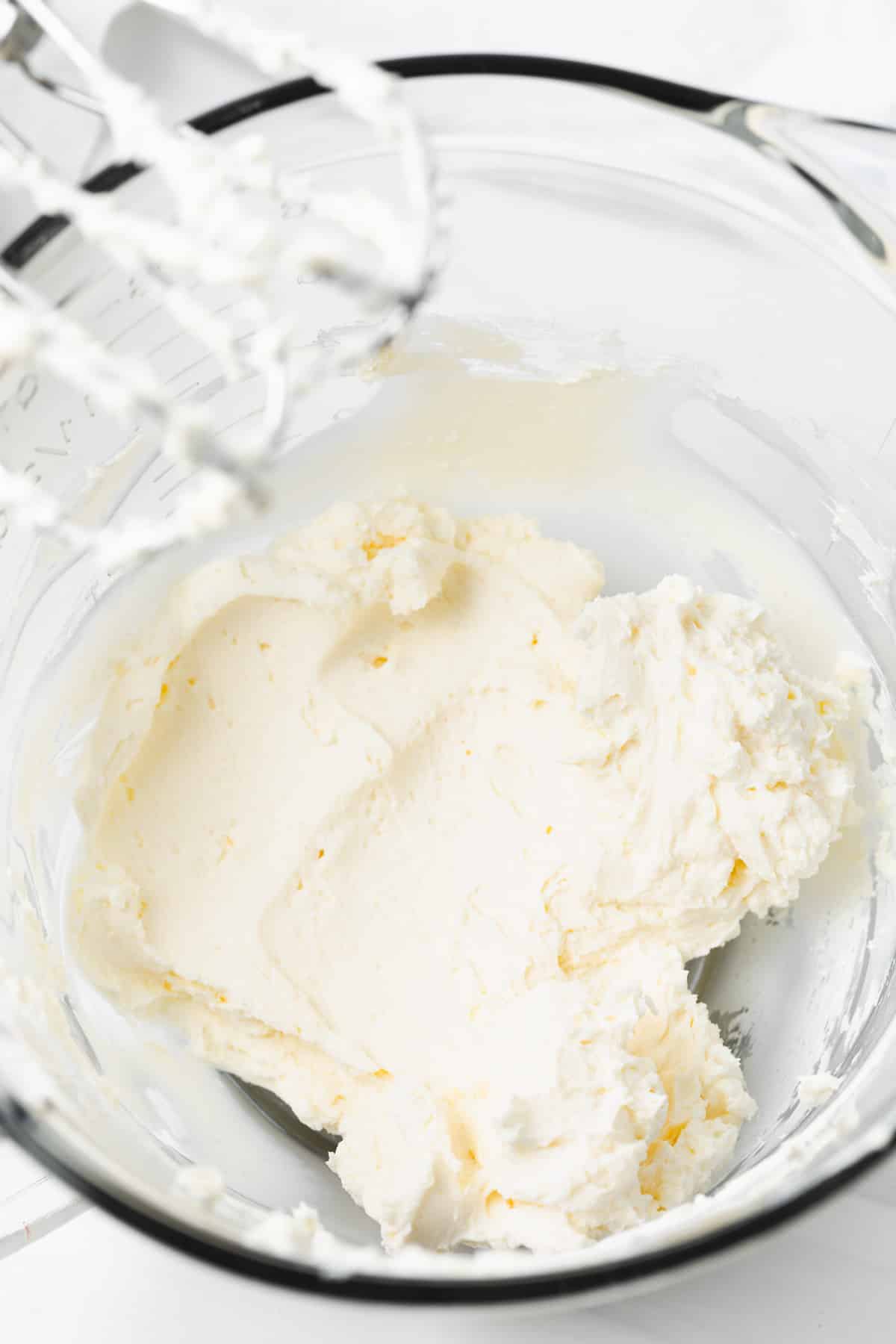 Use a 1-tablespoon cookie scoop to portion the cookie mixture and roll it into balls. Place onto the prepared baking tray. Cover and freeze for 30 minutes, until firm.
Place candy melt in a microwave-safe bowl and melt according to the package directions.
Using a fork to pick up the Oreo balls, dip them in chocolate, allowing the excess chocolate to drip back into the bowl. Place the dipped balls back on the baking sheet. If desired, put oreo crumbs or sprinkles on top.
Refrigerate for 30 minutes, until firm.
Handy tip:
Watch the melting chocolates carefully. If they get too hot the chocolate will become clumpy and it will be hard to cover the oreo mixture with it.
Tips For Success
If you don't have a food processor you can achieve the same results by putting the Oreos in a gallon-sized zip-top plastic bag and crushing them with a rolling pin until they are finely ground crumbs.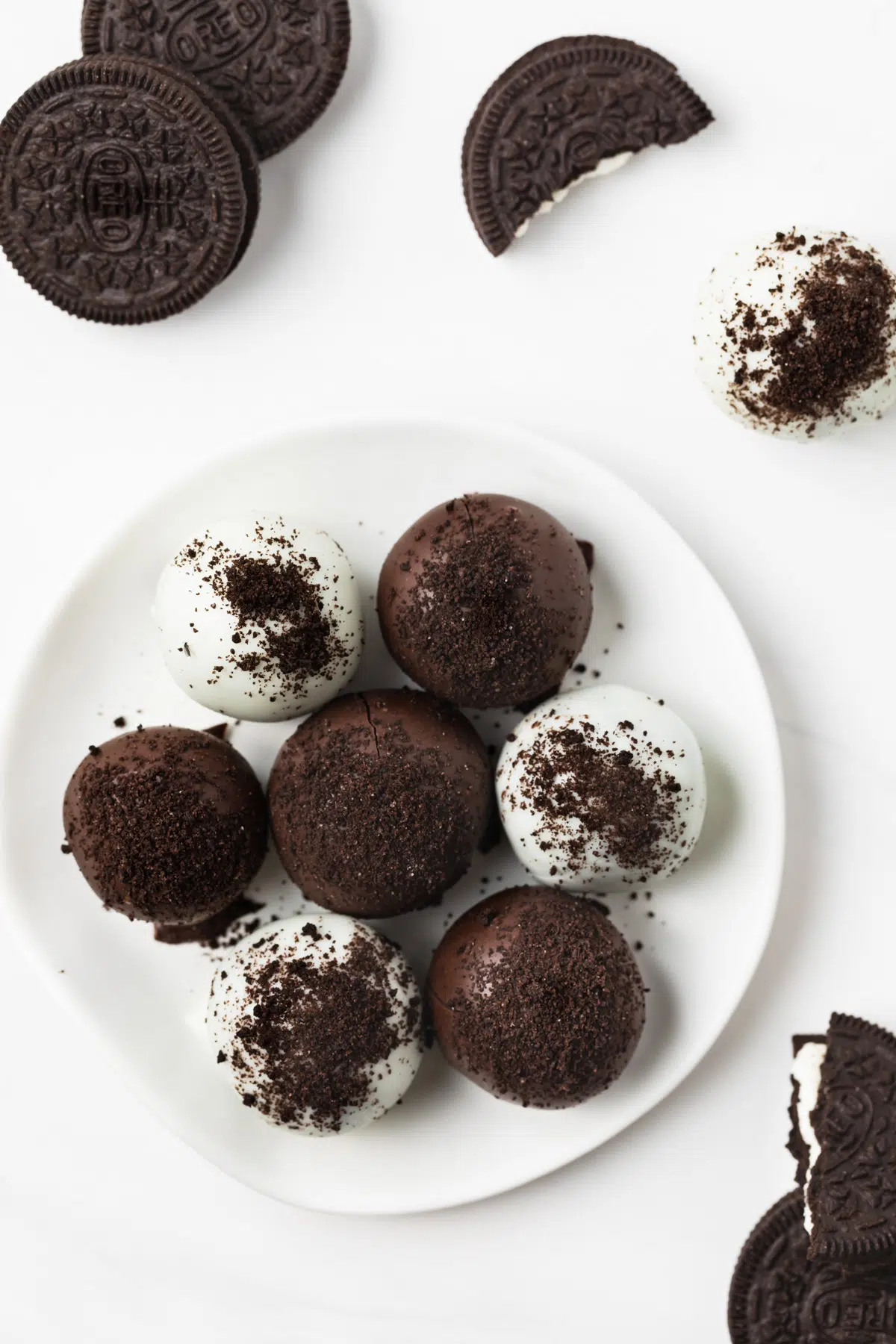 Storage & Freezing
Store in a single layer in an airtight container in the refrigerator for up to 1 week or freeze for up to 1 month. Let stand at room temperature for about 30 minutes before serving.
Homemade candies are always a fun addition to a dessert bar. And the no-bake ones are even better!
Did you try this recipe? I would love for you to leave me a 5-star rating or comment. This way, I have a better understanding of which recipes you like and can create more of them.
Please take a moment to follow me on Instagram, Pinterest, Facebook, Youtube or sign up for my free newsletter to never miss the newest recipes and blog updates.
You can also shop my favorite baking tools. Thank you so much for your support!
Printable Recipe