This post may contain affiliate links. Read the full disclosure here.
This basic muffin recipe is simple yet soft and buttery. The simple muffin base is easy to make and it can be flavored with a variety of mix-ins. You'll be sinking your teeth into buttery, soft muffins in no time!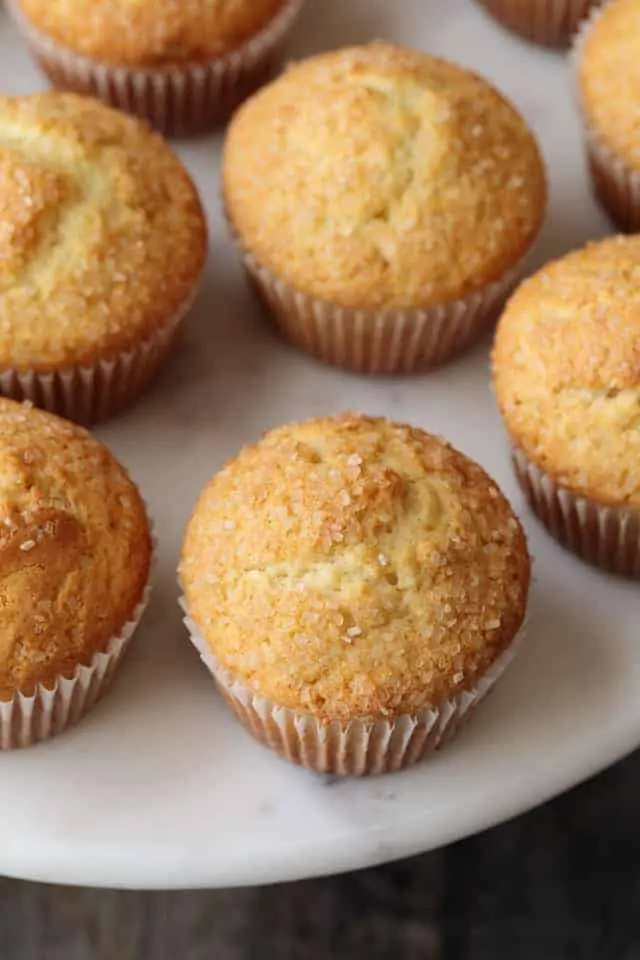 I'm adding to my baking basics series with a plain muffin recipe that is great as it is or flavored with your favorite mix-ins. Try making cranberry orange muffins with this recipe. It's superb!
Muffins fall into the "quick bread" category and are essentially flavored pancake batter that's baked in muffin tins.
The traditional ratio for muffins and quick bread is 2 parts flour, 2 parts liquid, 1 part egg, and 1 part butter.
I'm not a fan of muffins baked this way because they are too soft and spongy. I prefer my muffins to be dense but soft in the middle and crisp on the top.
I started with the basic muffin ratio and adjusted the ingredients until I achieved the texture I prefer.
Why this basic muffin recipe works
The recipe follows the muffin method. The dry ingredients are mixed together in one bowl. The wet ingredients are mixed together in another bowl. Then, the two are mixed together just until combined.
The right amount of liquid is used to achieve a dense muffin that isn't dry.
The batter is sturdy enough to support anything you'd like to add in. Blueberries, strawberries, lemon zest, and orange zest are just a few examples of mix-ins. I'll leave more details on the variations down below.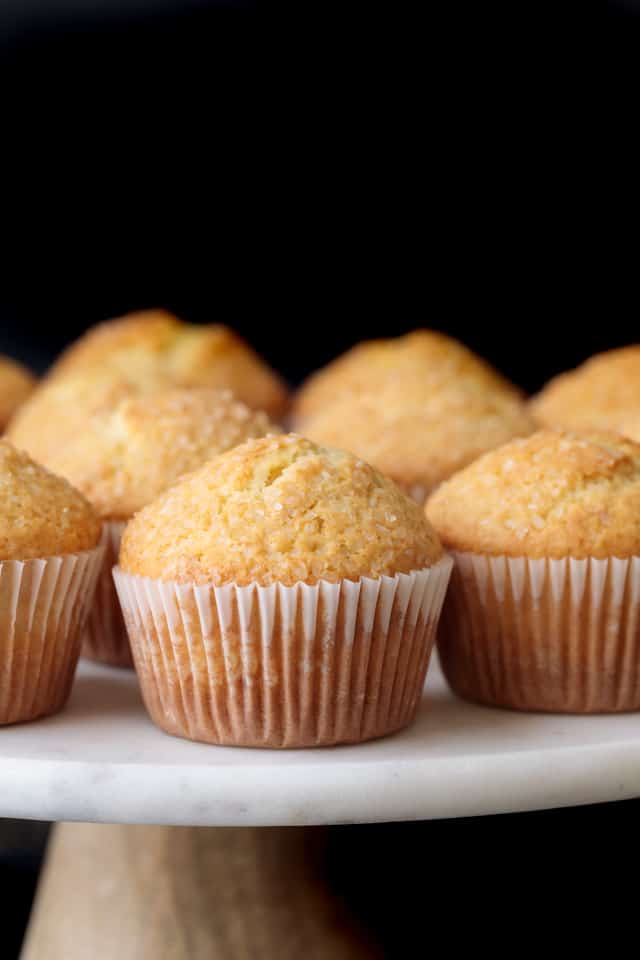 Basic Muffin Ingredients
Plain muffins call for standard pantry ingredients. You most likely have these on hand already. Let's go over what you need…
Flour: All-purpose flour is what I used to develop the recipe.
Leavening: Baking powder is my choice of leavening for this muffin base.
Salt: Because no recipe is edible without a pinch or two of salt.
Butter: I prefer unsalted sweet cream butter when making muffins.
Sugar: Only a little sugar is used.
Eggs: You need 2 large eggs.
Milk: I used whole milk for the muffins but you can also use buttermilk.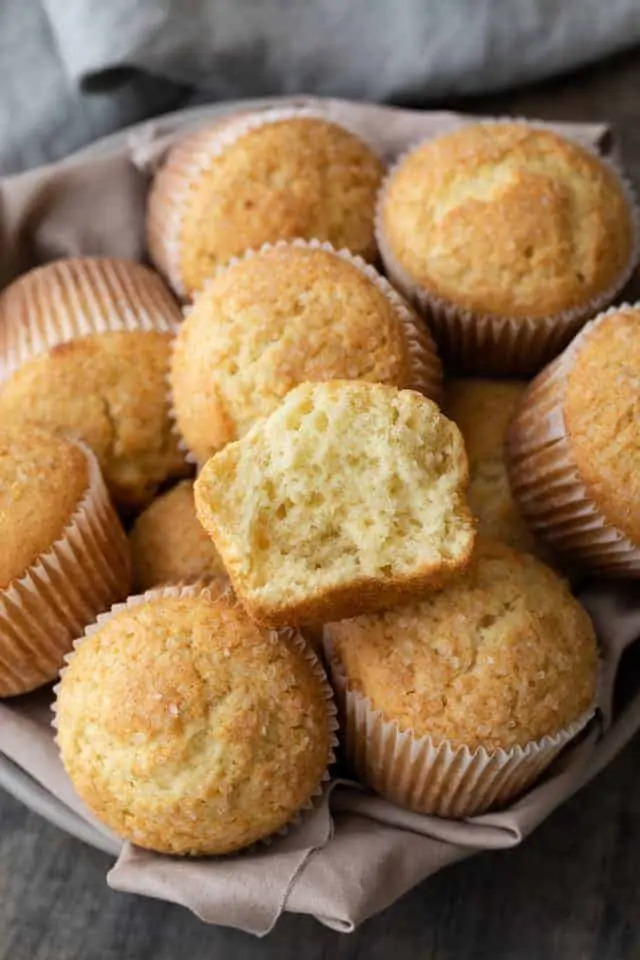 How to make Basic Muffins
This recipe is so quick and easy, you could do it with your eyes closed! Not really, but you know what I'm trying to get at here. You need two bowls, a whisk, and a spatula. That's it!
The Batter – A Basic muffin batter shouldn't be too sweet. A good rule of thumb is to use as much sugar as butter. And take care not to over mix when combining the ingredients.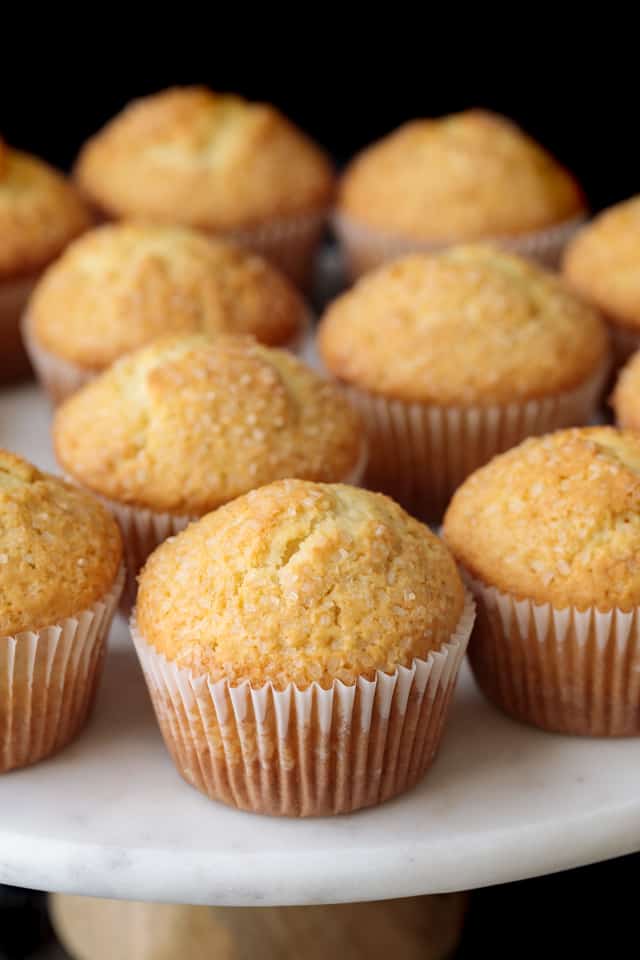 Step 1: Combine the dry ingredients
It's as easy as it sounds. Place the flour, sugar, baking powder, and salt in a small bowl and use a whisk to stir until everything is well combined.
Important note: Make sure you properly measure the flour before you begin. Don't scoop the flour out of the container with the measuring cup. Flour compacts and you'll end up with too much flour this way.
Instead, fluff the flour with a fork and lightly spoon it into the measuring cup. Use the back of a knife to level off the cup.
Step 2: Combine the wet ingredient
The eggs and milk must be at room temperature. Set them out 30 minutes to 1 hour before you begin making the muffins.
I prefer to use melted butter that has cooled. It's important to let it cool so it doesn't scramble the eggs when you mix them together.
In a large bowl, add the melted and cooled butter, eggs, and milk. Use the whisk to stir until everything is well combined.
Step 3: Combine the wet and dry ingredients
Dump the flour mixture into the butter mixture. Use a silicone spatula to fold the two mixtures together just until all the flour is moistened.
You want to be extra careful here because over mixing will result in a tough, chewy muffin. Once you see no visible streaks of dry flour, stop stirring!
It's okay if the batter is lumpy. That's completely normal for muffins.
Step 4: Bake
Line a muffin pan with paper liners or you can lightly grease the muffin cups.
Divide the batter evenly between 12 muffin cups and bake for 20-25 minutes. The muffins are done when a toothpick inserted into the center comes out with only a few moist crumbs attached.
Tips for making the best muffins
You can use oil instead of butter but keep in mind that the texture of the muffins will be much softer.
A combination of oil and butter works well! Use ¼ cup of oil and ¼ cup of melted butter.
Make the muffins gluten-free by using Bob's Red Mill 1-to-1 Gluten-Free Baking Flour.
Buttermilk, sour cream or yogurt can be used in place of whole milk. If you wish to use Greek yogurt, you'll need to thin it with water first. I'll leave detailed instructions in the recipe down below.
Variations to try
You can mix in different extract flavors, your favorite fruit, nuts, even savory options. The possibilities are endless with this base recipe, but here are a few to get you started:
Blueberry Muffins – Add 1 teaspoon vanilla extract. Stir in ¾ cup to 1 cup of fresh blueberries. Raspberries and diced strawberries also work well.
Cranberry Orange Muffins – Replace ¼ cup of the milk with orange juice. Stir in 1 tablespoon of orange zest. And fold in ¾ cup to 1 cup of fresh cranberries.
Apple Cinnamon Muffins – Use brown sugar instead of white sugar. Add 1 teaspoon of ground cinnamon. Fold in ¾ cup to 1 cup of diced apples. Any tart baking apple works great!
Lemon Poppy Seed Muffins – Replace ¼ cup of the milk with fresh lemon juice. Stir in the zest of 1 lemon. And stir in 1 teaspoon of poppy seeds.
Chocolate Chip Muffins – Add 1 teaspoon vanilla extract. Stir in ¾ cup to 1 cup semi-sweet chocolate chips. Coarsely chopped baking chocolate will work great also.
If you like this basic muffin recipe, try these others:
Did you try this recipe? I would love for you to leave me a 5-star rating or comment. This way, I have a better understanding of which recipes you like and can create more of them.
Please take a moment to follow me on Instagram, Pinterest, Facebook, Youtube or sign up for my free newsletter to never miss the newest recipes and blog updates.
You can also shop my favorite baking tools. Thank you so much for your support!