This post may contain affiliate links. Read the full disclosure here.
These carrot muffins are loaded with bits of carrots and cozy spices. They are super moist and perfect for breakfast or an afternoon snack.
Seriously, these muffins taste just like carrot cake! We might as well call them carrot cake muffins. They are loaded with warm, cozy spices which make them a comforting snack option.
I love eating one with a cup of coffee in the mornings.
The recipe starts with my basic muffin recipe using the muffin method for mixing. This method is my go-to for quick bread and muffins.
I tweaked the recipe to create the most tender and moist carrot muffins with a ridiculous amount of flavor. For an even better option, dry my morning glory muffins!
Why this carrot muffin recipe works:
The recipe follows the muffin method. This is the simplest and quickest way to make muffins and it yields the very best texture.
A combination of oil and butter is used for flavor and moisture.
The muffins bake up dense yet tender and moist.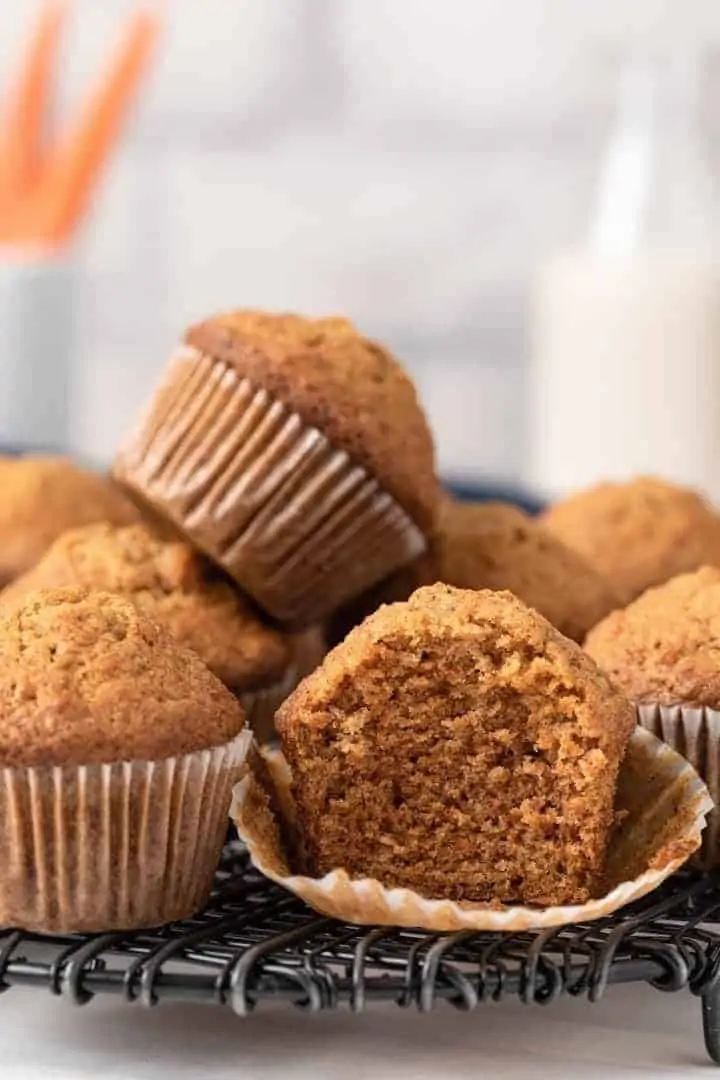 The ingredients you need
Homemade carrot muffins require basic ingredients. You probably have most of them on hand but if not, they are relatively inexpensive to purchase.
Flour: All-purpose flour is what I used for this recipe. Any brand is fine but I always use Bob's Red Mill.
Sugar: Regular granulated sugar is used. Brown sugar would also go well with this recipe.
Baking soda: This is used for leavening.
Spices: A mix of cinnamon, cloves, ginger, and salt is used for added flavor.
Carrots: Use a box grated to finely shred carrots. Avoid using the packaged carrots that come.pre-shredded. Those are too dry.
Eggs: Three large eggs are used for binding.
Oil and butter: A combination of oil and unsalted butter is used. The recipe calls for vegetable or canola oil but you can use any flavorless oil you prefer.
Vanilla extract: As always, use a good quality pure vanilla extract. Homemade vanilla is also a wonderful option.
You can add ¾ cup of raisins or walnuts if you want some added texture.
How to make carrot muffins
This recipe is quick and easy to put together. You need two bowls, a whisk, and a spatula. That's it!
The Batter – The best carrot muffin recipe will dense but soft. The batter is mixed using the muffin method and it's important not to over mix when combining the ingredients.
Before you begin, line a 12-cup muffin tin with paper liners and heat the oven to 375°F. Also, make sure the eggs are at room temperature. They are easier to mix in when they're not cold.
Step 1: Combine the dry ingredients
Place the flour, sugar, baking soda, cinnamon, ginger, cloves, and salt in a large bowl and use a whisk to stir until everything is well combined.
Important note: Make sure you properly measure the flour before you begin.
Add the grated carrots and stir them in with a silicone spatula. If you are adding raisins or walnuts, mix them in with the carrots.
Step 2: Combine the wet ingredients
The eggs must be at room temperature. Set them out 30 minutes to 1 hour before you begin making the muffins. If you are in a rush, place the whole egg in a bowl of warm tap water for 5-10 minutes.
Use melted butter that has cooled slightly so it doesn't scramble the eggs when you mix them together.
In a 2-cup liquid measuring cup or small bowl, whisk the eggs, oil, butter, and vanilla together until well combined.
Step 3: Combine the wet and dry ingredients
Make a well in the center of the dry ingredients then pour in the wet ingredients. Use a silicone spatula to fold the two mixtures together just until all the flour is moistened.
You want to be extra careful here because over mixing will result in a tough, chewy muffin. Once you no longer see dry flour, stop stirring!
Step 4: Bake
Divide the batter evenly between 12 muffin cups lined with paper liners. I like to use a 4-tablespoon sized ice cream scoop to portion the dough.
The cups will be almost completely full to the top. This is perfectly okay!
Bake the muffins for 18-20 minutes. They're done when a toothpick inserted into the center comes out with only a few moist crumbs attached.
Important tip: You don't want to overbake the muffins or they will be too dry. Start checking for doneness at 18 minutes.
Equipment needed
You don't need many tools to make these carrot cake muffins but these are items I find most useful.
Mixing bowls: You need a large mixing bowl and a 2-cup liquid measuring cup.
Silicone spatula: A large silicone spatula is great for stirring the ingredients together.
Whisk: A whisk is needed to mix the dry ingredients together.
Muffin pan: This is my all-time favorite muffin pan.
Scoop: This scoop makes it easy to portion the batter.
Box grater: I highly recommend shredding the carrots using a box grater.
---
Helpful Tips
Properly measure the flour. Using too much flour by accident will cause the muffins to be extra dense, heavy, and dry. Lightly spoon the flour into a measuring cup then level the cup with the back of a knife. Or weigh the flour for best results.
Use room temperature ingredients. This applies to the eggs. They simply mix in better when they are at room temperature.
Use any oil you wish. While I prefer the results of using vegetable or canola oil, you can use any oil you prefer.
Don't buy pre-shredded carrots. Please only use whole carrots that you have shredded yourself using a box grater. Pre-shredded carrots are too dry.
More carrot recipes you'll love
Did you try this recipe? I would love for you to leave me a 5-star rating or comment. This way, I have a better understanding of which recipes you like and can create more of them.
Please take a moment to follow me on Instagram, Pinterest, Facebook, Youtube or sign up for my free newsletter to never miss the newest recipes and blog updates.
You can also shop my favorite baking tools. Thank you so much for your support!