This post may contain affiliate links. Read the full disclosure here.
This gluten-free lemon tart recipe is one you will adore. With a classic shortbread crust and tart lemon filling, this tart is the ultimate lemon dessert.
This post is brought to you by Bob's Red Mill.
Calling all lemon lovers! This lemon tart is for you!! It's, by far, one of my favorites desserts to date. It's so tangy and 100% gluten-free.
The recipe is basically my lemony lemon bars transformed into a tart.
And the best part is that the shortbread crust is made with gluten-free flour plus almond flour. But, you'd never know!
I used a combination of almond flour and gluten-free baking flour from Bob's Red Mill and it came out like any traditional shortbread crust. I am so pleased with the results.
The filling is tangy. I like for my lemon desserts to be lip-puckering and that's exactly how this tart is. If you're not a fan of tart lemon flavor, you can add more sugar to the filling.
I think you will enjoy this recipe and find it similar to the French "tarte au citron".
Here's why this lemon tart recipe works
The cookie crust is made with almond flour, gluten-free flour, powdered sugar, and butter. The result is a perfectly crumbly and sweet crust that pairs well with the tangy lemon curd.
The lemon curd is first cooked on the stove then it's added to the crust and baked until set.
A splash of cream and butter make the filling soft and creamy. Both are completely optional but I highly recommend adding them.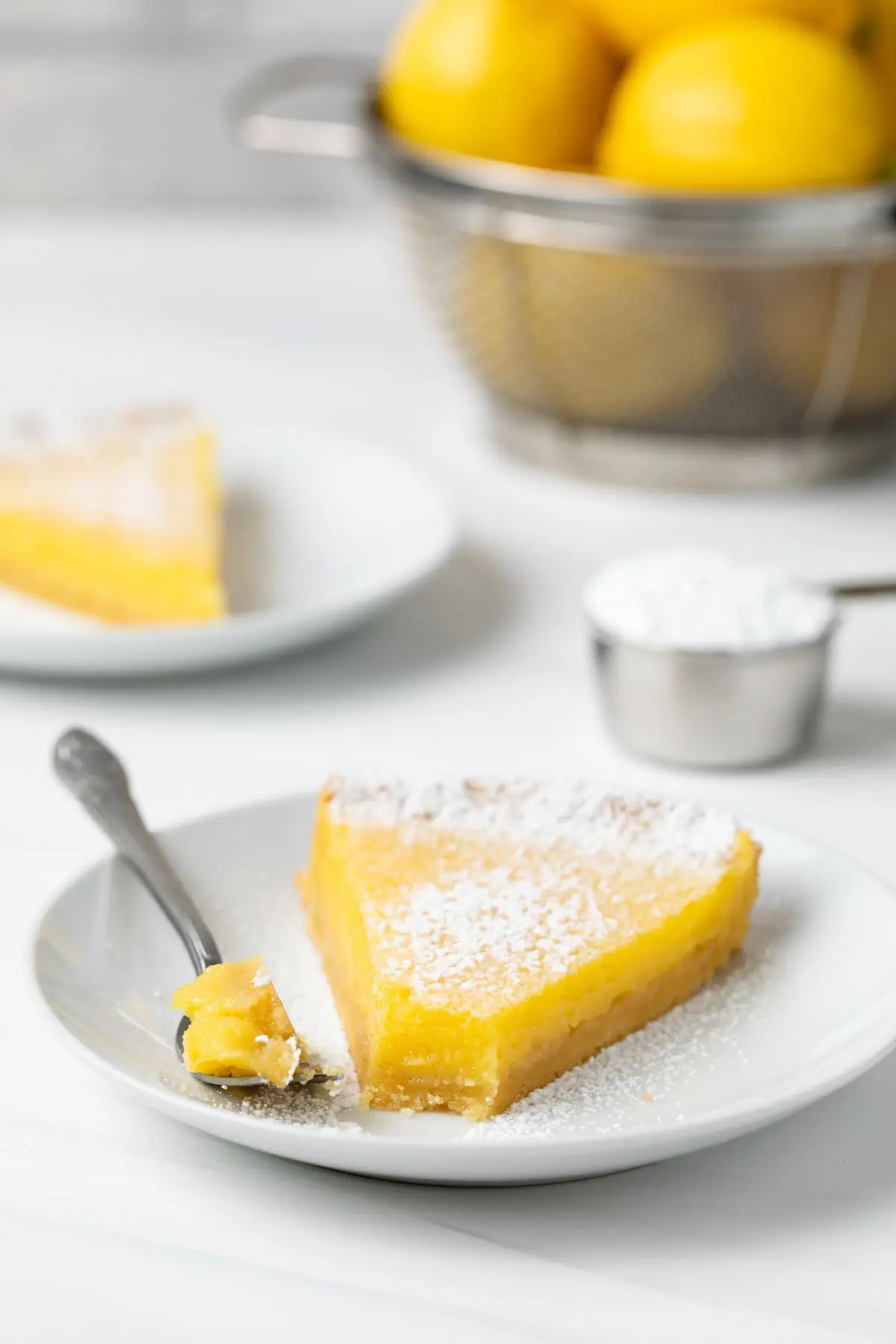 Recipe ingredients
My homemade classic lemon tart requires a few staple ingredients. While this recipe uses gluten-free flour, you can make it with regular all-purpose flour.
Almond flour: I like adding a bit of Bob's Red Mill Almond Flour to the crust. It adds a slightly nutty flavor that complements the lemon.
Gluten-free flour: Bob's Red Mill Gluten Free 1-to-1 Baking Flour is preferred. It will keep the crust tender and crumbly.
Sugar: Powdered sugar goes in the crust so it bakes up soft and crumbly like traditional shortbread. Regular granulated sugar is used in the curd. Feel free to add a bit more if you don't like a super tangy filling.
Salt: Just a pinch goes in both the crust and the filling to help balance all the flavors.
Butter: Unsalted sweet cream butter is what I used to test the recipe.
Eggs: Lemon curd can taste a bit eggy, so use fresh eggs for the best results.
Lemon: Lemon juice and zest are used to flavor the filling.
Heavy cream: It's completely optional to use heavy cream in the curd but I find that it adds a nice creaminess to the texture.
I garnished my tart with candied lemon slices. and powdered sugar. I made the slices with my candied orange recipe but used lemons instead of oranges.
---
Equipment needed
You only need a few tools to make this incredible lemon curd tart. Let's see what they are.
Tart pan: The recipe fits a 9-inch tart pan. I like to use one with a removable bottom.
Fine mesh sieve: Push the curd through a fine-mesh sieve ensures the texture is creamy and free of eggy bits.
Saucepan: A heavy-bottomed saucepan is perfect for cooking the curd.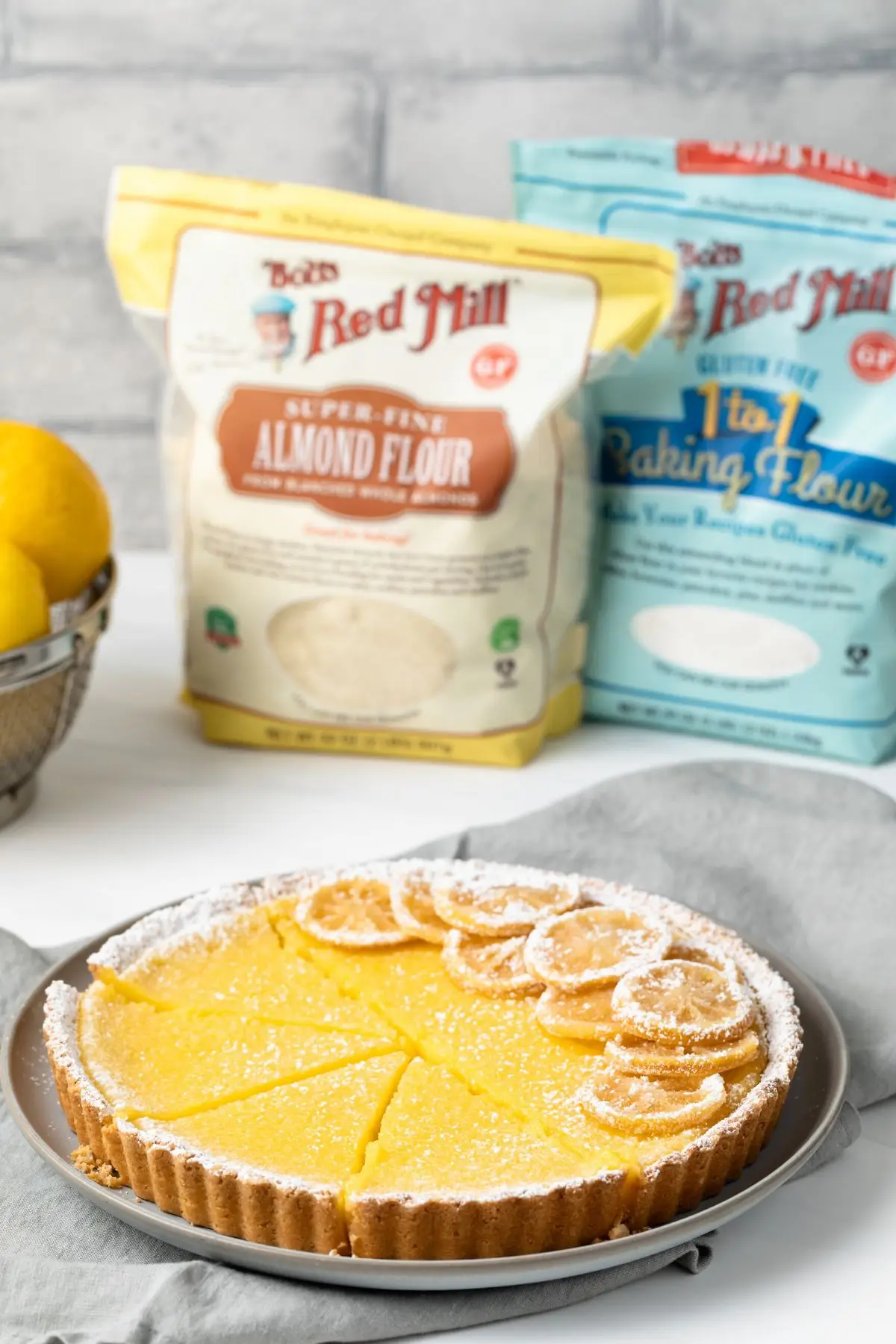 Step-by-step instructions
It isn't difficult to make this easy lemon tart recipe. It does have two elements that are made separately…
The crust – The shortbread crust is made by combining all the ingredients in a bowl then pressing it into a tart pan. It gets prebaked before adding the filling.
The filling – The filling is nothing more than a simple stove-top lemon curd. It comes together in a matter of minutes!
Step 1: Make the crust
Preheat the oven to 350°F before you begin. And generously grease a tart pan, even it the pan is nonstick.
Add all the ingredients to a mixing bowl and stir until well combined. The mixture should resemble wet sand and hold together when squeezed.
Press the dough evenly into the bottom of the prepared pan. I like for the bottom portion to be a bit thicker than the sides. Make sure to press firmly so the crust holds together.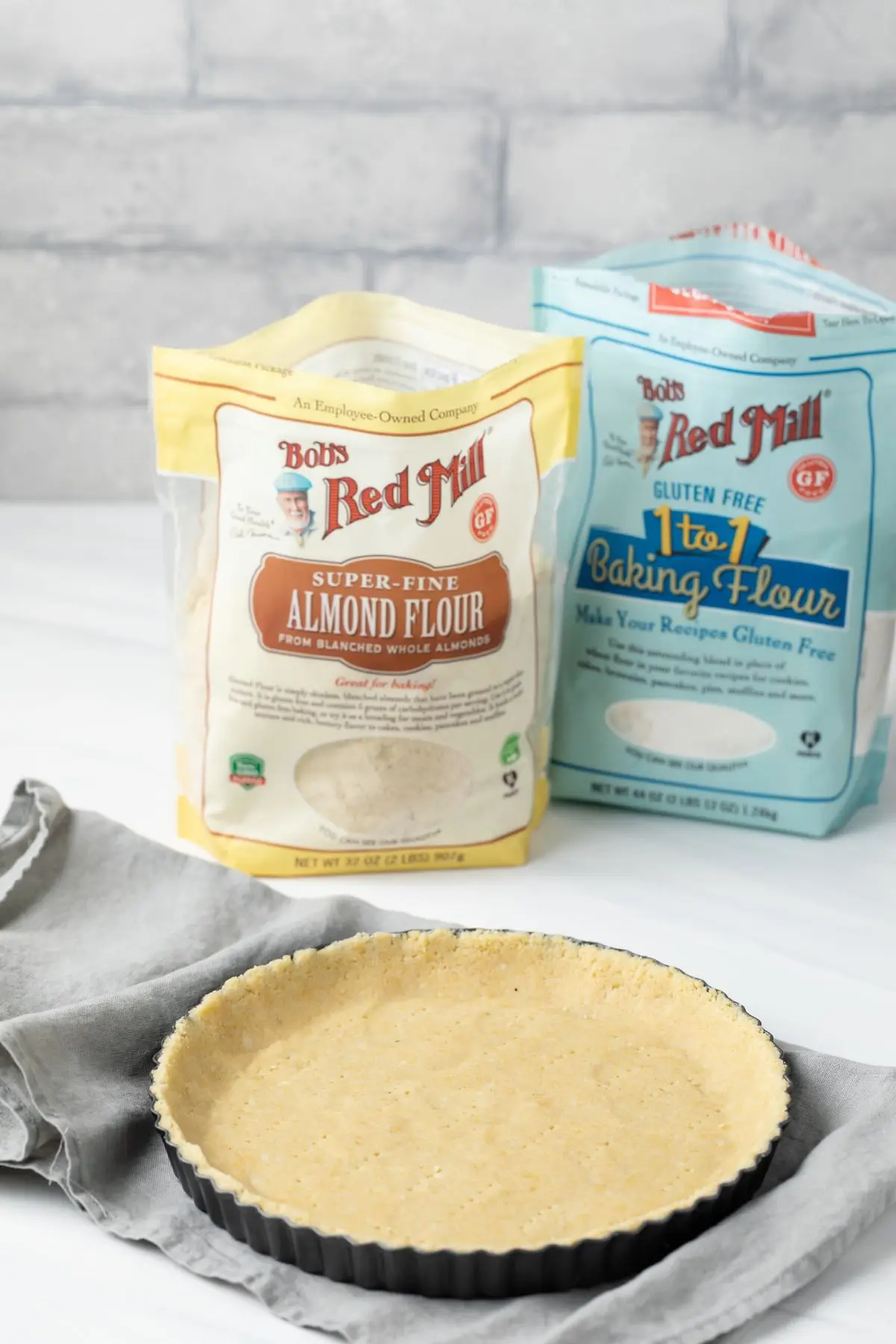 Step 2: Bake the crust
Prick the crust with the tines of a fork to prevent it from bubbling up.
Bake it for 10-12 minutes or until it's firm to the touch and just starting to turn golden.
If the crust bubbled up, use a stainless steel measuring cup and gently press it down. Do this as soon as you remove the crust from the oven, while it is warm.
Set it aside and make the filling.
Step 3: Make the filling
Whisk the eggs, yolks, sugar, salt, lemon juice, and lemon zest together in a medium saucepan.
Cook over medium heat for about 10 minutes, stirring constantly with a whisk. The mixture will thicken to the consistency of pudding.
Remove the curd from the heat. Stir in butter and cream. This is optional but it makes the curd creamier in texture.
Strain the curd through a fine-mesh sieve then spread it evenly into the prepared crust.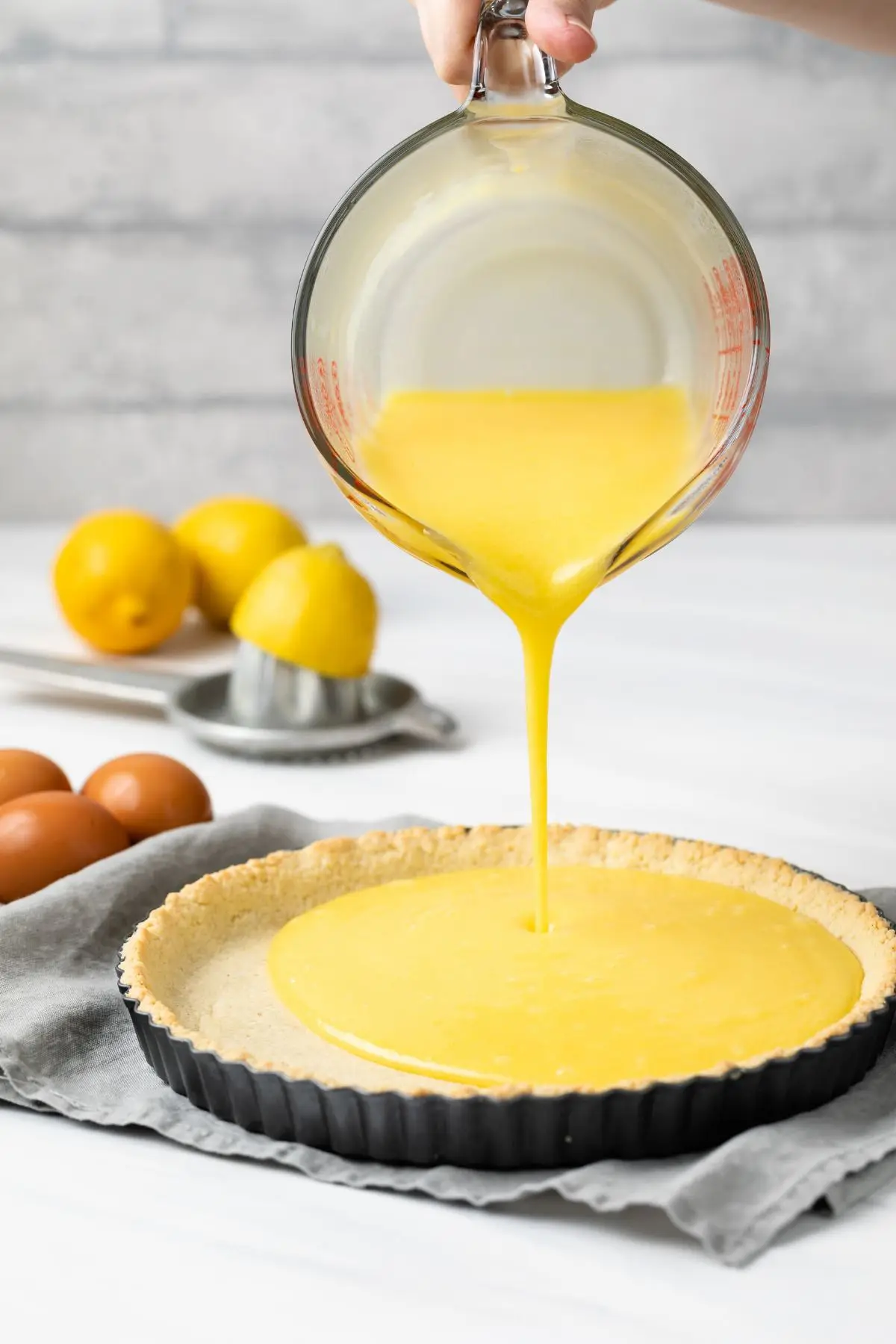 Step 4: Bake the tart
Bake the tart for 15-20 minutes. The filling should be set completely. It'll jiggle slightly when shaken but shouldn't appear to be too loose or runny.
Set the tart on a wire rack to cool for 1 hour then refrigerate for at least 2 hours before serving.
Helpful tip: I prefer to refrigerate the tart overnight. This ensures the filling won't be runny and the tart will be easy to cut.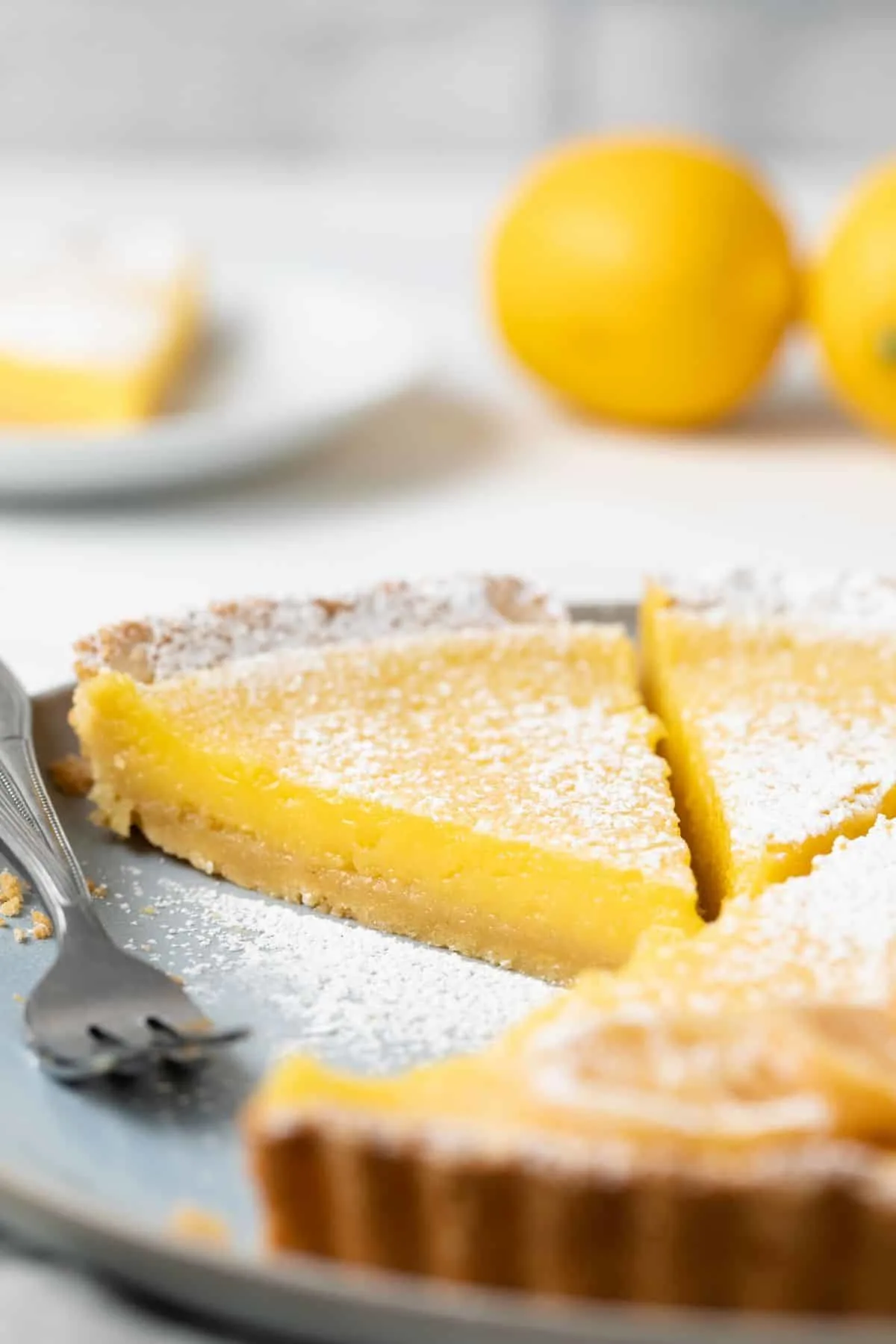 Expert tips
Add more butter to the filling. I only used 1 tablespoon of butter in the filling because I didn't want to take away from the tangy lemon flavor. You can add up to ¼ cup of butter if you desire a less intense lemon flavor.
Adjust the sugar to your liking. I love a super tart lemon profile but you may not. If you prefer a filling that is not so tangy and a little sweeter, increase the sugar. Add ½ to ¾ cup more.
Garnish the tart. Use any topping you desire! Meringue, whipped cream, powdered sugar, candied lemon, and fresh berries are all great options.
Original pie crust. You can also make this tart with my classic pie crust recipe.
---
Frequently asked questions
How to store lemon tart?
Store the tart in an airtight container in the refrigerator for up to 3 days. Or in the freezer for up to 3 months. Thaw overnight in the refrigerator.
More lemon recipes
Did you try this recipe? I would love for you to leave me a 5-star rating or comment. This way, I have a better understanding of which recipes you like and can create more of them.
Please take a moment to follow me on Instagram, Pinterest, Facebook, Youtube or sign up for my free newsletter to never miss the newest recipes and blog updates.
You can also shop my favorite baking tools. Thank you so much for your support!