This post may contain affiliate links. Read the full disclosure here.
These Coconut Lemon Bars are the perfect treat for your summer cookout! They're made with simple ingredients that come together easily. Toasted coconut is speckled throughout the crust and layered over the top of the filling turning a classic lemon bar into an extraordinary dessert. These bars will be a huge hit anytime you want something sweet and tangy!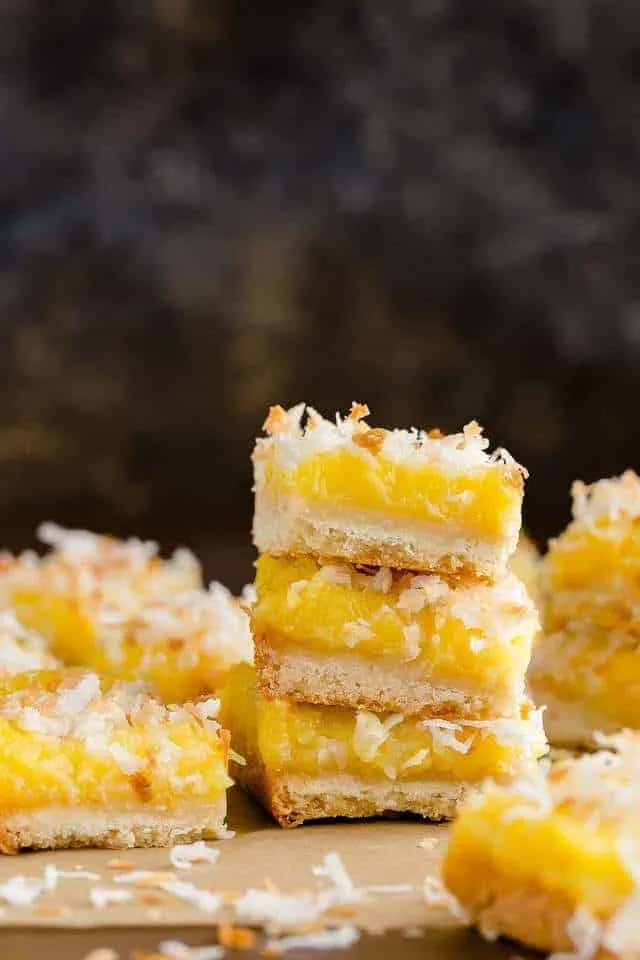 I'm a sucker for a good lemon bar. To me, that means the bar is intense with lemon flavor and not overly sweet. I prefer tart over sweet in this situation.
The only time I've ever had a bar that met this standard is when we first moved to Tennessee and visited an Amish bakery. Their lemon bars were spot on and now when I make them at home, I try to get them as close to the Amish bars as possible.
And then we devour them because they are so dang good!
I had a ton of lemons leftover after making lemon cheesecake bars so I decided to put a spin on my favorite classic lemon bar recipe.
This recipe is different because instead of using flour as a thickener in the lemon filling, I made curd with a ton of eggs. We're talking 4 eggs plus 3 egg yolks! This also gives the bars a gorgeous yellow color.
The bars start with a shortbread crust. It's thick and speckled with toasted coconut and lemon zest. It's the absolute best crust to pair with the creamy lemon filling.
I used about half of the recipe for my regular lemon bars and stirred in the zest of one lemon and one-fourth cup of toasted coconut. Press in firmly into an 8×8-inch pan and bake it for 20 minutes.
The creamy lemon filling is so lush. I love how silky smooth it turned out. If you like lemon curd, then you will find this filling irresistible.
The filling is flavored with a lot of fresh lemon juice and zest. You can also use bottled lemon juice for this if you don't want to spend time juicing lemons.
The curd for the filling begins on the stovetop. I didn't use a double boiler like you typically would do with curd. It took less time to cook it straight in the pot over medium heat.
Stir the curd continuously with a whisk while it cooks to prevent it from sticking to the bottom of the pot and scrambling the eggs. But sometimes you may end up with bits of scrambled egg no matter how careful you are. Press the curd through a fine-mesh sieve to remove them.
Spread the curd over the crust and pop it back into the oven for another 20 minutes. Once it has finished baking, sprinkle more toasted coconut over the top. The bars will need to refrigerate for at least 2 hours before they are set enough to slice.
The coconut lemon bars will have an intense lemon flavor. It's sweet enough to balance the tartness of the lemon without being overly sweet.
If you are a fan of sweet and sour desserts, these bars are for you. You can even try them without the coconut!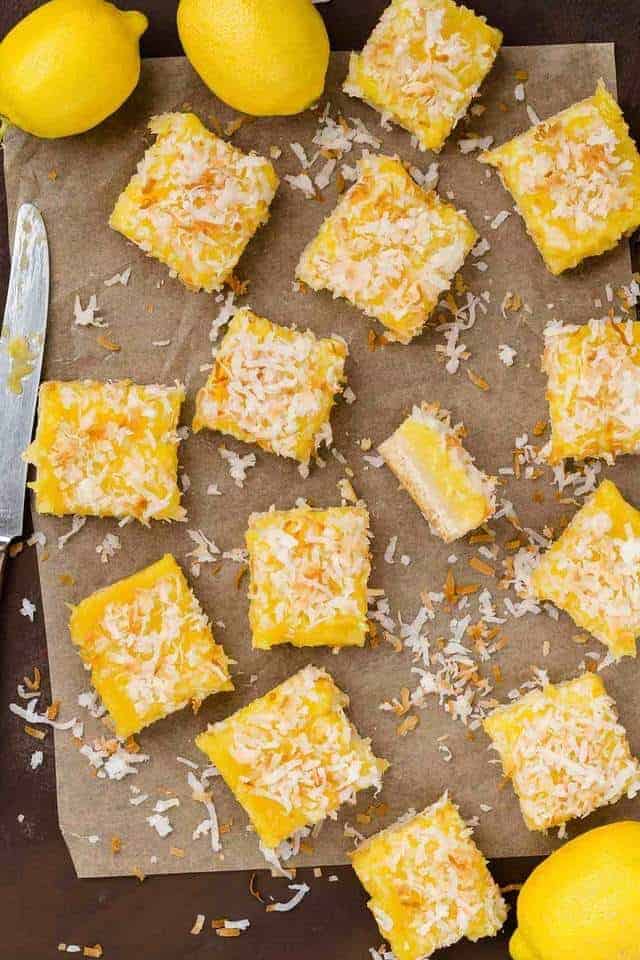 Did you try this recipe? I would love for you to leave me a 5-star rating or comment. This way, I have a better understanding of which recipes you like and can create more of them.
Please take a moment to follow me on Instagram, Pinterest, Facebook, Youtube or sign up for my free newsletter to never miss the newest recipes and blog updates.
You can also shop my favorite baking tools. Thank you so much for your support!