This post may contain affiliate links. Read the full disclosure here.
Zesty Lemon Bars with a creamy lemon curd nestled on top of a buttery shortbread crust. Made with fresh-squeezed lemon juice to yield a tangy yet balanced flavor.
I can never turn down a tangy lemon dessert. Lemon cheesecake bars, this lemon tart, and lemon meringue pie are my usual go-to's when I'm in the mood for something tart.
Today's lemon squares are simple and bright. It's basically my coconut lemon bars without the coconut. The curd is creamy and tangy without tasting overly sweet.
The bars are full of lemon flavor. Using lemon zest in the crust adds a little extra brightness. Using fresh lemon juice will give you a lighter lemon flavor than bottled lemon juice.
The filling is made differently than my easy lemon curd recipe. I decide not to use cornstarch and instead allowed the eggs to be the thickener. This gives a much creamier texture.
The crust is blind baked while the filling is cooked separately on the stovetop. Then the filling is poured over the crust and the whole thing goes back into the oven until it sets.
If you like this recipe, you may also enjoy my blood orange bars!
Why this recipe works
We use Confectioners' sugar in the crust to keep the shortbread soft. It will crumble lightly in your mouth like my classic shortbread cookies.
The lemon curd cooks on the stovetop with butter and heavy cream is added at the end to make it silky and creamy.
There's a good amount of filling on top of the crust. This is the best crust to filling ratio in my opinion.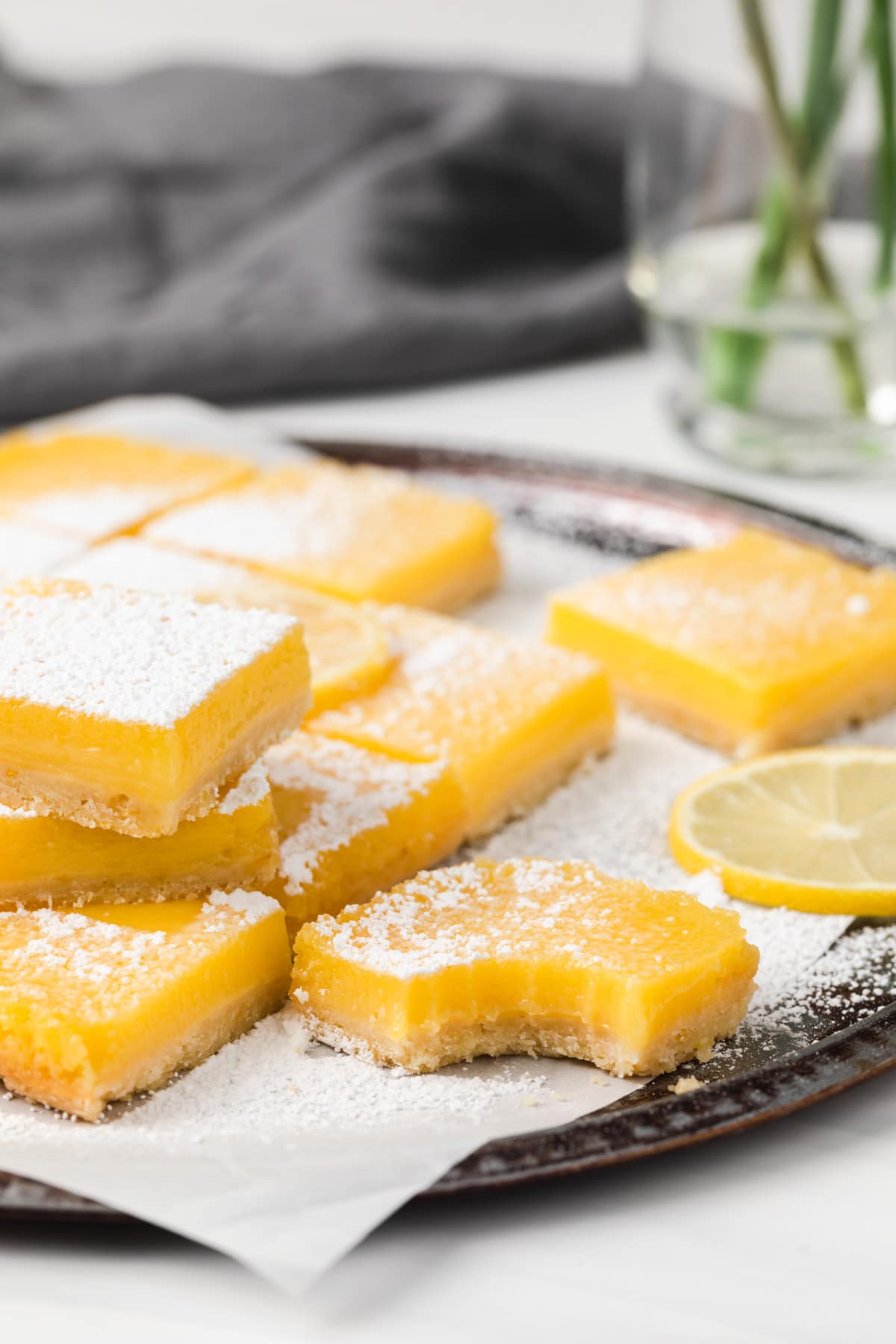 Lemon bars recipe
I'm obsessed with these bars. The buttery rich shortbread paired with tangy lemon filling is something I can't resist.
I've been playing around with this recipe since it was first published on my blog in August 2015. I have finally perfected this recipe! It's perfectly tangy without being overly sweet and the crust to filling ratio is spot on.
A lot of lemon bar recipes call for adding flour to the filling. I'm not a fan of this. It's so hard to get the flour to mix in well and you end up with little clumps of flour throughout the filling.
I used a very basic lemon curd for the filling so it's a lot creamier than most other lemon squares. This means you might have to use a fork when you eat them.
The total bake time takes about 40 minutes and the bars need time to refrigerate after they've cooled. But, the wait is so worth it. You are going to love this recipe just as much as I do!
---
Lemon bar ingredients
There are two separate components to the bars. You have the crust and the filling so it looks like a lot of ingredients. But, most of these are things you may already have on hand.
Flour: This crust uses all-purpose flour.
Sugar: You need confectioners' sugar and granulated sugar. Confectioners' sugar goes in the crust and granulated sugar goes in the filling.
Salt: A dash of salt is in both the crust and filling to help balance the flavors.
Lemon zest: A little lemon zest is in the crust for an extra punch of tanginess.
Lemon juice: I highly recommend using fresh lemon juice for the filling. It's less tart and less acidic than bottled juice.
Butter: Use unsalted butter so you can control the amount of salt in the recipe.
Eggs: The filling needs 4 whole eggs plus 3 egg yolks. The extra yolks give the bars their vibrant color.
Heavy cream: There is just a splash of heavy cream in the filling.
To make these bars you'll need:
Mixing bowls: These bowls are my favorite. I use them regularly.
Pastry blender: I always use this pastry blender to cut butter into flour.
Baking pan: I'm a big fan of these 9-inch square pans.
---
How to make lemon bars
This recipe is easy and straight forward. There are just a few steps to make each component.
The Crust – The crust is made just like a traditional shortbread and it's blind baked before adding the filling.
The Filling – The lemon curd filling is cooked on the stovetop before being added to the crust. Once poured over the crust, the whole thing goes into the oven and is baked until set.
Step 1: Make the crust
For the crust, combine the flour, powdered sugar, salt, and lemon zest in a medium bowl. Stir it together with a whisk or a fork until well combined.
Cut the butter into the dry ingredients using a pastry blender or your fingertips. I suggest cutting room temperature butter into small pieces to make it easier.
Once the mixture starts to stick together and the flour is well coated in butter, it's ready to use.
Line a 9-inch square pan with parchment paper and press the dough evenly into the bottom.
Step 2: Make the filling
The filling is super easy to make!
Combine the eggs, yolks, sugar, salt, and fresh lemon juice in a medium pot. Stir until very well combined.
Cook over medium heat while stirring constantly with a wooden spoon until it thickens. This can take up to 10 minutes. Then remove it from the heat and stir in butter and cream.
I like to run the curd through a fine-mesh sieve to remove any bits of egg that may have scrambled. This never fails – I always have a few pieces of scrambled egg in my curds, custards, and puddings.
Step 3: Assemble the bars and bake
Pour the curd over the prebaked shortbread crust and spread it around evenly. You can use a spatula to do this or simply tilt the pan slightly until the curd covers the entire crust.
Pop the pan back into the oven and let the bars cook until the edges are firm and the center is no longer jiggly. This can take 20 to 25 minutes, depending on your oven.
Allow the bars to cool to room temperature then refrigerate them for at least 2 hours before cutting and serving.
Storage tips
Lemon bars will keep for up to 3 days covered tightly and stored in the refrigerator.

Or you can freeze them for up to 3 months. Thaw overnight in the refrigerator.
Tricks to make the best lemon bars
Use fresh lemon juice! You need about 4-6 lemons depending on size. But fresh lemon juice isn't as acidic or tart as bottled lemon juice.
Be sure to bake the bars until they are set. The filling shouldn't be runny or jiggly. Instead, the edges should be firm and the center shouldn't jiggle at all. This may take longer than the recommended time, depending on your oven.
Line the baking pan for easy removal. I always use parchment paper cut to fit. Here's a great article on how to line pans with parchment paper.
Get perfectly cut bars by using a hot blade. Run a sharp knife under hot water then carefully dry the blade. Press straight down through the bar and slide the knife out. Rinse and dry the knife after each cut.
If you like lemons, you'll love these other tasty lemon recipes:
Did you try this recipe? I would love for you to leave me a 5-star rating or comment. This way, I have a better understanding of which recipes you like and can create more of them.
Please take a moment to follow me on Instagram, Pinterest, Facebook, Youtube or sign up for my free newsletter to never miss the newest recipes and blog updates.
You can also shop my favorite baking tools. Thank you so much for your support!