This post may contain affiliate links. Read the full disclosure here.
Nothing says spring like this Glazed Lemon Cookie recipe does. These pillowy-soft treats with loads of lemony tang will help you pass the days of April showers while you await May flowers!
I don't know about where you live, but here, spring has sprung. I love spring baking – everything is fresh and bright and cheerful. To me, nothing is more springy than lemon flavored desserts. This glazed lemon cookie recipe is the perfect spring cookie.
If I have enough time, my lemon cheesecake is one of my favorite spring dinner party desserts. And if I have less time, these chewy lemon cookies or lemon bars are always a crowd pleaser. If you like coconut, like I do, try the coconut lemon bar version too!
Way back when the blog was just a hobby I created a recipe for soft Meyer lemon cookies. They're so bright and yummy, but sometimes Meyer lemons are hard to find.
Today's glazed lemon cookies are an exact replica of those delightful cookies except they are made regular lemons instead of Meyer lemons. They are just as incredible as the original.
These lemon cookies are light and fluffy and loaded with sweet and zingy lemon. Deep down, I'm more of a crispy rather than cakey cookie fan, but these lemon cookies have completely changed the way I feel about thick tender cookies.
First, these cookies are super soft and moist. This mostly comes from the use of yogurt. It keeps the cookies airy, soft, and extremely moist. I use Greek yogurt because it's super thick and creamy which does wonderful things to the cookie's texture.
The cookies get topped with a sweet, tangy lemon glaze. It's a super simple glaze with just lemon juice and confectioner's sugar.
I sprinkled yellow sanding sugar over the glaze to give the cookies a little color but you could also use lemon zest in the icing.
I'm sure you are going to love these glazed lemon cookies. They are sweet, tangy, soft, and flavorful. Think bite-sized lemon cake!
---
Recipe Snapshot
TASTE: Bright and lemony
TEXTURE: Soft and cakey
EASE: Easy
TIME: Allow an hour and a half to give the cookies enough time to cool before glazing
---
What You'll Need
These bright glazed lemon cookies are made moist and zesty from the addition of Greek Yogurt and lemon zest in the ingredients.
Ingredients
Flour – All purpose flour is used here. Try this method for measuring it.
Baking soda – The leavening agent used in this cookie recipe.
Salt – Kosher salt, used to balance the flavors.
Butter – I always use unsalted butter in baking. This should be softened
Sugar – This recipe uses white granulated sugar and brown sugar for the cookies and confectioners sugar for the glaze.
Egg – Add a bit of richness to the dough.
Greek Yogurt – The secret ingredient, adds moisture and a little zing.
Honey – Just adds a little something extra.
Lemon – Fresh lemon juice and lemon zest are both used. Lemon juice is in the cookies and glaze, and lemon zest gives the cookies an extra citrus punch.
Yellow sanding sugar – This is totally optional but adds a nice touch.
Recommended Tools
Hand mixer
Mixing bowls
Parchment paper
How to Make Glazed Lemon Cookies
These glazed lemon cookies require no chilling time, which makes them a delightfully quick treat. Preheat oven to 350 degrees and line a baking sheet with parchment paper.
Be sure to check out the full recipe and ingredient list below
Combine dry ingredients. Whisk the the flour, baking soda, and salt in a medium bowl and set aside.
Cream butter and sugar. With a handheld or stand mixer fitted with a paddle or whisk attachment, combine the butter and sugars together on high speed until creamy.
Add remaining liquids. Turn the mixer to low speed, add the egg, then add the yogurt, honey, lemon zest, and lemon juice. Beat until combined.
Combine. Keep the mixer running on low speed, slowly add the flour mixture. Beat everything until just combined – don't over mix. The dough will be very sticky and thick.
Bake. Drop the batter by level tablespoons 1-inch apart onto the prepared cookie sheet. Bake for 12 minutes or until lightly browned. Let cool on baking sheet for five minutes then place on a wire cooling rack before glazing.
Make the glaze. Combine the powdered sugar and lemon juice in a small bowl. Stir until all sugar has dissolved.
Glaze the cookies. Spoon the icing over the cookies once they have cooled completely. Sprinkle with sanding sugar if desired. Allow the iced cookies to sit until the icing sets and hardens, about 2 hours.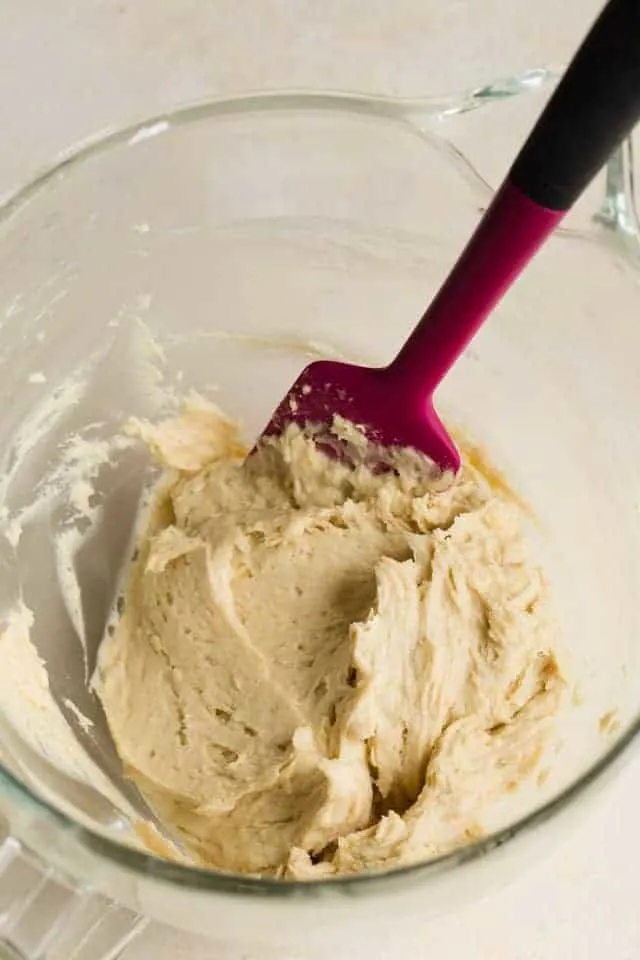 Handy tip:
Don't rush! It is very important that these cookies be cooled completely before try to glaze them. The glaze will melt if the cookies are still warm. After the baking time is up, set them on a wire rack to cool completely before glazing them.
Tips For Success
You only need ¼ cup of yogurt and if it's something you don't usually keep on hand, you just need to purchase one single-serving container.
The batter is thick like cake batter. You can't roll it like normal cookie batter. Instead, you need a 1 tablespoon-sized cookie scoop to drop mounds of batter directly onto the baking sheet.
The glaze on the cookies will harden after a few hours. This will make it easy to store the cookies without them getting all messy.
Storage & Freezing
Glazed cookies will stay fresh stored in an airtight container at room temperature for up 2 days or in the refrigerator for up to 1 week.
Baked, unglazed cookies will freeze well for up to 2-3 months. Thaw in the refrigerator overnight then bring to room temperature before glazing and serving.
These are some of my favorite recipes to fill my cookie jar with, all year long. Which ones will you make next?
Did you try this recipe? I would love for you to leave me a 5-star rating or comment. This way, I have a better understanding of which recipes you like and can create more of them.
Please take a moment to follow me on Instagram, Pinterest, Facebook, Youtube or sign up for my free newsletter to never miss the newest recipes and blog updates.
You can also shop my favorite baking tools. Thank you so much for your support!
Printable Recipe