This post may contain affiliate links. Read the full disclosure here.
These Glazed Lemon Cookies will get you feeling excited about spring! They are pillowy soft with loads of lemony tang that will brighten the cloudiest of days!
Glazed lemon cookies
Way back when the blog was just a hobby I created a recipe for soft Meyer lemon cookies and it has always been a favorite of mine. Lemon is something I simply can't pass up.
Today's lemon cookies are an exact replica of those delightful cookies except they are made regular lemons instead of Meyer lemons. They are just as incredible as the original, though.
So soft, cakey, and loaded with sweet lemon. This is definitely a cookie that I highly recommend you try.
I've often turned away from a cakey cookie but these lemon cookies have completely changed the way I feel about thick tender cookies.
How to make this lemon cookie recipe
First, these cookies are super soft and moist. This mostly comes from the use of yogurt. It keeps the cookies airy, soft, and extremely moist. I use Greek yogurt because it's super thick and creamy which does wonderful things to the cookie's texture.
Also, Greek yogurt is usually low-fat or fat-free so there's a bonus!
You only need ¼ cup of yogurt and if it's something you don't usually keep on hand, you just need to purchase one single-serving container.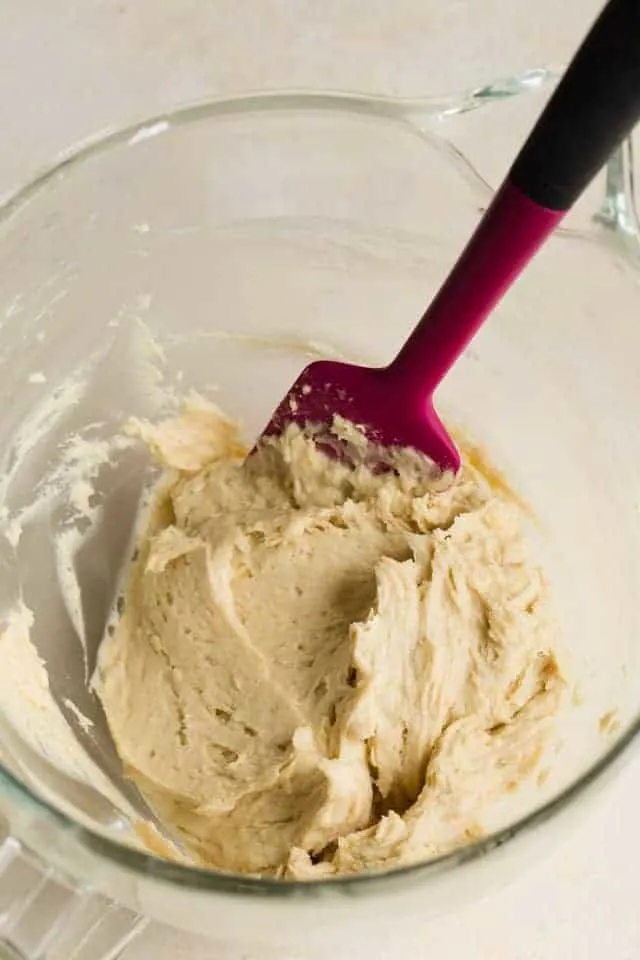 All the other ingredients in the recipe are fairly basic. There's flour, white sugar, brown sugar, honey, butter, egg. The flavor comes from lemon zest which pairs beautifully with the honey.
I really love how these came out. They taste slightly different than the Meyer lemon version but they're still a great cookie.
The batter is thick like cake batter. You can't roll it like normal cookie batter. Instead, you need a 1 tablespoon-sized cookie scoop to drop mounds of batter directly onto the baking sheet.
You can use a 1 tablespoon measuring spoon if you don't have a cookie scoop that size.
Lemon glaze for cookies
The cookies get topped with a sweet, tangy lemon glaze. It's a super simple glaze with just lemon juice and confectioner's sugar.
I sprinkled yellow sanding sugar over the glaze to give the cookies a little color but you could also use lemon zest in the icing.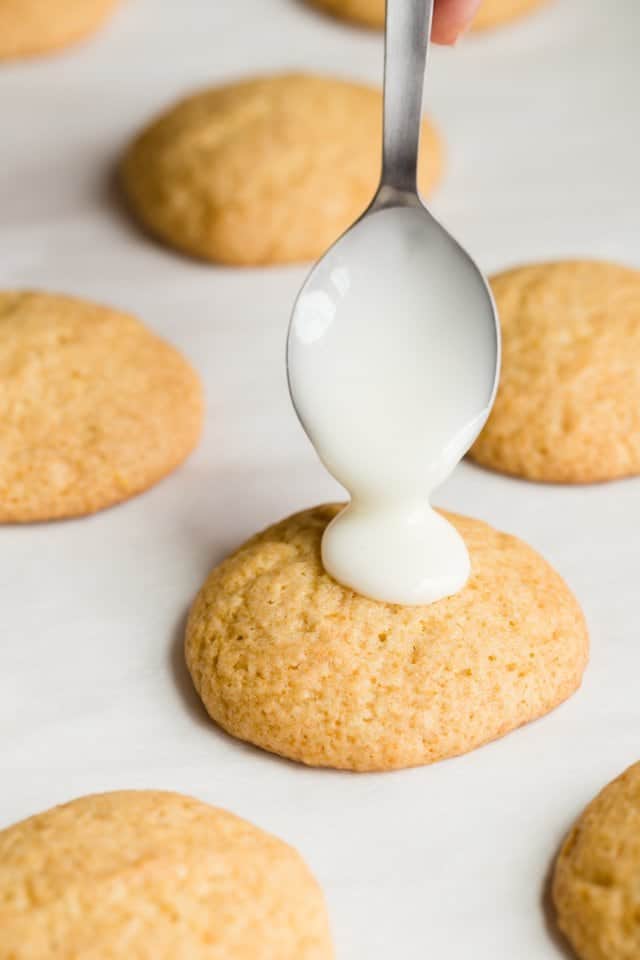 The glaze on the cookies will harden after a few hours. This will make it easy to store the cookies without them getting all messy.
I'm sure you are going to love these glazed lemon cookies. They are sweet, tangy, soft, and flavorful. Think bite-sized lemon cake!
Did you try this recipe? I would love for you to leave me a 5-star rating or comment. This way, I have a better understanding of which recipes you like and can create more of them.
Please take a moment to follow me on Instagram, Pinterest, Facebook, Youtube or sign up for my free newsletter to never miss the newest recipes and blog updates.
You can also shop my favorite baking tools. Thank you so much for your support!