This post may contain affiliate links. Read the full disclosure here.
This chewy lemon cookie recipe bakes up soft and delicious cookies which are packed with bold lemon flavor! They are crisp and chewy and bursting with flavor.
I don't generally subscribe to the idea that desserts are seasonal. I mean, of course, I like when my baked treats use fresh seasonal ingredients, like strawberry shortcakes in June and blood orange bars in the late winter or early spring. But I'm not adverse to a pumpkin cheesecake outside of the fall, or a key lime pie in the dead of winter.
There are just some desserts that are too good to limit when you eat them!
These super lemony cookies are a perfect example. Given their burst of lemon flavor, one might think they're strictly a summer cookie. But don't fall into that trap. Whether you make these cookies in August, October, February or April, you'll be glad you did.
Unlike my glazed lemon cookies, these cookies are soft and chewy like a perfect sugar cookie, but they are loaded with lemon flavor.
I like to offer these cookies on a dessert tray alongside a chocolate dessert (maybe these cosmic brownies), a vanilla dessert (mini creme brulees would be so good), and a fruity offering (strawberry pound cake).
The lemon flavor of these cookies, thanks to the lemon juice, the zest, and the extract, is nothing short of shocking. They are the perfect complement to other dessert offerings, though equally delicious just on their own.
My second favorite thing about these cookies (flavor being the first) is that these cookies are so easy to make. No making the dough in advance and letting it chill for hours. These are mix, drop, and bake. You can go from craving to eating in just about half an hour!
A couple of key techniques help to make these cookies flat and soft and chewy. First, using melted butter, still slightly warm, along with oil, cream cheese, and egg, helps to soften the dough and also weigh it down, so it won't puff much when cooking.
Second, after dropping the balls of dough on the parchment paper, press them down with a measuring cup so they spread more evenly in the baking process. You should end up with a uniform batch of flat cookies.
A final tip – I like to add a touch of lemon extract to the dough for an extra punch of lemon flavor. It's not always easy to find lemon extract though, so if you want to use extra lemon zest in its place, it will add almost as much flavor.
Try these cookies – they are among our favorites – and let me know what you think of them!
---
Recipe Snapshot
TASTE: Bursting with citrus flavor
TEXTURE: Soft and chewy
EASE: Easy
TIME: Under half an hour
---
What You'll Need
Ingredients
Flour: I used all-purpose flour, you can also use gluten-free flour.
Leavening: This recipe calls for both baking powder and baking soda.
Salt: Just a touch of kosher salt to balance the flavors.
Sugar: Granulated sugar works great in this recipe.
Cream cheese: Just a bit adds tang and softness to the cookies.
Butter: Unsalted butter. It needs to be melted and kept slightly warm
Vegetable oil: Or other neutral flavored oil – for softness and moisture.
Egg: At room temperature
Lemon juice and zest: Fresh squeezed juice and zest from a lemon.
Lemon extract: For an extra burst of lemon flavor.
Yellow food coloring: COMPLETELY optional, adds color, obviously.
Recommended Tools
A whisk – no electric or stand mixer is required here!
Bowls
Parchment paper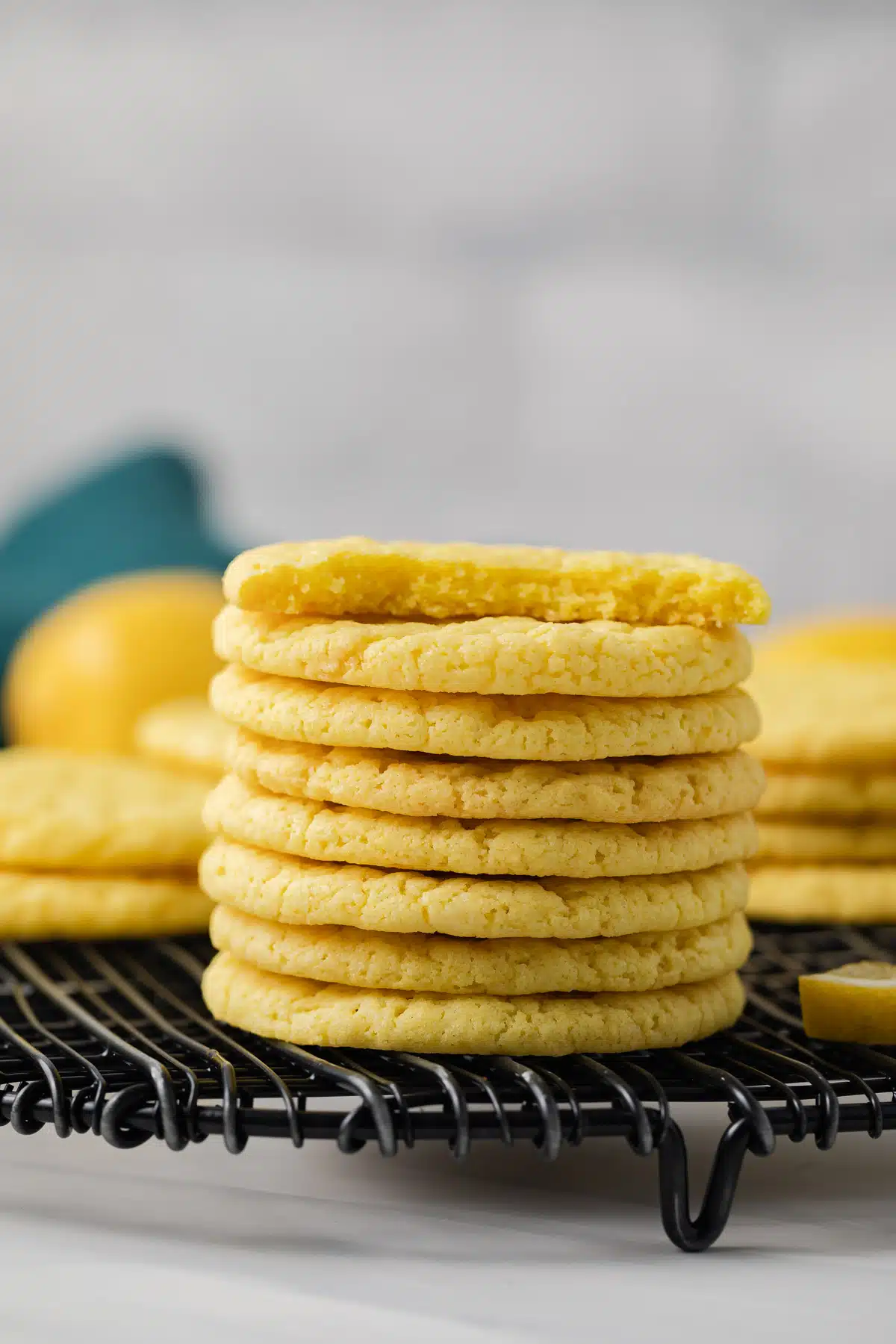 How to Make Lemon Cookies
These soft and chewy lemon cookies are simple to make and don't require any chilling, so from craving to eating is less than half an hour. To start, preheat the oven to 350°F and line two baking sheets with parchment paper.
Be sure to check out the full recipe and ingredient list below
Whisk dry ingredients. Whisk the flour baking powder, baking soda, and salt together in a medium bowl.
Cream sugar, butter, and cream cheese. Place the sugar and cream cheese in a large bowl. Whisk in the melted butter. It's ok if it is lumpy.
Add liquids. Whisk in the oil until incorporated. Whisk in the egg, lemon juice, lemon zest, lemon extract, and food coloring until smooth.
Add in the flour. Using a rubber spatula, fold in the flour mixture until a soft, homogenous dough forms.
Prepare the dough. Scoop the dough into 1.5-tablespoon sized balls and place them 2 inches apart on the prepared baking sheets. Using the bottom of a greased measuring up, press the dough balls until 2 inches in diameter.
Bake. Bake cookies, one sheet at a time, for 11-13 minutes, until the edges are set. Cool the cookies on the pan for 5 minutes then transfer to a wire rack to cool completely.
Handy tip:
Lemon extract: If you don't have lemon extract, or would prefer not to use it, you can replace it with an additional ½ to 1 tablespoon lemon zest.
Tips For Success
Lemon juice and zest: 1 medium lemon will yield about 2 tablespoons of lemon juice and 1 tablespoon of lemon zest.
Keep some of these cookies on hand in your freezer to bake one at a time when the craving strikes. Raw cookies can be frozen for up to 1 month. Bake frozen cookies in 350°F oven for 17-22 minutes.
If you want to make these cookies extra lemony, drizzle the cookies with a lemon glaze, which you can make by combining powdered sugar and fresh lemon juice
Storage & Freezing
Cookies will keep for up to 1 week stored in an airtight container at room temperature.
Baked cookies can be frozen for up to 3 months. Thaw to room temperature before serving.
Cookies are one of my favorite treats. I love them on their own, as the base for an ice cream sandwich, or crumbled up as a topping over a scoop of ice cream. These are some of my favorite cookie recipes I use to fill my cookie jar:
Did you try this recipe? I would love for you to leave me a 5-star rating or comment. This way, I have a better understanding of which recipes you like and can create more of them.
Please take a moment to follow me on Instagram, Pinterest, Facebook, Youtube or sign up for my free newsletter to never miss the newest recipes and blog updates.
You can also shop my favorite baking tools. Thank you so much for your support!
Printable Recipe