This post may contain affiliate links. Read the full disclosure here.
Blood Orange Bars are a less tangy version of lemon bars. They are vibrant, full of orange flavor, and rest on a buttery shortbread crust. This simple recipe will bring light to your cold winter days.
You know me. I can never turn down a tangy lemon dessert. Lemon cheesecake bars, this lemon tart, and lemon meringue pie are my usual go-to's when I'm in the mood for something tart.
But this time of year, when blood oranges are in season, I become obsessed. I'm a huge fan of blood oranges, with their dark colored flesh and sweet citrus flavor. I get so excited when I see my grocery store stocked with them. They are definitely my favorite citrus.
Once again a gorgeous fruit (if you have ever cut into a blood orange you know what I am talking about) got the best of me and I had to buy the biggest bag available. At the time of purchase, I had no idea what I was going to do with this stunning orange, but it didn't take me long to figure it out.
I decided to modify my all time favorite lemon bar recipe and turned it into a pleasantly sweet blood orange bar.
The smooth creamy filling is nothing more than a flavorful blood orange curd. And the delightful curd sits on top of a crisp, buttery shortbread crust.
To ensure the orange flavor was prominent, I used a whole cup of juice and some zest. The zest really brightened up the flavor.
And because the oranges are already sweet I didn't use much sugar at all. You could probably cut it back even more if you are watching your sugar intake and you wouldn't miss it at all.
Go grab a bag of blood oranges while they are in the stores! You don't want to miss this winter treat!
---
Recipe Snapshot
TASTE: Sweet and citrusy
TEXTURE: Smooth and creamy filling with a crumbly shortbread crust
EASE: Easier than you think!
TIME: Over three hours, including chilling time
---
What You'll Need
The ingredients for these bars are likely in your pantry already, other than the blood oranges, which are a seasonal fruit available at most grocery stores. Buy about 6 blood oranges to squeeze enough juice for the filling.
Ingredients
Flour: This crust uses all-purpose flour.
Sugar: You need confectioners' sugar and granulated sugar. Confectioners' sugar goes in the crust and granulated sugar goes in the filling.
Salt: A dash of salt is in both the crust and filling to help balance the flavors.
Blood orange zest: A little blood orange zest is in the filling for an extra punch of tanginess.
Blood orange juice: Blood oranges are my favorite citrus – sweet and slightly less tangy than other citrus, the flavor makes for a perfectly sweet and slightly punchy bar.
Butter: Use unsalted butter so you can control the amount of salt in the recipe. Butter is used in both the crust and the filling.
Eggs: The filling needs 4 whole eggs plus 3 egg yolks. The extra yolks give the bars their vibrant color and richness.
Heavy cream: There is just a splash of heavy cream in the filling.
Recommended Tools
Mixing bowls: These bowls are my favorite. I use them regularly.
Pastry blender: I always use this pastry blender to cut butter into the flour.
Baking pan: I love these baking pans. They're the only ones I use.
Parchment Paper or Aluminum Foil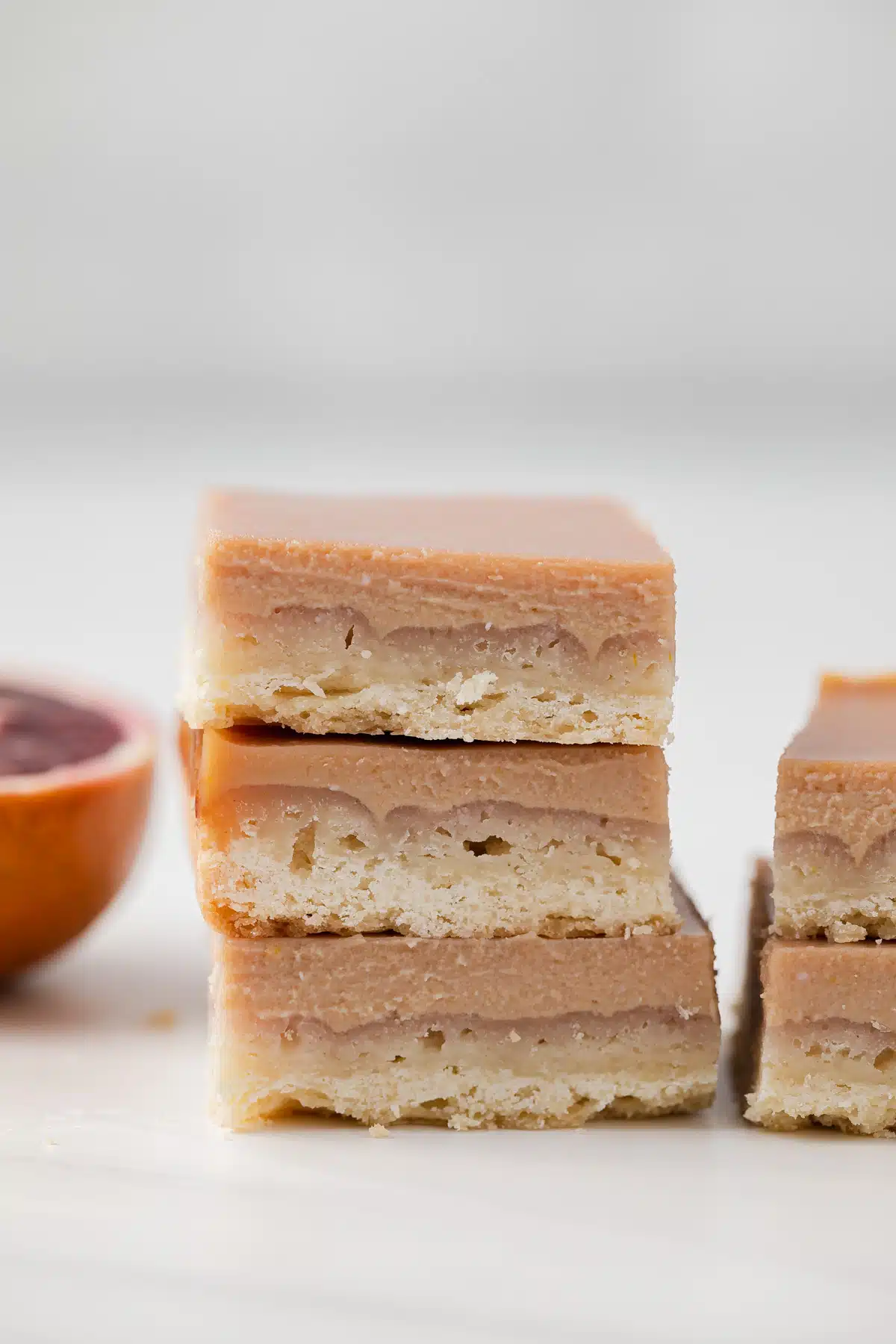 How to Make Blood Orange Bars
This blood orange bars recipe is not complicated, but does require a bit of planning as chilling time is needed. To start, preheat the oven to 350ºF. Line an 8×8-inch baking pan with parchment paper or tin foil with enough overhang on all sides for easy removal.
Make the crust
Prepare the crust. In a medium bowl, combine the flour, sugar, and salt. Stir to combine. Using a pastry blender or a fork, cut in the butter until the mixture resembles coarse crumbs. Press the dough evenly into the bottom of the prepared pan.
Bake. Bake for 15 to 20 minutes, or until lightly golden brown. Cool completely.
Make the filling
Combine ingredients. While waiting for the crust to cool to room temperature, whisk the eggs, yolks, sugar, and salt together in a medium pot. Stir in the fresh blood orange juice and zest.
Cook. Cook over medium heat, stirring constantly, for about 10 minutes. The curd will thicken to the consistency of pudding. Stir the butter and cream into the smooth curd filling.
Strain. Strain the curd through a fine-mesh sieve set over a medium bowl. Pour the curd over the crust and spread evenly with a silicone spatula.
Bake. Bake for 15 to 20 minutes, or until the filling is set.
Cool and cut. Cool in the pan on a wire rack for 1 hour. Cover and refrigerate for at least 2 hours. Lift the bars out of the pan using the overhang. Cut into 16 squares.
Handy tip:
A light dusting of powdered sugar over the bars after they have cooked will add to the presentation.
Tips For Success
Do not skip the step of straining the curd. It may not seem like a big deal, but straining it will remove the pulp or any solids, making the curd smooth and creamy.
If you want to give these bars a slightly more vibrant color, you can add a drop or two of red food coloring to the curd. They don't need it, but the deep red color can be appealing.
Storage & Freezing
Bars will keep for up to 3 days stored covered in the refrigerator. They should not be left out at room temperature.
Brownies, bars, and brookies are terrific treats to have on hand or to give as gifts. They usually wrap and keep well, and can be individually frozen to pull out one at a time for a homemade afternoon pick-me-up.
Did you try this recipe? I would love for you to leave me a 5-star rating or comment. This way, I have a better understanding of which recipes you like and can create more of them.
Please take a moment to follow me on Instagram, Pinterest, Facebook, Youtube or sign up for my free newsletter to never miss the newest recipes and blog updates.
You can also shop my favorite baking tools. Thank you so much for your support!
Printable Recipe