This post may contain affiliate links. Read the full disclosure here.
This homemade banana cookies recipe makes the most delicious cookies. They are crispy on the edge and soft and fluffy on the inside – just like biting into a slice of your favorite banana bread. Simple to make and ready in just 20 minutes!
Banana cookies? I know, I know – they sound a little unusual, don't they? But you know how much I love my banana recipes.
I can't remember the last time a week went by where I didn't make a loaf of banana bread or a batch of banana chocolate chip muffins. I usually buy an extra bunch of bananas every week at the grocery store – one to eat and one to let ripen to use in my banana flavored baked goods.
If I am feeling particularly festive, I'll whip up some banana cupcakes. I'll be honest, those cupcakes sort of inspired this recipe.
Banana bread and banana muffins have been a staple in my house since I was a kid. Only recently though did I venture to try banana cupcakes. Taking a staple baked good and adding unexpected banana flavor turned out to be great success.
So I started thinking – and decided to give banana cookies a try. This took a little bit of trial and error. I didn't want cake like cookies – too much like banana bread. They needed their own unique thing.
I discovered that by adding a little cornstarch, brown sugar, and both baking powder and baking soda, I could create thing cookies that are crispy on the outside but light and fluffy on the inside.
These are moist, chewy, and fluffier than your standard chocolate chip cookie. The texture is a little more like a sugar cookie or snickerdoodle, but with a crunchier outside.
I'm telling you, these cookies are delicious. And even better, they require almost no special equipment – you can use an electric mixer but you can also just use a good old wooden spoon to mix the batter. There is no chilling time required, so you can start making these and be enjoying your first bite within 30 minutes.
Between the delightful texture and the unexpected delicious banana flavor of these cookies, I promise you they'll be requested on repeat in your house!
---
Recipe Snapshot
TASTE: Like banana bread in a cookie
TEXTURE: Crispy on the edges and soft and fluffy inside
EASE: Super easy
TIME: 20 minutes
---
What You'll Need
This recipe requires just a handful of ingredients and makes the most delicious banana cookies
Ingredients
Flour – All-purpose flour is the base of these cookies.
Cornstarch – Adds just a bit of soft fluffy texture.
Leavening – These cookies call for both baking powder and baking soda
Salt – To activate the leavening agents and balance the flavors.
Brown sugar – Brown sugar adds a bit of moisture to the cookies and gives a slight caramel flavor.
Butter – As always, unsalted, and softened here so it blends well with the other ingredients.
Mashed ripe banana – The more brown spots the better.
Vanilla extract – For a bit of flavor.
Egg – This holds together the ingredients. It works better if at room temperature
Recommended Tools
Mixing bowls
Baking sheets
Parchment Paper
Ice cream scoop
How to Make Banana Cookies
These homemade banana cookies are so simple to make – and there is no chilling of the dough required. Preheat the oven to 375 degrees and line two baking sheets with parchment paper.
Be sure to check out the full recipe and ingredient list below
Combine dry ingredients. Combine the flour, cornstarch, baking powder, baking soda, and salt in a small bowl.
Combine wet ingredients. In a large bowl beat butter and brown sugar until light and fluffy. Using an electric mixer, or elbow grease, beat in the mashed banana, vanilla extract, and egg until well blended.
Mix together. Using a silicone spatula, stir the flour mixture into the banana mixture until well combined.
Scoop. Using a 1.5-tablespoon cookie scoop, drop cookies onto the prepared baking sheet about 2 inches apart.
Bake. Bake for 10 minutes or until cookies are lightly browned. Cool the cookies on the pan for 5 minutes before transferring them to a wire rack to cool completely.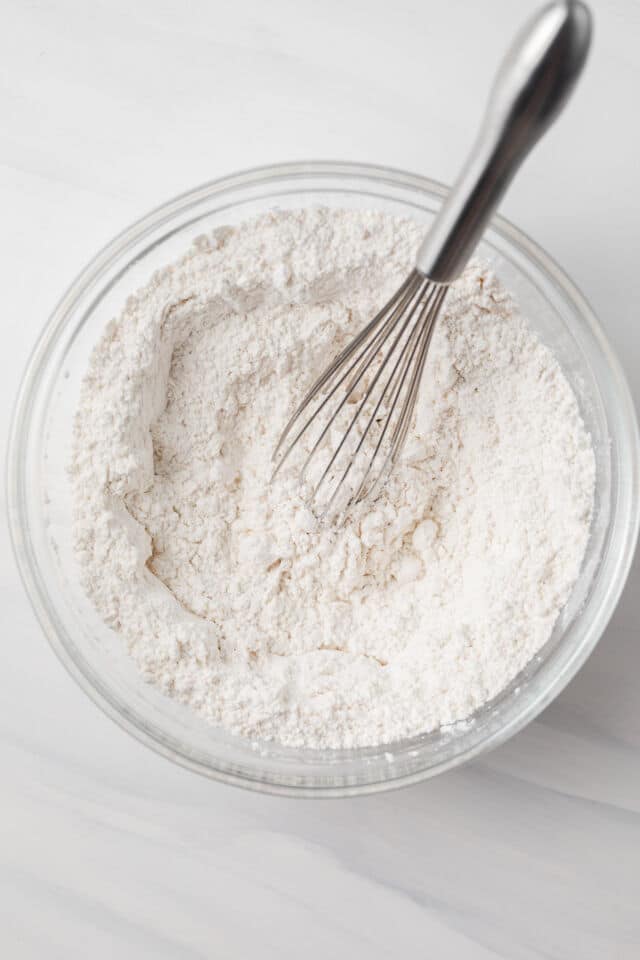 Handy tip:
Don't overmix the batter – you don't want it to become too dense. Just stir or mix until everything is combined.
Tips For Success
Make sure the bananas are very ripe – the more brown spots, the more banana flavor they will have when mashed up.
It's important to measure the flour correctly. Using too much flour can result in thick, dense cookies. Read this post on how to measure flour.
You can omit the cornstarch if you don't have it. I like to add it to cookies because it breaks down gluten development resulting in soft cookies with crisp edges.
Storage & Freezing
Cookie dough can be kept covered in the refrigerator for up to 3 days. Bring to room temperature and continue baking per recipe instructions.
Baked cookies will keep for up to 1 week stored in an airtight container at room temperature. They can also be stored in the freezer for up to 3 months.
I love quick and easy cookie recipes, and always have a full cookie jar on my counter. Here are some of my favorites.
Did you try this recipe? I would love for you to leave me a 5-star rating or comment. This way, I have a better understanding of which recipes you like and can create more of them.
Please take a moment to follow me on Instagram, Pinterest, Facebook, Youtube or sign up for my free newsletter to never miss the newest recipes and blog updates.
You can also shop my favorite baking tools. Thank you so much for your support!
Printable Recipe