Banana Chocolate Chip Muffins
This post may contain affiliate links. Read the full disclosure here.
These banana chocolate chip muffins are deliciously tender and moist with bits of banana and chocolate chips speckled throughout.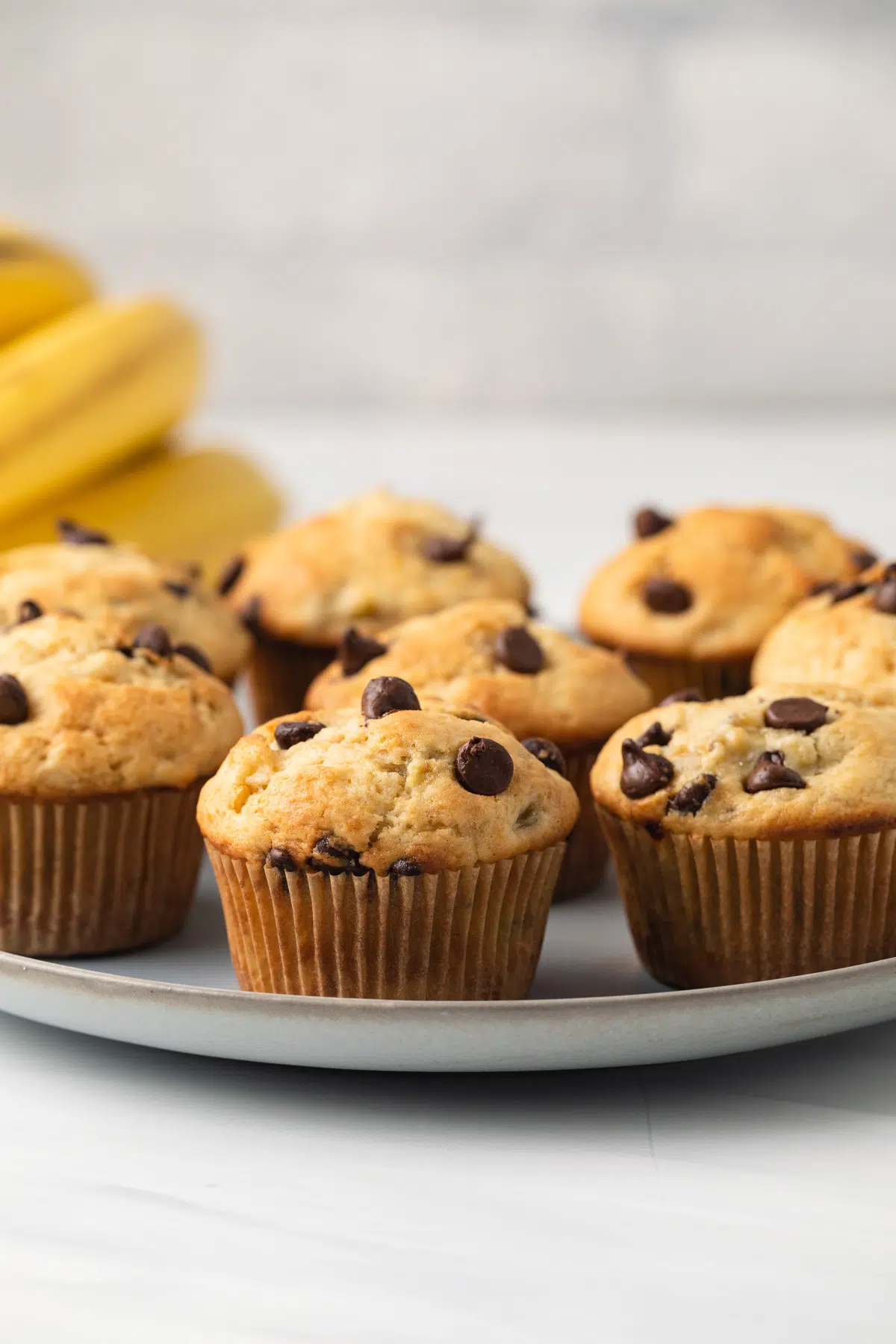 I can hear you now – "Are you kidding me, Jen? Another banana recipe?" YES! And you will be so grateful because these delicious little banana muffins are the perfect after school snack or breakfast, and they are ready in minutes.
You know I am a crazy banana bread girl. Have you tried my best ever banana bread recipe? I've also made cinnamon swirl banana bread, gluten free banana bread, and peanut butter and banana coffee cake. Can't stop, won't stop. I love the flavor of bananas and the sweet deliciousness they add to baked goods.
I bake a lot (obviously). And I only share with you recipes that I love. But I have to admit, there is a special place in my heart for a thick slice of fresh banana bread, either just baked or warmed in the oven, slathered with a slab of salted sweet cream butter.
And, believe it or not, I have even been known to make an open-faced ham and cheddar sandwich on a slice of banana bread. Pop it in the toaster, add some honey mustard… I know, I know, it sounds weird, but don't knock it until you have tried it.
I digress. I do love banana bread, but sometimes the banana craving situation calls for banana muffins. They're a little lighter than banana bread. Most banana breads have oil or butter and other liquids in the recipe so they take longer to bake. These little nuggets of banana goodness go from mixing bowl to cooling rack in less than 45 minutes.
These bananas are sweet, moist and tender and they are studded with chocolate chips. You can use regular chocolate chips, mini chocolate chips, or, for a touch of extra decadence, try dark chocolate chunks.
I love to make these for a brunch table, but they are so easy you can even make them for a weekday breakfast.
Or, if you really want to plan ahead and make mornings easier, bake a batch of these, keep them in the freezer, and grab one or two out the night before you want to use it for breakfast. Let it defrost then pop it in the toaster oven in the morning to heat it up.
Try this recipe – I promise you will be so pleased I made another banana recipe!
---
Recipe Snapshot
TASTE: Bananas and chocolate – a great combo
TEXTURE: Tender and moist
EASE: Easy!
TIME: Under 45 minutes
---
What You'll Need
Ingredients
As with most of my baked banana recipes, the key to this one is using truly ripe bananas. The softer the banana the better the muffins will taste – trust me.
Flour – All purpose works just fine.
Leavening – This recipe uses both baking powder and baking soda for lightness and texture.
Butter– Unsalted, as usual, and softened to room temperature.
Brown sugar – Light brown sugar adds sweetness and a slight caramel-like flavor. You can also use dark sugar, or even coconut sugar here.
Eggs – I always use brown large eggs when I have them.
Vanilla Extract – For a hint of vanilla flavor.
Yogurt – Plain, whole milk yogurt. This is not the time or the place to go low fat.
Bananas – 3 small ripe bananas. The riper they are, the better.
Chocolate chips – Or chocolate chunks, whatever you have.
Salt – Just a dash.
How to Make Recipe Name
These banana chocolate chip muffins are quick and easy to make. They're the perfect after-school snack. Preheat your oven to 375°F, line a 12-cup muffin pan with paper liners, or spray the cups with non-stick spray, and put your butter out to soften. Gather your ingredients and you'll be ready to go!
In a medium bowl, whisk the flour, baking powder, baking soda, and salt together until well combined.
Using mixer , beat the butter and sugar on medium-high speed until pale and fluffy, about 3 minutes.
Add the eggs one at a time, mixing until well combined after each addition. Beat in the vanilla.
Add half the dry ingredients, and mix until almost fully combined. Add the yogurt and mix until almost fully combined. Add the remaining dry ingredients and mix just until no streaks of dry flour are visible.
Using a rubber spatula, fold in the bananas and chocolate chips.
Use an ice cream scoop to portion the batter evenly between the prepared muffin cups. Bake for 20-25 minutes, rotating halfway through baking.
Cool the muffins in the pan for 5 minutes then transfer to a wire rack and let cool for an additional 10 minutes before serving.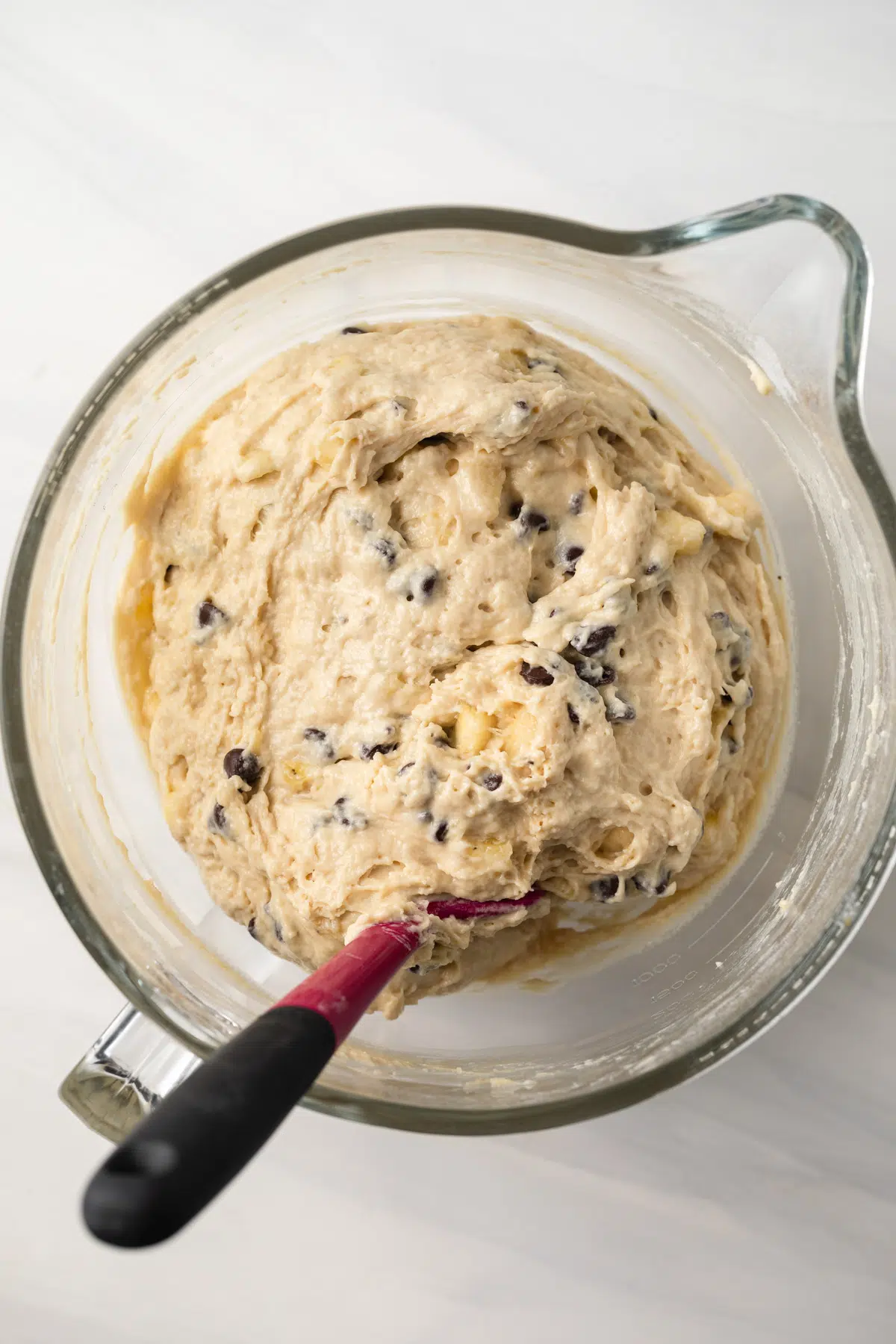 Handy tip:
The best bananas to use when baking any sort of banana bread are ones that are just about to go bad – fully ripened, with dark spots. They have the most flavor and will result in the best-tasting breads.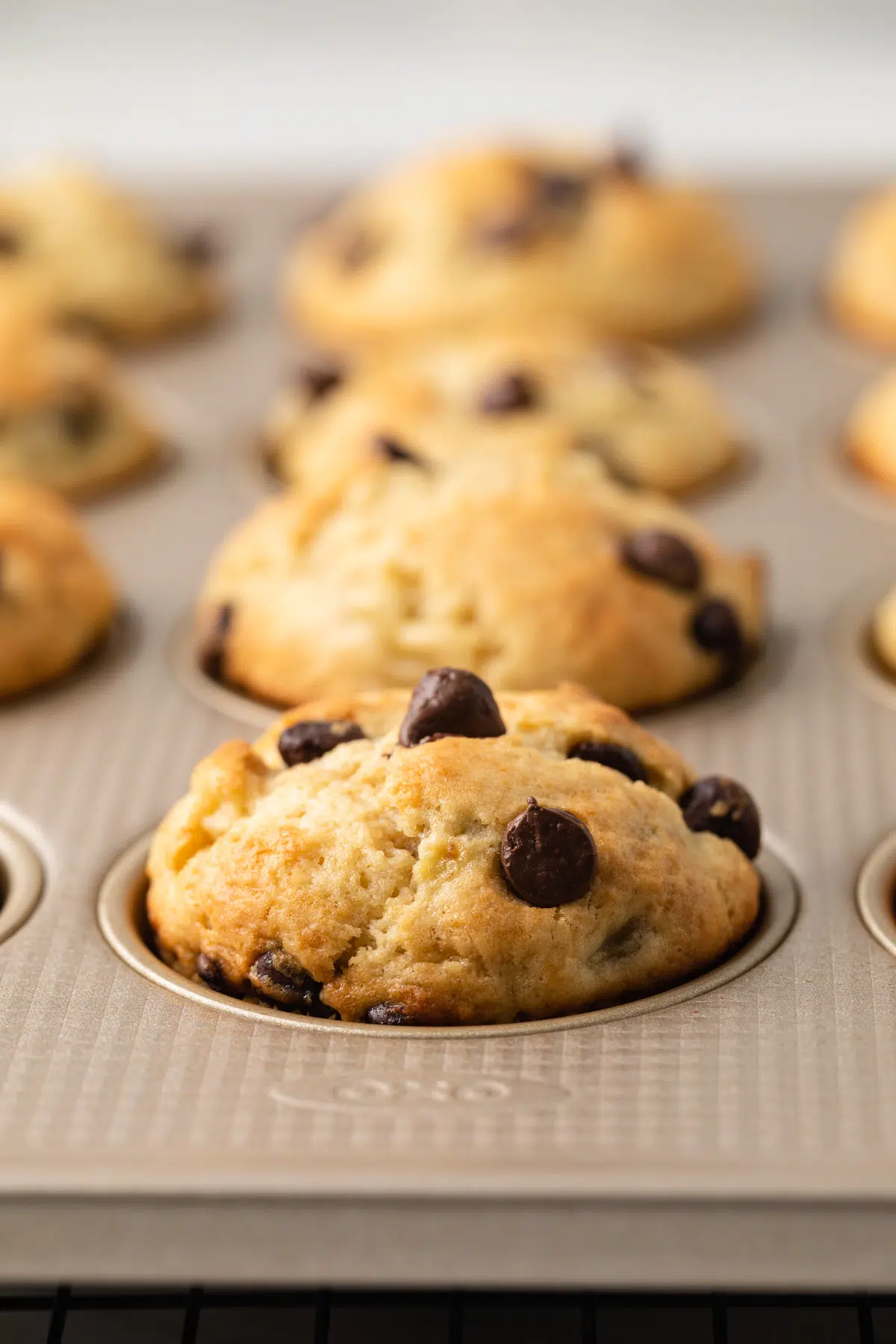 Tips For Success
Bananas: Make sure to use extra spotty bananas. The riper the banana, the better the muffins will taste.
Yogurt: I prefer to use whole milk yogurt, nothing low fat. You can use greek yogurt too if you prefer. But again – not low fat.
Sugar: Dark or light brown sugar works wonderfully. Regular granulated or coconut sugar are also great options.
Don't overmix! Once the dry ingredients are added, mix just until they are moistened. Mixing too much will result in tough, chewy muffins.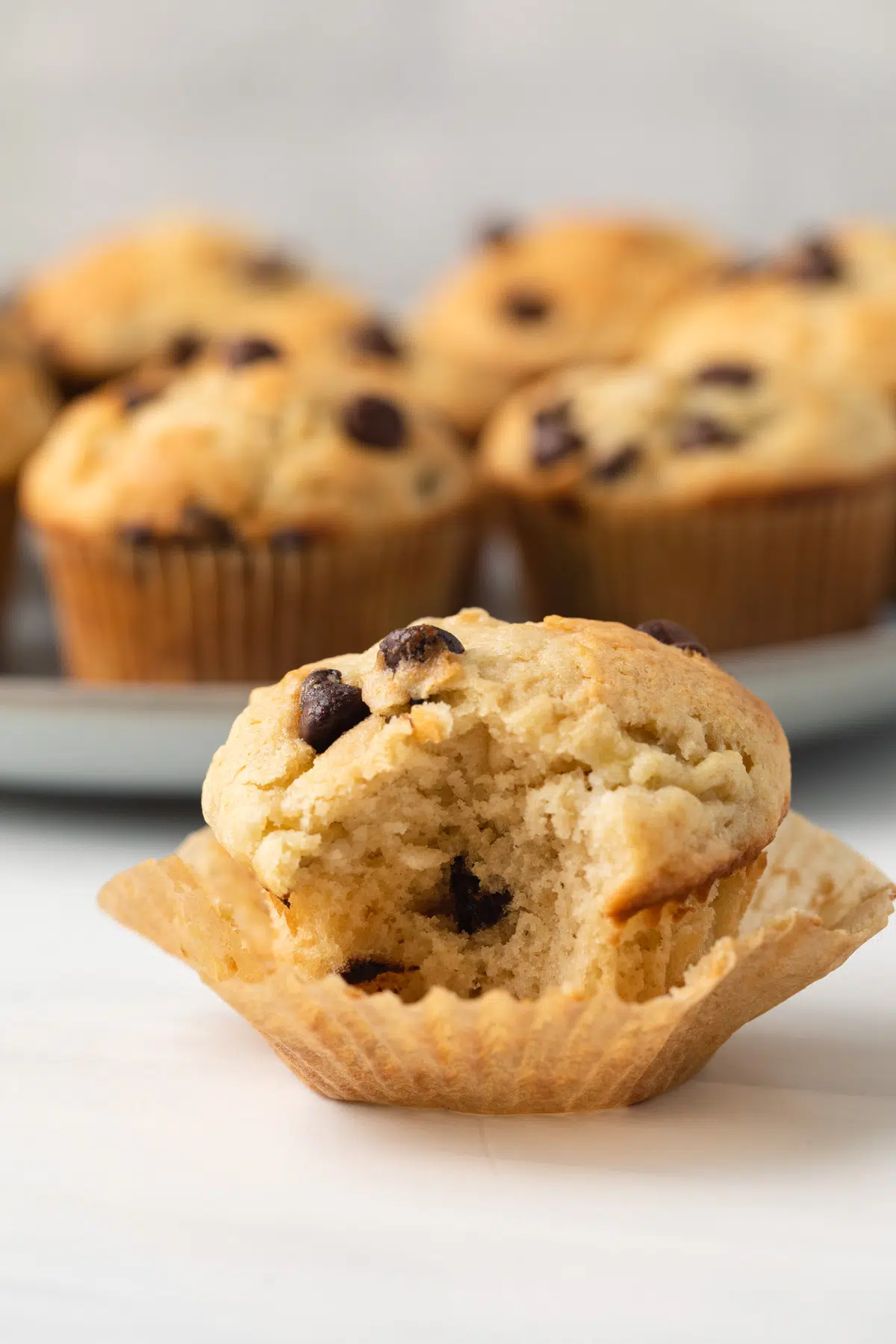 Storage & Freezing
Muffins will stay fresh for up to 3 days stored in an airtight container at room temperature or up to 1 week stored in the refrigerator.
They will keep for up to 3 months stored in the freezer. Thaw in the refrigerator overnight. You may wish to warm them in the microwave for 10-12 seconds. Or place a single frozen muffin in the microwave for 40-60 seconds.
Muffins are the perfect baked good. They are great for breakfast, a yummy afternoon snack or can be served as a dessert. Here are some of my favorites.
Did you try this recipe? I would love for you to leave me a 5-star rating or comment. This way, I have a better understanding of which recipes you like and can create more of them.
Please take a moment to follow me on Instagram, Pinterest, Facebook, Youtube or sign up for my free newsletter to never miss the newest recipes and blog updates.
You can also shop my favorite baking tools. Thank you so much for your support!
Printable Recipe