Peanut Butter and Banana Coffee Cake
This post may contain affiliate links. Read the full disclosure here.
This recipe for Peanut Butter and Banana Coffee Cake is going to have you drooling. I can think of no better way to wake up in the morning than to a large slice of breakfast cake. It's wonderful with a cup of coffee and is definitely the best way to start your day. The delicious cinnamon crumb topping paired with light and fluffy cake that's flavored with peanut butter and banana is going to be a huge hit at breakfast!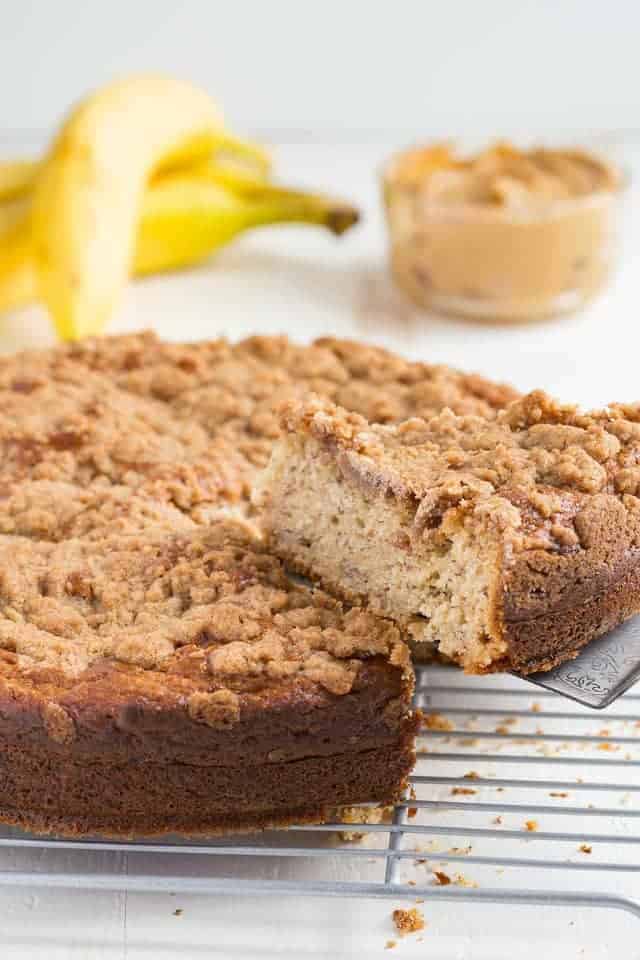 Who can say no to cake for breakfast?! I know I can't. I jump on every opportunity to have a delicious coffee cake and my morning meal.
I've been experimenting a ton since I had such success with this cinnamon crumb coffee cake. It's a fellow blogger's recipe and one that is always a hit on my site.
Since I shared that recipe, I've made raspberry jelly donut coffee cake and cinnamon sour cream coffee cake. And today I'm reviving a lost favorite – Peanut Butter and Banana Coffee Cake.
It combines three of my favorites. Peanut butter. Banana. Coffee cake. You simply can't go wrong with this.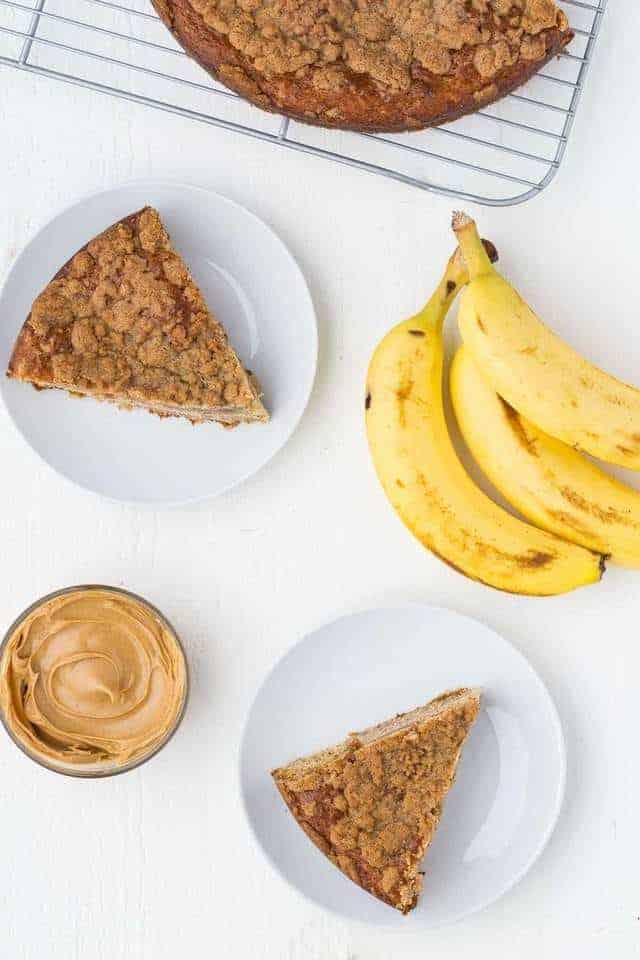 This recipe has received a total makeover and is adapted from my sweet potato coffee cake. It's tender, moist, and so flavorful.
The cake is made with oil instead of butter. But you honestly won't miss the buttery taste because of all the peanut butter and banana. On top of the cake is a crunchy cinnamon streusel.
---
Tips for coffee cake
Make sure the butter you use for the topping is softened. I learned this trick from the cinnamon crumb cake I mentioned above. Softened butter coats the sugar and flour evenly and crispens better during baking.
The recipe says to use a pastry blender to cut the butter into the flour. If you don't have a pastry blender, you can use your hands. Just work the butter in with your fingertips.
Use a 10-inch springform pan. A 9-inch springform will also work. It's much easier to remove the cake from a springform.
You can get away with using a regular cake pan but it must be at least 3-inches tall or the cake will overflow. And be sure to grease the pan well!
The cake takes a good 50 minutes to bake and then it needs time to cool before serving. because of this, I've left make-ahead tips in the recipe below.
Did you try this recipe? I would love for you to leave me a 5-star rating or comment. This way, I have a better understanding of which recipes you like and can create more of them.
Please take a moment to follow me on Instagram, Pinterest, Facebook, Youtube or sign up for my free newsletter to never miss the newest recipes and blog updates.
You can also shop my favorite baking tools. Thank you so much for your support!