Fudgy Brownies with Peanut Butter Frosting
This post may contain affiliate links. Read the full disclosure here.
Fudgy Brownies with Peanut Butter frosting are ridiculously delicious. The thick layer of creamy peanut butter frosting take these brownies right over the edge.
Are you ready for the fudgiest brownies topped with only the best version of peanut butter frosting? Then you are in the right place!
There is no better combination than chocolate and peanut butter. I am convinced that the two together could rule the female race. Not that men wouldn't enjoy this succulent combination but c'mon ladies; you all know that once a month we hate everything except for…
Chocolate!
Then if you throw some peanut butter into the mix, our mood swings fly right out the window.
To use chocolate or cocoa powder?
The brownie layer is made from scratch using real baker's chocolate plus cocoa powder. Using solid chocolate gives the brownies the best chocolate taste while leaving them moist and fudgy. Cocoa powder doesn't pack that chocolate punch but it's included because it gives the brownies depth.
Some recipes include only solid chocolate while others include only cocoa powder. There's no right or wrong way, it's all about preference. For this recipe, I wanted more of a fudgy brownie so I used more solid chocolate than cocoa powder.
This is my go-to fudgy brownie recipe. I use it for all the brownies on my site including these chocolate cherry brownies, chocolate orange brownies, and snickers brownies.
I topped the brownies with a creamy peanut butter frosting. It's so good and would go great on chocolate cakes or cupcakes as well.
The frosting is a basic buttercream with the addition of peanut butter. You can double the frosting if you plan to use it for other recipes.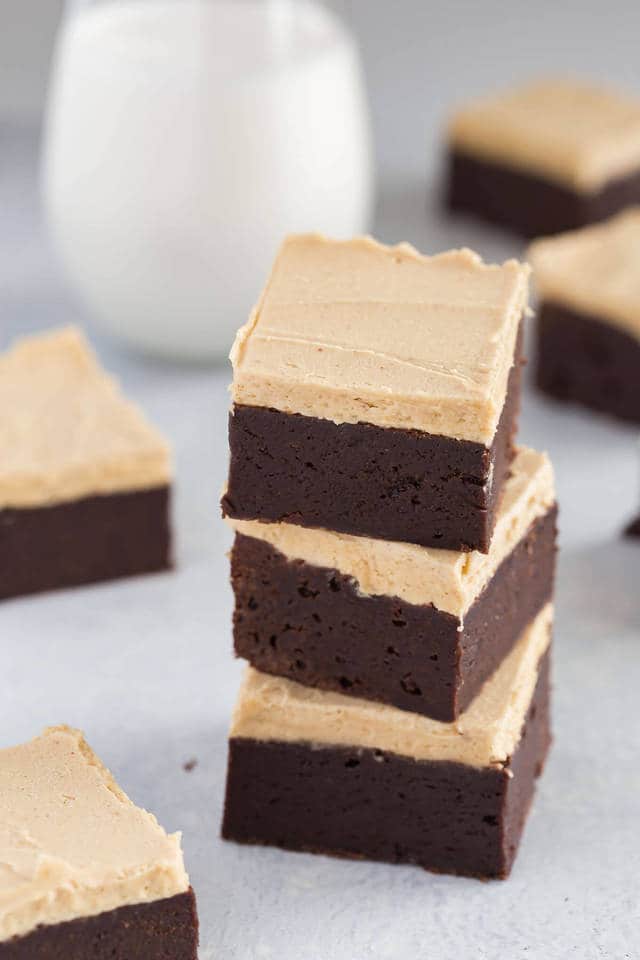 I stored the brownies in an airtight container at room temperature and they were good for up to 1 week. If you want the peanut butter to be firmer and not so creamy, store the brownies in the refrigerator instead.
They also freeze well and keep for up to 3 months in the freezer. Put them in the refrigerator to thaw overnight before serving.
Did you try this recipe? I would love for you to leave me a 5-star rating or comment. This way, I have a better understanding of which recipes you like and can create more of them.
Please take a moment to follow me on Instagram, Pinterest, Facebook, Youtube or sign up for my free newsletter to never miss the newest recipes and blog updates.
You can also shop my favorite baking tools. Thank you so much for your support!