This post may contain affiliate links. Read the full disclosure here.
If you're a fan of the Snickers candy bar, you are going to LOVE these Snickers Brownies! These are a truly decadent dessert with a thick triple chocolate brownie base, layered with gooey caramel, nutty marshmallow nougat, and topped with creamy chocolate.
A decadent chocolate dessert
I cannot think about these brownies without my mouth watering! With a triple chocolate brownie base, gooey caramel, marshmallow nougat, and even more chocolate on top, this brownie recipe is pure over the top decadence. I cannot think of anything better to satisfy my sweet tooth!
These decadent dessert bars begin with my all-time favorite chewy, fudgy brownie recipe, with one minor adjustment – half the semisweet chocolate is swapped out for unsweet chocolate. This helps lighten up the sugar load just a tad and added to the rich, dark chocolate color.
A simple, 2-ingredient caramel filling tops the brownie base, followed by a nutty marshmallow nougat, and finally, topped with a rich chocolate ganache. These Snickers Brownies truly have all the flavors of the beloved candy bar!
Keep in mind that each layer needs to set before adding the next one. Because of this, the process of assembling the brownies is time-consuming. But trust me, it's oh so worth it.
Be sure to read through the entire recipe before you begin, so you know what to expect with each step.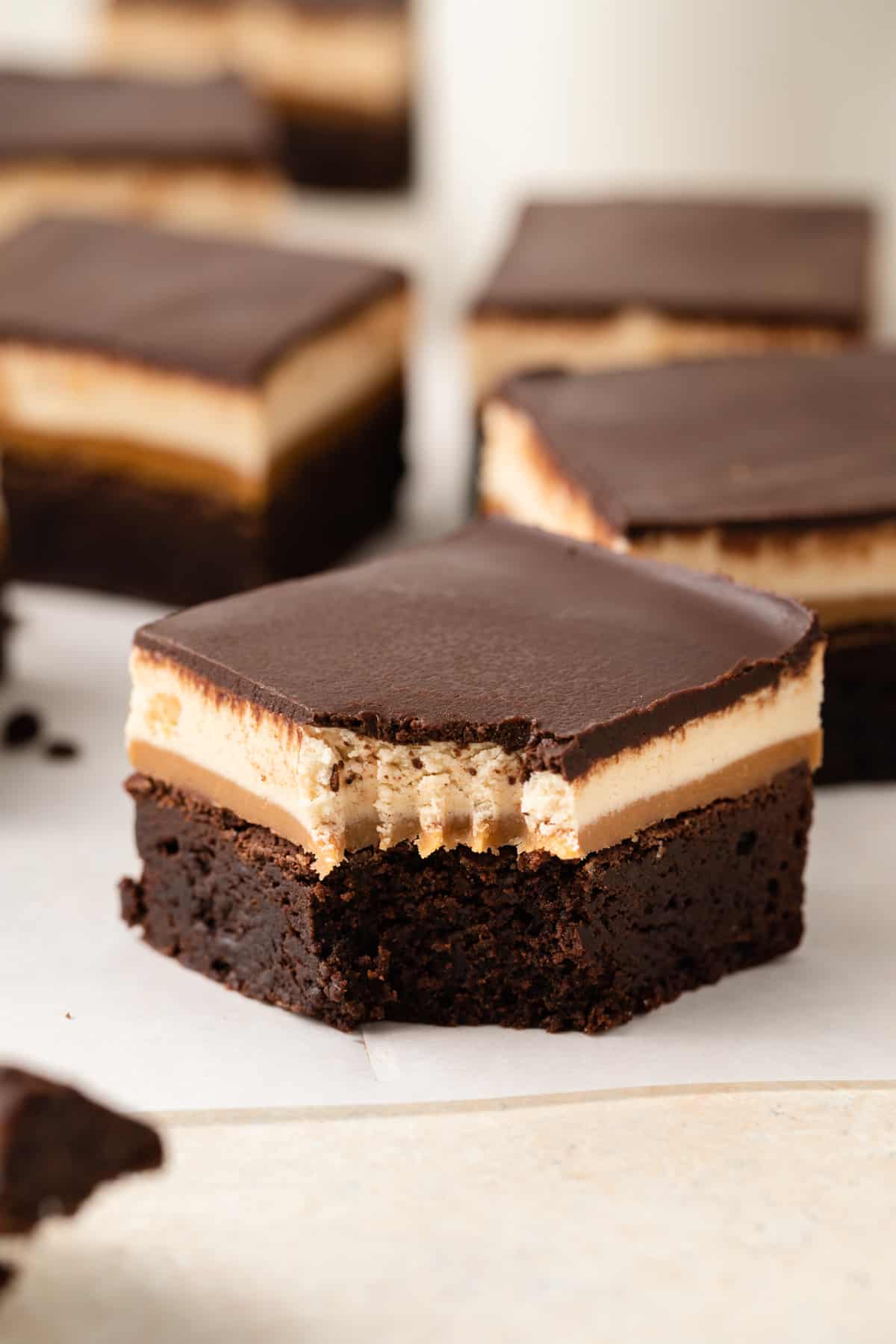 What you'll need
This ingredient list may look long but don't worry – it's split up by layer and many ingredients are used in more than one!
Ingredients
Chocolate – You'll use equal amounts of semisweet and unsweet chocolate to balance out the sweetness.
Unsalted butter – Makes the chocolate melt easily and adds richness to the nougat.
Cocoa powder – Be sure to grab the unsweetened regular version.
Eggs – Allow the eggs to come to room temperature.
Sugar – Brown sugar is used in the brownies base while granulated sugar is in the nougat.
Vanilla extract & salt – For added flavor.
All-purpose flour – No substitutions here!
Caramel – You can use caramel bits or unwrapped squares.
Evaporated milk – Helps the caramel keep the soft, gooey texture. And makes the nougat layer creamy.
Marshmallow fluff – Helps create the fluffy nougat texture.
Peanut butter – Crunchy peanut butter works best but creamy peanut butter is fine too if that's what you have.
Vegetable oil – Helps keep the chocolate nice and smooth for the topping.
How to make snickers brownies
These brownies are a chocolate-lover's dream and worth every second it takes to make them.
Make the brownie layer. Add the butter and chocolate to a bowl over a pot of simmering water. Stir occassionally until melted and smooth. Whisk in the cocoa powder. Set aside to cool. Whisk together the eggs, sugar, vanilla and salt, then whisk in the melted chocolate until well combined. Fold in the flour with a spatula.
Bake the brownies. Spread the batter in a pan lined with parchment paper. Bake for 25 to 30 minutes. Set on a wire rack to cool completely.
Make the caramel layer. Heat the caramels and evaporated milk in the microwave on high for 2 minutes. Stir every 15 seconds until the caramels have melted. Spread evenly over the brownies. Allow to cool for 15 minutes.
Make the nougat layer. Bring the sugar, evaporated milk and butter to a boil. Reduce the heat and boil while whisking constantly for 5-8 minutes. Combine the marshmallow fluff and peanut butter. Stir in the hot sugar mixture. Whisk until well combined. Spread evenly over the caramel layer. Allow to cool for 20 minutes.
It's important to use a non-stick pot when making the sugar mixture. Otherwise, it will stick to the bottom of the pot and burn.
Also, don't stop stirring! The fats tend to separate if not stirred continuously. Aim to keep the mixture emulsified until it looks like sweetened condensed milk.
Make the chocolate ganache. Heat the oil and chocolate in increments of 15 seconds, stirring until the chocolate is melted and smooth. Spread evenly over the nougat layer.
Chill the brownies. Cover with aluminum foil and refrigerate for 30 minutes. Lift the brownies out of the pan, cut into bars, and allow to come to room temperature before serving.
Tips for success
With so many different layers, there are several things you'll want to keep in mind when preparing these decadent triple chocolate brownies.
Do not use chocolate chips. Chocolate chips do not melt smoothly so you want to use baking chocolate in bar form for these Snickers brownies.
Be sure to measure the caramels. Both caramel bits and squares work for this recipe. Unwrap the squares and weigh them to equal the proper amount.
Use a non-stick pot. You'll definitely want a nonstick pot when preparing the nougat layer. The syrup mixture tends to stick and burn in other pots.
Do not over-boil the nougat. If the mixture turns dark in color, you've boiled it for too long. It should be light in color and the consistency of sweetened condensed milk.
Slice the brownies while still chilled. The chocolate layer will harden upon refrigeration but will soften at room temperature. Because of this, I recommend slicing the brownies while they are chilled, then allow them to come to room temperature before serving.
Use a hot knife to cut the brownies. For a clean cut, warm the knife blade under hot water then dry and slice. Repeat with each slice.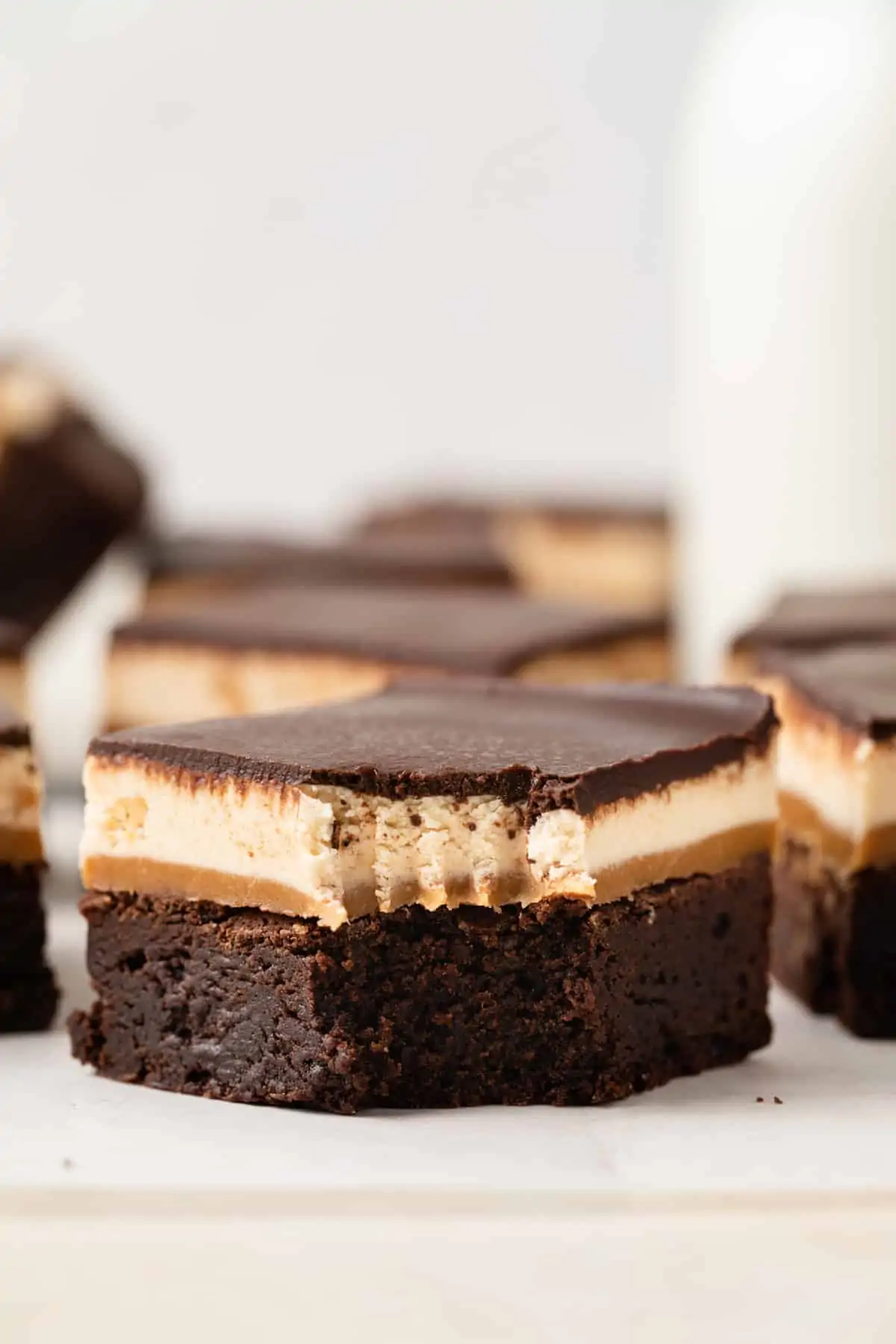 Serving suggestions
These decadent brownies should be served at room temperature. Allow them to chill long enough to set the chocolate then slice and allow to come to room temperature. After about 30 minutes or so, the caramel and nougat will be soft. That's the perfect moment to dive in!
These brownies are so rich that you might want a big glass of milk nearby!
How to store & freeze
How to store. You can store these Snickers brownies for up to a week in the refrigerator. Serve at room temperature.
How to freeze. You can freeze these brownies for up to 3 months in an airtight container. Thaw in the fridge then bring to room temperature.
More brownie recipes you'll love
Did you try this recipe? I would love for you to leave me a 5-star rating or comment. This way, I have a better understanding of which recipes you like and can create more of them.
Please take a moment to follow me on Instagram, Pinterest, Facebook, Youtube or sign up for my free newsletter to never miss the newest recipes and blog updates.
You can also shop my favorite baking tools. Thank you so much for your support!