This post may contain affiliate links. Read the full disclosure here.
If you love to indulge in the thick chocolate hazelnut spread known as Nutella, you will go absolutely nuts for these Nutella Brownies. They are so rich, decadent, and extra fudgy. Make these sinful brownies today!!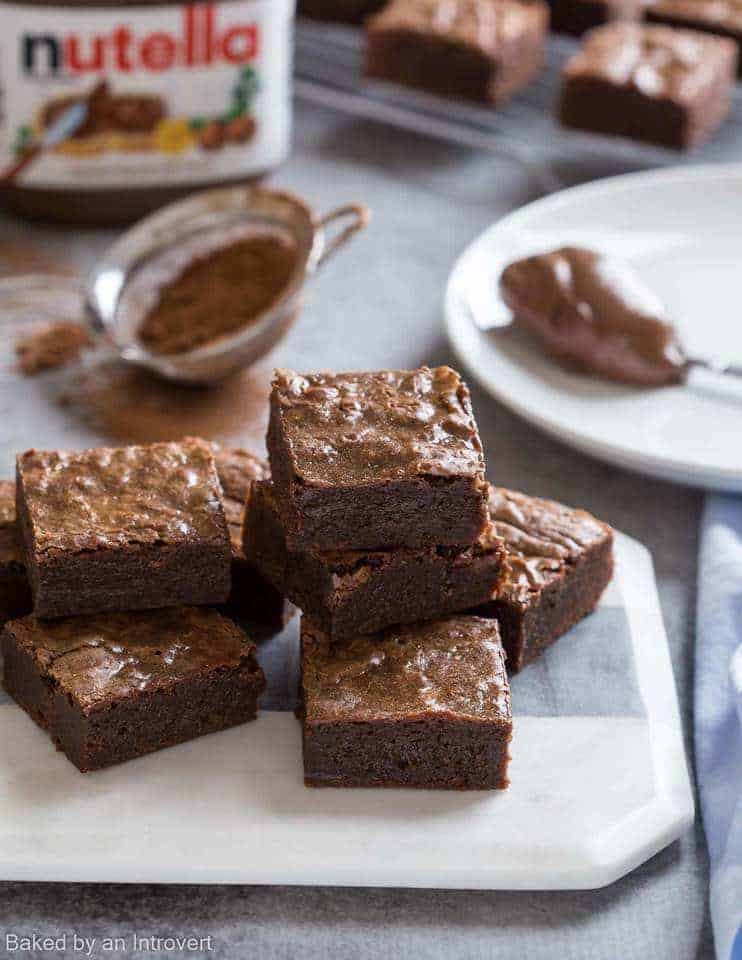 It's no secret that I love Nutella. I've used it in so many recipes here on the blog. These Double Chocolate Chip Nutella Cookies and Nutella Cheesecake were a huge hit.
And who can pass up a chance to have Nutella Cream Cheese Crescent Rolls for breakfast? If I'm not using it in recipes then I'm eating it straight from the jar!
Because my love for Nutella runs so deep, I had to make brownies with it.
Basically, I took my favorite brownie recipe and swapped the chocolate for Nutella. The result is nothing short of amazingly good, rich decadence.
But I didn't stop there. I crumbled up these brownies and put them in Coffee Nutella Ice Cream with Nutella Brownie Bits.
Nutella brownies made from scratch
Today's recipe is a variation of my favorite brownie base. It's used for ALL the brownies on my site because I love the texture so much. It has the texture of dense chocolate fudge with a bit of chewiness.
Usually, I use both melted chocolate and cocoa powder for brownies. So I figured why not swap the melted chocolate for Nutella. There's a double layer of chocolate plus the hint of hazelnut. It's fabulous!
I don't use chemical leavening in my brownies. I've found that adding baking soda or baking powder gives the brownies a cakier texture. I prefer my brownies to be dense and stick to your teeth fudgy.
There's one cup of sugar in this brownie recipe because Nutella itself is quite sweet. Also, I like to use brown sugar instead of white. It works the same way in brownies as it does in cookies. It melts during baking then turns nice and chewy as it cools.
Everything you'll need – butter, Nutella, cocoa powder, eggs, brown sugar, vanilla, salt, and flour. Eight simple ingredients and you'll have decadent chocolate hazelnut brownies in no time.
How to make Nutella Brownies
Step 1: Melt Nutella and butter
In a microwave-safe bowl, heat Nutella and butter in 30-second intervals until melted and smooth. Stir between each interval.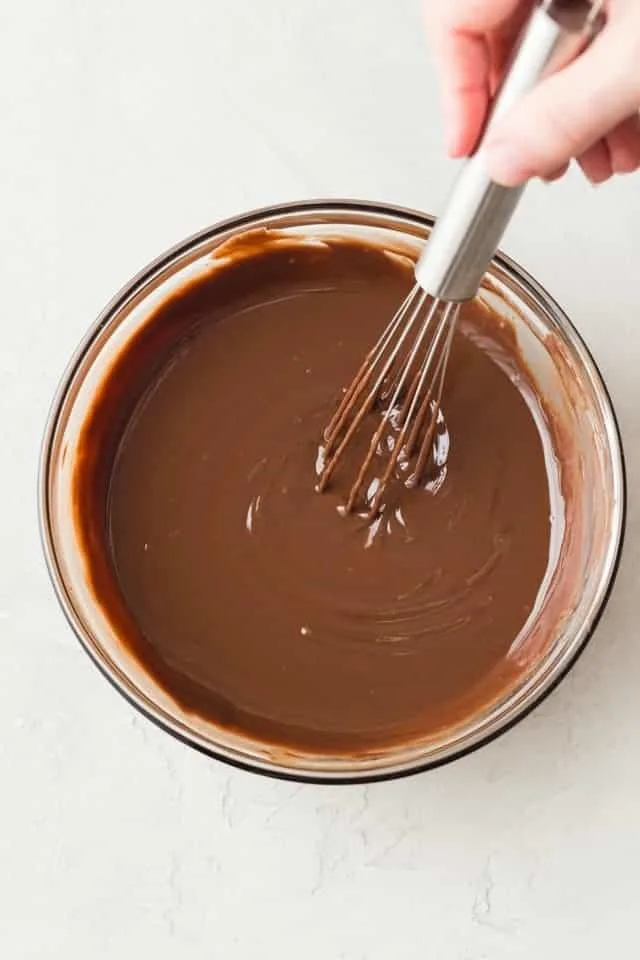 Step 3: Stir in the cocoa powder
Add the cocoa powder to the melted Nutella and butter. Set aside to cool slightly.
Step 4: Combine the eggs and sugar
Add the eggs, sugar, vanilla, and salt to a medium-sized bowl. Whisk to combine.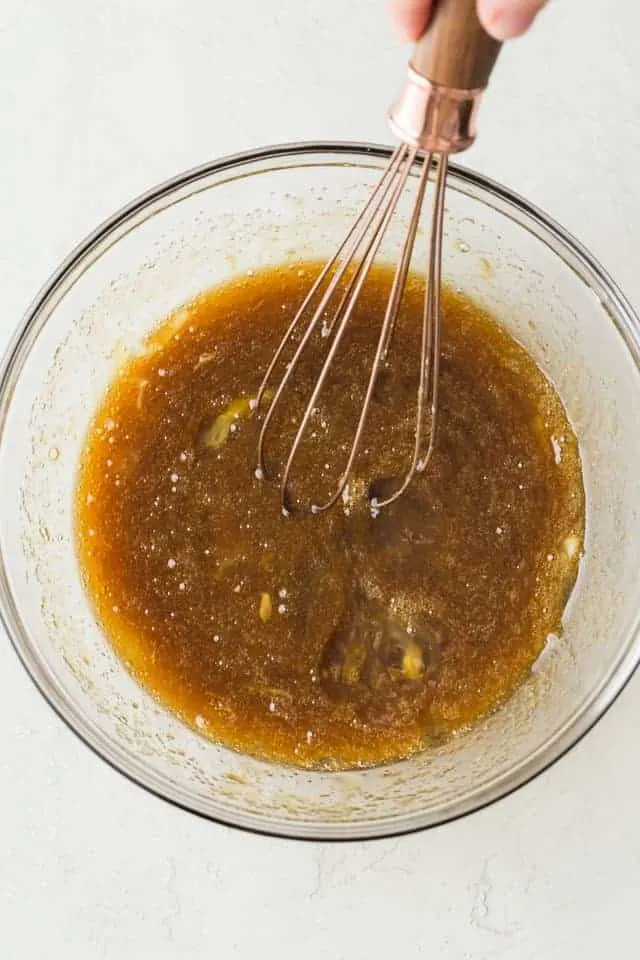 Step 5: Stir in melted Nutella
Add the cooled Nutella mixture and whisk to combine.
Step 6: Fold in the flour
Use a rubber spatula to fold in the flour until no visible streaks of flour remain. The batter will be thick and it may take several folds to get the flour all mixed in.
Step 7: Spread in pan and bake
Spread the batter evenly in an 8×8 baking pan lined with parchment paper or aluminum foil. Bake in a 350°F oven for 25-30 minutes.
How long to bake Nutella Brownies
This is important and tricky! I like my brownies extra fudgy so I always bake them for around 25 minutes. They come out slightly underbaked and after some time in the refrigerator, they'll be dense and chewy.
Bake the brownies any longer than 30 minutes and you'll have a cakier version. You may actually prefer them this way.
If you want more of a cakey Nutella brownie, start checking them at right around 25 minutes. Stick a toothpick or wooden skewer directly in the center of the brownies and pull it out. If the toothpick comes out with wet batter on it, let the brownies bake for another 5 minutes. If the toothpick comes out with moist crumbs attached, the brownies are baked to cakey perfection!
To recap: Fudgy brownies are underbaked slightly and will possibly need some time in the refrigerator to set. Cakey brownies are baked fully until the batter is no longer wet.
Did you try this recipe? I would love for you to leave me a 5-star rating or comment. This way, I have a better understanding of which recipes you like and can create more of them.
Please take a moment to follow me on Instagram, Pinterest, Facebook, Youtube or sign up for my free newsletter to never miss the newest recipes and blog updates.
You can also shop my favorite baking tools. Thank you so much for your support!