This post may contain affiliate links. Read the full disclosure here.
Soft and chewy Double Chocolate Chip Nutella Cookies will be a major hit with anyone who tries them! Indulge your sweet tooth with this extra chocolaty cookie packed with rich creamy Nutella. This is the one and only chocolate Nutella cookie you will ever need!
Chocolate Chip Nutella Cookie recipe highlights:
These cookies are loaded with cocoa powder, Nutella, and chocolate chips for an ultra-decadent treat that no one can resist.
The cocoa powder and chocolate chips complement the Nutella, adding to its rich, velvety flavor.
Each cookie is filled to the brim with chocolate chips! Fresh from the oven, the centers are soft and gooey with crisp, tender edges.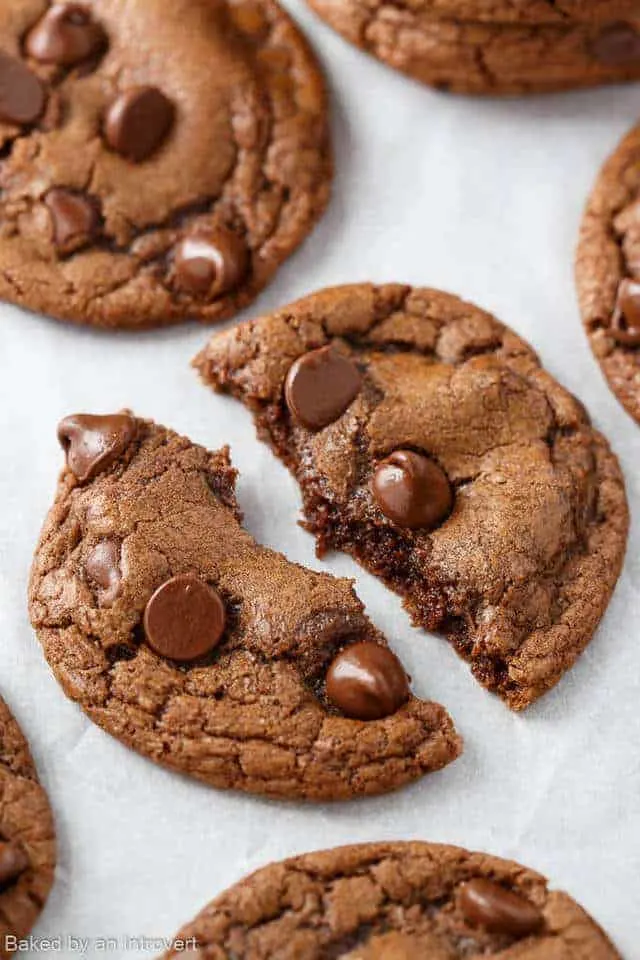 Last week I shared my favorite peanut butter chocolate cookies and you all love them! Well, today I'm topping that cookie with one that's even better! Just when you thought it couldn't get any better, right?
Let's talk about why these cookies are so incredible. First off, the recipe is easy. Once again, the dough does not need to be chilled. You simply mix, roll, and bake. I just adore simple cookie recipes!
Make sure you stir the Nutella well before scooping it out of the jar. You want those natural oils to be well distributed throughout. Otherwise, you'll get the extra oily top layer which will cause your cookies to spread too much. They will still taste good, but they won't be as thick and pretty.
Head to the kitchen and whip up a batch of these irresistible double chocolate chip cookies. Your taste buds and stomach will thank you! So will anyone else who has the pleasure of sinking their teeth into one; that is if you decide to share!
Did you try this recipe? I would love for you to leave me a 5-star rating or comment. This way, I have a better understanding of which recipes you like and can create more of them.
Please take a moment to follow me on Instagram, Pinterest, Facebook, Youtube or sign up for my free newsletter to never miss the newest recipes and blog updates.
You can also shop my favorite baking tools. Thank you so much for your support!