Chocolate Chip Nutella Cookies
This post may contain affiliate links. Read the full disclosure here.
Soft and chewy Double Chocolate Chip Nutella Cookies will be a major hit with anyone who craves chocolate flavor! Indulge your sweet tooth with this extra chocolaty cookie packed with rich creamy Nutella.
These cookies are loaded with cocoa powder, Nutella, and chocolate chips for an ultra-decadent treat that no one can resist.
I love Nutella. For those of you who haven't yet had the joy of discovering Nutella – the decadent sweet chocolate hazelnut spread – the flavor is amazing. Once you become obsessed with it, like I am, you will want to make all sorts of Nutella treats.
People go crazy for my Nutella cheesecake, and these Nutella brownies are to die for. Vanilla cupcakes topped with Nutella Frosting? Yes, please. And for special occasions, this Nutella Cake is sure to help everyone celebrate.
For more of an every treat, these homemade chocolate hazelnut cookies do more than just fit the bill. They are delicious! The cocoa powder and chocolate chips complement the Nutella, adding to its rich chocolate, velvety flavor.
Each cookie is filled to the brim with chocolate chips! Fresh from the oven, the centers are soft and gooey with crisp, tender edges.
Let's talk about why these cookies are so incredible. First off, the recipe is easy. Like my chocolate chip cookies recipe. Simply mix the ingredients, let it chill for a bit while you pre-heat the oven, then roll the dough into balls and bake. I just adore simple cookie recipes!
Head to the kitchen and whip up a batch of these irresistible double chocolate chip cookies. Your taste buds and stomach will thank you! So will anyone else who has the pleasure of sinking their teeth into one; that is if you decide to share!
---
Recipe Snapshot
TASTE: Chocolate and hazelnut flavor
TEXTURE: Soft and chewy
EASE: Easy
TIME: Just under 45 minutes
---
What You'll Need
Ingredients
Butter: Unsalted butter makes the cookie taste rich in flavor and allows the cookies to brown.
Sugar: Brown sugar will give the cookies a chewy texture while white sugar caramelizes and make the edges crisp.
Eggs: Eggs also add richness and keep the cookies tender.
Vanilla: Pure vanilla extract adds flavor. I make mine using this recipe.
Flour: All-purpose flour contains enough protein to add structure without toughening the cookies.
Cocoa Powder – Unsweetened cocoa powder, from the baking aisle, not hot chocolate section of the store.
Leavening: Baking soda is used to give the cookies rise and helps them develop a golden color.
Cornstarch: Cornstarch helps to keep the cookies soft and chewy.
Salt: A little salt helps balance the sweetness. You can cut back on the amount used if desired.
Chocolate Chips: Semisweet chocolate chips are what I used but you can use coarsely chopped chocolate instead.
Nutella: Or your favorite chocolate hazelnut spread of choice, for it's flavor.
Recommended Tools
Baking sheet
Mixing Bowl
Electric mixer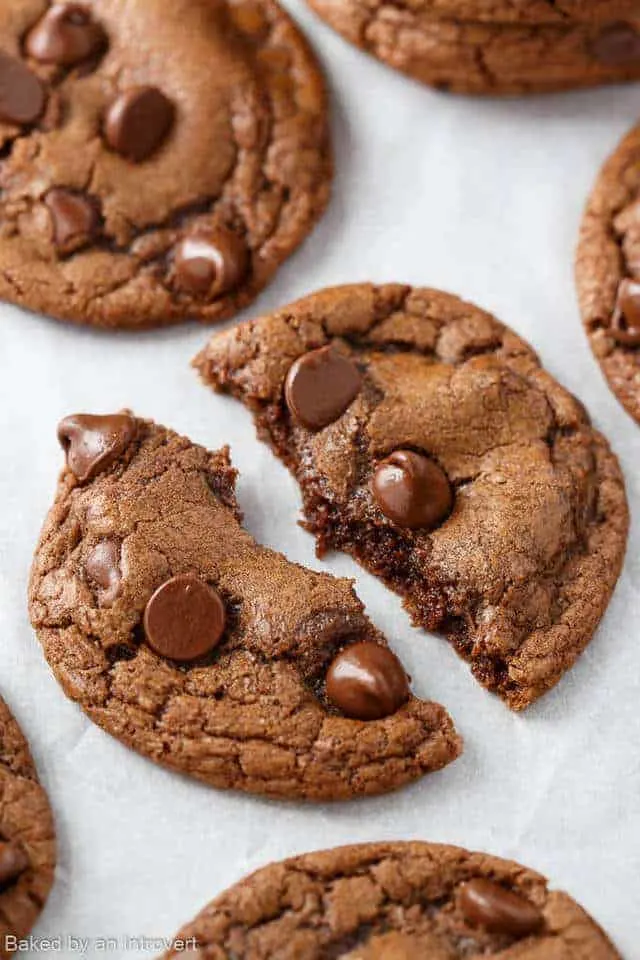 How to Make Nutella Cookies
I'm going to walk you through exactly how to make homemade Nutella chocolate chip cookies. The process is quick and simple. Preheat your oven to 350 and prepare a baking sheet with parchment paper while the dough is chilling.
Be sure to check out the full recipe and ingredient list below
Combine dry ingredients. Combine the flour, cocoa powder, baking soda, cornstarch, and salt in a medium bowl. Stir with a whisk to combine.
Cream butter and sugars. In the bowl of a stand mixer fitted with the paddle attachment or with a hand held electric mixer, beat the butter and sugars until fluffy.
Add eggs. Beat in the eggs one at a time, mixing well after each addition. Beat in the vanilla and Nutella.
Combine. Slowly add the flour mixture and mix just until combined. Fold in the chocolate chips.
Chill. Cover with plastic wrap and refrigerate for at least 1 hour.
Bake. Scoop or roll 1 tablespoon size balls of dough and place them about 2-inches apart onto the prepared baking sheet. Bake for 10 to 12 minutes or until edges look dry. Cool on the pan for 5 minutes before transferring to a wire rack to cool completely.
Handy tip:
Stir the Nutella well before scooping it out of the jar. You want those natural oils to be well distributed throughout. Otherwise, you'll get the extra oily top layer which will cause your cookies to spread too much. They will still taste good, but they won't be as thick and pretty.
Tips For Success
When creaming the butters and sugars, mix them for just a little bit longer than you think you need to. The longer you beat them, the lighter and fluffier they will get and the more air the cookie dough will have. This is a good thing.
Don't skip the chilling – it will allow the flavors to come together and firm up the dough so the cookies don't spread too much while bakin
Storage & Freezing
These can be kept for up to 5 days in an airtight container at room temperature, but good luck keeping them around that long.
Cookies can also be frozen and defrosted one at a time in the microwave or toaster oven for a quick treat.
While I love special occasion desserts, cookies are the type of every day treat that makes a regular afternoon feel special. Here are some of my favorite cookies that I like to have on hand.
Did you try this recipe? I would love for you to leave me a 5-star rating or comment. This way, I have a better understanding of which recipes you like and can create more of them.
Please take a moment to follow me on Instagram, Pinterest, Facebook, Youtube or sign up for my free newsletter to never miss the newest recipes and blog updates.
You can also shop my favorite baking tools. Thank you so much for your support!
Printable Recipe