Irish Chocolate Coffee Bundt Cake
This post may contain affiliate links. Read the full disclosure here.
Boozy chocolate lovers, this Irish Chocolate Coffee Bundt Cake is for you! From the made from scratch double chocolate cake to the rich chocolate glaze, this cake is the ultimate St. Patrick's Day treat.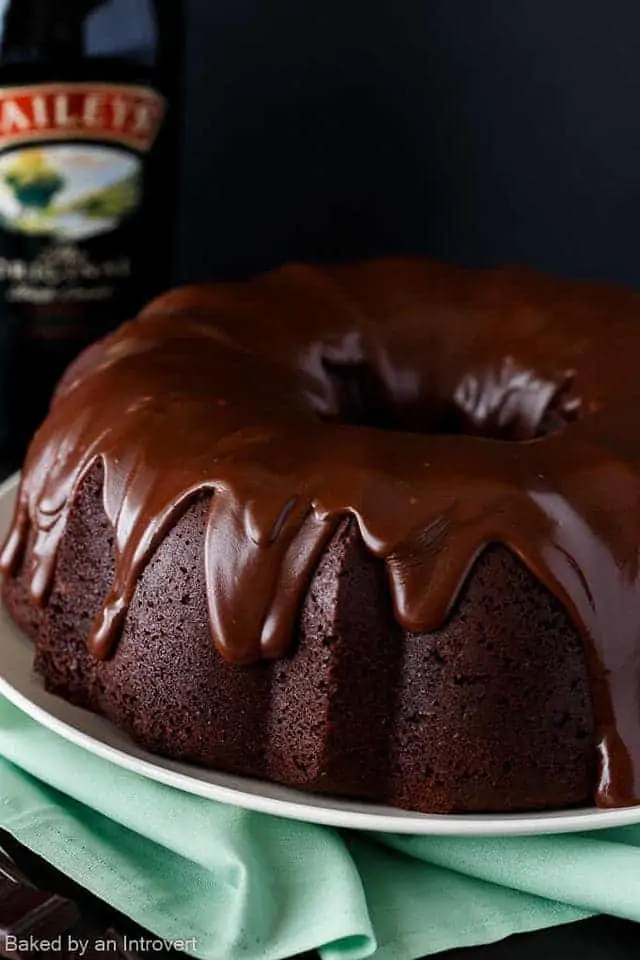 Irish Chocolate Coffee Bundt Cake
With each forkful, you get an intense chocolate flavor, hints of coffee, and delicious Irish Cream liqueur. No other chocolate cake can compare!
St. Patrick's Day is one of my favorite holidays because it gives me an excuse to make a decadent boozy cake. This tequila sunrise cake and this eggnog cake are just a few examples of my love for booze in baked goods.
Today's bundt cake is more than enough to feed a crowd. It has intense chocolate flavor and is infused with coffee and sweet Irish Cream liqueur. You are going to love how moist and crumbly this cake is.
The coffee brings out all the best in the chocolate. You know I'm a huge fan of coffee-infused chocolate! It really heightens the flavor and pairs wonderfully with the Irish Cream.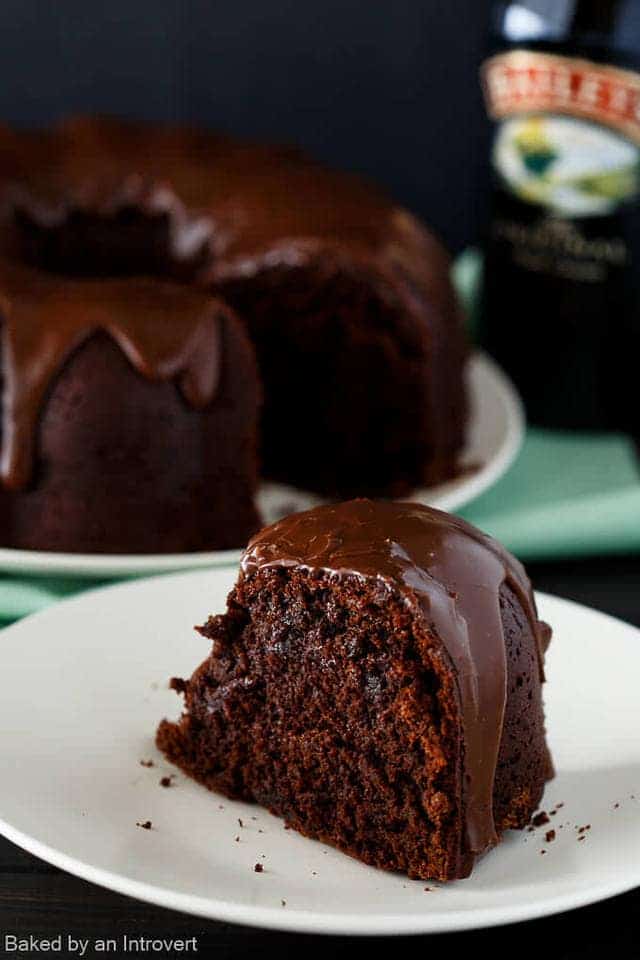 The cake is topped with a decadent chocolate Irish Cream glaze. This is the best glaze ever. It's sweet, chocolatey, melts in your mouth, and has a strong boozy kick.
This recipe is definitely one you should make this year! Your St. Patrick's Day won't be complete without it.
The cake is super easy to make and loaded with boozy chocolate flavor. The glaze is done in a matter of minutes and the cake is easy to whip up. It can also be made a day ahead and then glazed just before serving.
A few things to note when making this cake. It is a fudgy chocolate cake and will stick to the pan if it isn't greased properly. I like to spray it with nonstick baking spray. It's a mixture of oil and flour and does an amazing job of releasing cake.
I also like to dust cocoa powder over the baking spray for an added measure. Cocoa powder is best for chocolate cakes because it won't leave behind a white powdery residue the way flour will.
It's also very important to let the cake cool in the pan for at least 20 minutes before trying to invert it onto a cooling rack.
I've inverted this cake too soon before and it crumbled into pieces. Allowing it to sit longer in the pan will help it "set" before you turn it out.
---
Common questions about Irish chocolate coffee bundt cake:
What can I substitute for the Irish Cream Liqueur?
If you want the Irish cream flavor, you can try the Irish cream coffee creamer. Otherwise, just use milk.
Will this cake freeze well?
Yes, it will. Freeze it without the glaze. Allow it to thaw in the refrigerator overnight and glaze it before serving.
Can I use Kahlua instead of Irish Cream?
Yes, you certainly can!
Can I make this cake in a 9×13-inch pan instead of a bundt pan?
I haven't tried this myself but I believe it should work okay. Just keep a close eye on the bake time as it should only need about 30 minutes in the oven.
Did you try this recipe? I would love for you to leave me a 5-star rating or comment. This way, I have a better understanding of which recipes you like and can create more of them.
Please take a moment to follow me on Instagram, Pinterest, Facebook, Youtube or sign up for my free newsletter to never miss the newest recipes and blog updates.
You can also shop my favorite baking tools. Thank you so much for your support!