This post may contain affiliate links. Read the full disclosure here.
Eggnog Cake with three layers and a boozy soaking syrup! So decadent and rich, topped with silky buttercream spiced with cinnamon and nutmeg. This dessert is way too delicious to pass up this holiday season!
This post has been sponsored by Promised Land Dairy for the #FarFromOrdinaryMilk campaign. All thoughts and opinions are my own.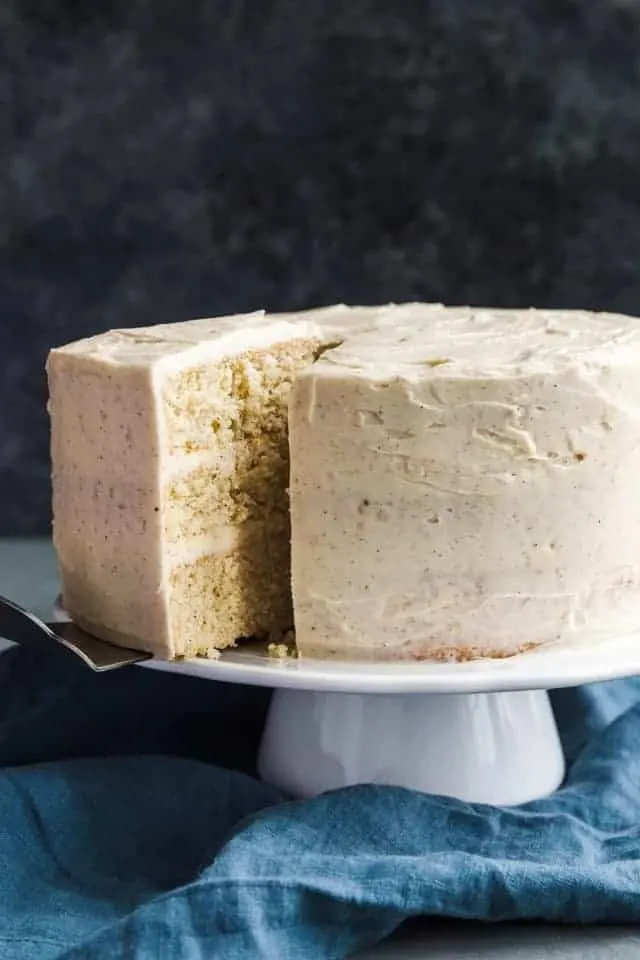 Eggnog Cake! Need I say more?
Eggnog is looked forward to every year in my house. We love sitting by the fire with a mug of eggnog spiked with bourbon. It's so cozy and simply the best way to end a cold winter day.
This showstopping 3 layer cake combines the comforting flavor of spiked eggnog with a tender cake for the ultimate dessert. It's going to be the talk of your holiday parties, for sure.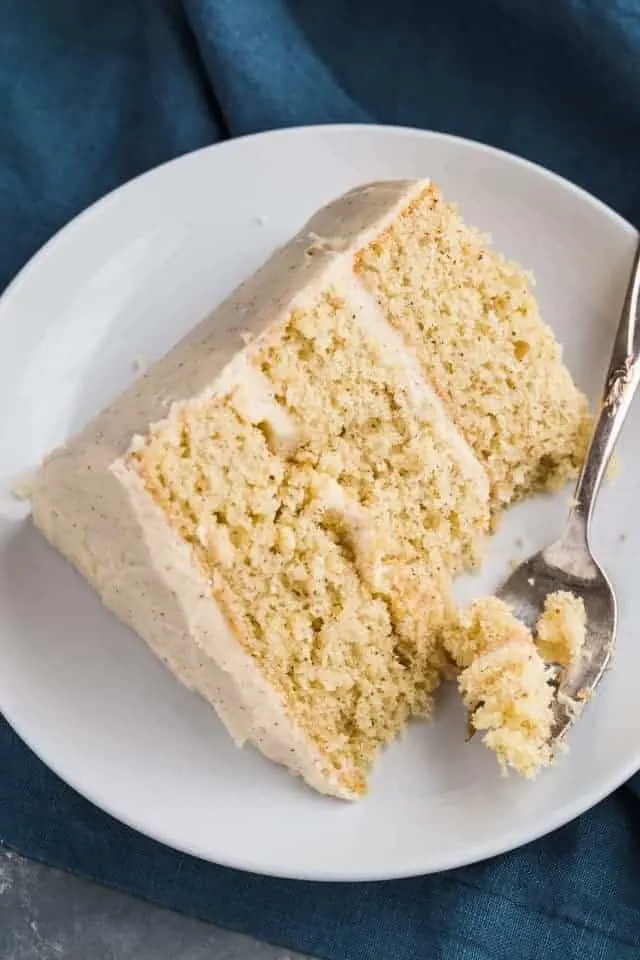 With Christmas just around the corner, all I can think about is dessert. I mentioned before that I'm going home for the holidays and I plan to contribute to the family party by bringing dessert.
And what's a better dessert than eggnog cake for Christmas Eve with family?
It's very easy to make this cake and everything can be made in advance to save time. That's always a bonus!
The cake layers are adapted from my basic vanilla cake recipe. I used one of my new favorite products, Promised Land Dairy Old-Fashioned Eggnog in the batter. It has a hint of spice and irresistible taste that's made for the holidays.
To keep the cake light, I separated the eggs and whipped the whites to stiff peaks before adding them to the batter. This makes the cake soft and spongy so it will absorb the boozy eggnog soaking syrup.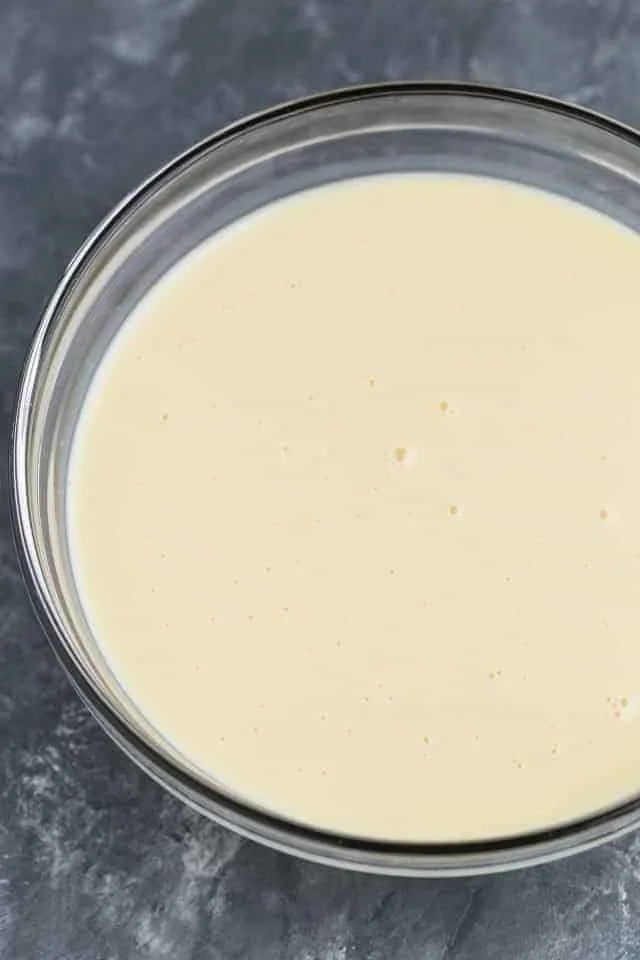 I used bourbon in the eggnog soaking syrup because we like our nog spiked. You can use vanilla extract in place of the bourbon or just omit it altogether. Either way, you'll have a fabulous tasting cake.
The cake is layered and frosted with my favorite buttercream recipe. I use this basic vanilla buttercream as a base for almost all my frostings. It has more butter than powdered sugar, which is the opposite of what you usually see in a buttercream recipe.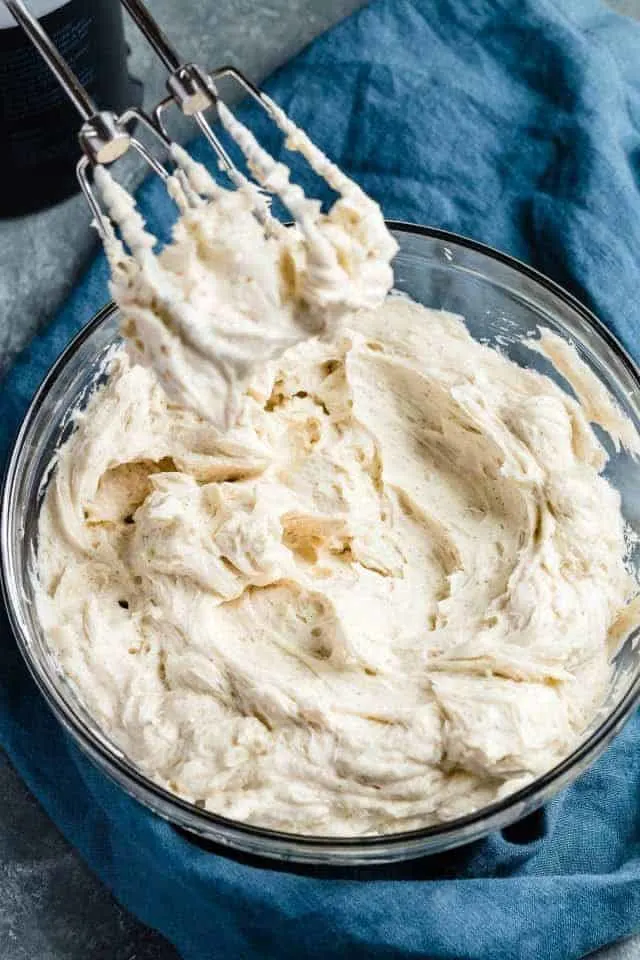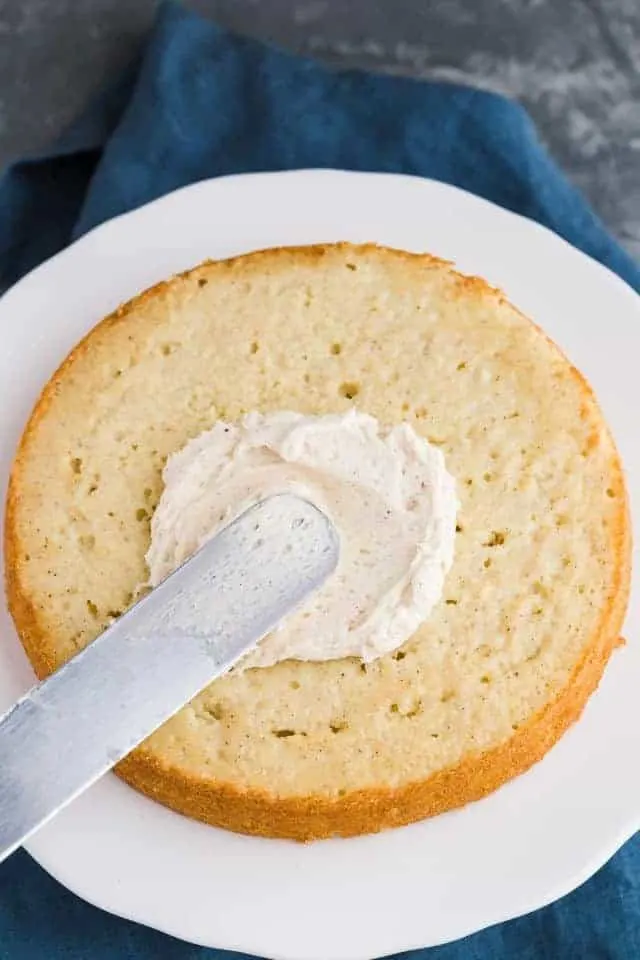 The trick to getting the perfect texture is to make sure the butter isn't too soft. I like to set it out for about 30 minutes before I need to use it. It shouldn't be so soft that it's shiny. But it should be soft enough to squeeze while still holding its shape.
Promised Land Dairy Old-Fashioned Eggnog is added to the frosting to help make it silky and smooth. It really is such a great way to elevate classic dessert. The creamy taste makes a great addition to favorite holiday dishes.
Take your holiday baking to the next level with this flavorful eggnog cake!
Did you try this recipe? I would love for you to leave me a 5-star rating or comment. This way, I have a better understanding of which recipes you like and can create more of them.
Please take a moment to follow me on Instagram, Pinterest, Facebook, Youtube or sign up for my free newsletter to never miss the newest recipes and blog updates.
You can also shop my favorite baking tools. Thank you so much for your support!