This post may contain affiliate links. Read the full disclosure here.
If you're looking for a dessert to impress guests, try this maple pear clafoutis made with fresh pears and real maple syrup. Top with powdered sugar for a simple but decadent dessert.
An easy french dessert
While not your traditional holiday dessert, this maple pear clafoutis is an excellent addition to any dessert table. It's simple to make but looks fancy and tastes absolutely decadent. Plus the pears are a welcome alternative to the many popular apple desserts in the fall.
If you've ever made a traditional clafoutis you know just what a treat this dessert is. Although I'm a traditional girl at heart, I simply can't leave well enough alone. I have to do something different. I introduce to you this maple pear clafoutis.
In this maple pear clafoutis, the maple flavor is soft and subtle. You can actually taste it more while the clafoutis is still warm. The pears are the highlight here. It's rare for me to purchase pears, I tend to naturally reach for apples. But I couldn't resist the gorgeous Bartlett pears at the market, so I had to try my hand at a pear clafoutis.
What is clafoutis?
Clafoutis ("klah-foo-TEE") is a baked French dessert that bears a close resemblance to flan. You'll often see it written as "clafouti" as that's apparently easier for foreigners to pronounce.
It contains very little flour and bakes up into a custardy pancake consistency. Traditionally it is made with black cherries, but we are skipping tradition today. So that means this dish should actually be called a flaugnarde!
The beautiful thing about clafoutis is that while it looks fancy, it's actually super easy to make. This is a pretty no-fuss, low-key dessert that comes together in a few simple steps.
If you're looking for a unique dessert that will impress all guests, give this clafoutis a try!
What you'll need
There are just 10 ingredients in this clafoutis recipe and I bet you already have most of them on hand.
Ingredients
The full ingredient amounts can be found down below in the printable recipe card.
Pears – You'll want to choose pears that are ripe but not too ripe. The texture should be firm, not squishy. Peel, core and dice them for this recipe.
Lemon juice – Use fresh if you can!
Unsalted butter – This way you can control how much salt is going into the recipe.
Granulated sugar – This works best and shouldn't be substituted.
Eggs – Make sure they are at room temperature so they mix easily with the other ingredients.
Maple syrup – Locally-sourced, real maple syrup is best if you can find it.
All-purpose flour – I don't advise using any other flour here.
Salt
Heavy cream – If you prefer a dessert that's not as rich, you can use half cream and half milk.
Vanilla extract – Pure vanilla will offer the very best flavor.
Confectioners' sugar – Dust it over the top just before serving.
Recommended tools
Mixing bowl – I prefer to use a large liquid measuring cup to make it easier to pour the batter over the pears. However, you can use a medium sized mixing bowl.
Whisk – A balloon whisk works best for mixing the batter.
Cast iron skillet – I love the way clafoutis bakes in a cast iron skillet! The crispy edges are my absolute favorite. If you don't have a cast iron, a ceramic pan.
---
How to make maple pear clafoutis
Though it looks fancy, this fruit clafoutis is surprisingly easy to make!
Toss the pears in lemon juice. In a small bowl drizzle the lemon juice over the pears. Set aside.
Prepare the pan. Grease a 10-inch round pan with butter. Sprinkle with sugar.
Make the filling. Whisk eggs and maple syrup until smooth then stir in the flour and salt. Whisk in the cream and vanilla.
Assemble. Layer the pears in the bottom of the pan, then pour batter over the pears.
Bake. Bake for 25 to 30 minutes. The top should be golden brown and the custard set.
Cool and serve. Cool on a wire rack. Once cooled, dust with powdered sugar and serve.
Tips for success
Here are a few things to keep in mind when making this easy clafoutis recipe, from choosing the correct pears to the pan to use.
How to choose the pears. Barlett or D'Anjou pears are the best options for this recipe. They have good flavor, firm texture, and tend to be less "mealy". The skin should be slightly yellow instead of green. Overripe pears will disintegrate when baked.
Make it boozy. For a boozy twist, try soaking the pears in pear brandy before adding them to the skillet. It'll add extra pear flavor.
Use a cast iron skillet if possible. While clafoutis is traditionally baked in a ceramic pan, I prefer to use a cast iron skillet for this recipe. You'll have more browning on the edges, resulting in extra crispiness.
Don't burn the custard. Halfway through baking take a peek at the pear clafoutis. If the custard is getting too brown, tent it with aluminum foil and return it to the oven.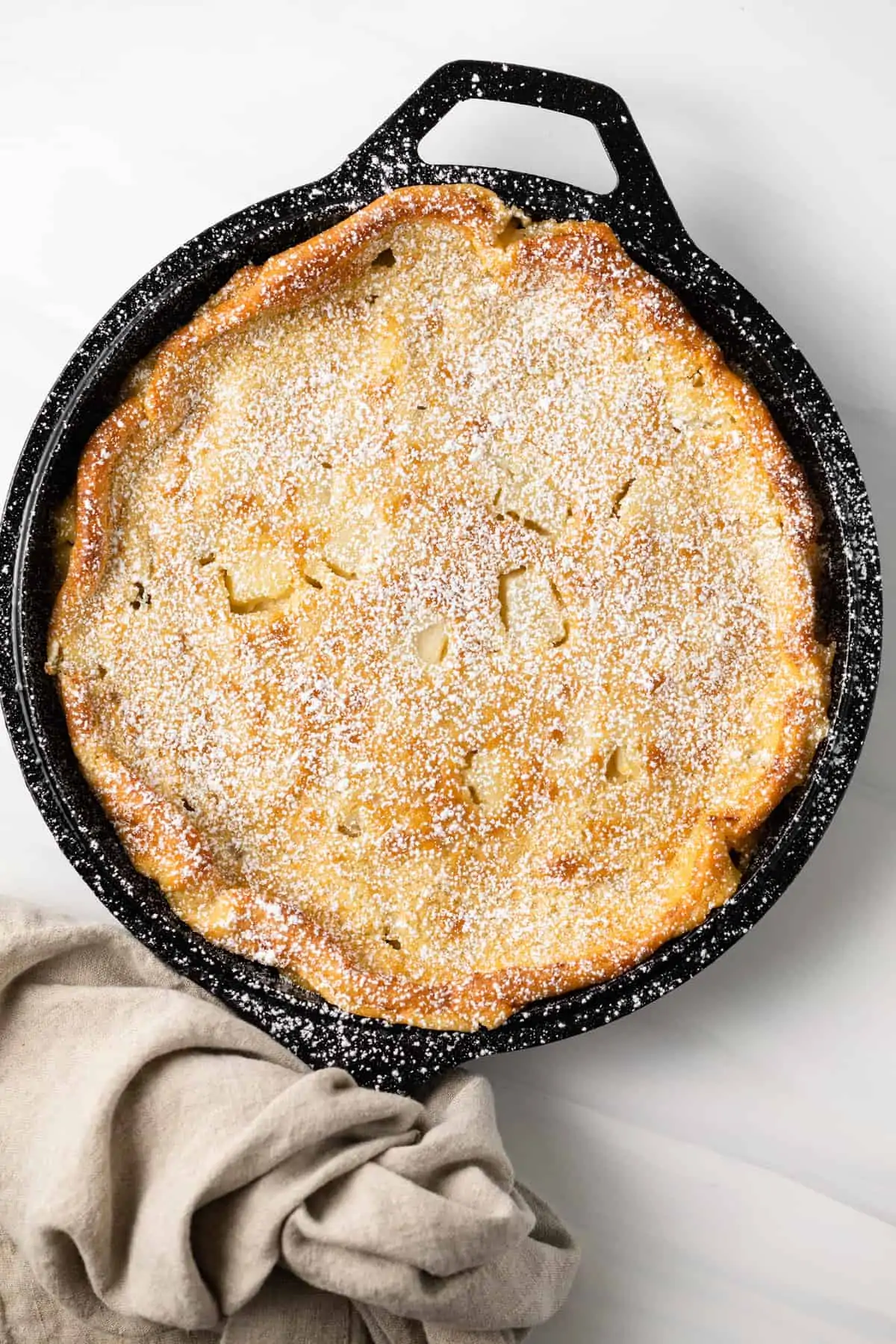 Serving suggestions
Once your pear maple clafoutis has cooled, top it off with a generous dusting of powdered sugar to make it look extra special. Slice and serve with just the powdered sugar or add a dollop of ice cream or whipped cream.
---
How to store
Store your pear clafoutis leftover in the fridge for up to 3 days. You can reheat in the microwave at 15-second intervals or wrap in foil and reheat in the oven. You can also enjoy it cold but I prefer to warm it back up.
I do not recommend trying to freeze your pear clafoutis, due to the custardy texture.
More pear recipes
Did you try this recipe? I would love for you to leave me a 5-star rating or comment. This way, I have a better understanding of which recipes you like and can create more of them.
Please take a moment to follow me on Instagram, Pinterest, Facebook, Youtube or sign up for my free newsletter to never miss the newest recipes and blog updates.
You can also shop my favorite baking tools. Thank you so much for your support!