Dulce de Leche Pumpkin Bars
This post may contain affiliate links. Read the full disclosure here.
Pumpkin bars are good, but Dulce de Leche Pumpkin Bars are even better! A graham cracker crust is topped with a layer of creamy dulce de leche cheesecake, followed by pumpkin pie filling. Finish with a dollop of whipped cream for a fall dessert that's sure to impress.
Epic pumpkin bars — with a twist!
When I say these Dulce de Leche Pumpkin Bars are epic, I mean they are epic. If you have a weakness for cheesecake, a soft spot for pumpkin bars, and a hankering for an autumnal treat that's not the same old, same old, this is the recipe for you. (Oh, and you also might want to try my Pumpkin S'mores Bars for another fall dessert mashup!)
If you're throwing a Halloween party, Dulce de Leche Pumpkin Bars are the perfect handheld treat when cut into small squares. They're also right at home on your Thanksgiving dessert table, either in addition to or instead of traditional pumpkin pie. A warning, though: once you make these, everyone is going to demand that you make them every year!
---
What you'll need
The pumpkin layer is your standard pumpkin pie filling, but you might be surprised that the cheesecake layer only calls for 3 ingredients! That's because it's sweetened and flavored with dulce de leche, so you don't need to add much else.
Ingredients:
Graham cracker crumbs – You'll need to crush about a full sleeve of graham crackers if you're making your own crumbs.
Light brown sugar – Adds a lovely molasses hint of molasses to the pumpkin filling and base.
Unsalted butter
Cream cheese – Take this out and let it sit on the counter so it comes to room temperature before you start baking.
Dulce de leche – Store-bought or homemade (see below!).
Egg – The egg should also be room temperature, so take it out of the fridge at the same time as the cream cheese.
Pumpkin puree – Not pumpkin pie mix! That comes pre-sweetened.
Pumpkin pie spice
Evaporated milk – Don't use condensed milk! It's not the same.
Vanilla extract
Eggs – Yep, the eggs for this layer need to be room temperature too!
Sweetened whipped cream – Here's how to make whipped cream. A spoonful of dulce de leche can be added to this recipe; just add all the ingredients to a bowl and whip to stiff peaks.
What is dulce de leche?
Traditionally, dulce de leche is a combination of milk and sugar that is slowly simmered and stirred for almost 2 hours until the milk thickens and caramelizes. There's a dulce de leche hack that lets you eliminate the simmering and stirring, though—all you need for it is a can of sweetened condensed milk. That's what I use in this recipe. You can use any leftover dulce de leche in Tres Leches Cake or Dulce de Leche Thumbprint Cookies.
What can I substitute for pumpkin pie spice?
If you don't have pumpkin pie spice, mix 1 teaspoon ground cinnamon, ¼ teaspoon ground nutmeg, and ⅛ teaspoon ground cloves. Use only ½ teaspoon of the spice mixture.
Recommended tools
Mixer – You only need an electric hand mixer for the cream cheese layer. The pumpkin layer is mixed with a whisk.
Baking pan – These bars bake in a 9×9 pan.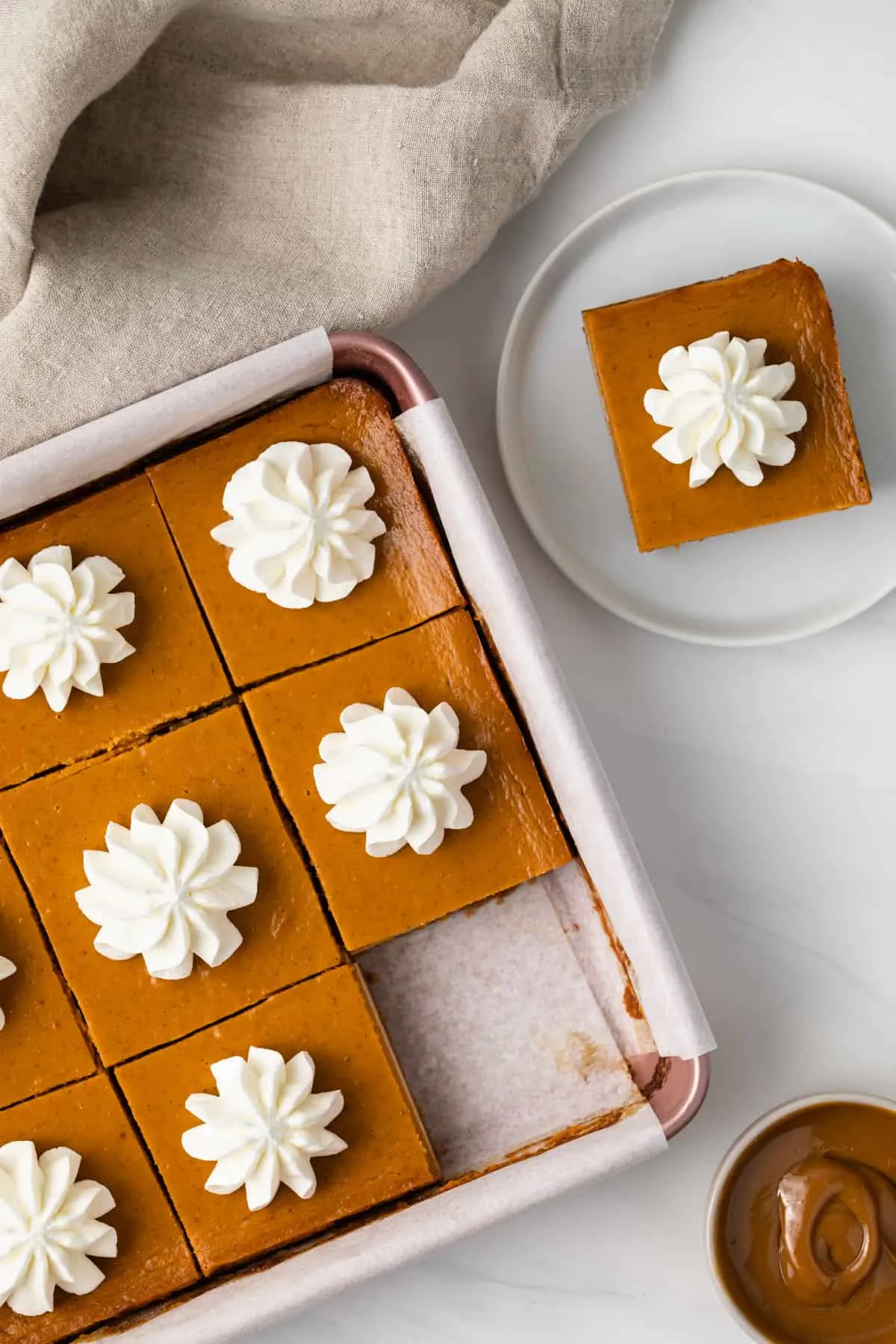 How to make dulce de leche pumpkin bars
Although you'll need some time to let the layers set and bake, these bars are simple to make! Here's how to do it.
Prepare. Preheat your oven to 350ºF, then line a 9×9-inch pan with parchment paper, leaving a 1-inch overhang. Spray the paper with non-stick cooking spray so the bars pop out easily.
Make the crust. Combine the graham cracker crumbs, brown sugar, and melted butter in a medium bowl. Transfer the mixture to the pan and press it into the bottom, making sure it's evenly distributed. Bake the crust for 10 minutes, then put it in the refrigerator to cool.
Make the cheesecake layer. Beat the cream cheese and dulce de leche with an electric mixer on medium speed until it reaches a smooth and creamy consistency, then beat in the egg. Spread the cheesecake mixture onto the chilled crust. Cover and refrigerate for 30 minutes, or until set.
Make the pumpkin layer. Whisk the pumpkin puree, brown sugar, and pumpkin pie spice in a large measuring cup or bowl with a spout. Once these ingredients are well-combined, whisk in the evaporated milk, vanilla, and eggs. Pour this layer over the cheesecake and smooth the top with a spatula.
Bake the Dulce de Leche Pumpkin Bars. Place the pan in the oven and bake the bars for 45 to 55 minutes, or until the filling is set and the center is no longer jiggly.
Cool. Place the pan on a wire rack for 1 hour, then refrigerate the bars in the pan for at least 3 hours, or overnight.
Cut and serve. Carefully lift the bars out of the pan, then cut them into squares. Top with a generous dollop of whipped cream and a drizzle of dulce de leche, if desired.
Tips for success
Here are some hints to help you make sure your Dulce de Leche Pumpkin Bars are a success!
Soften the cream cheese. Set the cream cheese out for at least 45 minutes before using it to make the cheesecake layer. If it's too firm, you will have difficulty mixing in the dulce de leche.
Work carefully. The two layers for the bars require a little finessing to keep them separate. Chill the bottom layer before adding the top layer, and use a light touch when spreading the pumpkin layer over the cheesecake.
Make perfect squares. To make clean cuts, use a large chef's knife or a pizza chopper (the kind that looks a little like a mezzaluna) and wipe it off between cuts.
How to store leftovers
The bars will keep in an airtight container in the refrigerator for up to 5 days. Use wax paper to separate layers and keep the bars from sticking together when stacked.
---
Can I freeze this recipe?
You can freeze Dulce de Leche Pumpkin Bars in an airtight container or freezer bag for up to 3 months. Thaw them overnight in the refrigerator before serving.
Did you try this recipe? I would love for you to leave me a 5-star rating or comment. This way, I have a better understanding of which recipes you like and can create more of them.
Please take a moment to follow me on Instagram, Pinterest, Facebook, Youtube or sign up for my free newsletter to never miss the newest recipes and blog updates.
You can also shop my favorite baking tools. Thank you so much for your support!