This post may contain affiliate links. Read the full disclosure here.
With a graham cracker crust topped with melted chocolate, a creamy pumpkin pie filling, and a rich chocolate ganache and toasted marshmallow topping, these pumpkin s'mores bars will be the talk of the dessert table!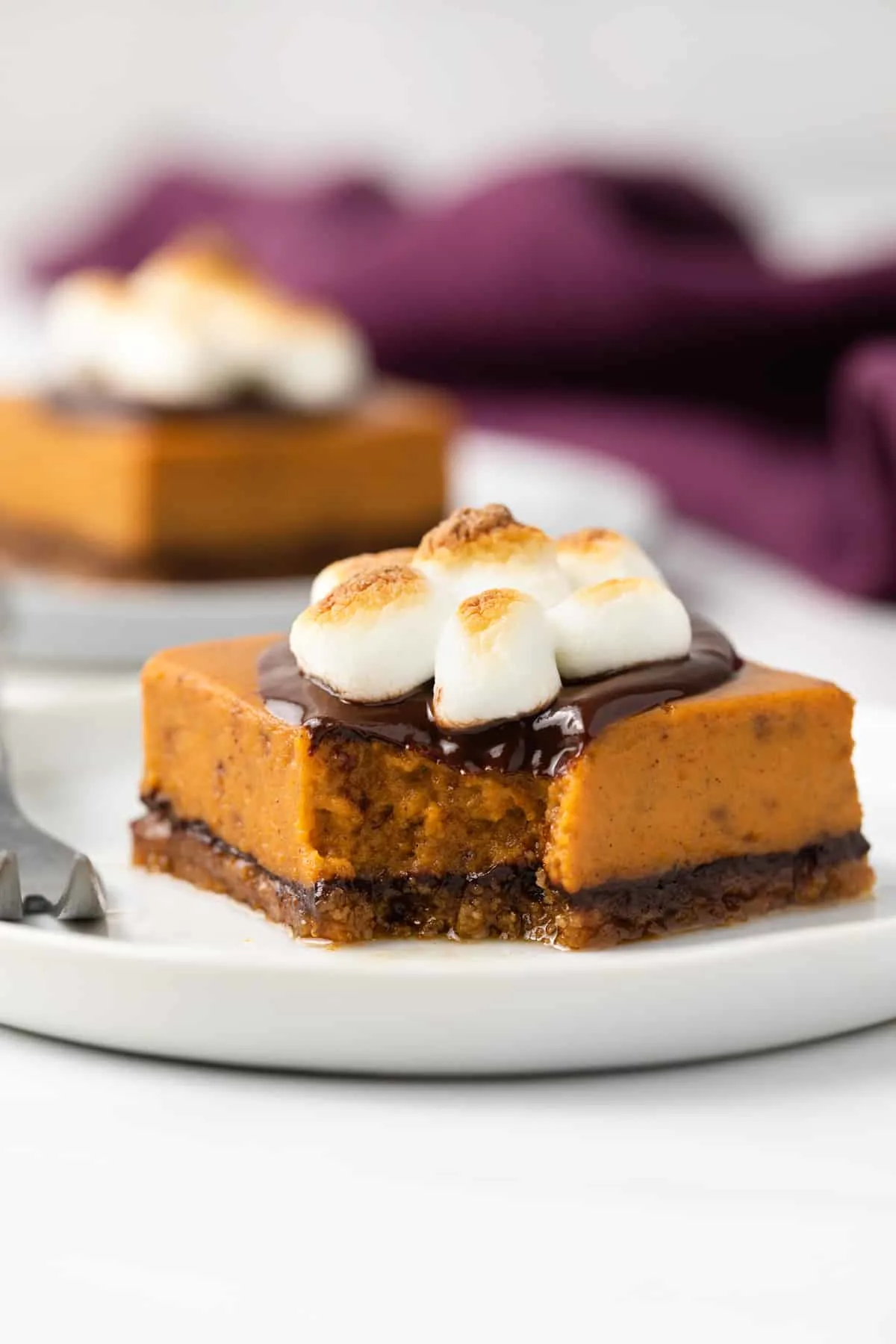 A decadent pumpkin dessert
If you're looking for the dessert to impress this holiday season, look no further than these Pumpkin S'mores Bars.
With layers of graham crackers, chocolate ganache, pumpkin, and marshmallows, these are a cross between summertime s'mores and your favorite pumpkin pie bars. They're an unexpected, decadent treat that's always a hit!
As with my pumpkin bars, everything is prepared from scratch. This means there are quite a few steps but it's easy and so worth the time. The hardest part is just waiting for everything to cool and set before diving in.
These pumpkin s'mores bars are perfect when you're searching for something to prepare the day before as that gives plenty of time for everything to set and chill. The ganache and marshmallows do need to be added just before serving, so keep that in mind!
If you're still trying to decide on your Thanksgiving dessert list, do something different this holiday season and whip up a batch of pumpkin pie bars, s'mores style! Then serve s'mores cookies to go along with them!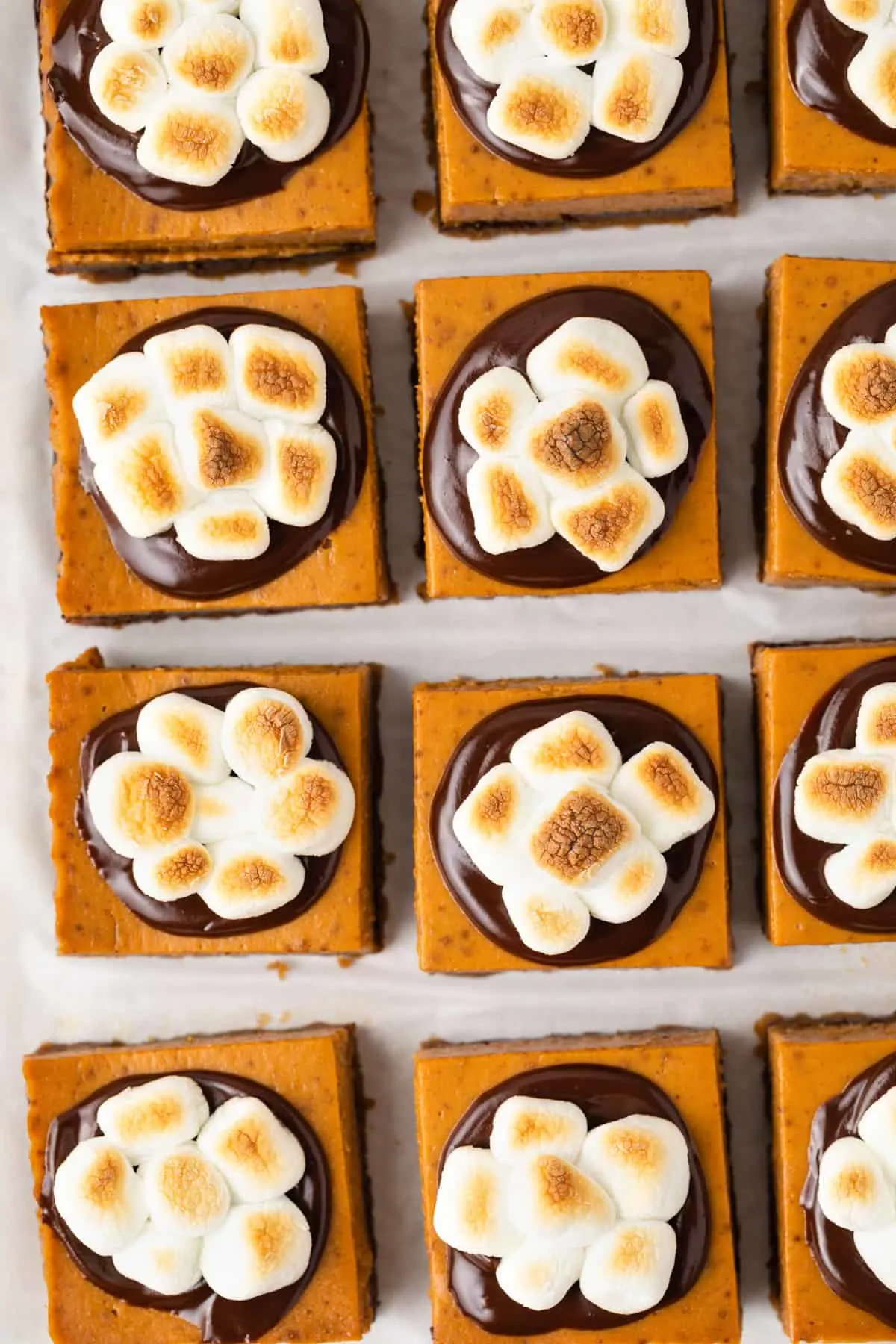 What you'll need
Each part of this pumpkin s'mores bars recipe – the graham cracker crust, pumpkin filling, and decadent ganache topping – requires just a few ingredients.
Ingredients
The full ingredient amounts are listed below in the printable recipe.
Graham cracker crumbs – You'll need about 9 full graham crackers to create enough crumbs.
Light brown sugar
Unsalted butter – Melted butter is used for the crust while cold butter is used for the ganache.
Semisweet chocolate – Coarsley chopped, you can also use bittersweet chocolate.
Heavy cream – A touch of heavy cream is added to the chocolate layer over the crust. This keeps the chocolate soft.
Spices – The pumpkin is spiced with cinnamon, ground ginger and ground cloves.
Pumpkin puree – Be sure to grab a can of pumpkin puree, not just canned pumpkin.
Evaporated milk – I do not recommend trying to substitute this with anything else.
Vanilla extract
Eggs
Miniature marshmallows
Helpful tools
Baking pan – A 9 inch square pan is best for these bars.
Whisk – A simple balloon whisk is all that's needed to whip up the pumpkin filling.
---
How to make pumpkin s'mores bars
While these pumpkin bars do require some advance planning and several steps, they are pretty straightforward and easy to make!
Make the graham cracker crust. Line a pan with parchment paper or aluminum foil. Spray with cooking spray. Combine the crumbs, sugar and butter then press into the bottom of the pan. Bake for 10 minutes.
Add the chocolate ganache layer. Melt the chocolate and heavy cream over a pot of barely simmering water, until completely smooth. Spread over the cooled graham cracker crust and freeze until set.
Make the pumpkin filling. Combine the dry ingredients then whisk in the pumpkin puree, followed by the evaporated milk and vanilla extract. Fold in the eggs until incorporated. Pour the mixture over the chocolate crust.
Bake. Bake until the filling is set and the center is no longer wobbly, about 45 to 50 minutes. Cool completely on a wire rack then refrigerate for at least 3 hours.
Top with chocolate ganache and marshmallows. Cut into squares. Melt the chocolate and butter, stirring until completely smooth. Spread a spoonful of the chocolate ganache over each pumpkin bar then add a few marshmallows. Bake under the broiler until the marshmallows begin to brown, about 30 seconds or so.
Serve immediately. Once the marshmallows are toasted, the bars shouls be served right away.
Tips for success
Here are a few things to keep in mind when making these pumpkin s'mores bars for the first time.
Allow plenty of cooling. One thing to keep in mind with this recipe is that there is a lot of downtime for cooling required. The crust needs to chill before and after adding the chocolate and the filling requires several hours to set. Don't try to rush any of it.
Use a sharp knife for cutting. For neat slices on the bars, use a sharp knife dipped in hot water then carefully wiped dry. It'll allow you to get clean edges on all of the bars.
Add the marshmallows just before serving. Once assembled, these pumpkin bars should be served immediately. Wait to add the marshmallows until it's time to serve.
Use a kitchen torch. If you don't want to heat up the oven just to melt the marshmallows, you can also (carefully) use a kitchen torch to toast them.
Serving suggestions
With the rich chocolate ganache and gooey marshmallows, these pumpkin pie bars don't need any additional garnishes. Serve immediately after browning the marshmallow for the best texture and flavor. These are perfect when paired with a cup of coffee or tea!
---
How to make ahead & store
Making ahead. These pumpkin s'mores bars can be made ahead, just don't add the ganache and marshmallow topping until just before serving.
Storing. Store the naked pumpkin bars in an airtight container for up to 5 days and add the topping just before serving.
---
More pumpkin desserts
Did you try this recipe? I would love for you to leave me a 5-star rating or comment. This way, I have a better understanding of which recipes you like and can create more of them.
Please take a moment to follow me on Instagram, Pinterest, Facebook, Youtube or sign up for my free newsletter to never miss the newest recipes and blog updates.
You can also shop my favorite baking tools. Thank you so much for your support!