This post may contain affiliate links. Read the full disclosure here.
This whipped cream recipe is so easy for anyone to make! It requires only 3 ingredients and comes together in less than 10 minutes.
Simply, mix the ingredients together and you will have a smooth, fluffy homemade topping. No need to buy premade at the store.
It's so easy to make this at home. Simply mix heavy cream, vanilla extract, and confectioners' sugar until stiff peaks form.
You can also beat just until the mixture reaches soft peaks for a softer texture. It's so easy you'll tell all of your friends how to make whipped cream.
This is great for topping desserts such as strawberry shortcake and raspberry pie.
---
Why this recipe works
The powdered sugar can be adjusted to suit the sweetness you desire.
It can be flavored any way you like! I stay true to classic crème chantilly by adding vanilla extract.
It's literally a dump-and-mix recipe. You can't mess it up… Unless you overwhip it.
Homemade is so much fresher than store bought.
You'll love how simple and fast this recipe is to make at home.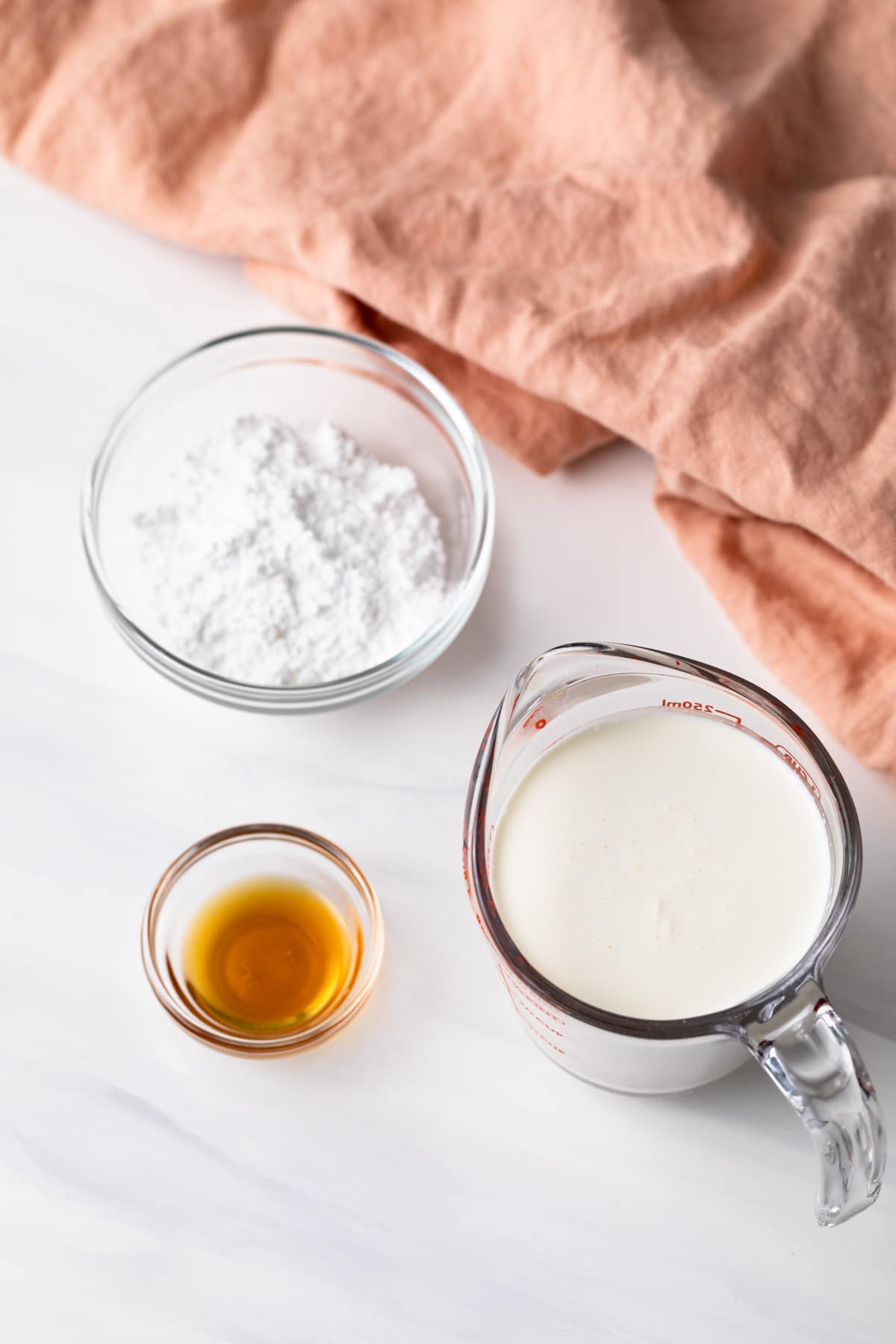 What you need
Simple ingredients make up this easy homemade whipped cream recipe. Let's discuss just a few of the key ingredients:
Ingredients
This is a short overview of the ingredients I used and why I chose them. The full recipe can be found at the bottom of the post!
Heavy cream: You must use heavy, not regular. The more fat content it has the more stable it will be as a finished product.
Confectioners' sugar: This ingredient adds sweetness to the recipe.
Vanilla extract: This adds a sweet, woody aroma and flavor to it.
Equipment
This is a list of tools I used to make the recipe. Some of the links are affiliate links.
Mixer: You'll need to use an electric mixer to mix the ingredients correctly.
---
How to make whipped cream
1. Whip until frothy
Combine ingredients and beat until just foamy.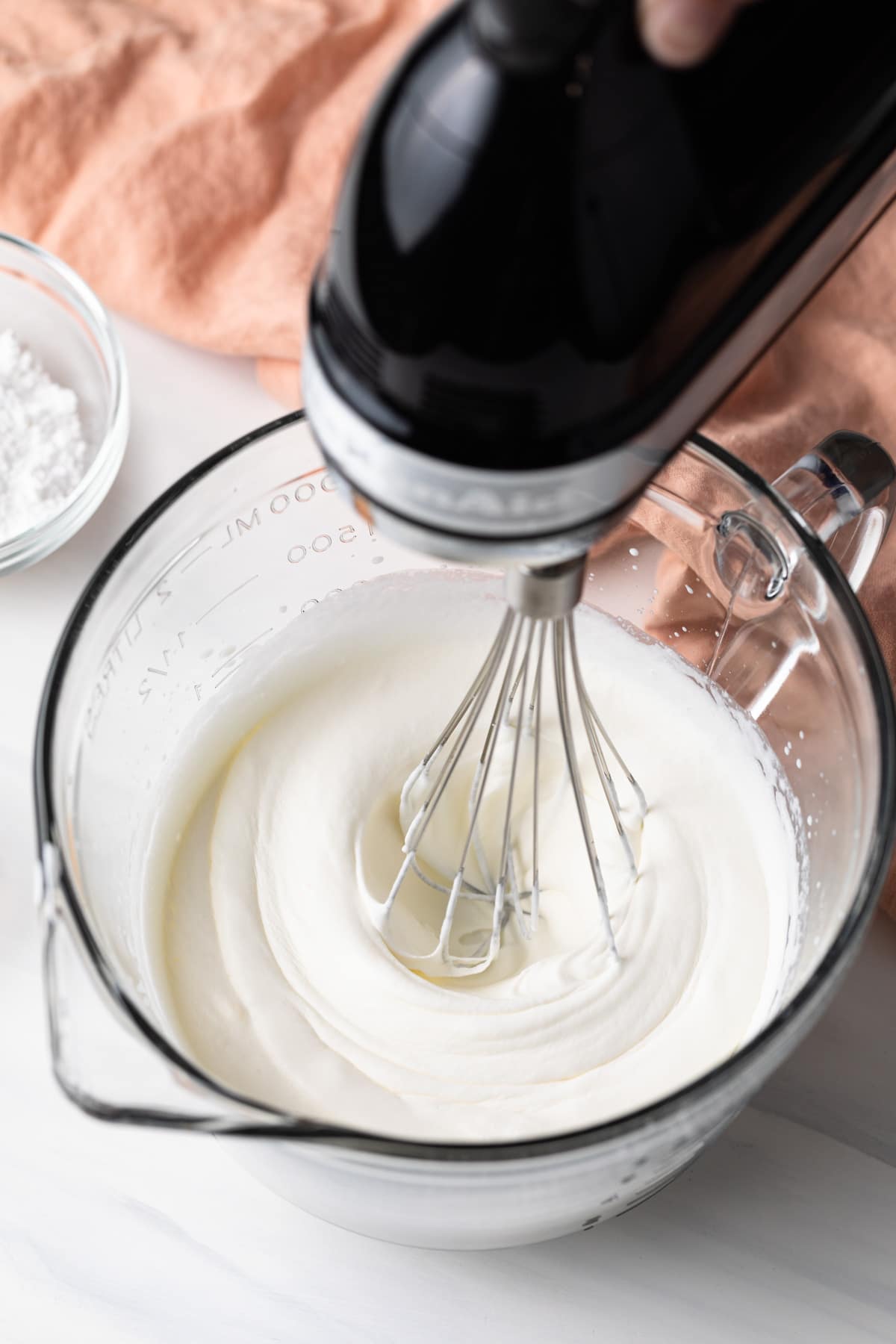 Combine cream, confectioners' sugar and vanilla with an electric mixer.
Mix on medium-low speed until just foamy.
2. Whip to stiff peaks
Then, continue beating until a stiff peaks texture is achieved.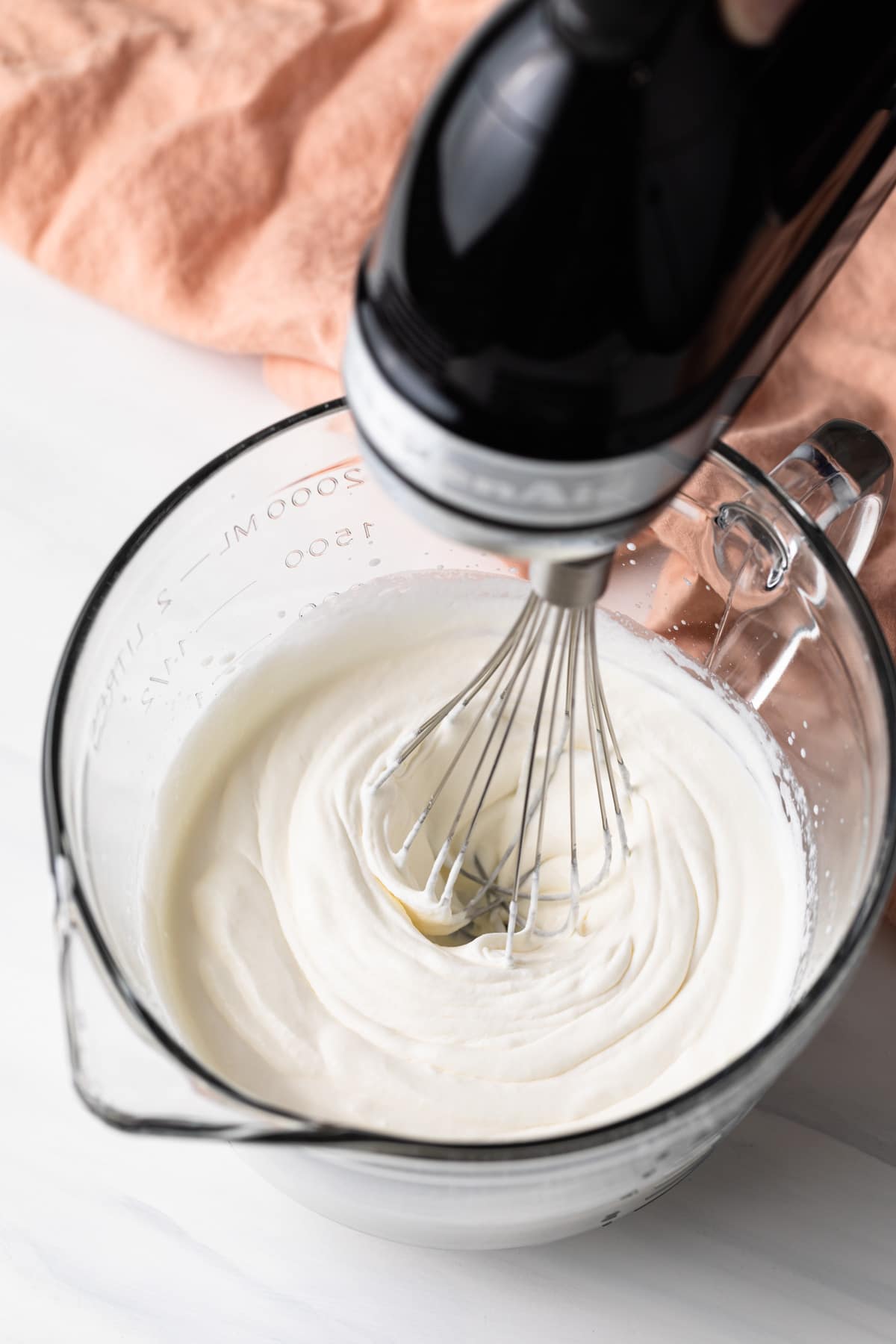 Turn electric mixer speed up to medium-high.
Then, continue to mix until it forms medium to stiff peaks.
Make sure not to overbeat because it will become lumpy and butter-like.
Use immediately or cover tightly and refrigerate the whipped cream for up to 24 hours.
---
Frequently asked questions
Is heavy cream the same as whipping cream?
Heavy cream and whipping cream are not the same thing. The difference is in their fat content. Heavy cream contains 36% milk fat. While whipping cream contains just 30% milk fat.
Is heavy cream the same as heavy whipping cream?
Yes! The word "heavy" in the title means it is essentially the same product.
You need that "heavy fat content" in order for it to remain stable.
Can it replace Cool Whip?
Yes, homemade works wonderfully as an equal substitute for frozen whipped topping.
How to make a stabilized version?
To make stabilized whipped cream, you need to add one additional ingredient – gelatin, cream of tartar, piping gel, or cream cheese. Stabilizing it will allow it to hold up longer in the refrigerator.
---
Fun flavor options
Chocolate: Sift 3 tablespoons of unsweetened cocoa powder with the powdered sugar before adding it to the recipe. Everything else remains the same.
Strawberry: Mix all the ingredients to soft peaks. Add ¼ cup strawberry jam and continue to whip to stiff peaks.
Storing & Freezing
To store: Use immediately on your dessert. However, you can cover it tightly and refrigerate 24 hours.
To Freeze: I don't recommend freezing it unless it is already placed on or in your dessert.
---
Delicious ways to use whipped cream
This homemade recipe is so versatile. I love using it in so many of my favorite recipes on the blog, such as, the ones listed below.
---
Watch how to make it
Did you try this recipe? I would love for you to leave me a 5-star rating or comment. This way, I have a better understanding of which recipes you like and can create more of them.
Please take a moment to follow me on Instagram, Pinterest, Facebook, Youtube or sign up for my free newsletter to never miss the newest recipes and blog updates.
You can also shop my favorite baking tools. Thank you so much for your support!