This post may contain affiliate links. Read the full disclosure here.
This decadent flourless chocolate cake recipe is simply the best. Made with a handful of basic ingredients and absolutely no flour, you'll have an elegant dessert suitable for any occasion.
This flourless chocolate cake is pure decadence. It's fudgy and loaded with rich chocolate flavor.
The best part is it's completely gluten-free! That means you can make it for your friend or loved one who is sensitive to gluten. But it's tasty enough for everyone to enjoy!
I always feel bad when I make a chocolate cake but someone close to me can't eat it due to gluten intolerance. This is why I thought it was so important to include a gluten-free version on my site.
It bakes up so decadent and fudgy. It's much like a brownie but the texture is in its own class.
I'm sure you'll think this is the best flourless chocolate ever once you taste it. And you'll never be able to tell it's gluten-free!
Why this recipe works
The right ratio of egg to chocolate is key here. I found that using 8 ounces of chocolate with 5 eggs gave the best "cake-like" texture.
The cake is baked in a humid oven. I tested every way to bake it and a pan of hot water on the lowest rack provided the best cake texture.
Confectioners' sugar is used so the cake doesn't feel gritty. There's nothing worse than feeling gritty sugar in bites of chocolate cake.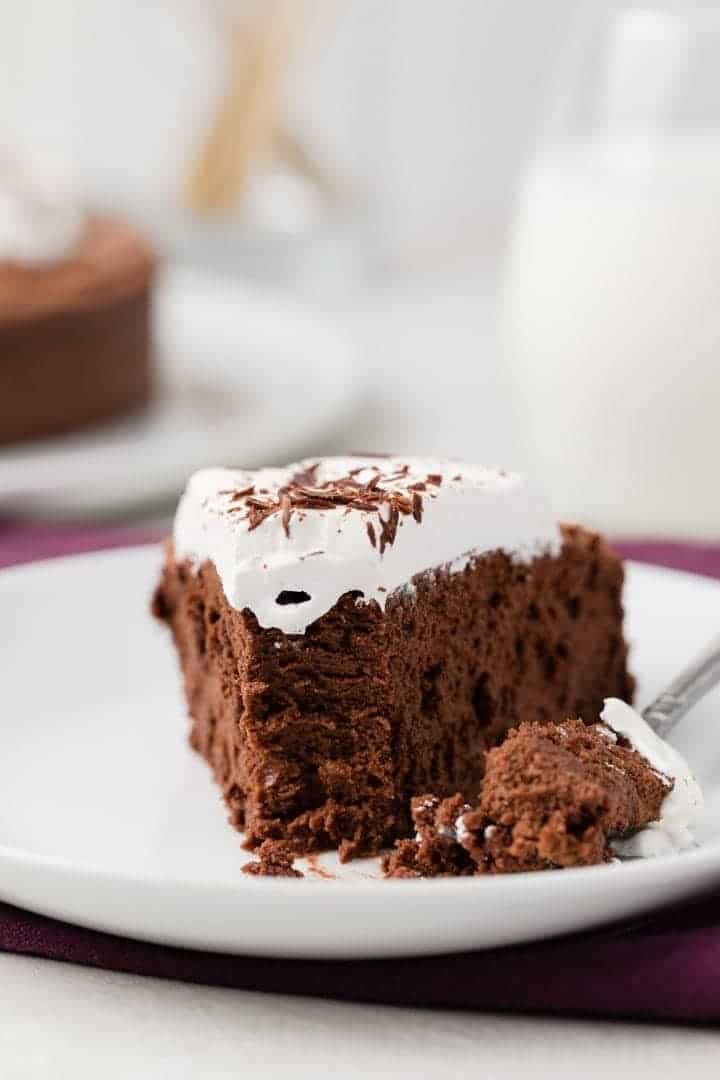 Gluten-free chocolate cake ingredients
This gluten-free chocolate cake is pure chocolate decadence! It's for the serious chocolate lover in your life! It's gluten-free and made with only 6 ingredients.
Eggs: You need 5 whole eggs that are separated. Make sure they are at room temperature for the best results.
Vanilla extract: Pure vanilla extract* of good quality is going to taste the best.
Butter: Unsalted sweet cream butter is truly the best for baking. Let it come to room temperature before using.
Chocolate: Choose your favorite chocolate! I've made this cake with bittersweet* and semisweet chocolate*. The darker the chocolate, the richer the cake will taste.
Cream of tartar: This is completely optional but it helps stabilize the egg whites so they whip up nicely.
Confectioners' sugar: Most confectioners' sugar* contains cornstarch which is a gluten-free ingredient. It's always best to read the label and use a certified gluten-free product if you are making this cake for someone with an intolerance.
To bake this cake you'll need:
---
How to make chocolate cake without flour
It's so easy to make a chocolate cake without flour! It requires a few steps but the process is pretty simple. You melt chocolate, whip egg whites, and combine all the ingredients together.
The Batter – The cake batter is thick and lush like chocolate mousse. Handle it with care so you don't deflate the egg whites while mixing.
Step 1: Melt the chocolate
Choose the chocolate you prefer to use. Make sure it's baking chocolate and not chocolate chips.
Chop the chocolate coarsely and add it to a heatproof bowl with butter.
Set the bowl over a pot of barely simmering water and stir constantly until the chocolate is melted and smooth.
Remove the bowl from the heat and set it aside while you work on the next step.
Step 2: Mix the eggs
Make sure you are working with room temperature eggs. If you are in a pinch and need to warm them quickly, set the whole eggs in a bowl and let warm tap water run over them for about 5 minutes.
Separate the eggs, placing the yolks in a medium bowl and the whites in the bowl of a stand mixer.
Add vanilla extract to the yolks, whisk to combine, and set aside.
Add cream of tartar to the egg whites and beat on medium-low speed until they turn foamy. Turn the speed up to medium-high and beat until the whites develop soft peaks.
Gradually add the confectioners' sugar and continue beating on medium-high speed until stiff peaks form.
Step 3: Combine egg whites with chocolate
Transfer ¼ of the beaten egg whites to the bowl with the yolks. Gently whisk them in to lighten the yolks.
Pour the yolk mixture into the melted chocolate and fold with a rubber spatula until almost fully combined. Gently fold in the remaining egg whites in two additions.
The batter will resemble mousse in texture.
Step 4: Bake the cake
Spread the batter in an 8-inch springform pan that has been greased and lined with parchment paper. Wrap the pan with a wet baking strip*.
Set a large roasting pan on the lowest rack of the oven and very carefully fill it with boiling water.
Place the springform on the rack above and bake for 30-40 minutes until the cake is set but looks moist between the cracks. An instant thermometer inserted into the center should read 180°F.
Step 5: Cool and garnish
Set the pan on a wire rack and allow the cake to cool completely. The cake will deflate some.
If the cake doesn't come loose from the sides of the pan, run a knife around the outer edge to loosen it. Carefully remove the outer ring. You can leave the cake on the base or very carefully slide it off. The cake is delicate and may crumble.
Spread sweetened whipped cream over the top and garnish with chocolate shavings.
You can also choose to dust it with powdered sugar instead and serve with fresh berries.
This is truly the best flourless chocolate cake recipe. It's so chocolaty and perfect for any time of year.
---
How to store flourless chocolate cake
My gluten-free chocolate cake is best when stored in the refrigerator. It will keep for up to 3 days wrapped tightly or in an airtight container.
Or the cake will keep for up to 3 months stored in the freezer. Wrap slices tightly in plastic wrap and place in an airtight freezer-safe container. Thaw overnight in the refrigerator before serving.
If you like chocolate, you'll love these other tasty chocolate recipes:
Did you try this recipe? I would love for you to leave me a 5-star rating or comment. This way, I have a better understanding of which recipes you like and can create more of them.
Please take a moment to follow me on Instagram, Pinterest, Facebook, Youtube or sign up for my free newsletter to never miss the newest recipes and blog updates.
You can also shop my favorite baking tools. Thank you so much for your support!