This post may contain affiliate links. Read the full disclosure here.
This incredibly delicious chocolate cake recipe features the softest cake with rich chocolate flavor covered in a silky chocolate frosting.
This post is brought to you by Bob's Red Mill.
I often like to perfect basic recipes like vanilla cake, scones, vanilla buttercream, chocolate buttercream, and chocolate mug cake. Once you have a great base recipe, you can adapt it in so many ways.
Today's chocolate cake is definitely a classic. It's rich, moist, and made completely from scratch.
So what makes this cake better than all the other chocolate cake recipes? The texter! And it all comes from the brand of flour I use.
If you've clicked around the ingredient links in my recipes, you'll notice I always link to Bob's Red Mill products, especially the organic all-purpose flour. It's a premium baking flour that's unbleached and unenriched, with no potassium bromate added.
It never fails me and yields the best results. I simply can't recommend it enough!
If you're in need of a gluten-free recipe, try my flourless chocolate cake. Or if you need to feed a crowd, try my Texas sheet cake.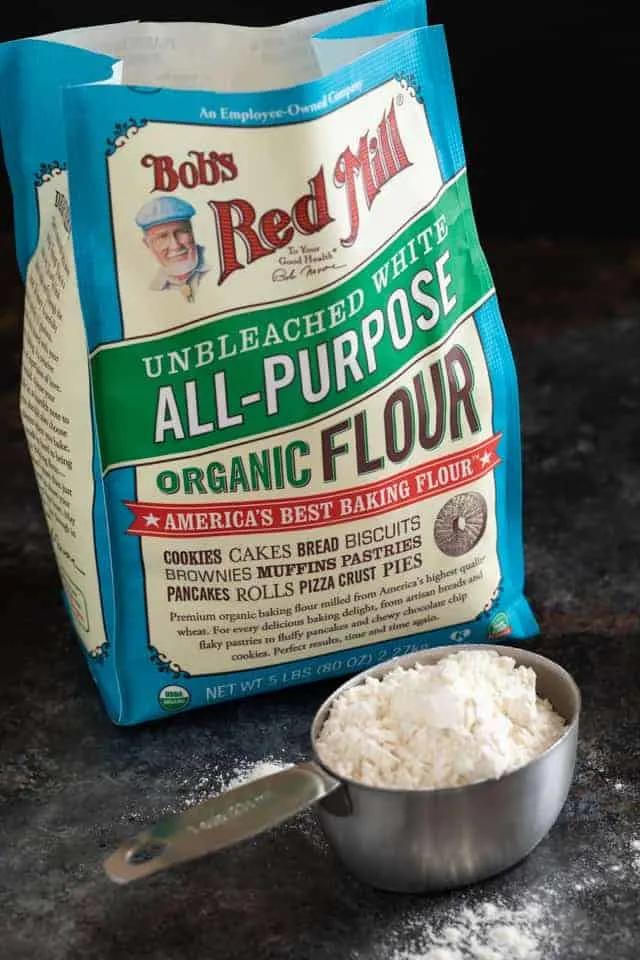 For this perfect chocolate cake recipe, I started with my favorite cake which I used for my chocolate coconut cake and made several changes to get a lighter, fluffier cake. I couldn't be more pleased and you are going to feel the same way after just one bite.
The key to getting such a rich chocolate flavor in cake is to use melted baking chocolate, cocoa powder, and espresso powder. Don't worry, you can't taste the espresso powder. It simply enhances the chocolate.
But, if you are worried about caffeine, you can use instant decaf coffee powder instead.
You can also try the cake base from my German chocolate cake for an even lighter, fluffier cake texture.
How to make chocolate cake from scratch?
Begin by preparing the batter. Butter and sugar are mixed together first, then melted chocolate and eggs are added.
Combine flour, baking soda, baking powder, and salt then add it to the chocolate mixture. Mix it just until it's almost fully incorporated.
Combine cocoa powder and espresso with water and add it to the cake batter with oil and sour cream. Mix it all together until well combined.
The batter should look mousse-like and shiny.
Bake the cake in two 9-inch round pans then let them cool completely before frosting.
The chocolate frosting is my favorite and I have an entire post dedicated to how to make the best chocolate frosting. So be sure to pop over and take a look before you begin.
---
How to make a moist cake?
Dry cakes are the worst and chocolate is notorious for drying out a cake. To solve this problem, use butter AND oil. This recipe calls for both but if you make any other chocolate cake recipe, try swapping 20% of the butter for oil. You'll be amazed at how moist the cake turns out!
Another way to keep the cake moist is to avoid over baking it. It takes about 25-30 minutes to bake but oven temperatures can vary so start checking for doneness at around 20 minutes. Use the toothpick test and remove the cake as soon as the toothpick comes out with a few moist crumbs attached.
How to bake flat cake layers?
I loathe having to trim the tops of my cakes to make them flat. I feel like it's such a waste. Instead, I wrap wet tea towels or bake strips around the pans. This helps to distribute heat evenly allowing the cake to rise in one flat, even layer. Bake strips can be found online or at hobby and craft stores.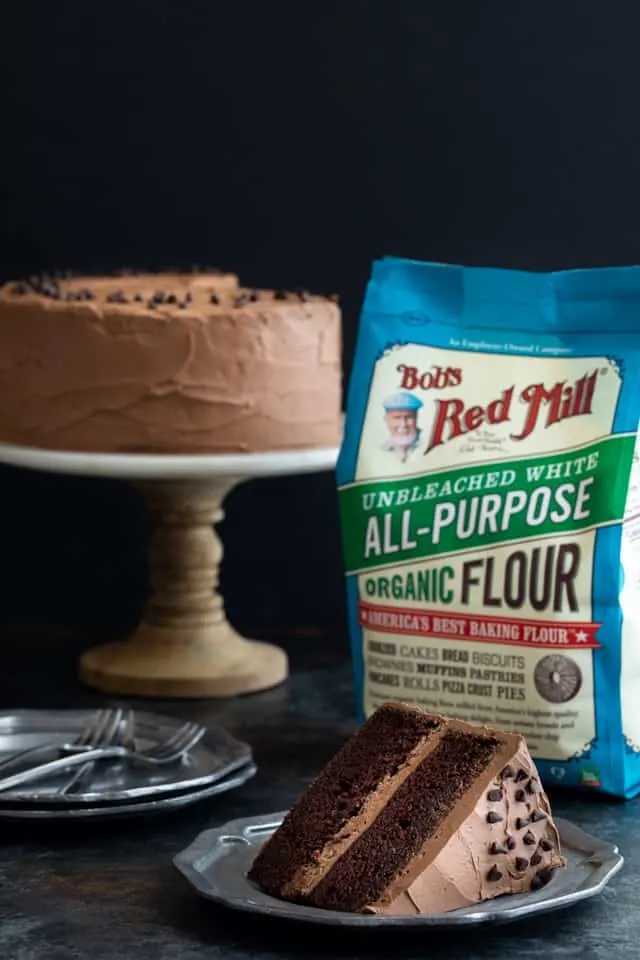 Chocolate cake recipe modifications
Gluten-Free: Use Bob's Red Mill Gluten Free 1-to-1 Baking Flour to make the best gluten-free version.
Swap the espresso powder for instant coffee granules. You can use regular or decaf.
Make a three-layer cake with three 8-inch round cake pans. Bake them for 20-25 minutes.
Make 24 cupcakes with 2 muffin tins lined with paper liners. Bake them for 15-20 minutes.
More chocolate cake recipes you'll love
Did you try this recipe? I would love for you to leave me a 5-star rating or comment. This way, I have a better understanding of which recipes you like and can create more of them.
Please take a moment to follow me on Instagram, Pinterest, Facebook, Youtube or sign up for my free newsletter to never miss the newest recipes and blog updates.
You can also shop my favorite baking tools. Thank you so much for your support!