A Chocolate Coconut cake that is not only a show stopper, but it tastes great as well. Made from scratch chocolate cake layered with coconut pastry cream and covered in coconut buttercream frosting is truly exceptional.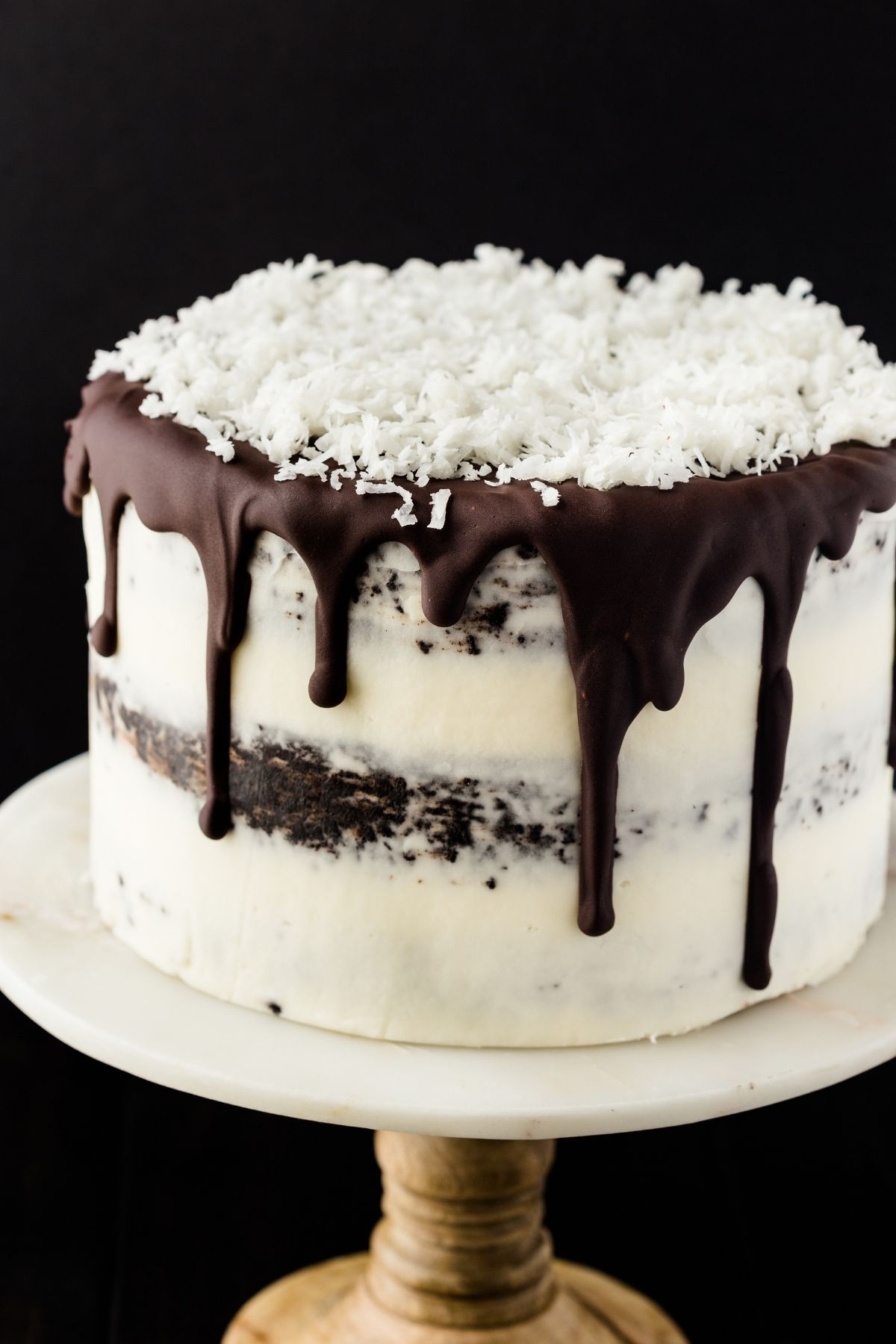 A thick chocolate run glaze is smoothed over the top of the cake and runs down the sides adding character and more chocolate flavor.
This recipe may sound complicated, but trust me, it's actually really simple!
Chocolate cake with coconut frosting
There's so much decadent chocolate inside this cake! The cake layers are thick, dense, light, and super moist.
The filling is a simple pastry cream made with coconut milk instead of regular milk. Coconut extract is added for extra flavor but it's totally optional.
The cake is covered in my popular coconut buttercream frosting. It's a lusciously silky texture that glides across the tongue.
This cake is no more complicated than a regular layered cake. The ingredients and instructions may look intimidating but it really isn't that difficult to prepare.
How to make chocolate coconut cake
Read through the instructions before you begin so you are prepared for what's to come. I recommend this with any recipe to avoid errors while in the middle of baking.
Also, make sure you have all of the ingredients measured and set out on the counter. Double check that you have everything you need.
The chocolate cake layer is my favorite chocolate cake to date. The flavor is intense!
I used melted baking chocolate and cocoa powder to get the dark, rich color and taste. It's very similar to a brownie.
Three layers of this cake may seem like chocolate overload but it's all balanced out by a coconut filling and silky coconut buttercream.
This chocolate coconut cake is perfect for a party or friendly gathering. It can easily serve 10 to 12 people, maybe more.
Each component can be prepared in advance and assembled a few hours before you need to serve it.
You don't necessarily have to add the chocolate glaze but it certainly ties everything together.
I like to pop my frosted cake in the refrigerator for a few hours before adding the glaze.
The warm glaze will set quicker when it comes into contact with the cold cake. This ensures those drips down the sides don't run all the way to the bottom of the cake.
Chocolate coconut cake is one indulgent dessert. Your friends and family will not be disappointed with this crowd pleaser!
Tips for making chocolate coconut cake:
When making the cake, make sure all the ingredients are at room temperature. The batter will blend together easier when all ingredients are at the same temperature.
Let the cake layers cool completely before you assemble the cake. The cake will crumble if you try to handle it before it's completely cooled.
If you are in a hurry, carefully wrap the warm cake layers in plastic wrap and freeze them for 30 minutes to an hour to speed up the cooling process and make the layers easier to work with.
More chocolate recipes you'll love
NEED MORE BAKING IDEAS? Subscribe to our newsletter and Youtube channel. Also, follow along on Facebook, Instagram, and Pinterest for all the latest updates!