This post may contain affiliate links. Read the full disclosure here.
The best German Chocolate Cake features layers of moist chocolate cake topped with coconut pecan frosting. This cake is delightful and worthy of any special occasion.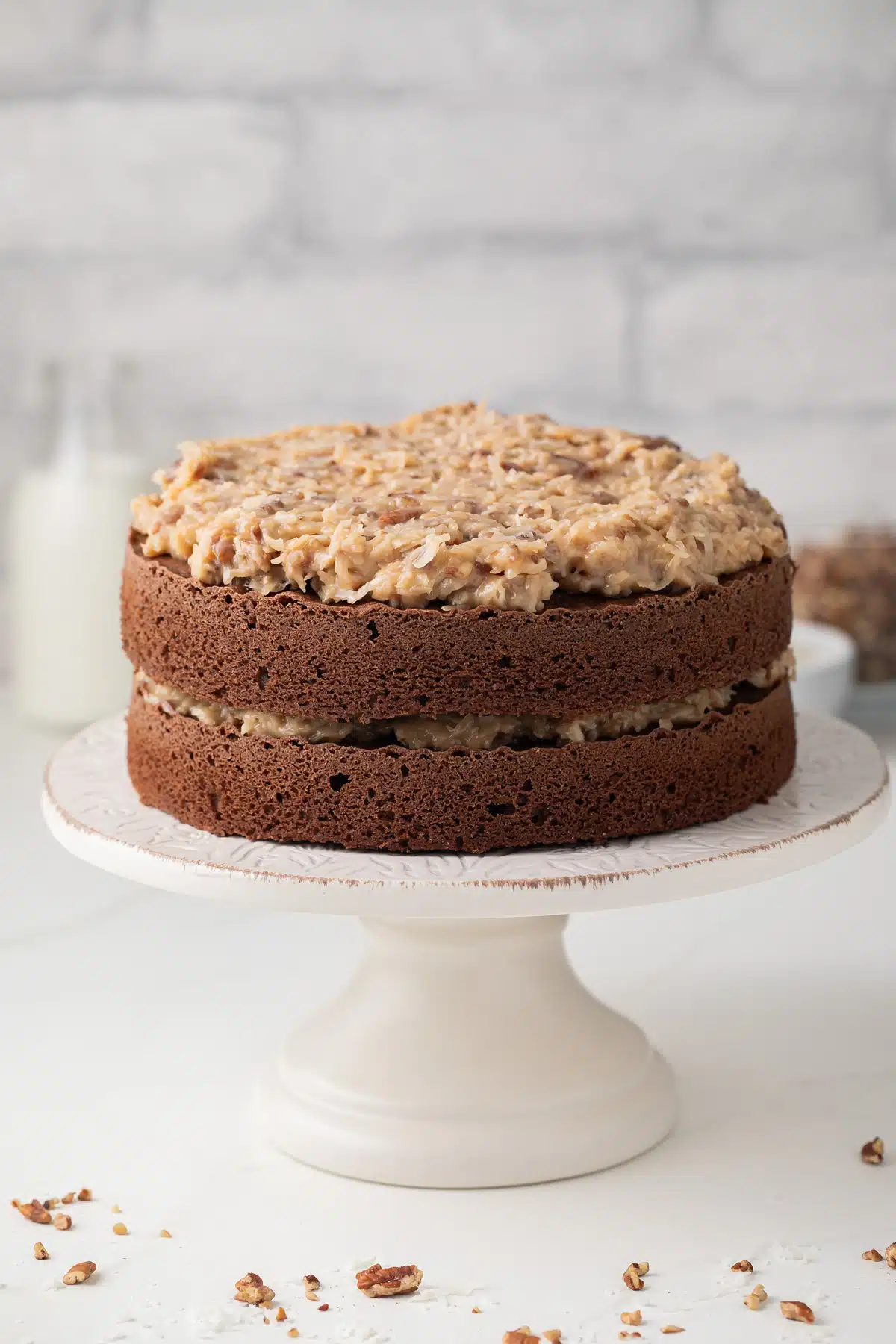 German Chocolate Cake is not a fully frosted cake. There is a sweet coconut creamy filling in between the layers and on the top of the chocolate cake – but no traditional frosting here. The sides of the cake are "naked." It's soft and pillowy with a richly sweet frosting. You'll love it too – I promise.
When I first heard the name German Chocolate Cake, I thought that it was a dessert that originated in Germany. My not-super-in-depth research into this the internet told me this was not the case.
Apparently, Sam German was an employee of the Baker's chocolate company and he came up with sweet baking chocolate bars. So German chocolate cake is actually named for him. German chocolate cake originally got its chocolate flavor from melted chocolate. I add a little cocoa powder for extra flavor, but the real chocolate flavor here comes from melted chocolate.
The rest of the cake ingredients are fairly typical: eggs, milk, flour, baking soda, and salt. I add some sour cream to the batter to add a bit of tang and a lot of moisture.
The frosting is more of a filling than a frosting. It's a buttery cooked frosting that uses egg yolks for richness, evaporated milk for thickness, and sugar, coconut, and pecans for decadent flavor. There is so much flavor in each bite of frosting – you don't need much of it!
Try this cake and let me know what you think!
Recipe Snapshot
---
TASTE: Rich chocolate with sweet coconut.
TEXTURE: Soft pillowy cake!
EASE: Both the cake and frosting are beginner friendly.
TIME: Just a little over 2 hours. The frosting requires chilling.
---
What You'll Need
Ingredients
Eggs: Egg yolks are needed for the filling while whole eggs are used in the cake. Save the whites for macaroons or macarons.
Evaporated milk: Needed for the rich flavor of the frosting.
Sugar: Both white and light brown sugar are used.
Butter: Use unsalted sweet cream butter for the best flavor.
Vanilla: Look for pure vanilla extract and not the imitation kind.
Shredded coconut: Make sure to use sweetened shredded coconut.
Pecans: I like to add pecans to my frosting but this is optional.
Chocolate: The recipe requires both semisweet bar chocolate and Dutch-processed cocoa powder.
Milk: Whole milk works best.
Flour: Use all-purpose flour.
Baking soda: Used for leavening.
Salt: Balances the sweet flavor and enhances the chocolate.
Sour cream: Gives the cake a moist crumb. Be sure to use full-fat sour cream for the best results.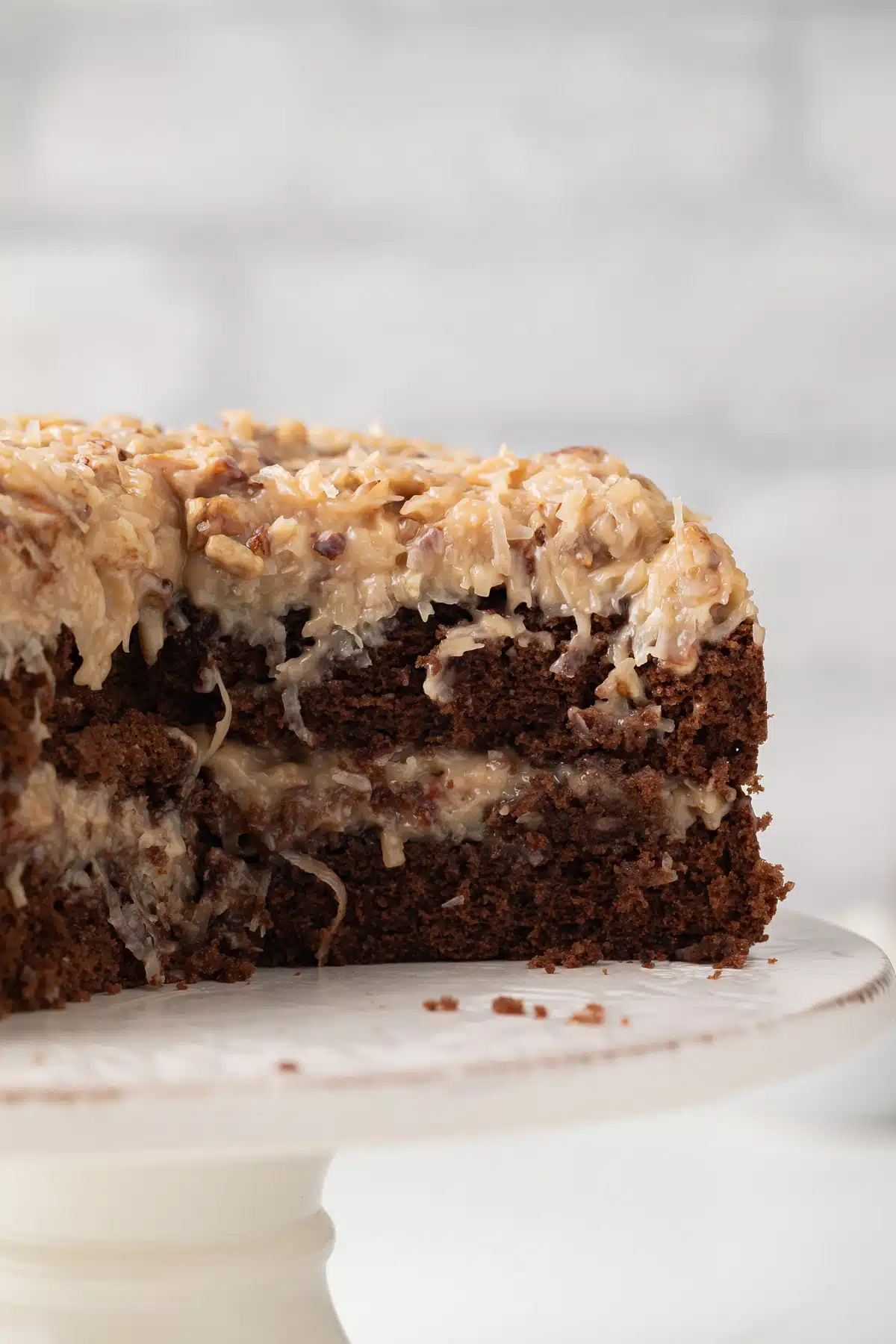 How to Make German Chocolate Cake
This German Chocolate cake is not difficult to make. It's a typical cake recipe with the addition of melted chocolate. To begin, preheat the oven to 350. Grease two 9-inch round cake pans, line with parchment paper, grease the parchment paper, and flour the pans.
Be sure to check out the full recipe and ingredient list below
Make the Cake
Melt the chocolate. Add the chocolate and cocoa powder to a bowl. Warm the milk over medium heat and pour it over the chocolate. Stir until melted and smooth.
Combine the dry ingredients. Whisk the flour and baking soda in a small bowl.
Cream the butter and sugar. In a separate large bowl, beat the salt, butter and sugars until light and fluffy.
Add eggs and vanilla. Beat in the eggs, one at a time followed by the vanilla.
Add the chocolate. Add the melted chocolate mixture and mix on low speed until incorporated.
Add flour mixture and sour cream. Mix in half the flour mixture followed by all the sour cream, then the remaining flour mixture. Mix just until combined.
Bake. Divide the batter between two 9-inch prepared pans and bake until a toothpick inserted into the center comes out clean. Cool completely before frosting.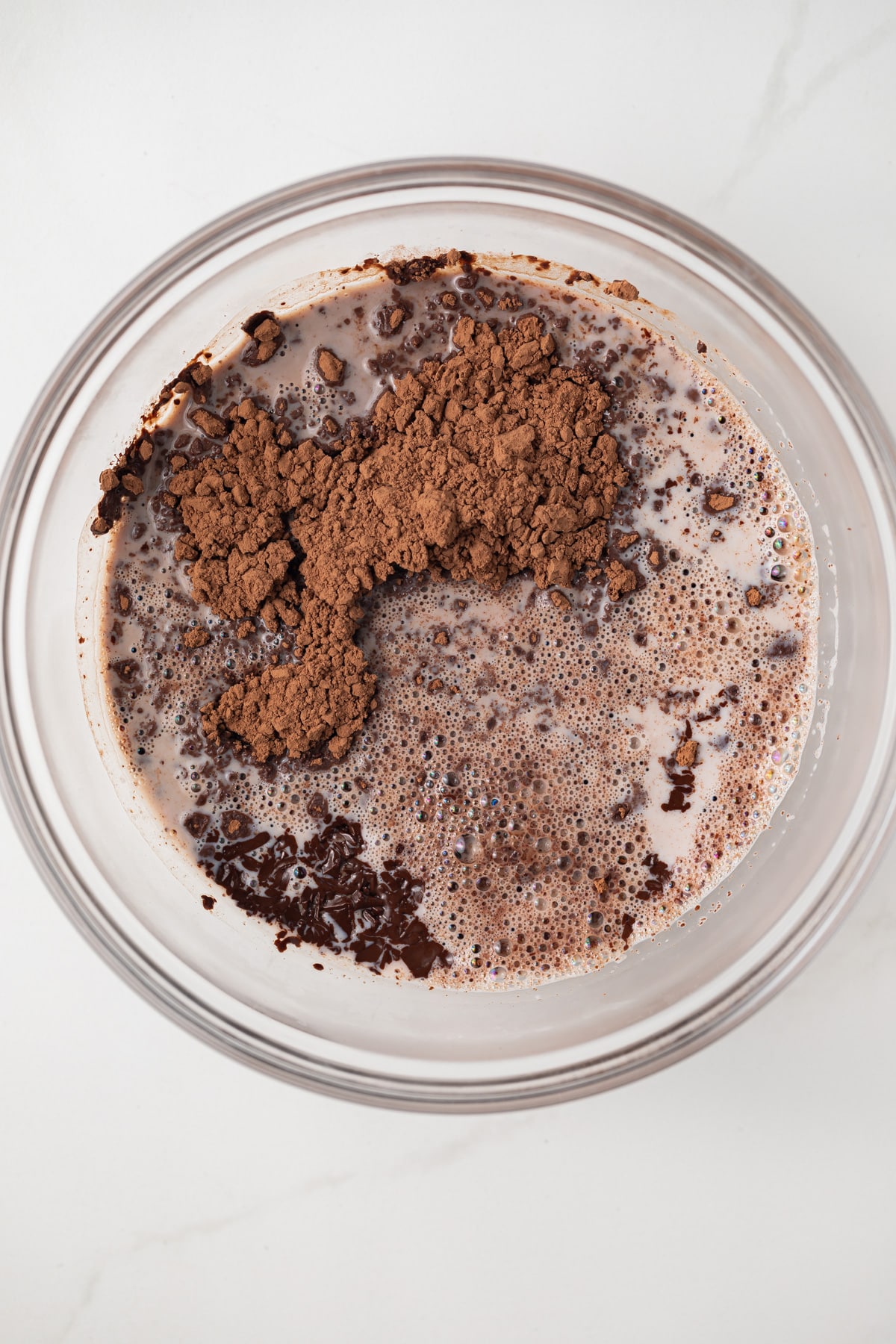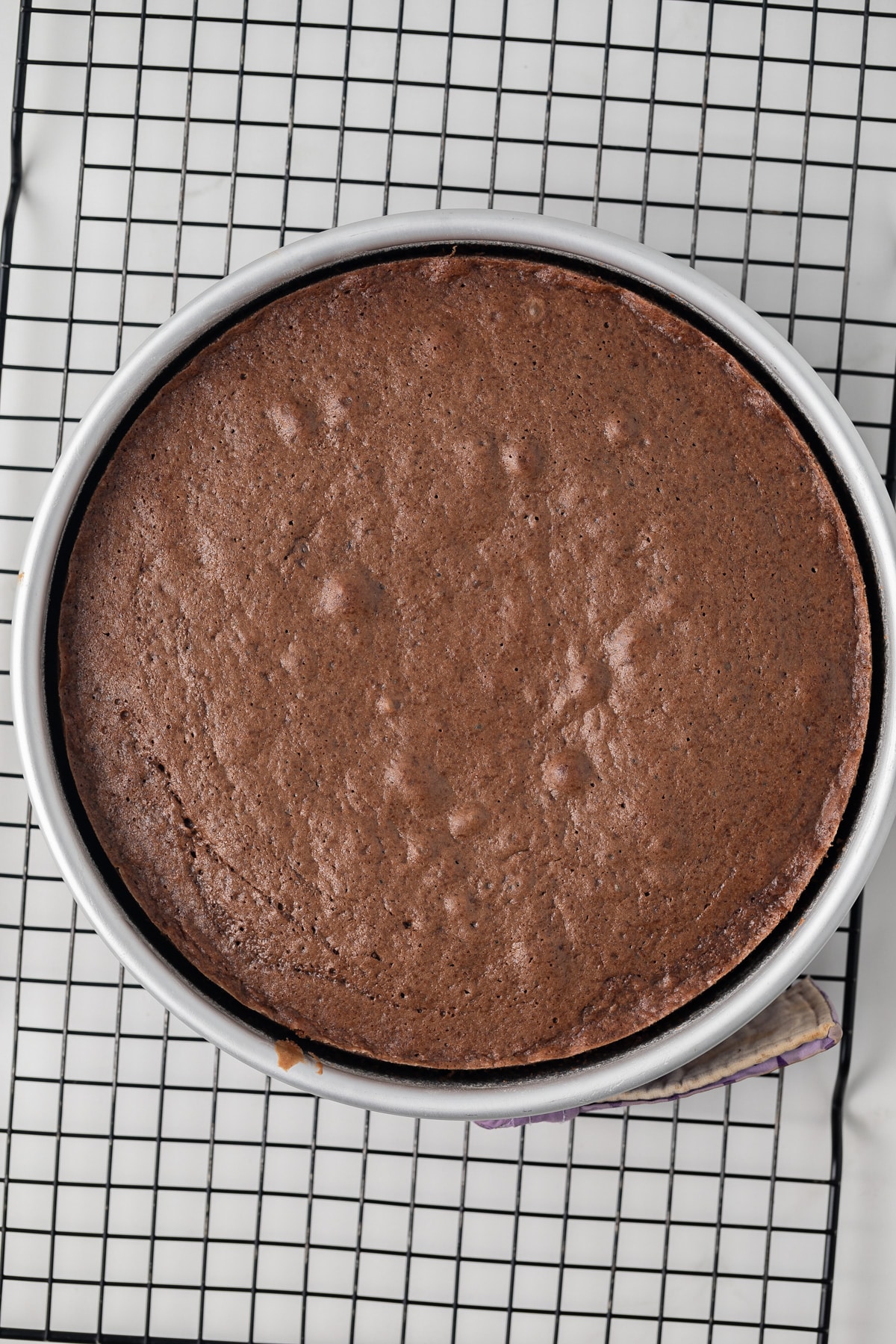 Make the Frosting
Combine egg yolks with evaporated milk. Whisk egg yolks, then slowly whisk in the evaporated milk.
Add the sugar. Whisk in the sugars, butter, and salt.
Cook. Cook over medium-high heat, whisking constantly, until the mixture is boiling, frothy, and slightly thickened, about 6 minutes.
Add the vanilla. Remove from heat and stir in the vanilla followed by the coconut and pecans.
Cool. Allow the frosting to cool slightly then refrigerate for 2 hours.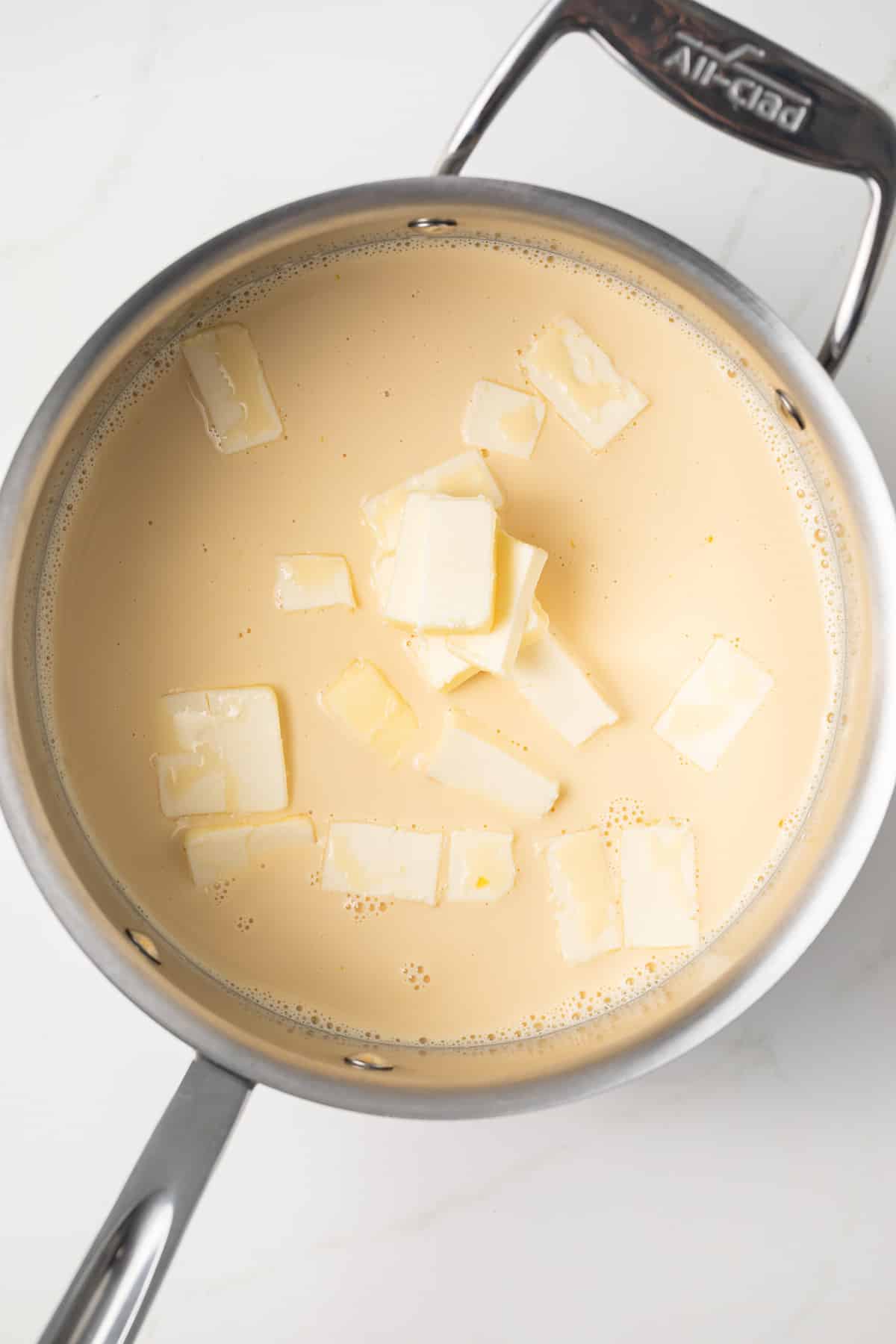 Handy tip:
Use room temperature ingredients for the cake. This allows all the ingredients to easily emulsify leaving you with a luscious batter.
Tips For Success
Properly measure the ingredients. I highly recommend using a scale to weigh the ingredients.
Don't overmix the cake batter. Over-mixing can cause a tough, dense cake texture.
Use bake even cake strips for level cakes.
Make the frosting first! You can make the cake layers and allow them to cool while the frosting is refrigerating.
Let the cake sit on a wire rack to cool completely (about 30 minutes or so) before frosting – the frosting will melt if the cake is too warm.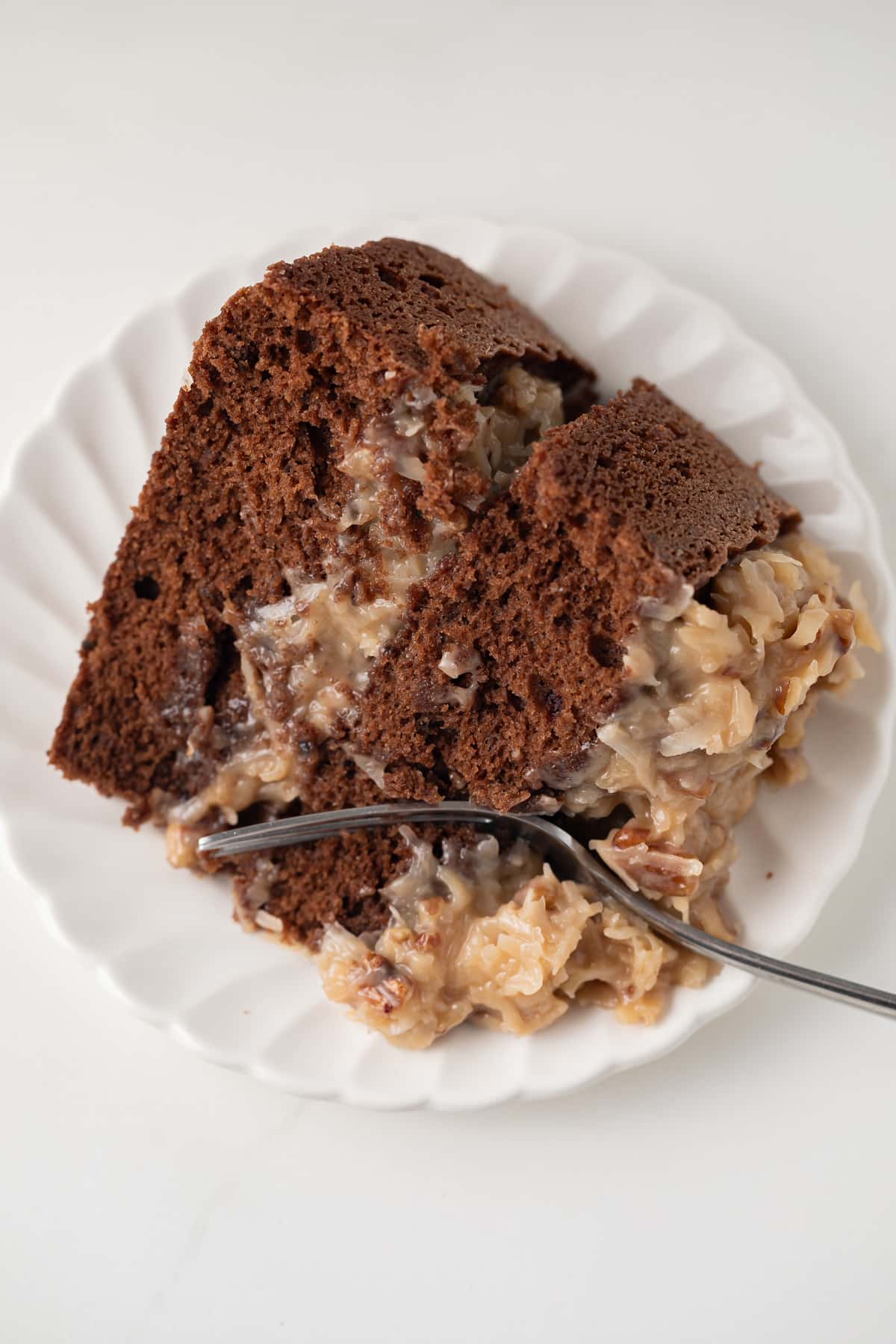 Storage & Freezing
Store the cake in an airtight container in the refrigerator for up to 4 days.
Cake layers can be stored at room temperature for up to 24 hours or frozen for up to 1 month. Thaw at room temperature before using.
The frosting can be made up to 3 days in advance. Keep refrigerated until ready to use.
I love a good cake recipe! Browse my archive of deliciously moist and tender cakes. There's something for every occasion.
Did you try this recipe? I would love for you to leave me a 5-star rating or comment. This way, I have a better understanding of which recipes you like and can create more of them.
Please take a moment to follow me on Instagram, Pinterest, Facebook, Youtube or sign up for my free newsletter to never miss the newest recipes and blog updates.
You can also shop my favorite baking tools. Thank you so much for your support!
Printable Recipe