German Chocolate Cake Frosting
This post may contain affiliate links. Read the full disclosure here.
German chocolate cake frosting is thick and creamy with coconut and pecans. It's the perfect topping for chocolate cake, cupcakes, and more!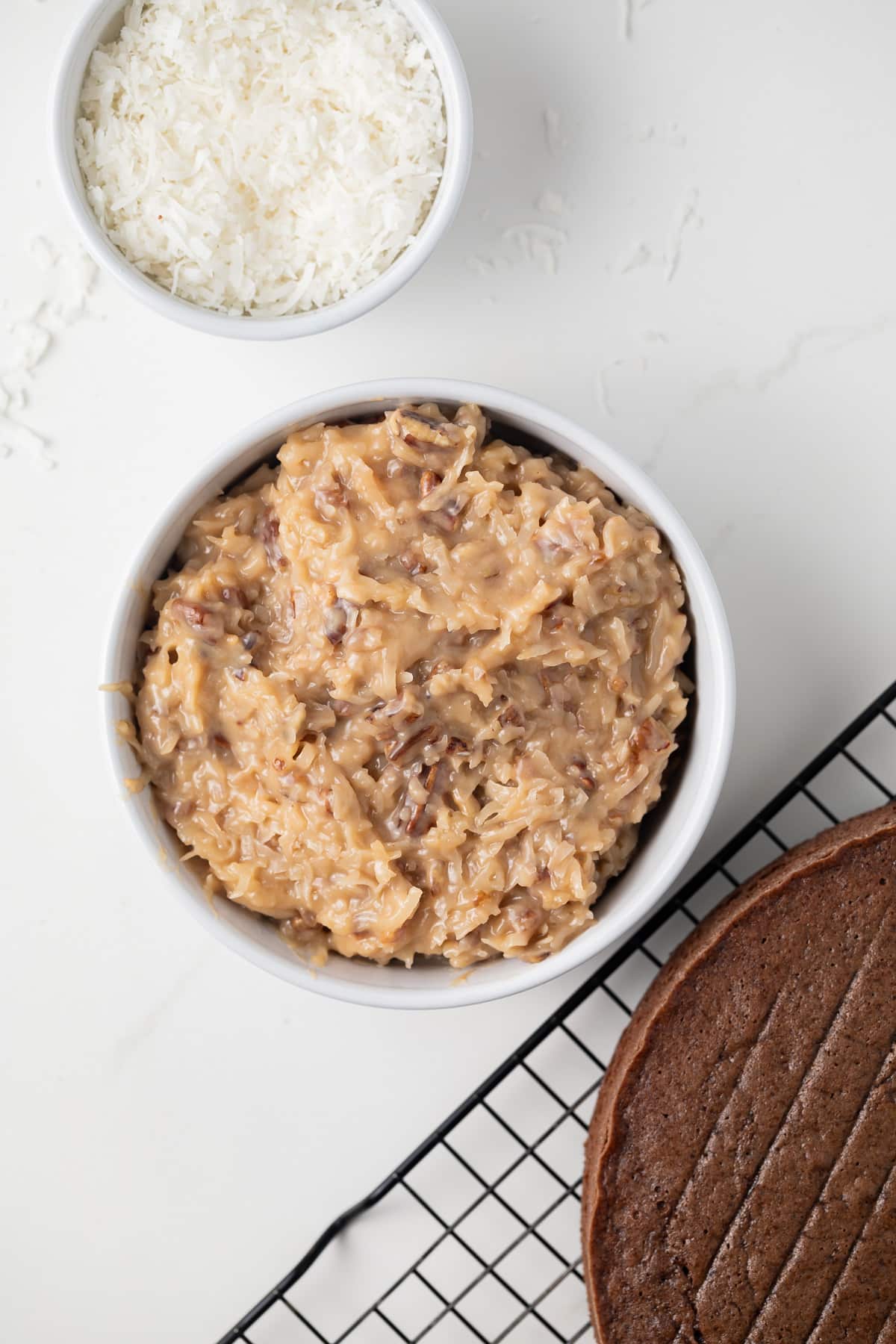 If you read along with my emails, you know that I recently posted a recipe for German Chocolate Cake. The frosting that goes along with that cake recipe is so delicious I felt it was worthy of its own post. This German Chocolate Cake Frosting recipe can be served, obviously, with German Chocolate Cake. But it need not be limited to just that.
I am a huge cupcake fan – you all know that by now. Carrot cake cupcakes, banana cream pudding cupcakes, red velvet cupcakes – I haven't met a cupcake I dislike.
The beauty of cupcakes, in my opinion, is that you can make one batch of cupcakes and a few different frostings and feel like you are offering a wide assortment of desserts.
This German Chocolate Cake Frosting is delicious atop the traditional German Chocolate Cake, of course. But it's equally good on chocolate cupcakes, vanilla cupcakes, and almond cupcakes. I might even spread this coconut pecan frosting atop a batch of brownies. How good does that sound?
This frosting recipe is prepared on the stove top, like my 7 minute frosting and my ermine frosting. It's as much a filling as a frosting – the consistency is less buttercream and more thick and decadent.
There is a richness to the frosting that comes from the evaporated milk and the egg yolks. Butter makes it creamy, the coconut and sugars contribute sweetness and the pecans a delicious crunch.
---
Recipe Snapshot
TASTE: Rich, sweet and coconutty
TEXTURE: A little crunchy
EASE: Beginner friendly!
TIME: Just over 2 hours as it requires chilling.
---
What You'll Need
Ingredients
Evaporated milk: Needed for the rich flavor of the frosting.
Eggs: Egg yolks give the frosting rich flavor.
Sugar: Both granulated sugar and light brown sugar are used.
Butter: Use unsalted sweet cream butter for the best flavor.
Vanilla: Look for pure vanilla extract (or make your own using this recipe) and not the imitation kind.
Shredded coconut: Make sure to use sweetened shredded coconut.
Pecans: I like to add pecans to my frosting but this is optional.
Salt: Balances the sweet flavor.
Recommended Tools
Saucepan
Whisk
Measuring cups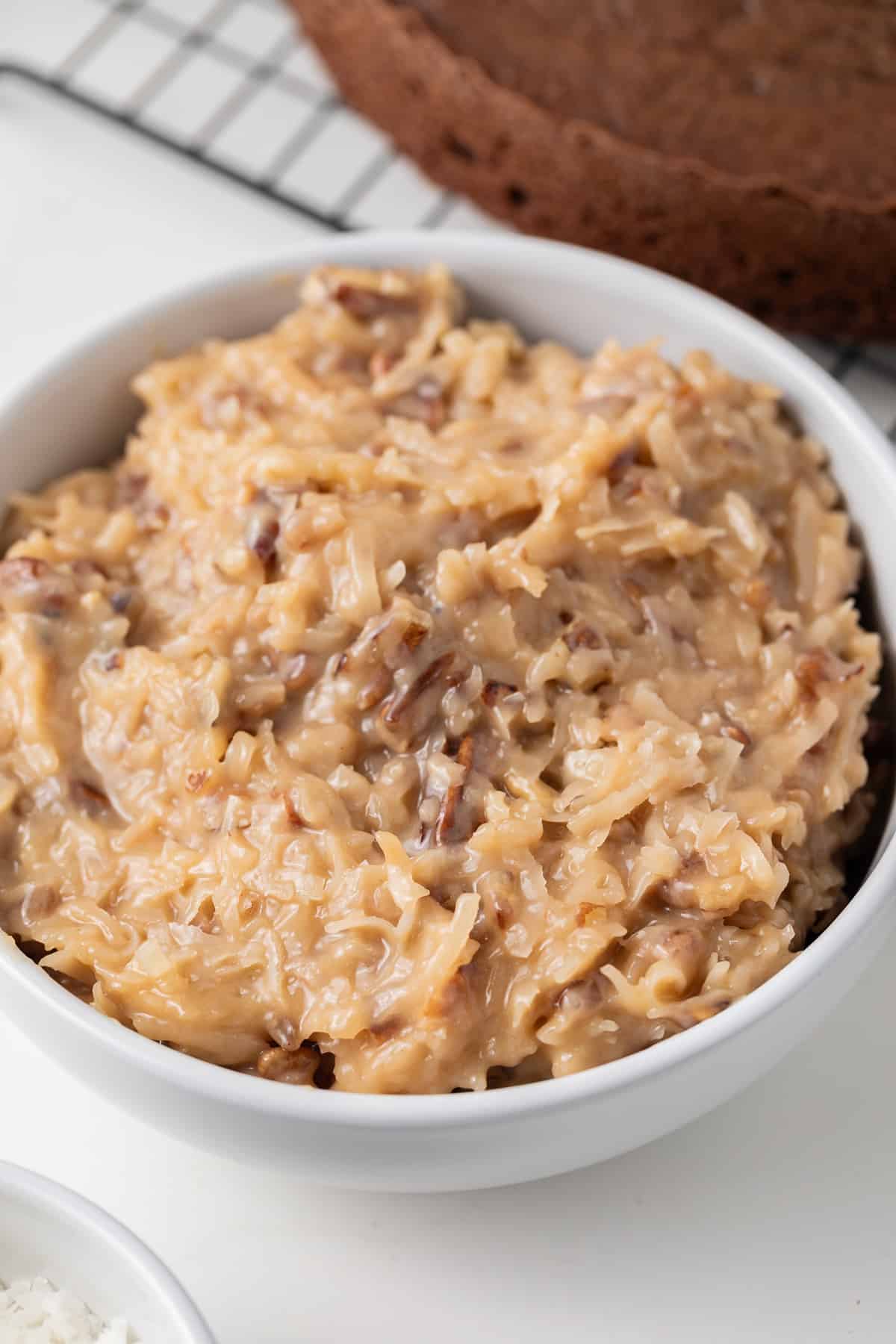 How to Make German Chocolate Frosting
This is a cook and chill frosting, unlike many of my other frosting recipes. But don't let that intimidate you! It's easy to make and well worth it.
Be sure to check out the full recipe and ingredient list below
Combine egg yolks with evaporated milk. In a large saucepan, whisk egg yolks, then slowly whisk in the evaporated milk.
Add the sugar. Whisk in the sugars, butter, and salt.
Cook. Cook over medium heat, stirring constantly, until the mixture is boiling, frothy, and slightly thickened, about 6 minutes.
Add the vanilla. Remove from heat and stir in the vanilla followed by the coconut and chopped pecans. The frosting will be golden brown at this point.
Cool. Allow the frosting to cool slightly then refrigerate for 2 hours.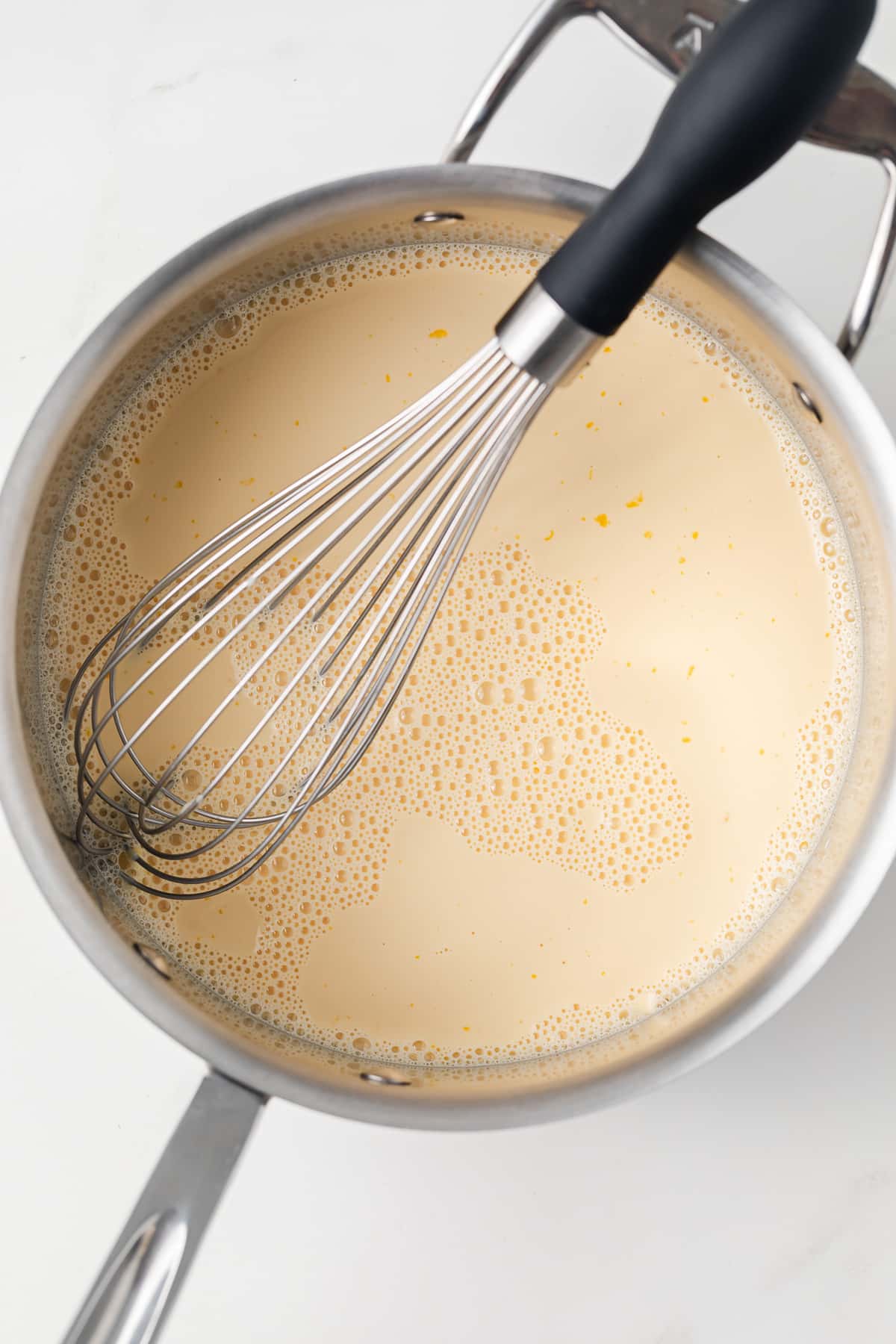 Handy tip:
If the frosting is too hard to spread after being refrigerated, let it sit out at room temperature to soften a bit, but not for more than 30 minutes. The trick is finding the balance between it being spreadable but still somewhat firm and not too loose or thin.
Tips For Success
Make sure you buy evaporated milk and not condensed milk – they are next to each other in the grocery store aisle and in similar cans but are very different.
I believe the frosting benefits from the sweetness of sweetened shredded coconut. Unsweetened coconut can be used if you insist, but my preference is that you use the sweetened variety.
Storage & Freezing
The frosting can be made 3 days in advance. Keep covered.
The same cake can taste totally different depending on the frosting you use. Try all these frostings!
Did you try this recipe? I would love for you to leave me a 5-star rating or comment. This way, I have a better understanding of which recipes you like and can create more of them.
Please take a moment to follow me on Instagram, Pinterest, Facebook, Youtube or sign up for my free newsletter to never miss the newest recipes and blog updates.
You can also shop my favorite baking tools. Thank you so much for your support!
Printable Recipe