This post may contain affiliate links. Read the full disclosure here.
These are the best carrot cake cupcakes! The cupcakes give you just a few bites of the warm and cozy spiced carrot cakes with tangy cream cheese frosting. A single cupcake would make a delicious snack, but good luck only eating one!
I don't know what it is about carrot cake. The moist cake, the spice blend, the cream cheese frosting… there is just something about the way it all comes together. I love my pineapple carrot cake and my carrot cake scones recipe as well.
I have had so many of you ask if my moist carrot cake could make cupcakes. It does, but I thought it was probably time to create a recipe for homemade carrot cake cupcakes. I'm so glad I did. These cupcakes are so soft and fluffy. The grated carrots and the oil keep them extra moist.
The silky and tangy cream cheese frosting is a perfect complement to the cozy spices in the cake. But if cream cheese frosting isn't your thing, you can use vanilla buttercream frosting instead. These are great as an after-school snack, served at afternoon tea, or as an Easter dessert.
---
Recipe Details
Taste – These carrot cake cupcakes are bursting with warm and cozy spices.
Texture – The oil, carrots and sour cream make these cupcakes soft, fluffy and moist.
Ease – So easy! No mixer required for the cake, only for the frosting.
Time – It will take 45 minutes from start to finish to make these cupcakes.
---
What You'll Need
Ingredients
All-purpose flour: Make sure to measure the flour correctly because it affects the moisture level in the cake.
Baking powder & baking soda: These act as leavening agents in the recipe, which cause the cake to expand.
Cinnamon, salt, ginger, nutmeg, & vanilla extract: These add tons of flavor to the cake, especially cinnamon.
Sugar: This recipe uses granulated sugar, but you may also substitute with coconut sugar or brown sugar.
Oil & sour cream: These make the carrot cake cupcakes moist and delicious. Use any flavorless oil of your preference, and full fat sour cream.
Eggs: These create the right level of structure and stability in the recipe.
Carrots: Don't use store-bought shredded carrots because they are too dry and thick. I prefer to use a box grater to shred fresh carrots.
Unsulfured Molasses: This adds richness of flavor, sweetness and a little extra moisture.
Cream cheese: This is the base of the frosting. Use full fat, please, for the best flavor.
Unsalted butter: At room temperature, soft but not oily.
Confectioners' sugar: For the frosting.
Why is there no butter in carrot cake cupcakes?
I use sour cream and oil in this recipe for extra moisture to keep the cake, with the carrots, from becoming too dry.
What is the best way to grate carrots for cupcakes?
I prefer using a box grater. If you have a grater attachment for your food processor, you can use that as well. Don't use pre-grated carrots. They'll be too dry.
How to Make Carrot Cake Cupcakes
These cupcakes come together so easily – just two bowls and a wooden spoon are all you need. This carrot cake cupcakes recipe makes 12 cupcakes so you only need to line one muffin pan with cupcake liners.
Make the Cupcakes
Mix the dry ingredients other than the sugar – the flour, baking powder, baking soda, cinnamon, ginger, nutmeg and salt together with a whisk to combine.
In a large bowl, whisk the sugar, canola oil, sour cream, eggs, molasses and vanilla together. Stir in the grated carrots.
Add the flour mixture and fold everything together with a spatula until just combined. Do not overmix.
Fill each paper liner ¾ of the way full and bake for 16-20 minutes, until a toothpick inserted in the center comes out with a few moist crumbs attached. Do not over bake.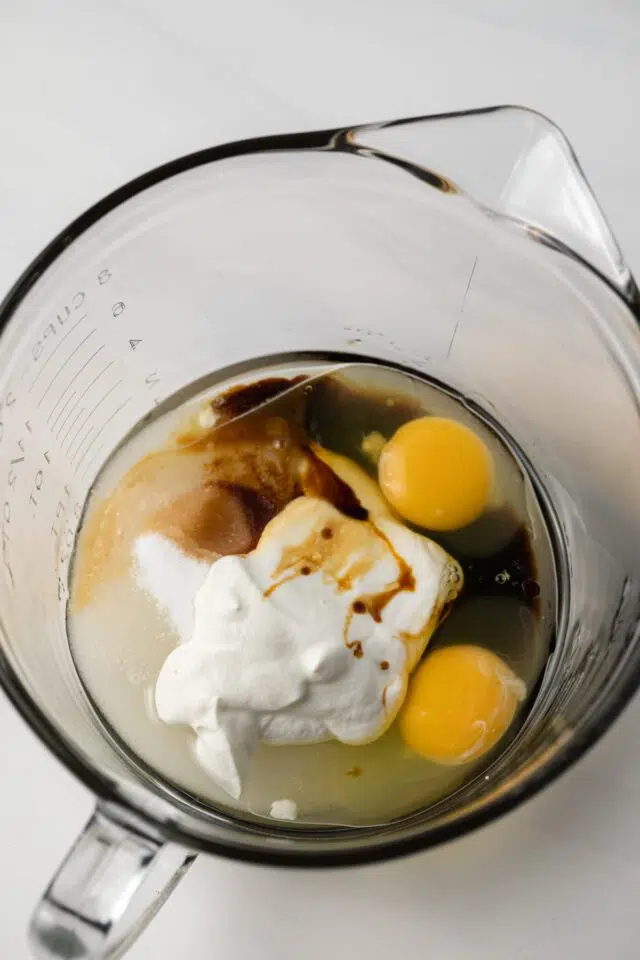 Make the Frosting
Beat cream cheese and butter together with an electric mixer on medium high speed until smooth and creamy.
Add the powdered sugar and vanilla and continue mixing until fully combined.
After the cupcakes have cooled, frost the cupcakes as desired.
---
Tips For Success
Measure the flour carefully. I suggest the spoon and level method, or you can weigh it.
You can leave out the molasses if you would like to. I like it because I believe it adds another layer of warmth to the flavor.
You must use block style cream cheese for the frosting. Not the spreadable or whipped type.
If you have a 3 tablespoon ice cream scoop, use it to portion the batter in the muffin tins. It's the perfect size.
Storage & Freezing
You can refrigerate frosted cupcakes for 24 hours before serving. Bring to room temperature.
Unfrosted cupcakes can be made a day in advance and kept at room temperature wrapped in plastic. You can also make the frosting a day ahead and store it in the refrigerator.
If you really want to make them in advance, they can be kept frosted or unfrosted in the freezer for 3 months.
Did you try this recipe? I would love for you to leave me a 5-star rating or comment. This way, I have a better understanding of which recipes you like and can create more of them.
Please take a moment to follow me on Instagram, Pinterest, Facebook, Youtube or sign up for my free newsletter to never miss the newest recipes and blog updates.
You can also shop my favorite baking tools. Thank you so much for your support!