This post may contain affiliate links. Read the full disclosure here.
If you are lucky enough to have visited New Zealand or Australia, you're probably excited about this Pavlova dessert recipe. It's less common to see Pavlova on menus here in the US. One bite of this giant meringue cake with its crispy outside and sweet marshmallowy inside, and you'll fall in love. You'll consider it your patriotic duty to share this recipe with everyone you know!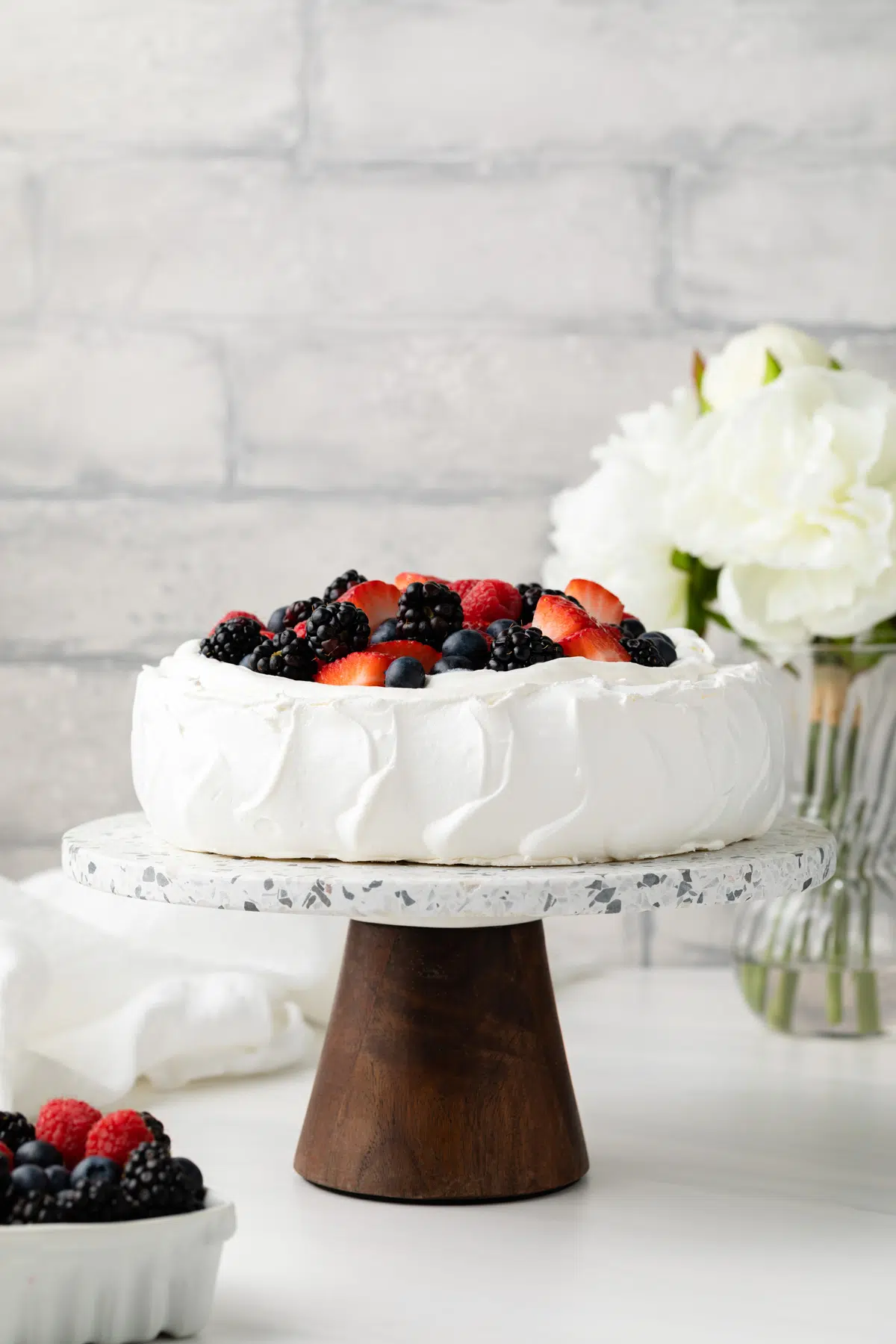 According to New Zealanders, a chef of a hotel in Wellington created this dessert in honor of the ballerina Anna Pavlova, who toured Australia and New Zealand in the 1920's. It is believed that he was inspired by her billowy tutu.
Homemade pavlova is actually very easy. It's light and elegant and delicious. Like meringue cookies, pavlova is made from egg whites that are slowly baked in a cool oven. The cake turns crunchy on the outside, but the inside stays light and fluffy, like marshmallows. It's a texture and flavor sensation!
Pavlova is a sweet canvas for any sort of topping. Berries are traditional, but you can cut up mango, kiwi, and pineapple for a tropical variation, or serve with drizzled chocolate as well. I love making Pavlova for friends who have gluten and dairy sensitivities – just omit the whipped cream and top with berries.
Once you've made pavlova, other recipes on this site which use a similar technique are my peppermint meringue cookies and my french macaroons or my strawberry macaroons.
---
Recipe Details
Taste – Pavlova is sweet and takes on the flavor of the toppings.
Texture – Its texture is amazing. Crisp on the outside and fluffy on the inside.
Ease – This takes a little bit of attention but the end result is well worth it.
Time – Pavlova cooks in a cool oven for over 2 hours. The entire recipe takes 2 hours and 45 minutes.
What is pavlova?
Pavlova is best described as a meringue cake – egg whites are whipped to stiff peaks and then slowly baked in a low oven. Meringues are dried all the way through, though, and pavlova is creamy and fluffy on the inside – like a marshmallow.
What are the best toppings for pavlova?
Mixed berries bursting with flavor are the traditional topping, but you can top this with any mixture of your favorite fruits. I serve pavlova with a layer of whipped cream before topping with berries.
What You'll Need
Ingredients
Egg whites: Save the egg yolks for a creme brulee!
Sugar: Granulated white sugar is required here.
Cornstarch: Keeps the meringue soft and tender on the inside.
Cream of Tartar: This helps the beaten egg whites form stiff peaks.
Berries: Any assortment of berries or your other favorite fruits will do.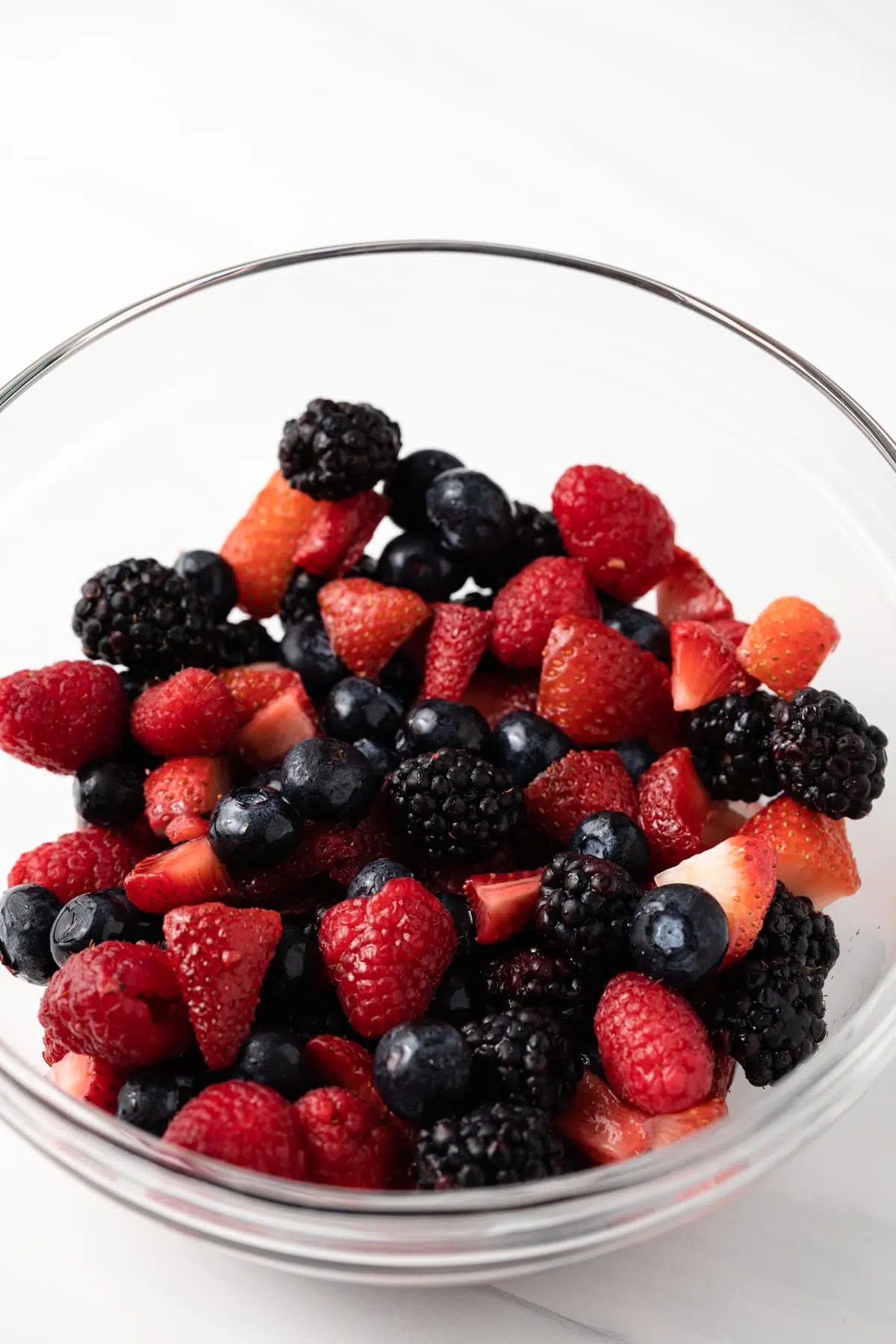 How to Make Pavlova
Pavlova takes a bit of patience and attention to make. You must whip the egg whites to stiff peaks, and while you are cooking them you cannot peak! But it will all be worth it. Once you bite into this ooey creamy dessert topped with fresh berries or a drizzle of lemon curd, you'll be eager to make it again.
Add the egg whites, sugar, cornstarch, and cream of tartar to a bowl. Using a stand or hand mixer, whisk them together. This must sit covered at room temperature for 1 hour or up to 6 hours.
Use a 9-inch round cake pan to trace a circle onto parchment paper. Place the paper on a baking sheet with the pen mark on the underside. Use masking tape to secure the edges.
Using a whisk attachment for the stand or hand mixer, whisk the egg white mixture low speed ad gradually increase the speed to high and continue until the meringue is very thick and glossy.
Scoop the meringue onto the center of the parchment circle and spread the meringue within the circle.
Remove the tape and bake for 10 minutes in a 300 degree preheated oven. Reduce the temperature to 200°F and continue to bake for 1 hour 30 minutes. Do not open the oven during baking. Then turn off the oven and let the pavlova cool completely in the oven, for about 2 hours. Do not open the door.
Remove the pavlova from the oven and transfer it to a serving platter. When it has cooled, top it with whipped cream and berries.
Tips For Success
Avoid using egg whites from a carton. They may not whip to the proper consistency.
Don't omit the cornstarch. It's vital to the overall texture of the finished product. It aids in the crisp exterior and marshmallowy center.
Storage & Freezing
The pavlova without the topping can be stored tightly covered at room temperature for up to 2 days. Do not refrigerate. The moisture in the refrigerator will ruin the texture of the pavlova.
Did you try this recipe? I would love for you to leave me a 5-star rating or comment. This way, I have a better understanding of which recipes you like and can create more of them.
Please take a moment to follow me on Instagram, Pinterest, Facebook, Youtube or sign up for my free newsletter to never miss the newest recipes and blog updates.
You can also shop my favorite baking tools. Thank you so much for your support!