Peppermint Meringue Cookies
This post may contain affiliate links. Read the full disclosure here.
A light and airy peppermint meringue cookies recipe that you will love! They are a great gluten-free cookie to give away this holiday season.
Meringue cookies are some of my favorite cookies. They are light, airy, and crip.
Meringues can be flavored in a variety of ways. I've made chocolate chip cherry meringues before and they are delectable.
Today I'm featuring a peppermint version with ribbons of red around the outside. They are stunning and will make wonderful gifts for the holidays.
I bake my meringues at a low temperature for about an hour then leave them in the oven for another hour or so depending on the humidity.
If it's a humid day, it may take longer for them to dry out. I like for my meringues to be completely dry so they melt in your mouth.
Also, if you tend to like your meringues to be slightly chewy in the center, you will want to remove them sooner. Test them after they've baked for an hour and go ahead and remove them from the oven if you are happy with the result.
If you like peppermint desserts, give my peppermint fudge cake a try next! Or try my pavlova which uses a similar technique.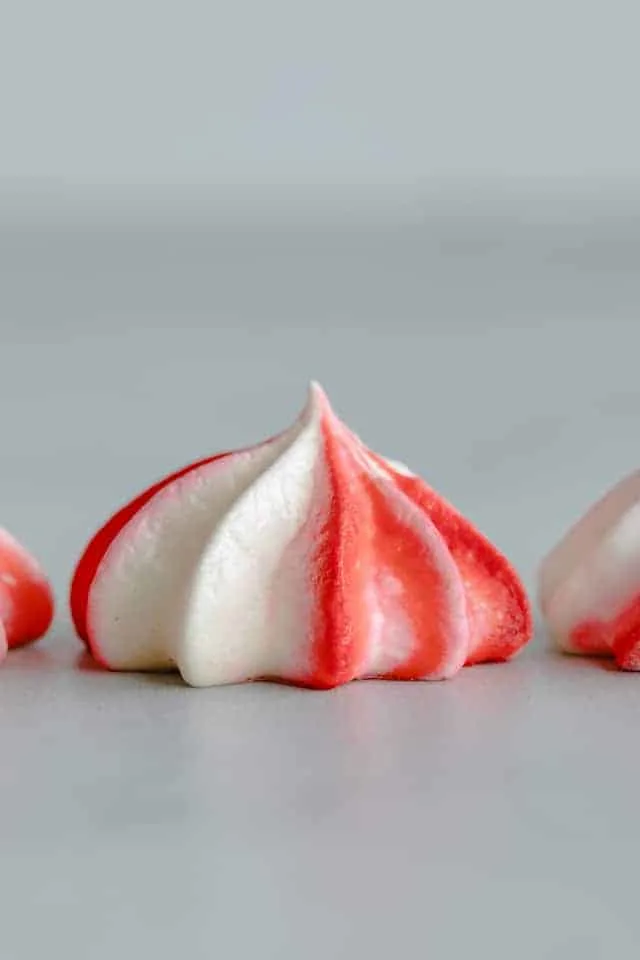 Peppermint meringue cookie ingredients
You only need 5 ingredients to make these easy meringue cookies
Egg whites – Make sure to use room temperature egg whites; they tend to whip up easier
Cream of tarter – Needed to keep the egg whites stable
Sugar – Granulated white sugar works best for meringues
Peppermint extract – Added for flavor
Red food coloring – Gel food coloring is used to create the red swirls
How to make peppermint meringue cookies?
This peppermint meringue cookie recipe is incredibly simple to make.
1) Beat the egg whites and cream of tartar together until it's foamy.
2) Gradually add the sugar while the mixer runs on medium speed.
3) Once all the sugar is added, beat on high speed until the egg whites are whipped to stiff shiny peaks.
4) Use a brush to paint red streaks inside a piping bag fitted with a piping tip.
5) Fill the bag with the meringue and pipe mounds onto a baking sheet lined with parchment paper or a silicone mat.
6) Bake at 225ºF for 1 hour. Turn the oven off, leave the door closed, and let the meringues continue to dry for another hour.
If you like the centers to be slightly chewy, you can remove them soon after they've baked for an hour.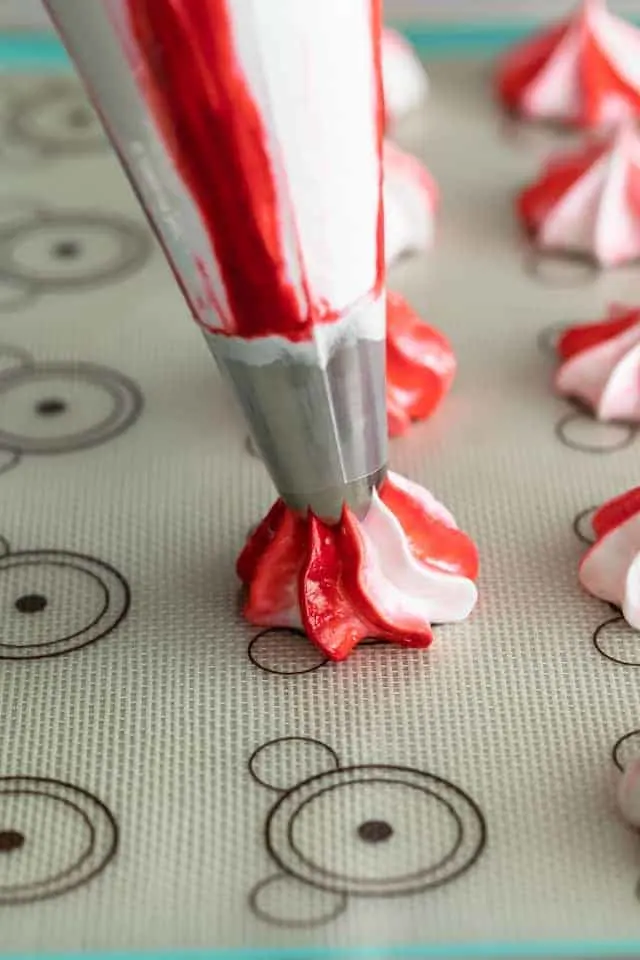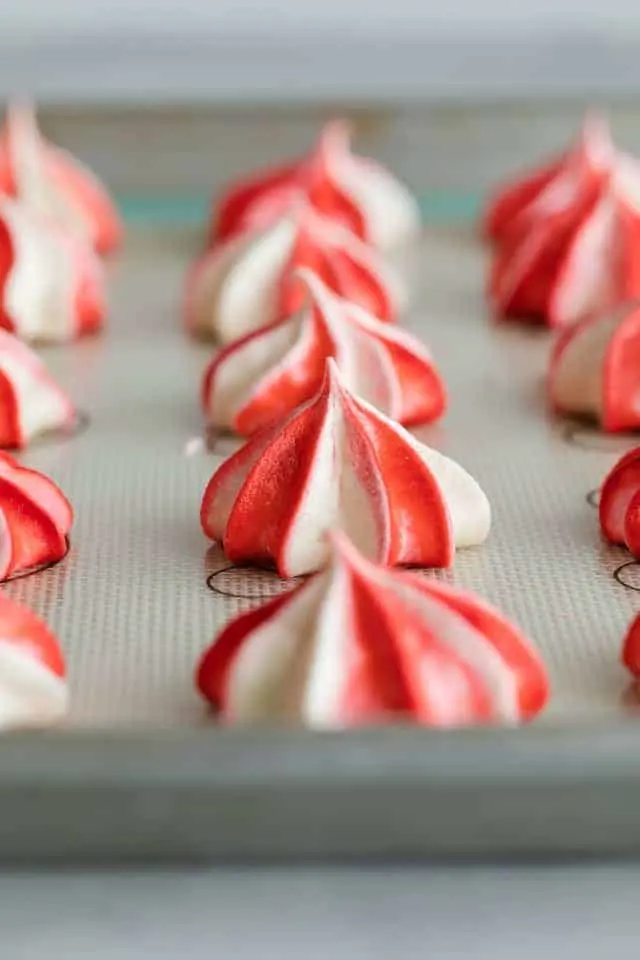 How to pipe meringue cookies?
I find it best to use a large piping tip when piping meringue cookies. Ateco #849 is the one I used for this recipe. Squeeze the piping bag gently to pipe little "kisses" of meringue then release the pressure and lift the bag away.
---
Tips for making this peppermint meringue cookie recipe?
Before you begin, make sure your mixing bowl and beaters are clean and free of any greasy residue. The smallest amount of grease left behind will prevent the egg whites from whipping up.
Take care when separating the eggs. If any yolk gets into the egg whites, you'll need to start over. I suggest breaking the egg into a small bowl, removing the yolk, then add the white to your mixing bowl. Do this one at a time with each egg.
Once your meringue is shiny and holds a stiff peak, stop whipping. It is possible to overbeat the egg whites!
Make them your own! You can use any extract flavor you want as well as any color food coloring!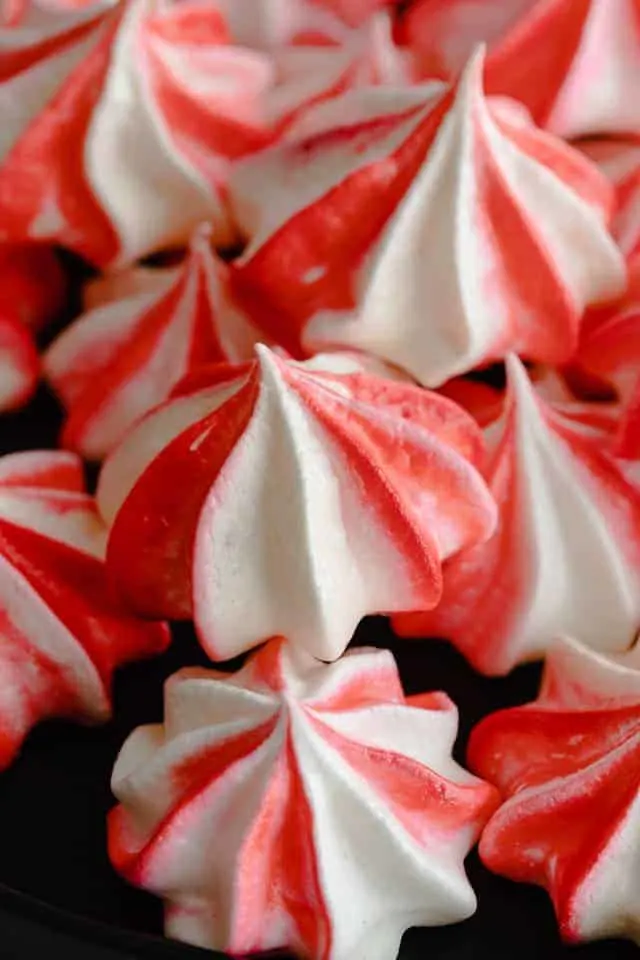 More tasty peppermint recipes for you to try
If you love peppermint around the holidays, I'm certain you will enjoy these white chocolate peppermint cookies and this peppermint fudge cake.
Did you try this recipe? I would love for you to leave me a 5-star rating or comment. This way, I have a better understanding of which recipes you like and can create more of them.
Please take a moment to follow me on Instagram, Pinterest, Facebook, Youtube or sign up for my free newsletter to never miss the newest recipes and blog updates.
You can also shop my favorite baking tools. Thank you so much for your support!