Yule Log Cake (Bûche de Noël)
This post may contain affiliate links. Read the full disclosure here.
This tasty yule log cake recipe features a delicate chocolate sponge cake wrapped around a silky cream cheese filling and covered in whipped chocolate ganache. It's festive enough to be the centerpiece at your holiday table!
I'm smitten with yule log cakes, also known as Bûche de Noël. The tradition of this Christmas cake is inspired by the custom of burning the yule log.
The traditional yule log is a chocolate cake roll filled with cream and covered in chocolate. It's often decorated to look like an actual log with bark and surrounded with marzipan mushrooms.
I put my own spin on this traditional recipe by filling it with cream cheese and decorating it with sugared cranberries and rosemary stems.
I have never made a roll cake before this so I turned to Bake from Scratch to guide me. I used their recipe as a guide and only minimal changes to it.
I found that while the cake looks complex and intimidating, it's actually quite easy. Read through the instructions first. That way you have an idea of what's ahead of you. This will make the process even easier!
I also highly recommend using weight measurements for the cake ingredients. It's important that the measurements are precise. You'll have a much better cake texture this way!
Yule log cake ingredients
There are 3 components to this yule log recipe and the ingredient list is quite long. Let's take a look…
Egg – They get whipped to add air into the cake
Sugar – Needed for sweetness
Vanilla – As always, use a high-quality extract
Flour – Just a little is needed in order to give the cake structure
Cocoa Powder – For this recipe, I used Hershey's Special Dark Cocoa
Leavener – A little baking powder is needed to help the cake rise
salt – Always add salt
Yogurt – Keeps the cake supremely tender and delicate
Oil – Keeps the cake from drying out so it won't break when you roll it
Confectioners' Sugar – Used for dusting the cake to roll it and it's used in the filling
Cream cheese – The base of the filling
Butter – Mixed with the cream cheese and confectioners' sugar to make a silky but sturdy filling
Semi-sweet chocolate – Use high-quality baking chocolate, not chocolate chips
Heavy cream – Is used to make the chocolate ganache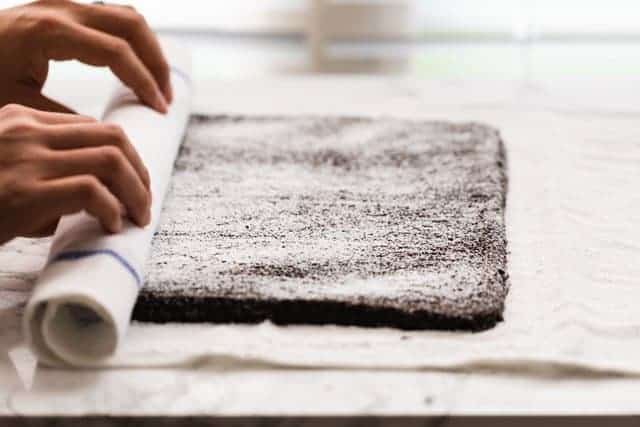 How to make a yule log?
Making a yule log cake can seem daunting but it's actually quite easy to do. Let me show you how…
1) First, make the chocolate sponge cake in a 17×12-inch jelly roll pan. Be sure to line the bottom of the pan with parchment paper and grease it well!
2) Turn the warm cake out onto a tea towel that has been generously dusted with confectioners' sugar. Remove the parchment paper and dust the top of the cake with another generous amount of confectioners' sugar.
3) Starting with the short side, roll the cake tightly with the towel and let it cool completely. This will help it keep its shape without breaking once you fill and reroll it.
4) Make the cream cheese filling then carefully unroll the cooled cake and spread the filling evenly over the cake. I like to leave a ½-inch naked border around the edges so the filling doesn't squeeze out once rolled.
5) Reroll the cake without the towel this time, and place it seam side down on a serving platter. Cover it with plastic wrap and refrigerate while you make the frosting.
6) Make the frosting by pouring warm cream over finely chopped chocolate and stirring until melted and smooth. Pop the ganache in the refrigerator for 15 minutes so it cools then whip it with an electric mixer until it becomes a spreadable consistency.
7) Cut a 3-inch piece off the end of the cake diagonally. Use a smear of ganache to attach8) the piece to the side of the cake so it looks like a branch coming out the side.
8) Spread ganache all over the cake and use the tip of a small offset spatula to create marks that resemble bark. Garnish with sugared cranberries and rosemary sprigs.
I'll leave notes at the end of the recipe with instructions on how to make the sugared cranberries and rosemary.
How to decorate yule log?
A yule log cake can be decorated in a variety of ways! My favorite way is to slater whipped ganache over it then use a small offset spatula to create marks that resemble bark on a tree. This can also be achieved by using a fork.
The traditional yule log is garnished with marzipan mushrooms but I personally like the pops of color offered by cranberries and rosemary sprigs coated in sugar.
Tips for making this yule log cake recipe?
Each component of the cake can be made a day in advance! Store the cake rolled in the towel in the refrigerator. Cover both the filling and unwhipped chocolate ganache with a plastic wrap and store in the refrigerator. Bring everything to room temperature the next day and continue with assembling the cake.
Take extra care not to overbake the cake! Overbaking it will cause it to dry out. A dry cake is near impossible to roll without it breaking.
More Christmas recipes for you to try
We love to be in the Christmas spirit! Here are a few more festive recipes that you must try this season – peppermint fudge cake, chocolate espresso spoons, eggnog cake, and eggnog cheesecake.
Tools needed
Did you try this recipe? I would love for you to leave me a 5-star rating or comment. This way, I have a better understanding of which recipes you like and can create more of them.
Please take a moment to follow me on Instagram, Pinterest, Facebook, Youtube or sign up for my free newsletter to never miss the newest recipes and blog updates.
You can also shop my favorite baking tools. Thank you so much for your support!
Slightly adapted from Bake from Scratch