This post may contain affiliate links. Read the full disclosure here.
This chewy coconut cookies recipe yields a spicy coconut flavor. The dough is laced with coconut milk and sweetened flaked coconut. You're going to love the crisp exterior of the cookie and the chewy texture of the flaked coconut!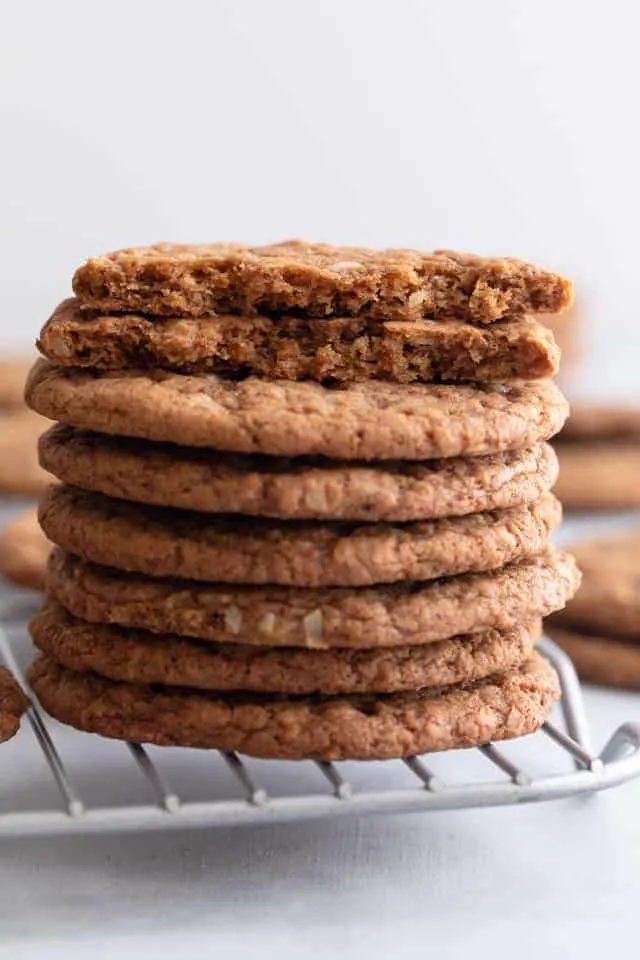 You guys love my coconut white chocolate chip cookies so much that I decided to bring you another cookie loaded with coconut! I think you're going to be quite pleased.
Typically, I make cookies are soft and chewy. Like my favorite chocolate chip cookies and butterscotch toffee cookies. But, I wanted these coconut cookies to be more on the crisp side like my butter cookies yet still have a chewy center.
I also wanted the cookies to be loaded with coconut flavor without having to use coconut extract. I hate coconut extract and try to avoid it if I can.
Remember my coconut frosting? It doesn't call for coconut extract. Instead, the frosting relies on coconut milk for flavor. So I decided to try this concept with today's cookies.
I used coconut sugar, coconut oil, and coconut milk in the cookie dough along with sweetened flaked coconut and boy was that a great idea.
These cookies are phenomenal. The dough is much like sugar cookie dough.
It's thick, soft, and bakes up into beautifully chewy cookies that are speckled with coconut. They're almost as good as macaroons!
Chewy Coconut Cookies ingredients
The ingredient list for chewy coconut cookies is pretty simple. There are a couple of ingredients you may not have on hand so I'll link to them down below:
Flour – I prefer all-purpose flour
Sweetened Flaked Coconut – This gets finely chopped so there's a bit of coconut in each bite
Leavening – Both baking soda and baking powder is needed for this recipe
Salt – To balance the sweetness
Coconut Sugar – Provides a rich color and deep flavor
Cream Cheese – Just a tiny bit for structure
Butter – Adds richness
Coconut Oil – Helps make the cookies ultra chewy
Egg – More structure and richness
Coconut Milk – Make sure you are using unsweetened coconut milk in a can
How to make coconut cookies?
This is my favorite coconut cookie ever! I'm sure you will feel the same after tasting one. Here's how to make homemade chewy coconut cookies:
Mix the flour, coconut, baking powder, baking soda, and salt in a bowl.
Beat the coconut sugar, cream cheese, and butter together until combined. It will resemble playdough at this point.
Beat in the coconut oil, egg, and coconut milk.
Add the flour mixture and beat until well combined but take care not to over mix.
Use a 1.5 tablespoon cookie scoop to portion the dough and drop 6 balls of dough onto a baking sheet lined with parchment paper or a silicone mat. Use the bottom of a drinking glass dipped in sugar to gently press the cookies flat.
Bake at 350°F for 9-11 minutes. The cookies should look slightly underbaked in the center but the edges should be set.
Cool the cookies on the pan for 5 minutes then transfer to a wire rack to cool completely.
Repeat with the remaining dough.
Tips for making chewy coconut cookies at home?
I love these cookies so much because they are not overpowering with coconut flavor. Instead, they taste spiced, much like a gingersnap. It's odd. Maybe that comes from the coconut sugar…
Anyway, if you are wanting more coconut flavor, try adding ½ teaspoon coconut extract to the dough. Just mix it in when you add the egg.
These cookies are great on their own but they are incredible with white chocolate chips mixed in! Much like my toasted coconut white chocolate chip cookies that I mentioned above.
Also, try them with chocolate chips or caramel chips!!
You can even add nuts if you wish. Macadamia nuts with white chocolate chips in a coconut cookie. YES, please!!!
These cookies spread a lot during baking. Be sure to give them plenty of space! If you put more than 6 on a baking sheet, you risk them spreading into each other.
You can make the cookies smaller by using a 1 tablespoon-sized cookie scoop. And you may be able to bake 9-12 on a baking sheet with smaller cookies.
More tasty cookie recipes for you to try
I am a huge fan of cookies! I'm pretty sure you are as well or you wouldn't be here right now. Since you love cookies so much, you should really try my no bake cookie butter cookies, soft peanut butter cookies, and sour cream cookies.
Tools needed
Did you try this recipe? I would love for you to leave me a 5-star rating or comment. This way, I have a better understanding of which recipes you like and can create more of them.
Please take a moment to follow me on Instagram, Pinterest, Facebook, Youtube or sign up for my free newsletter to never miss the newest recipes and blog updates.
You can also shop my favorite baking tools. Thank you so much for your support!