Chewy Chocolate Chip Cookies
This post may contain affiliate links. Read the full disclosure here.
These Chewy Chocolate Chip Cookies stay soft even after they've cooled. Bread flour, egg yolk, and corn syrup are what gives these cookies their chewy texture. You'll fall in love with these after just one bite!
Fresh from the oven warm, soft, and gooey are exactly the way I love to eat a chocolate chip cookie. I'm pretty certain most people feel this way as well.
Over the years, I've made various versions of this cookie in the form of chocolate chip salted caramel cookies, coconut mango chocolate chip cookies, and chocolate chunk apricot cookies. They all have a soft and chewy quality about them.
While thumbing through a Bake From Scratch magazine recently, I came across a chewy chocolate chip cookie that called for bread flour. Not all bread flour, but a small portion. Apparently, the high protein in bread flour adds to the chewiness of a cookie.
This had never crossed my mind before but it makes total sense. The higher protein content helps with gluten development. More gluten equals more chew.
But the trick is to not overdo it with bread flour or the cookies will be too dense.
---
How to make chewy chocolate chip cookies from scratch?
My first tip is to cream the butter and sugars together really well. Let the mixer run for 4 minutes. Stop a few times during the process and scrape down the sides of the bowl with a rubber spatula. You want the mixture to be fluffy.
The rest of the ingredients are pretty much staple ingredients in all my cookie recipes: egg, egg yolk, vanilla, all-purpose flour, bread flour, corn syrup, baking soda, salt, and chocolate chips.
I've never used bread flour in cookies before. But we're adding it today because it helps with gluten development yielding a supremely chewy cookie.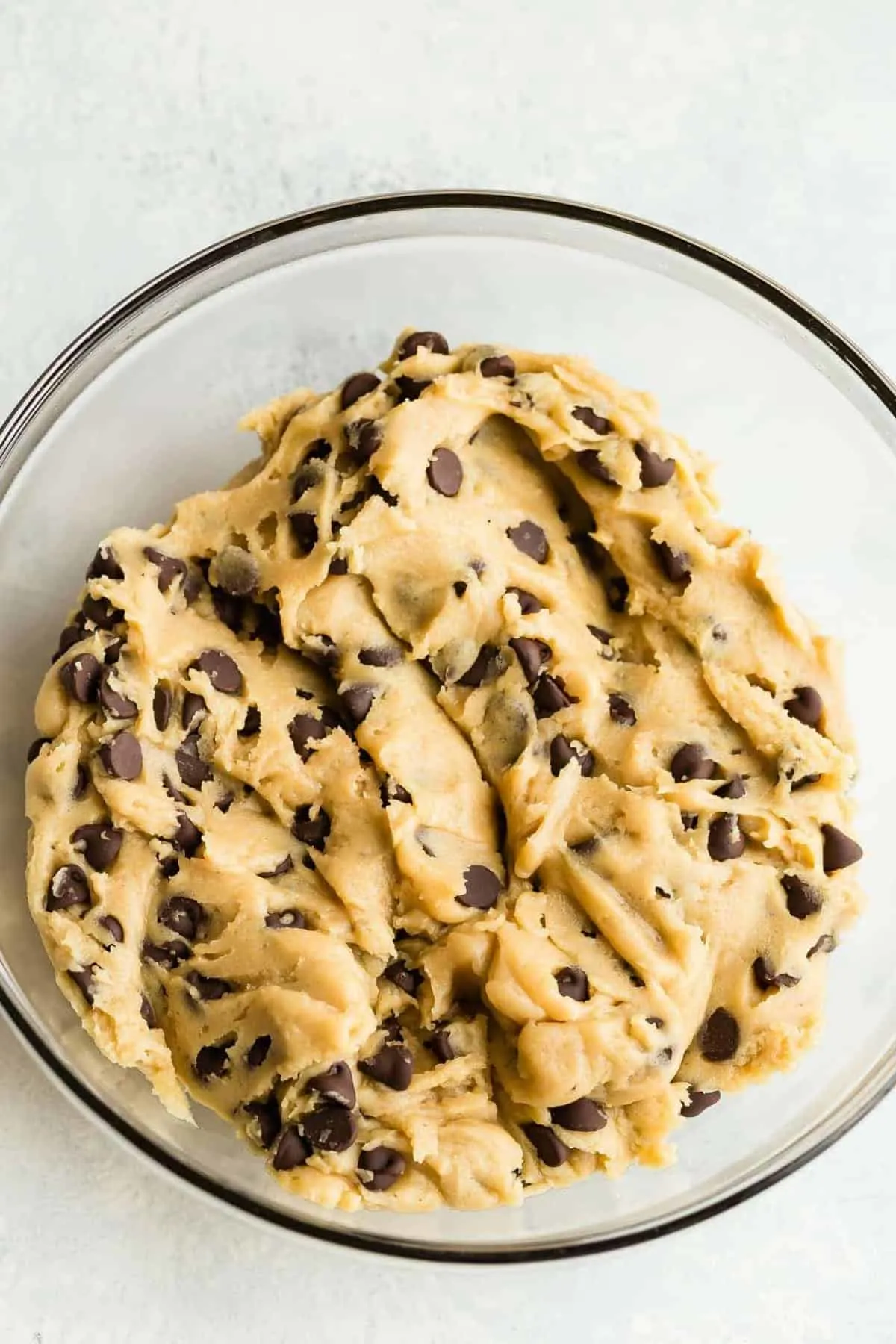 The biggest tip I can give you is to let the dough sit in the refrigerator for at least four hours before rolling and baking. This will prevent the cookies from spreading too much during baking. The cookies actually turn out even better if the dough sits overnight.
The cookies actually turn out even better if the dough sits overnight. And it will keep for up to four days so you have plenty of time to bake them after making the dough.
My best tip for ensuring the cookies bake up thick is to roll the dough balls a tad bit taller. This will keep them from spreading too much and they'll come out of the oven very thick and puffy. as the cookies cool, they'll deflate some but keep their thick, chewy texture.
It's always wise to keep an eye on the cookies as they bake. Oven temperatures vary which will cause the cooking time to vary. Bake them just until the edges are golden but the centers still look soft and just slightly under-cooked.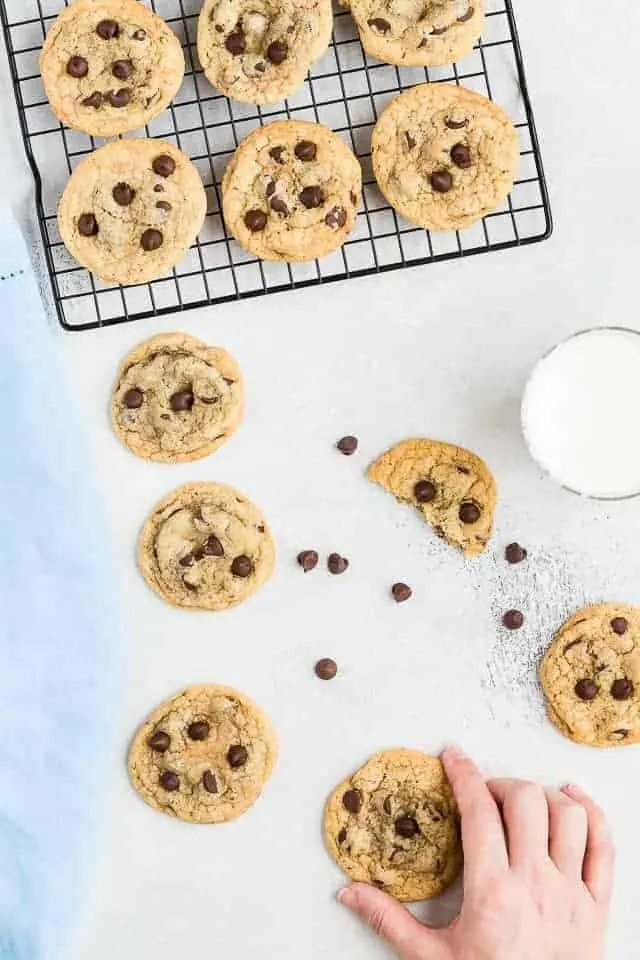 Did you try this recipe? I would love for you to leave me a 5-star rating or comment. This way, I have a better understanding of which recipes you like and can create more of them.
Please take a moment to follow me on Instagram, Pinterest, Facebook, Youtube or sign up for my free newsletter to never miss the newest recipes and blog updates.
You can also shop my favorite baking tools. Thank you so much for your support!
Adapted from Bake From Scratch