Soft and chewy Chocolate Chip Salted Caramel Cookies combine everyone's favorite flavors! Basic chocolate chip cookies with the addition of caramel and a sprinkle of sea salt are certain to make you swoon.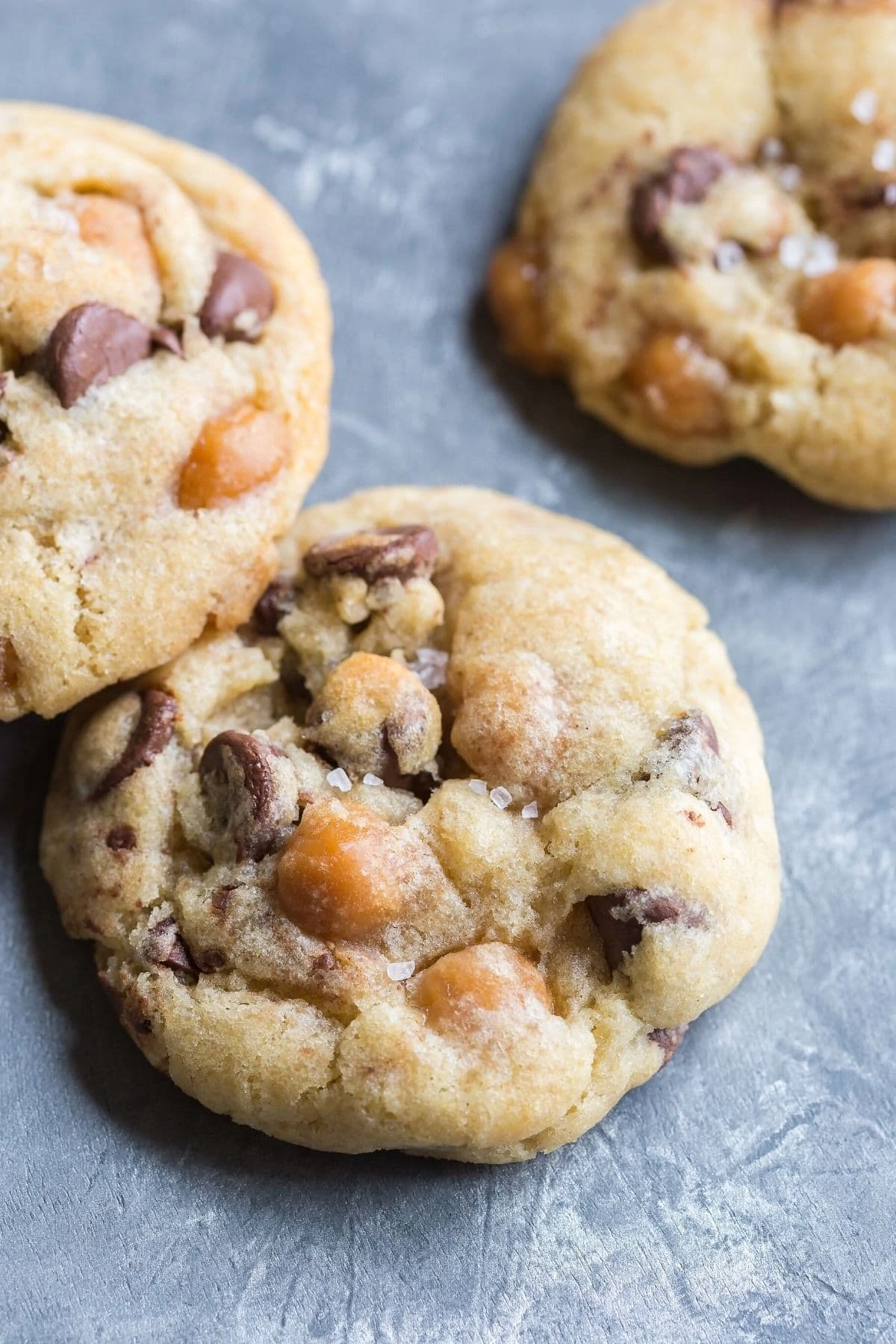 Everyone loves classic chocolate chip cookies. Am I right? And most everyone I know loves salted caramel.
So, why not combine the two?
That's exactly what I did with these cookies and it turned out to be a great recipe!
I took my butterscotch toffee cookies recipe, it's my favorite, and made minor changes to create a new cookie flavor that is absolutely fabulous.
This salted caramel cookie recipe came out soft, chewy, slightly salty, and packed full of chocolate chips.
The dough does need to be chilled once it's mixed up so make sure to allow time for this. I like to make the dough the night before I plan to bake the cookies. It saves so much time by doing it this way.
Whip up the cookie dough, roll the dough into balls, and refrigerate them on a baking sheet until you're ready to bake them. So, so easy!
Baking soda is used instead of baking powder so the cookies have the classic chocolate chip cookie texture.
I used soft caramel candies that I cut into small bits. You can also use caramel chips if you can find them in your area.
Just before baking the cookies, dip the top of the balls into coarse sea salt. The sea salt will stick to the unbaked dough and then set in place as the cookies bake.
I like this method better than sprinkling the cookies with salt after they've baked.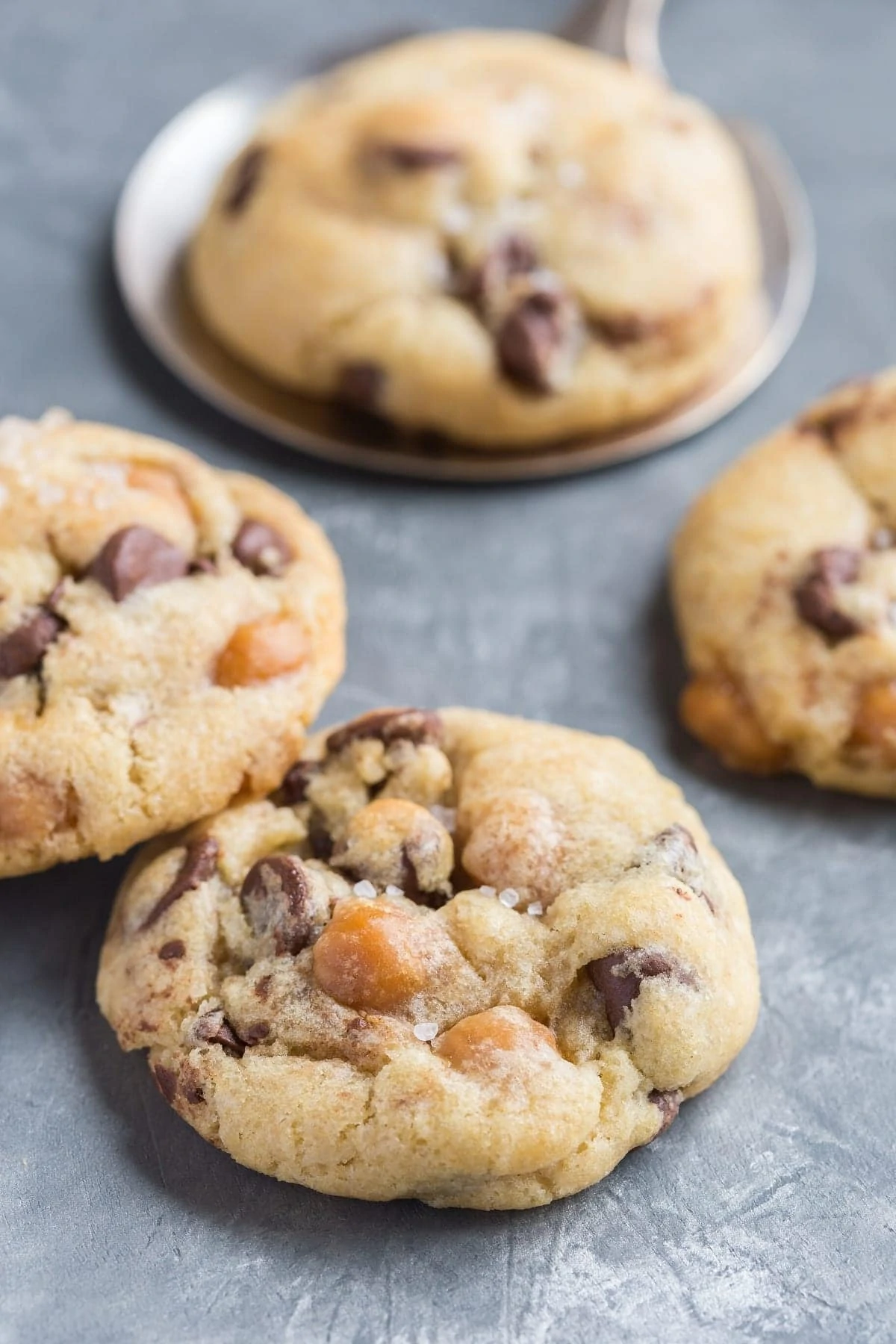 I'm sure you are going to enjoy this recipe as much as I do. It has a wonderful sweet and salty flavor with chewy caramel.
And the best part about it is, the cookies stay soft and fresh for days!
It's been a week since I baked them and the ones remaining in my ziplock bag are still soft and chewy.
Tips for making salted caramel chocolate chip cookies
Don't overbake the cookies! Remove them from the oven once they are lightly browned around the edges but look just undercooked in the middle.
Chill the cookie dough. Letting the dough rest in the refrigerator overnight will meld the flavors and help to keep the cookies from spreading too much.
More cookie recipes you'll love
NEED MORE BAKING IDEAS? Subscribe to our newsletter and Youtube channel. Also, follow along on Facebook, Instagram, and Pinterest for all the latest updates!
Chocolate Chip Salted Caramel Cookies
Prep Time:
2 hours
20 minutes
Total Time:
2 hours
32 minutes
Soft and chewy Chocolate Chip Salted Caramel Cookies combine everyone's favorite flavors! Basic chocolate chip cookies with the addition of caramel and a sprinkle of sea salt are certain to make you swoon. Made with basic cookie ingredients, this recipe comes together rather fast. The dough does require chilling, so time should be allotted for that. But the wait is so worth the reward!
Ingredients
2 cups (260g) all-purpose flour
1 teaspoon baking soda
1 teaspoon cornstarch
½ teaspoon salt
½ cup (113g) unsalted butter, softened
½ cup (105g) light brown sugar, packed
½ cup (100g) granulated sugar
1 large egg, plus 1 egg yolk
1 ½ teaspoons vanilla extract
1 cup (170g) semisweet chocolate chips
1 cup (100g) soft caramel candies cut into small pieces
1 - 2 tablespoons coarse sea salt
Instructions
In a medium bowl, combine the flour, baking soda, cornstarch, and salt; stir with a whisk. Set aside.
Beat the butter and both sugar sugars together in a large bowl using a stand mixer with a paddle attachment or a hand-held mixer on low speed just until combined. Beat in the egg, egg yolk, and vanilla. Stir in the flour mixture just until well blended. Fold in the chocolate chips and caramel pieces.
Roll cookie dough into 1 and ½ to 2 tablespoon sized balls and place them 2 inches apart on a baking sheet lined with a silicone mat. Cover and refrigerate for 2 hours.
Preheat the oven to 350ºF. Gently press the top of each dough ball into the sea salt and return to the baking sheet. Bake cookies for 10-12 minutes or until lightly brown and just under done. Cool the cookies on the pan for 10 minutes. Remove from the pan and cool completely on a wire rack.
Make ahead tip
The cookies will keep for up to one week stored at room temperature in an airtight container. The dough can be made ahead and stored in the refrigerator for up to 3 days. Bring the dough to room temperature and continue with step 3, skipping the instruction to refrigerate for 2 hours.
Freeze baked cookies for up to 3 months. Freeze unbaked cookie dough balls for up to 3 months. Bring to room temperature and bake as directed.
Recommended Products
As an Amazon Associate and member of other affiliate programs, I earn from qualifying purchases.
Nutrition Information:
Yield:

30
Amount Per Serving:
Calories:

119
* Percent Daily Values are based on a 2000 calorie diet. Since different brands of ingredients have different nutritional information, the values shown are just an estimate.