This post may contain affiliate links. Read the full disclosure here.
Buttery Jam Biscuits are much like angel biscuits in the way they use both yeast and chemical leavening agents. Anyone can make them since this recipe is practically no-fail! The result is a supremely buttery, light biscuit with a pocket of jam nestled inside. Use your favorite flavor jam or choose one that fits the current season!
This is a sponsored post written by me on behalf of Red Star Yeast.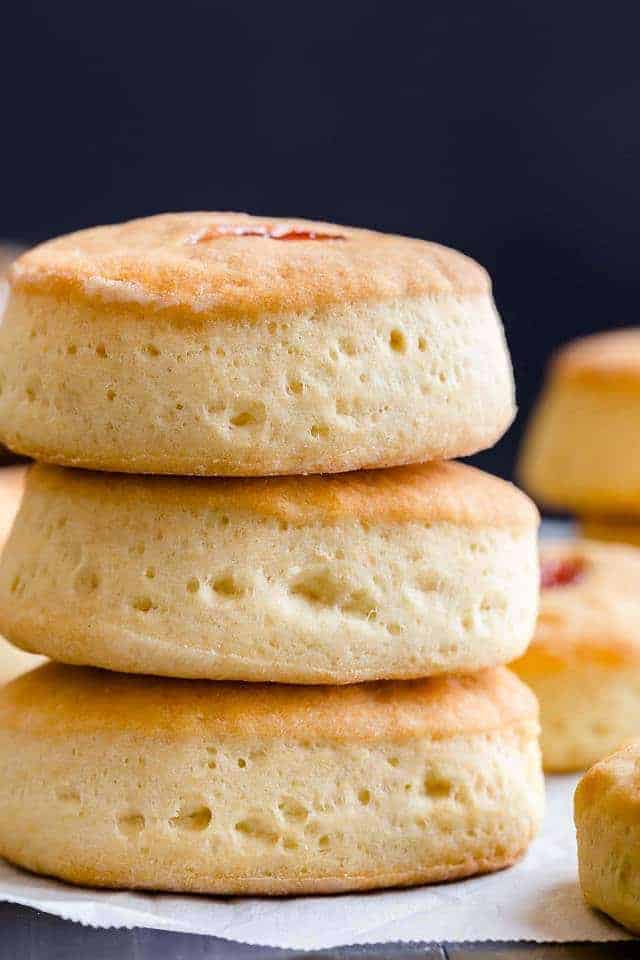 I can't even begin to tell you how excited I am about today's recipe!
Growing up, biscuits were always a staple in our house. They were served at every dinner. So buttery, flakey, and uber delicious. Made from scratch biscuits just can't be beaten.
But, we didn't always make biscuits from scratch. Sometimes shortcuts were needed and instead of homemade biscuits, we'd get refrigerated ones.
When I began helping out in the kitchen, I wanted to learn to make homemade biscuits in order to avoid eating the ones from the can. Can you believe I actually had difficulty making biscuits from scratch?
I still do, unless it's a parmesan buttermilk drop biscuit or a honey cream cheese biscuit.
I don't know why, but I always end up with a dry, cardboard-like, block of bead whenever I make cut out biscuits from scratch.
Until recently.
Have you ever heard of angel biscuits? They call for yeast, baking powder, and baking soda. All the leavening yields the most tender and light biscuit you will ever sink your teeth into.
I took this concept and turned it into a buttery jam biscuit. You may be wondering exactly what that is.
It's an angel biscuit made with lots of butter and perfectly sweet jam fills the center. They are gorgeous. And tasty.
To make sure the dough would rise, I used Red Star Quick Rise Yeast. The manufacture drying process reduces the moisture content, allowing the yeast to have a long shelf life while retaining optimum activity. You just mix it right in with the dry ingredients and add a warm liquid. It's such a time saver and so perfect for these buttery jam biscuits!
The dough is pretty standard for biscuits. It calls for flour, sugar, baking powder, baking soda, and salt. Then you have the addition of the quick rise yeast. All that gets whisked together until well blended.
When adding the yeast to the dry ingredients, be sure not to let it touch the salt until it's all mixed in. Salt will kill the yeast if it comes in direct contact.
Next, cut the butter in. I like to use semi-softened butter. Cold butter will reduce the temperature of the warm liquid that is needed to activate the yeast. So set the butter out and allow it to come to just below room temperature before adding it to the dough.
The recipe calls for 1 cup of buttermilk but you may not need the entire cup. First, warm the milk to 120°F. It may look lumpy and curdled. This is normal. Add half a cup to the dry flour mixture and stir with a wooden spoon. Gradually add more milk as needed to form a damp, shaggy dough.
Once the dough has come together, it's time to knead it. On a floured work surface with well-floured hands, knead the dough but folding it in half and pushing out with the heel of your hand, refolding and pushing out, and turning the dough as you go. Do this until the dough is tender.
Roll the dough out to a ½-inch thickness, fold it in half, and roll it out to a ⅔-inch thickness. Use a well-floured 2-inch round biscuit cutter to cut out the biscuits. Take care not to twist the cutter as you cut. Twisting will pinch the seams and the biscuits will bake up misshapen.
Arrange the neatly cut biscuits on a baking sheet lined with parchment paper and now we can fill them with jam!
Use a sharp knife to cut a 1 inch opening in the top of the biscuit. Hold the knife at an angle and cut just halfway through the dough. Use a piping bag to easily fill the opening with about 1 teaspoon of jam.
Cover the biscuits with plastic wrap and allow them to rise for about 10 to 15 minutes. Once they've puffed up a bit, they are ready to go in the oven.
If you love these biscuits, give this Rosemary Cheese Bread a try!
For more recipe inspiration, follow Red Star Yeast on Instagram, Facebook, Pinterest, Twitter, Google Plus.
Did you try this recipe? I would love for you to leave me a 5-star rating or comment. This way, I have a better understanding of which recipes you like and can create more of them.
Please take a moment to follow me on Instagram, Pinterest, Facebook, Youtube or sign up for my free newsletter to never miss the newest recipes and blog updates.
You can also shop my favorite baking tools. Thank you so much for your support!