Rosemary Cheese Bread (Dutch Oven)
This post may contain affiliate links. Read the full disclosure here.
This rosemary cheese bread recipe is a chewy with a crisp crust. This simple no-knead recipe is baked in a Dutch oven. A simple mix and an overnight rise are all that is required to prepare this bread for baking. This is one yeast bread you are sure to love time and time again.
I adore yeast bread. I find the kneading to be therapeutic! Plus, the smell of fresh bread baking is just amazing. It's one of the most pleasurable baking experiences.
This no-knead bread recipe is a great starter bread.
You can find several yeast bread recipes in the archives but some of my favorite are these buttery jam biscuits, slow cooker bread, and rosemary olive beer bread. Today's Rosemary Cheese Bread recipe is actually adapted from the beer bread.
I swapped out the beer for water, added Gruyere cheese, black pepper, and left out the olives. The resulting recipe is cheesy, tender and delicious. It's the perfect accompaniment to almost any dinner.
Keep in mind this recipe requires an overnight rise and a second rise just before baking. Be sure to plan ahead to give yourself enough time.
Baking the bread in a Dutch oven will give the exterior a crunchy crust while the inside is moist and tender. The Dutch oven needs to be hot when you put the bread in – don't skip this step.
Set it in the oven with the lid on and preheat the oven while the dough is on its second rise. This will ensure that you do get a crunchy crust on the outside.
I like the no-knead method for making yeast dough because it's practically no fail. As long as your yeast is fresh and alive, you will have success.
The fact that you made the bread from scratch is totally satisfying. The smell of it baking and the taste of gooey cheese and the savory rosemary is almost intoxicating.
The result of the double rise and the Dutch oven baking method is a tender, crisp rosemary cheese bread that you and your family are sure to enjoy.
---
Recipe Snapshot
TASTE: Cheesy and herby
TEXTURE: Tender on the inside, crispy on the outside
EASE: Not difficult, but requires a bit of attention and time
TIME: 1 hour 15 minutes plus an overnight rise
---
What You'll Need
It always amazes me that simple ingredients like flour and water can combine to make something as delicious and chewy as this rosemary herb bread. Ahhh… science.
Ingredients
Bread flour – Bread flour has higher protein content than all purpose flour, which makes more gluten when baking, creating a chewier bread.
Salt and pepper – Balances the flavor
Active Dry Yeast – Makes the bread rise, creating the magic
Lukewarm water – Activates the yeast
Gruyere cheese – Provides a nutty, sophisticated flavor.
Rosemary – Use fresh rosemary, not dried.
Cornmeal – For the crust.
Recommended Tools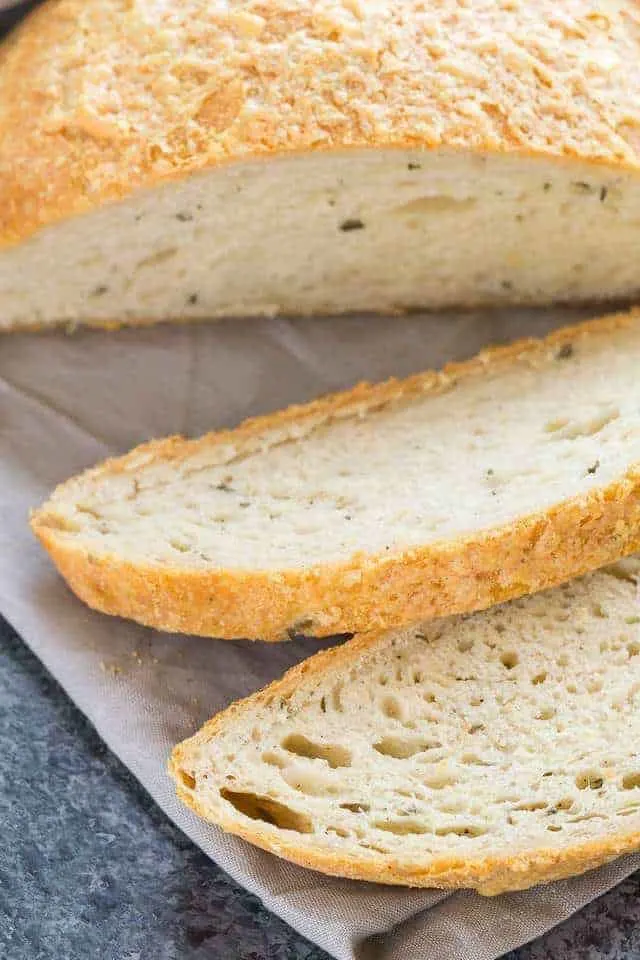 How to Make Rosemary Cheese Bread
Making bread can seem intimidating, but once you get the hang of it, you'll make this over and over again. There is no comparison between this bread and store bought.
Be sure to check out the full recipe and ingredient list below
Combine the ingredients. In a large bowl, combine the flour, salt, pepper, yeast, ¾ cup of the cheese, and rosemary. Stir with a whisk. Slowly pour in the water. Stir with a wooden spoon until well blended and the dough forms into a ball.
First rise. Cover the bowl with plastic wrap and let it set on the counter overnight, 8-24 hours.
Second rise. Turn the dough out onto a lightly floured surface. With well-floured hands, flatten the dough into a 9-inch circle, then fold it over onto itself and shape it into a ball. Place the dough into a lightly greased bowl that is smaller than the Dutch oven you plan to bake it in. Cover the bowl with a tea towel and let rise for 2 hours or until doubled in size.
Preheat. Preheat oven to 450. Position the oven rack to the lower third of the oven and set a 4 to 6-quart Dutch oven on the rack to heat.
Bake. Once the dough has risen, remove the Dutch oven from the oven. Sprinkle the bottom of pan with cornmeal. Place the dough inside and sprinkle the top with remaining cornmeal. Put lid on the pan and bake for 30 minutes. Remove the lid and sprinkle bread with remaining cheese. Bake uncovered for an additional 15 -20 minutes. Turn the bread out of the pan and place it on a wire rack to cool completely.
Handy tip:
Make sure to use bread flour when making this recipe. The extra gluten proteins in the flour will help in the no-knead process and create a tender, chewy bread despite the lack of kneading.
Tips For Success
When mixing the ingredients, remember to place the salt and yeast on opposite sides of the bowl because salt will kill yeast if it comes in direct contact.
Stir in warm water as the last ingredient, after all others are mixed. Use a wooden spoon for this because it's sturdy and you'll need a strong stirring utensil. Keep stirring, with a little arm strength, until the dough comes together in a ball. It will be "ready" when it no longer sticks to the side of the bowl.
I like the flavor of rosemary with the gruyere cheese, but feel free to use any assortment of herbs that you like.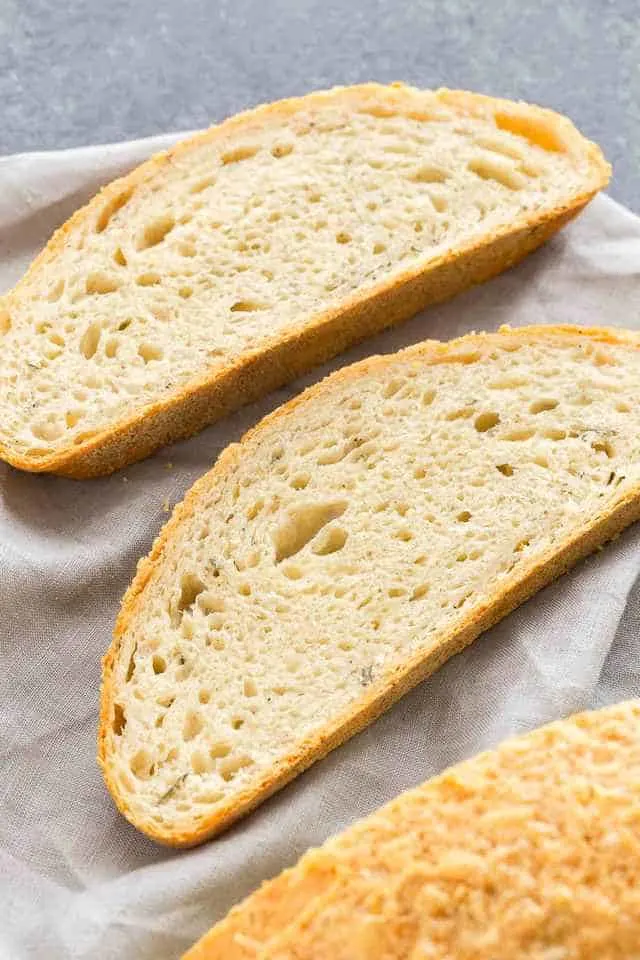 Storage & Freezing
Freeze this bread for up to a month in the freezer. If you keep it wrapped in tin foil or plastic wrap on your counter, don't expect it to last long. Not because it will spoil but because no one will be able to resist.
Homemade bread recipes have so much more flavor and texture than store bought. Here are some of my favorites.
Did you try this recipe? I would love for you to leave me a 5-star rating or comment. This way, I have a better understanding of which recipes you like and can create more of them.
Please take a moment to follow me on Instagram, Pinterest, Facebook, Youtube or sign up for my free newsletter to never miss the newest recipes and blog updates.
You can also shop my favorite baking tools. Thank you so much for your support!
Printable Recipe