This post may contain affiliate links. Read the full disclosure here.
This no-bake berry cheesecake is a delicious, creamy dessert that's perfect during the hot summer months! It's sure to be your new favorite dessert.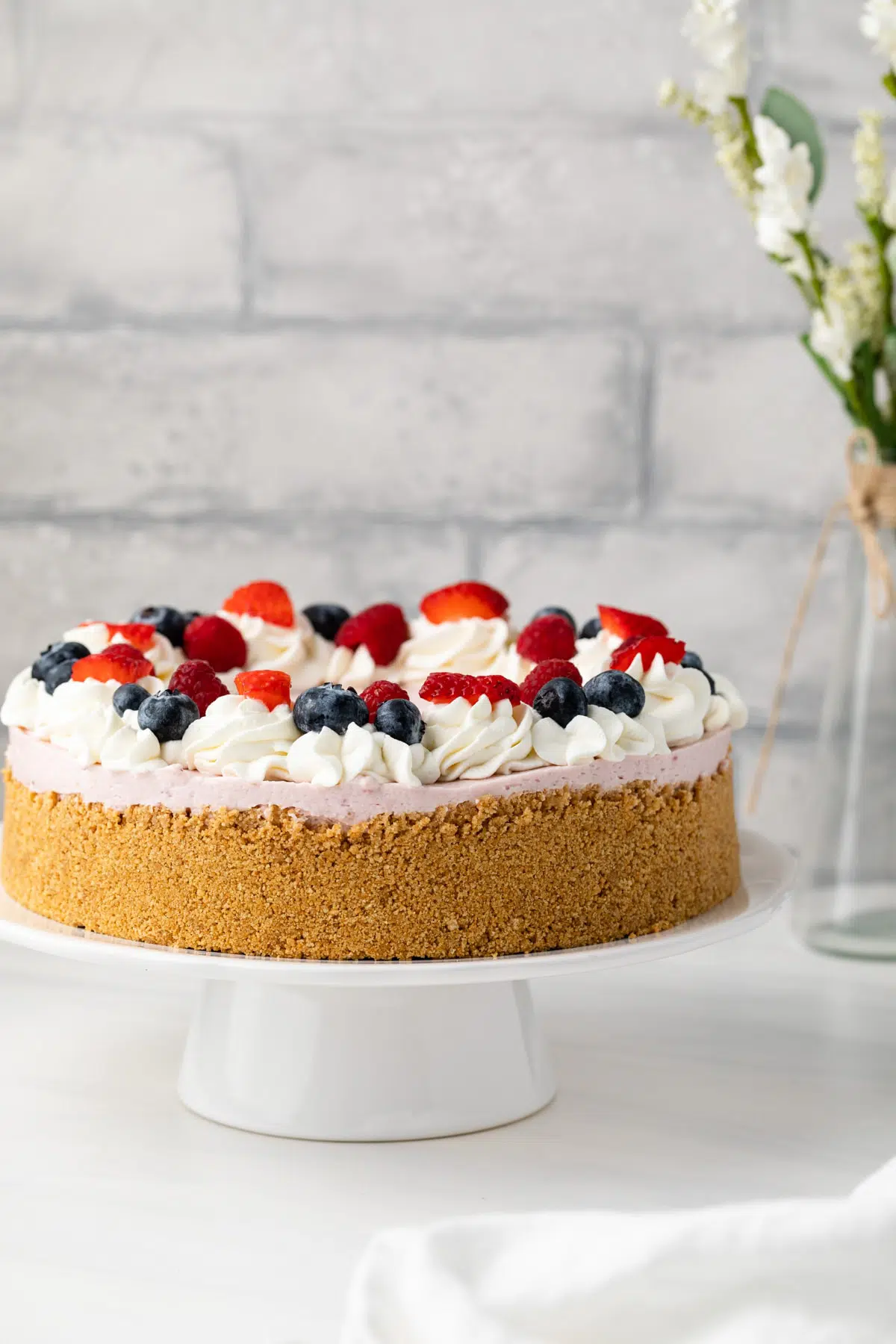 This recipe is made with tons of fresh berries, cream cheese, and homemade whipped cream. This recipe doesn't require gelatin so it remains smooth and creamy.
Oh, my heavens! I just can't get enough no-bake cheesecake in my life. It's by far one of my favorite desserts. You really loved my no-bake strawberry cheesecake and no-bake snickers cheesecake so I think today's no-bake recipe is going to win you over as well. It's so decadent you'll want to have more than one slice.
Typical baked cheesecakes can be a bit tricky with water baths and cracking crusts and so forth. Who needs to worry about that in the easy, breezy days of summer? This no-bake version is a no-brainer. It is seriously so easy. And so, so good.
This mixed berry cheesecake is one of those desserts that you will want to make all summer long. Just like this no bake strawberry cheesecake, it is perfect for a spring or summer cookout during a warm, sunny weekend.
The filling is made with cream cheese, sugar, berries, and whipped cream. I used a mixture of strawberries, blueberries, and raspberries but you can mix and match any way you like.
The cheesecake needs to refrigerate for at least 6 hours so make sure to plan ahead. You could even make it the night before you need it.
---
Recipe Details
Taste – Fresh and delicious.
Texture – Creamy, melt in your mouth filling atop a crunchy graham cracker crust.
Ease – Super easy.
Time – You need to plan ahead as this needs to refrigerate for six hours.
---
What You'll Need
Ingredients
Berries: A blend of strawberries, blueberries, and raspberries.
Sugar: Granulated white sugar is best here.
Cornstarch: This will thicken the sauce a bit.
Graham cracker crumbs: Make your own from the crackers or buy the crumbs.
Melted butter: I always use unsalted butter when baking (or no-baking).
Cream cheese: Please, use full fat and the brick, no whipped or light cream cheese.
Sugar: Granulated sugar for sweetness.
Vanilla extract: For a slight vanilla flavor.
Pinch of salt: Just for balance.
Heavy cream: This should be cold. And please don't substitute with milk.
Recommended tools
Springform pan: If you love cheesecakes, it really is important that you invest in a springform pan. They're not expensive and it will make a world of difference.
Mixer: This recipe also is made far easier by using a stand mixer and a ninja chopper to chop up the graham cracker crumbs.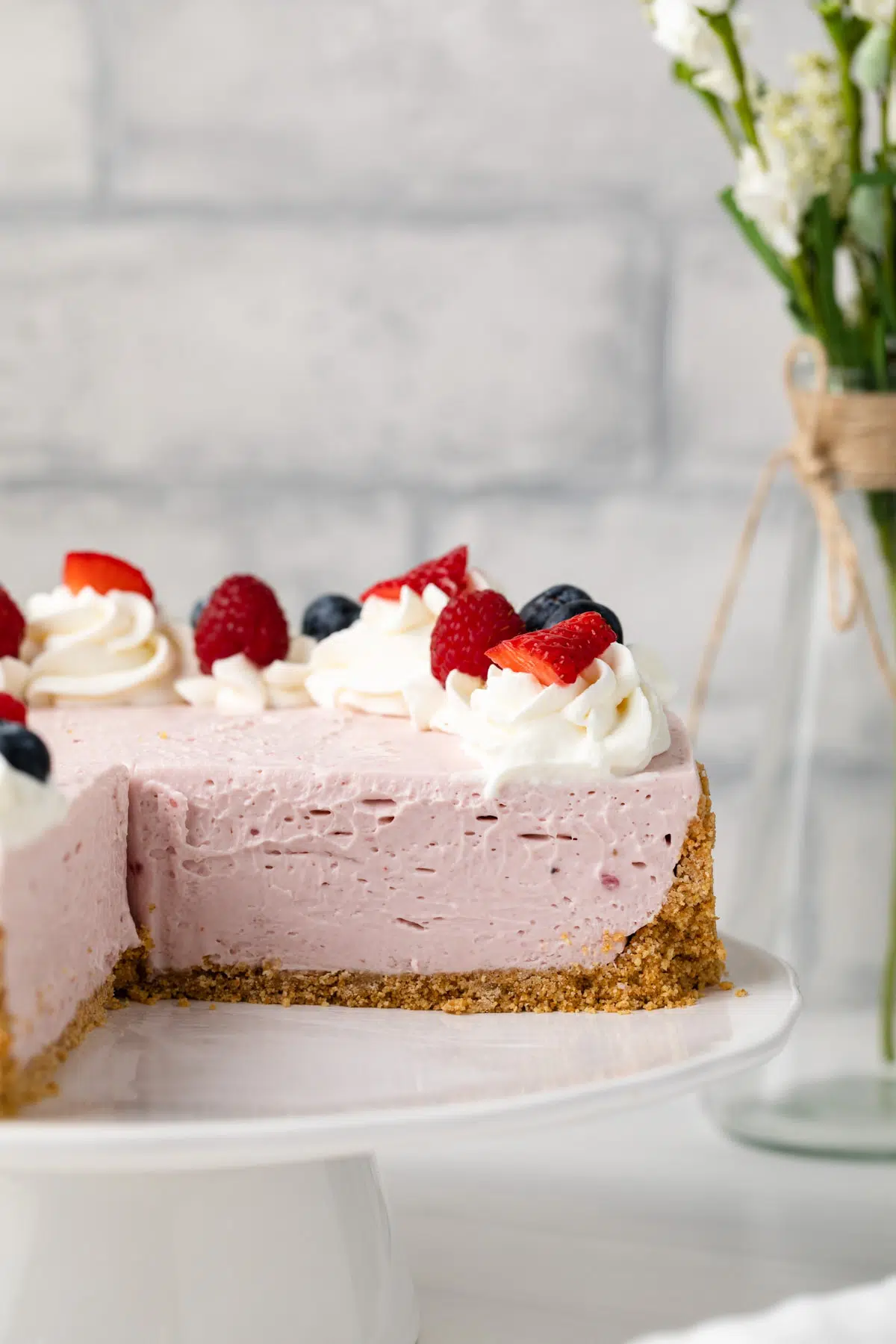 How to Make No Bake Berry Cheesecake
We'll make this no bake berry cheesecake in three steps. First, make the sauce. Then the crust, then make the filling before combining it all together.
Make the sauce
Combine the berries in a blender or food processor. Puree and until smooth. Press through a fine-mesh sieve into a medium saucepan, discarding the pulp.
Whisk in the sugar and cornstarch and cook over medium heat until very thick and jammy. Set aside to cool to room temperature.
Make the crust
Prepare the springform pan by lining it with parchment paper.
Combine the graham cracker crumbs and melted butter in a medium bowl. Stir to fully coat the crumbs in the butter. Press tightly into the bottom and 1 inch up the sides of the prepared pan. Freeze while you make the filling.
Make the filling
In the bowl of a stand mixer fitted with the paddle attachment or in a large bowl using a handheld electric mixer, beat the cream cheese, sugar, vanilla, and salt together on medium speed until smooth and creamy.
In a separate medium bowl using a handheld electric mixer, beat the cold heavy cream on medium-high speed until stiff peaks form.
Add the berry jam to the filling. Continue to mix until well incorporated
Fold the whipped cream into the cheesecake mixture until fully combined.
Spread the filling into the prepared crust and use a spatula to smooth.
Cover and refrigerate for 6-8 hours or overnight until fully chilled and set.
Just before serving, garnish with berries and whipped cream if desired.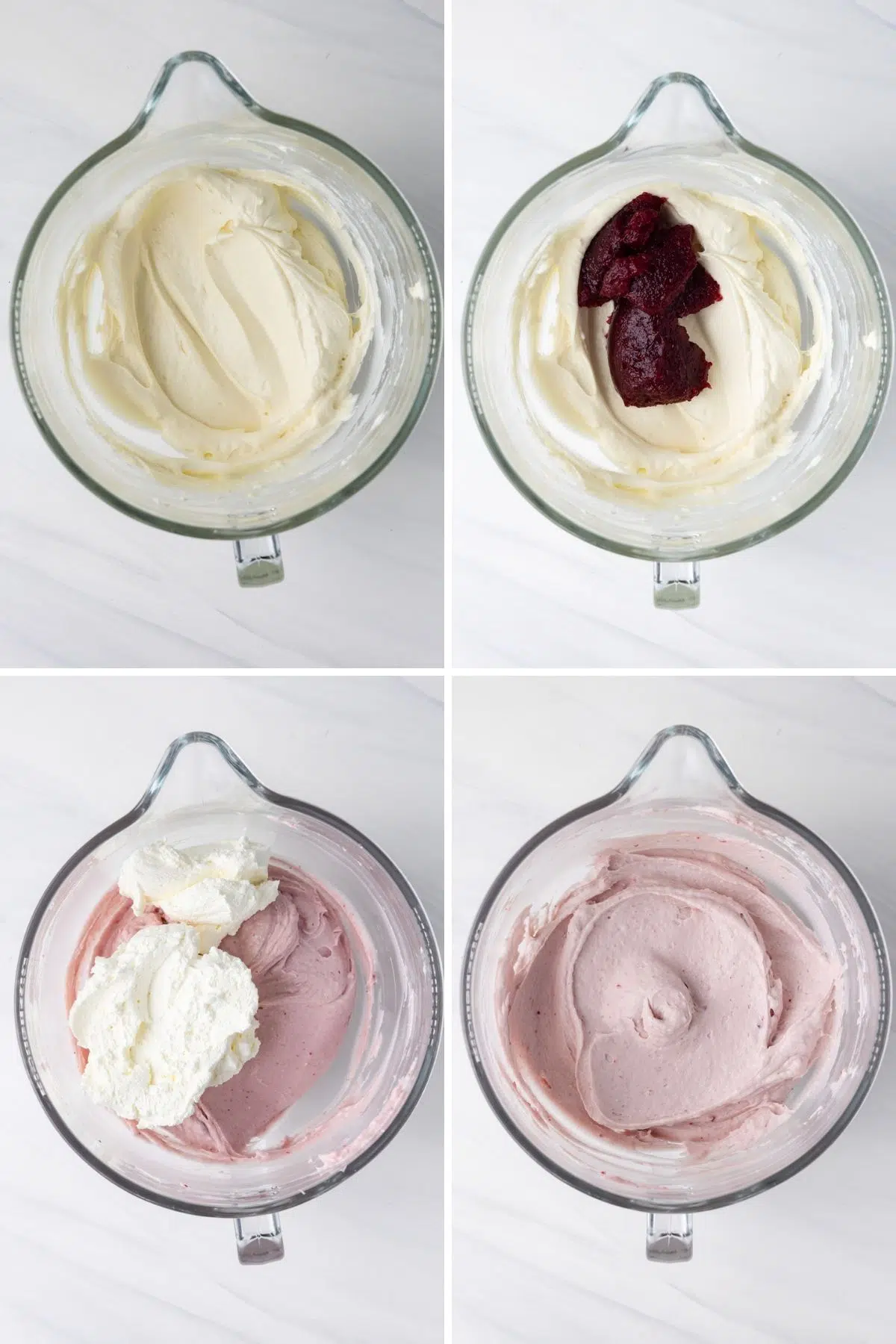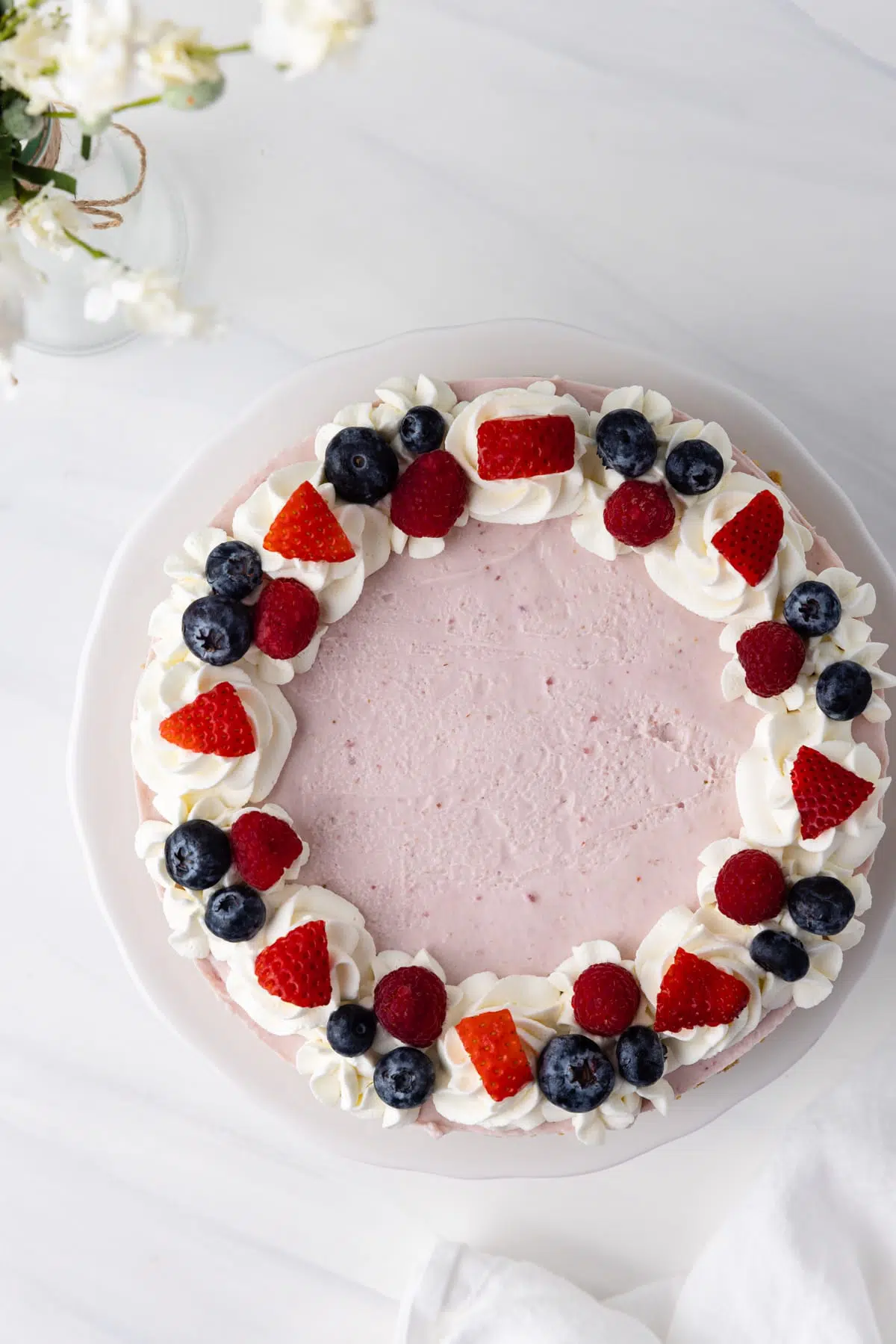 Tips For Success
Cream cheese: This recipe works best with full-fat brick-style cream cheese. The whipped stuff in a tub is too soft.
Use an offset spatula if you have one to smooth the surface of the cheesecake before refrigerating it.
---
Recipe FAQs
Can I use frozen berries?
Yes! This doesn't have to be an only in the summer dessert! You can use frozen berries, and you can mix up the variety of berries depending on what you have available.
Storage & Freezing
The assembled cheesecake will keep for up to 5 days stored covered in the refrigerator.
After the cheesecake has been refrigerated for 8 hours, you can transfer it to the freezer. Wrap the entire pan in plastic wrap followed by a layer of aluminum foil. It will keep for up to 3 months. Thaw in the refrigerator overnight before serving.