No-Bake Snickers Cheesecake
This post may contain affiliate links. Read the full disclosure here.
Decadent and silky No-Bake Snickers Cheesecake will satisfy all your dessert cravings. The creamy cheesecake filling is speckled with chopped Snickers candy bars and sits over a buttery graham cracker crust.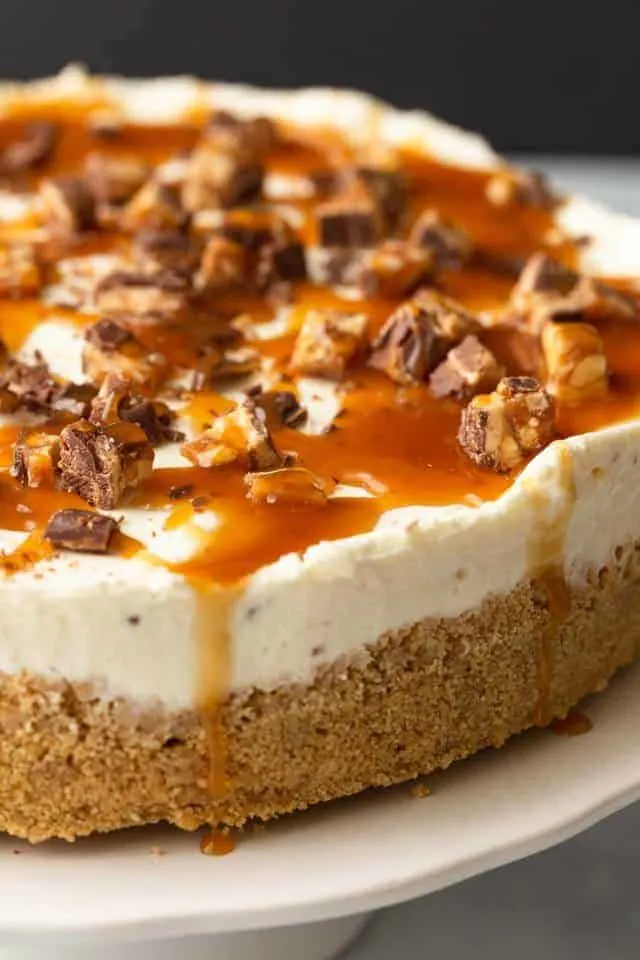 No-Bake Snickers Cheesecake
This is a fabulous recipe adapted from my latest no-bake cheesecake recipe. It's absolutely sinful!
It's comprised of a sweet, creamy cheesecake filling speckled with chopped Snickers candy bars. The filling sits nestled in a buttery graham cracker crust and it's topped with homemade caramel sauce.
I got the idea for today's cheesecake from my Butterfinger cheesecake. It's a baked version made with Butterfinger candy bars instead of Snickers.
That one always gets rave reviews so I decided to transform it into another fun candy bar inspired cheesecake that's perfect for summer.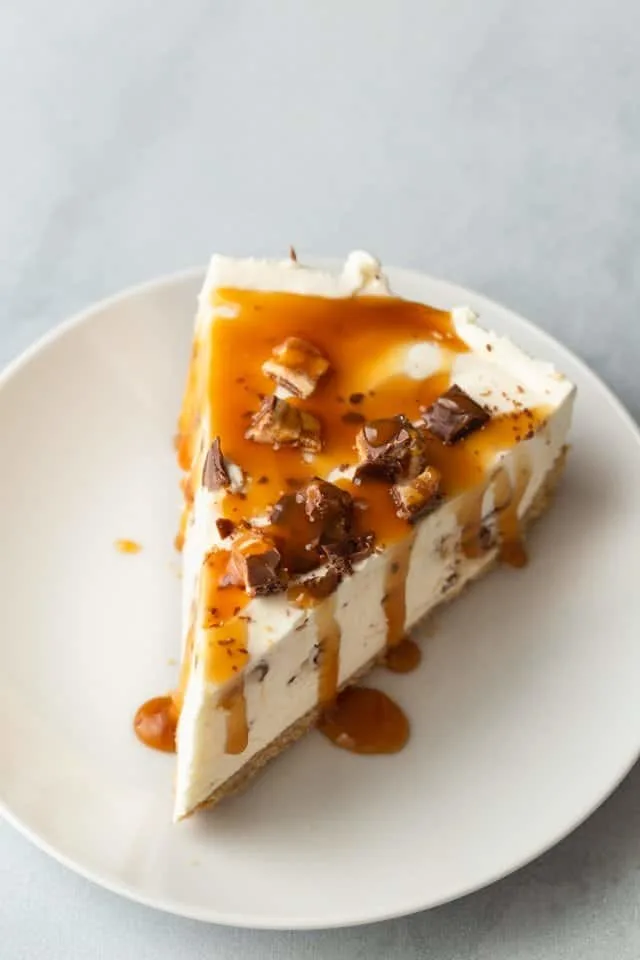 How to make creamy no-bake cheesecake filling?
The trick to getting a creamy no-bake cheesecake filling is to use full-fat block cream cheese, confectioners' sugar, and heavy whipping cream.
Whip these together until the filling is thick and stiff. It will be firm enough to hold its shape yet creamy enough to melt across the tongue.
---
Main ingredients for no-bake snickers cheesecake
Graham cracker crumbs – this combined with melted butter make up the crust for the cheesecake.
Cream cheese – look for full-fat cream cheese that comes in block form.
Confectioners' sugar – make sure the ingredients contain cornstarch. This is needed to give the cheesecake the right texture.
Heavy whipping cream – when whipped, the cream will become super thick and stiff. This is needed to give the filling structure.
Snickers candy bars – chopped Snickers go inside the filling and on top. I refrigerate the candy bars to make them easier to chop.
Caramel sauce – you can use homemade or store-bought caramel sauce.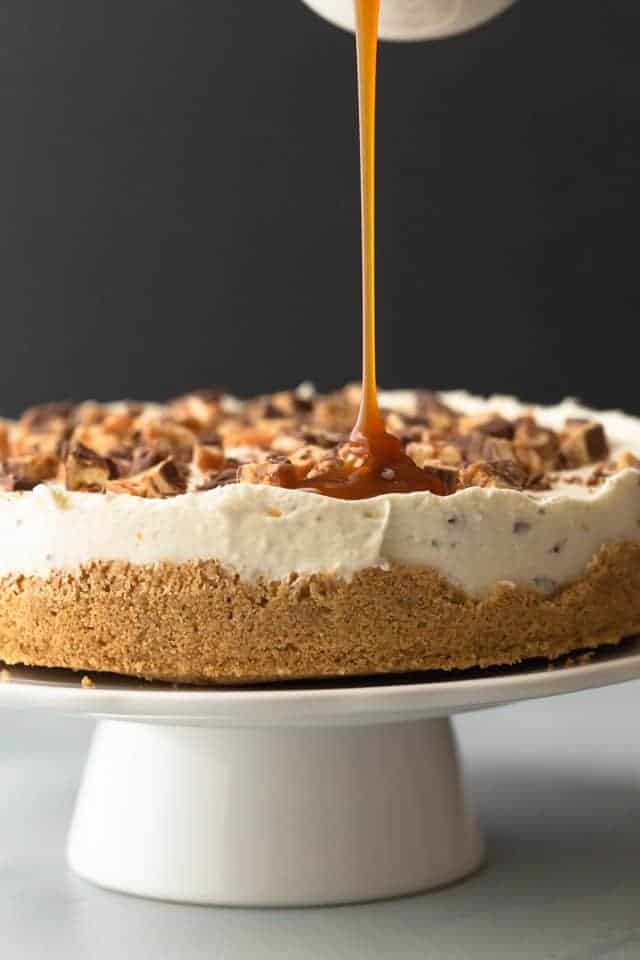 How to make no-bake snickers cheesecake?
Step 1: Make the crust
Combine the graham cracker crumbs and melted butter then press it firmly into the bottom of a springform pan. Freeze the crust while you make the filling.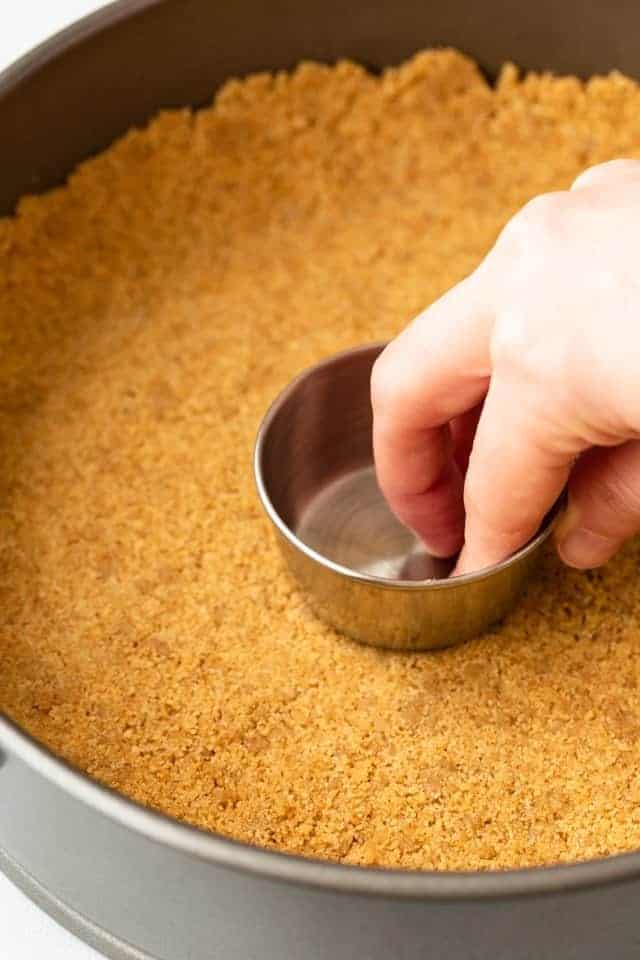 Step 2: Make the filling
Combine the ingredients for the filling, adding one at a time and mixing well after each addition. When you add the cream, beat the filling on high speed until it's thick and stiff. Gently fold in the chopped snickers candy bar.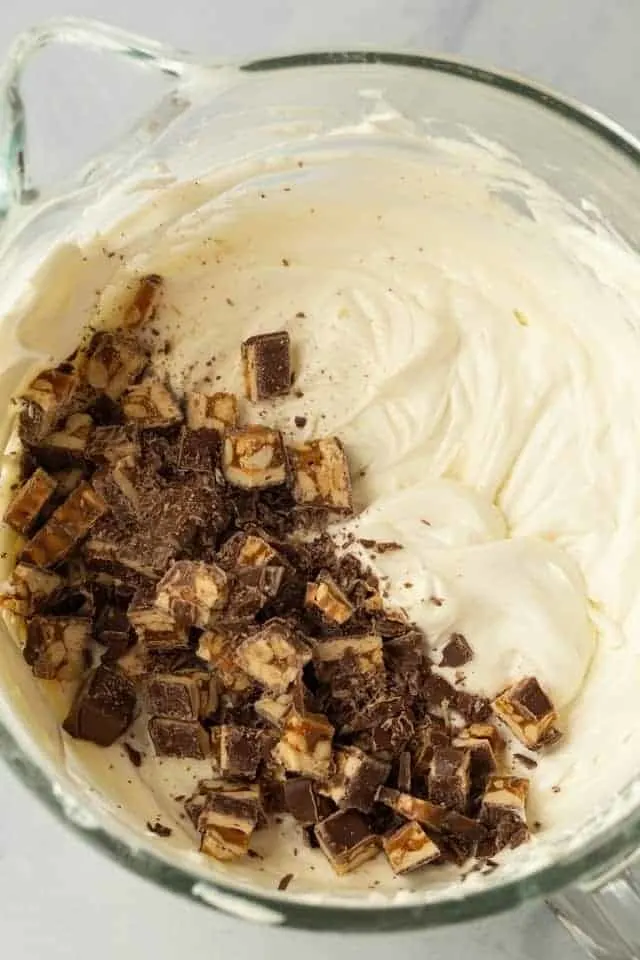 Step 3: Refrigerate overnight
Spread the filling over the prepared crust and refrigerate the cheesecake overnight.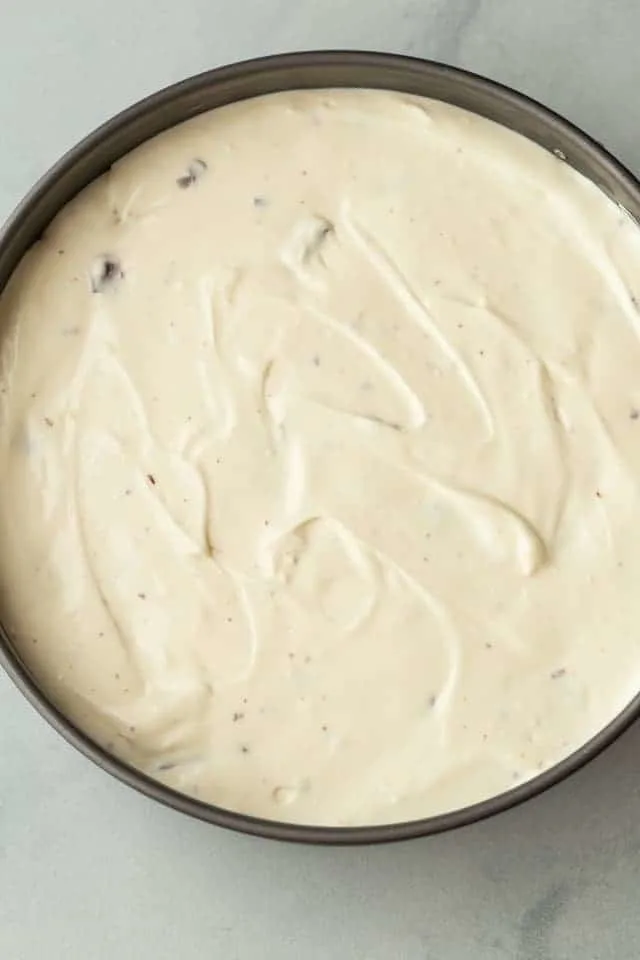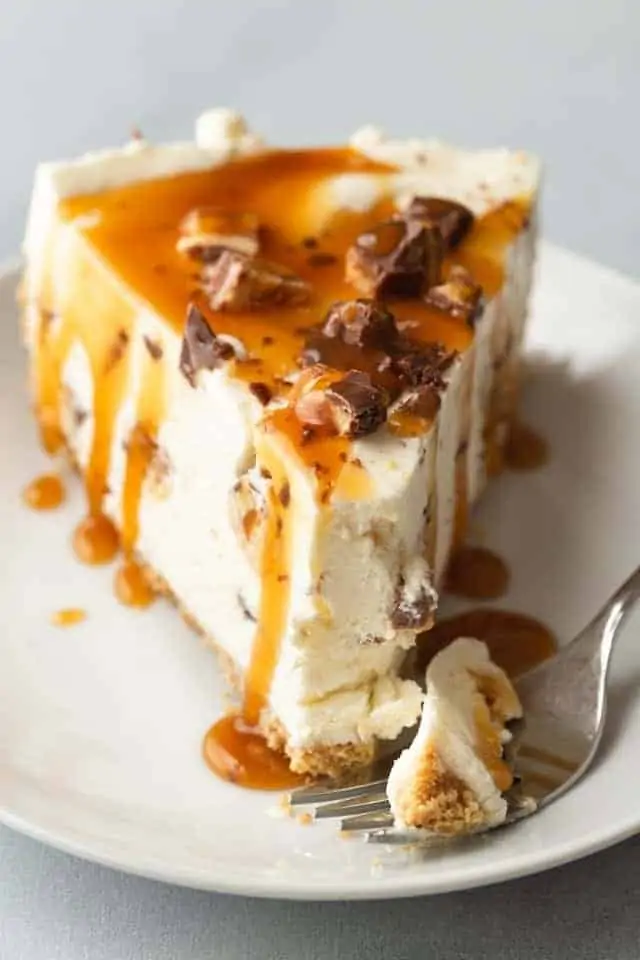 Tips for no-bake snicker cheesecake recipe
Mix the crust well. The melted butter will bond the crumbs together once it's cooled so it's important to make sure all the crumbs are well coated in butter.
Refrigerate the candy bars for several hours to make them easier to chop. Otherwise, the caramel will stick to the knife making it difficult.
Whip the filling well. Use the whisk attachment and beat the filling for a good 3-4 minutes so it's super thick. A thicker filling will support the candy pieces and keep them from sinking.
Did you try this recipe? I would love for you to leave me a 5-star rating or comment. This way, I have a better understanding of which recipes you like and can create more of them.
Please take a moment to follow me on Instagram, Pinterest, Facebook, Youtube or sign up for my free newsletter to never miss the newest recipes and blog updates.
You can also shop my favorite baking tools. Thank you so much for your support!